You know what's exhilarating to me? What I thrive off of? Designing and styling a space and bringing a room to life. Piece by piece, you can bring an empty canvas to fruition with the right paint color, furnishings, and finishing touches. And then you can call that space your home.
How damn powerful is that?
I'm kicking myself in the biscuits for that now useless Exercise Science degree that could have been "Interior Design." Why hadn't I known at the age of 17 what I would truly be passionate about 10 years into the future? How irresponsible of me. Instead of being able to professionally design a space, I can professionally tell someone how to burn fat (in case you're wondering – no, that doesn't get me excited).
I would never ever claim to be a professional interior designer and I honestly have no idea if these methods are what professionals use, but lately, I've been surprisingly overwhelmed by the number of requests I receive to help people style their space. I've adapted to and can completely relate to the phrase "Interior Stylist"- it just seems so fitting for what I'm passionate about – styling spaces.
So from the mind of an aspiring Interior Designer and self-proclaimed Interior Stylist, here are the ways I bring spaces to life.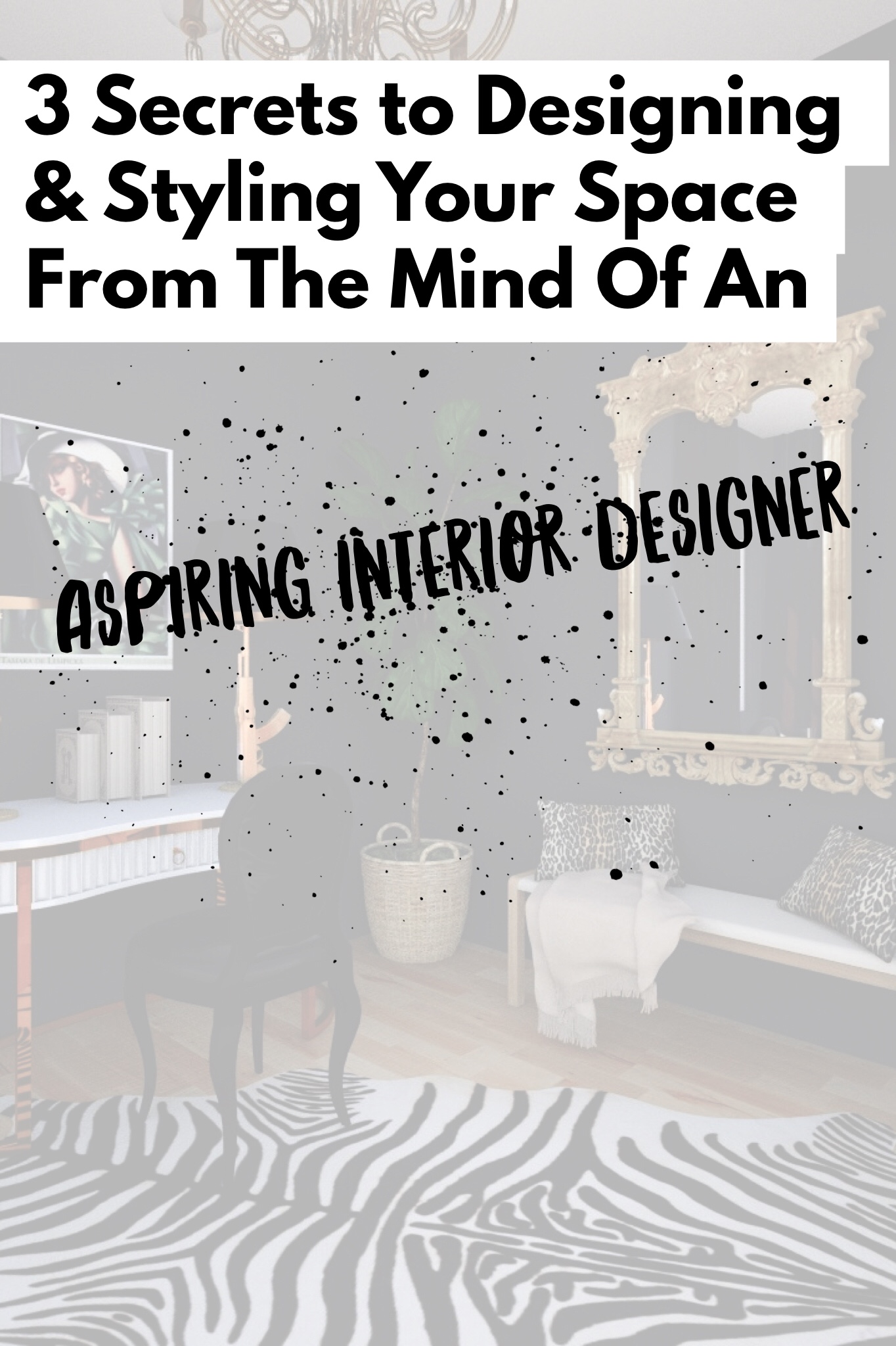 1. Redesigning 
I've been living for this lately.
It's an interchangeable term – also known as "rearranging." But redesigning sounds more…sophisticated. To me, it means taking what you already own and utilizing it in new areas of your home (i.e. taking accent chairs from your bedroom and seeing if they work with your living room).
AKA:
SHOPPING IN YOUR OWN HOME. I can spend an entire Saturday afternoon "shopping" around my home, swapping out items to create a fresh, new space. And like I mentioned here, I also have a designated "redesign" bin (ahem, closet) to go "shopping" in. Redesigning is a creative outlet and one of the many ways you can update and refresh your space without spending any money.
Let me reiterate – a way to update your space without spending any money. 
Whenever I purchase something for our home, I like to envision it in different rooms. Is it going to be versatile enough to fit in the living room if I get tired of looking at it in my office?  That doesn't make or break whether or not I end up purchasing an item that I love, but it's something to think about.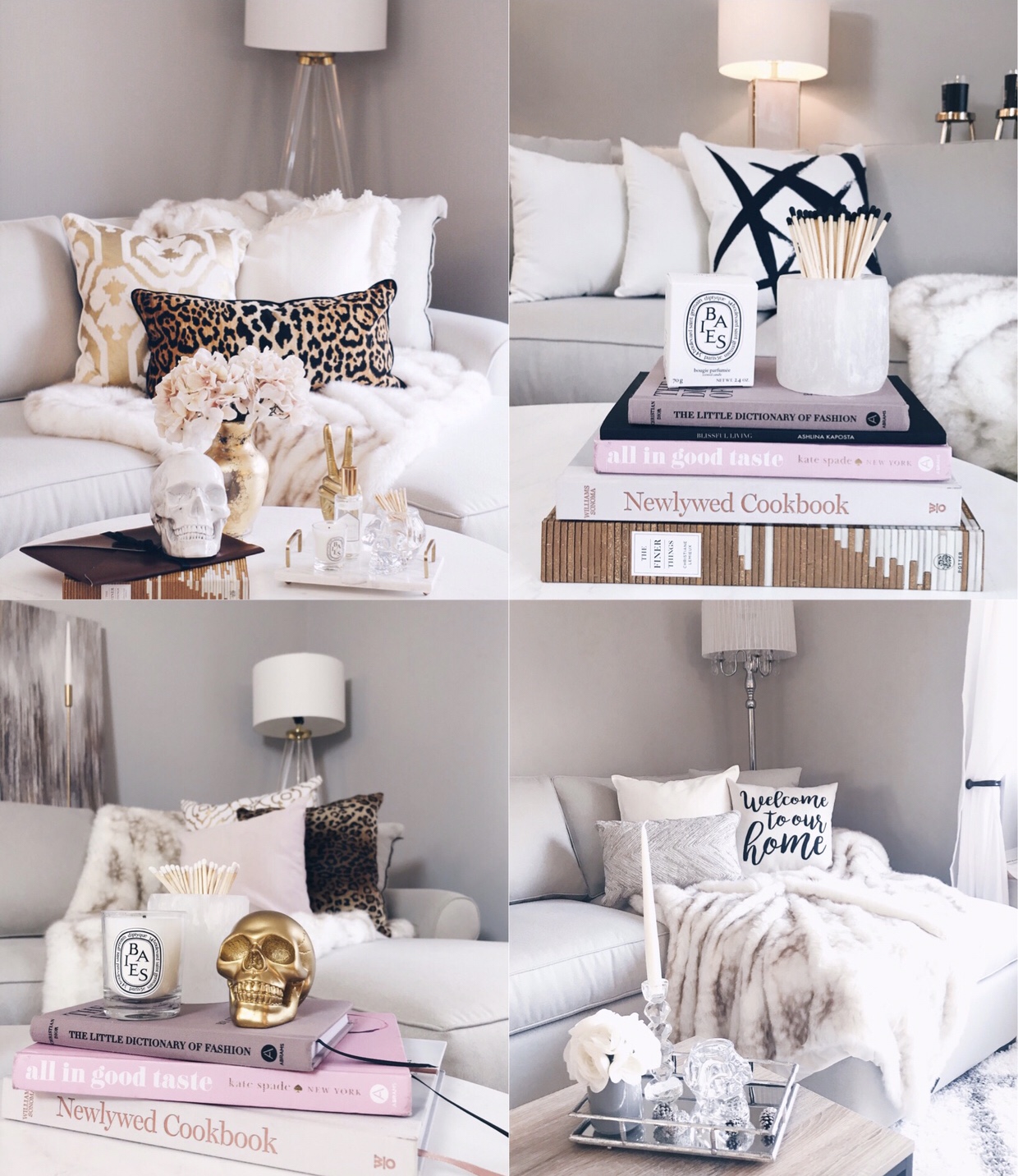 The different ways I've styled the coffee table in our living room, which changes at least once a week. I have a bin full of "coffee table decor" that I'm constantly digging into.
I love creating Vision Boards to curate and execute my…um…visions. Not sure how else to say it. I don't use a fancy program and you shouldn't have to either – I literally use Microsoft Word and copy + paste photos. I suppose I can claim I've been making vision boards since I was a pre-teen when I used scissors to annihilate the pages of Teen Vogue because I just knew I wanted a hot pink and black bedroom. I used a corkboard to pin up anything I could find that was pink and black and it eventually was the driving force behind my new pink n' black room. Until one epiphanous morning when I woke up a few years later and pulled an Owen Wilson "wow" as in…wow…wtf was I thinking. Don't we all have those moments?
Vision boards can be created for a bunch of different reasons (i.e. for a weight loss, career, lifestyle, fashion, etc.), but for the purpose of this post, here are the reasons I make vision boards:
+ When I'm designing a room from scratch and want to better understand the color palette, theme, textures and overall style(s)
+ I need to better understand how a room will look if I were to add/remove pieces and ensure the pieces I choose for the room flow together
+ To prevent style indecision (aka impulsive purchases) or making design mistakes
And the best part about creating a vision board is bringing it to life.
*Cue one of my recent vision board examples*
Modern Glam Vision Board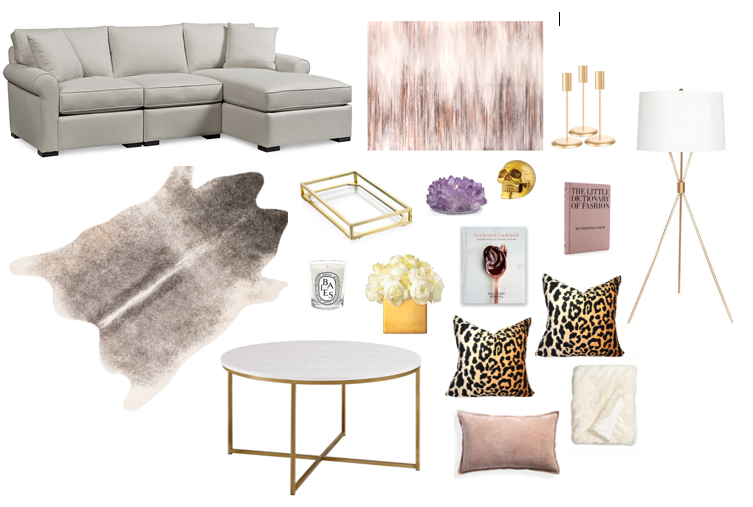 I created this for my living room and eventually brought it to life. The way I start a vision board is by writing down:
x The room I'm creating a vision board for
x The items/furnishings I want for the room
x The colors/textures/overall style I envision in the room based on what I know I like
I'll then head on over to the World Wide Web and start virtually pulling things off shelves from my favorite online stores. I do this by copying and pasting photos of each item into the word doc and make sure to include the links on a separate page below. If there's an item you just HAVE to have in that room (i.e. that velvet couch you've been lusting over), I recommend starting with that item first, as the room will most likely be designed around that single item. Capisce?
This usually takes a few hours as I go back and forth with pieces I thought may fit but actually don't, but once everything I need is on that vision board it's like I created a small visionary design masterpiece child.
3. 3D Designing
I typically do this after I've created a vision board but if you're blessed af enough to already know what you want – you can jump right into 3D designing. This is another thing I can (and do) spend hours on and I've been using the online program RoomStyler. It's FREE (I pay like, $1 for HD photos) and essentially a design program for creating mood boards and 3D rooms.  It's so fascinating because even though it can be time-consuming, it's the perfect way to see exactly how a room will look.
That's right – you can see EXACTLY how your room will look. No guessing or using your maybe-not-so-active imagination. Here's a recent example – my office. I had the strongest urge to paint it white but after the first few strokes, I suddenly realized that I, in fact, don't like white. Hmph. I had always envisioned this white glam office that you see floating around on Pinterest but it just…wasn't me.
So I created this design to visualize both all-white walls and all-black walls: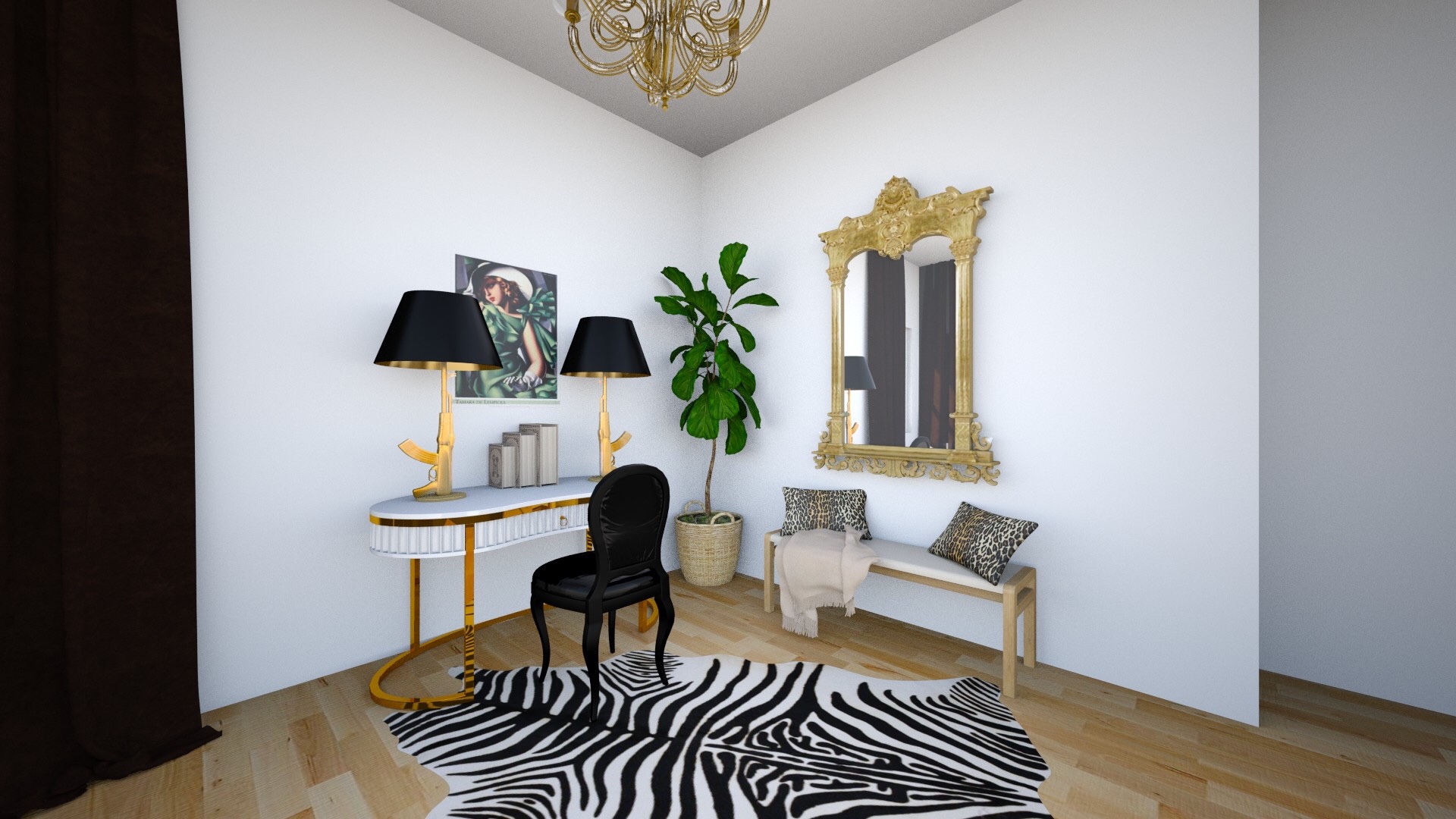 Needless to say, black won.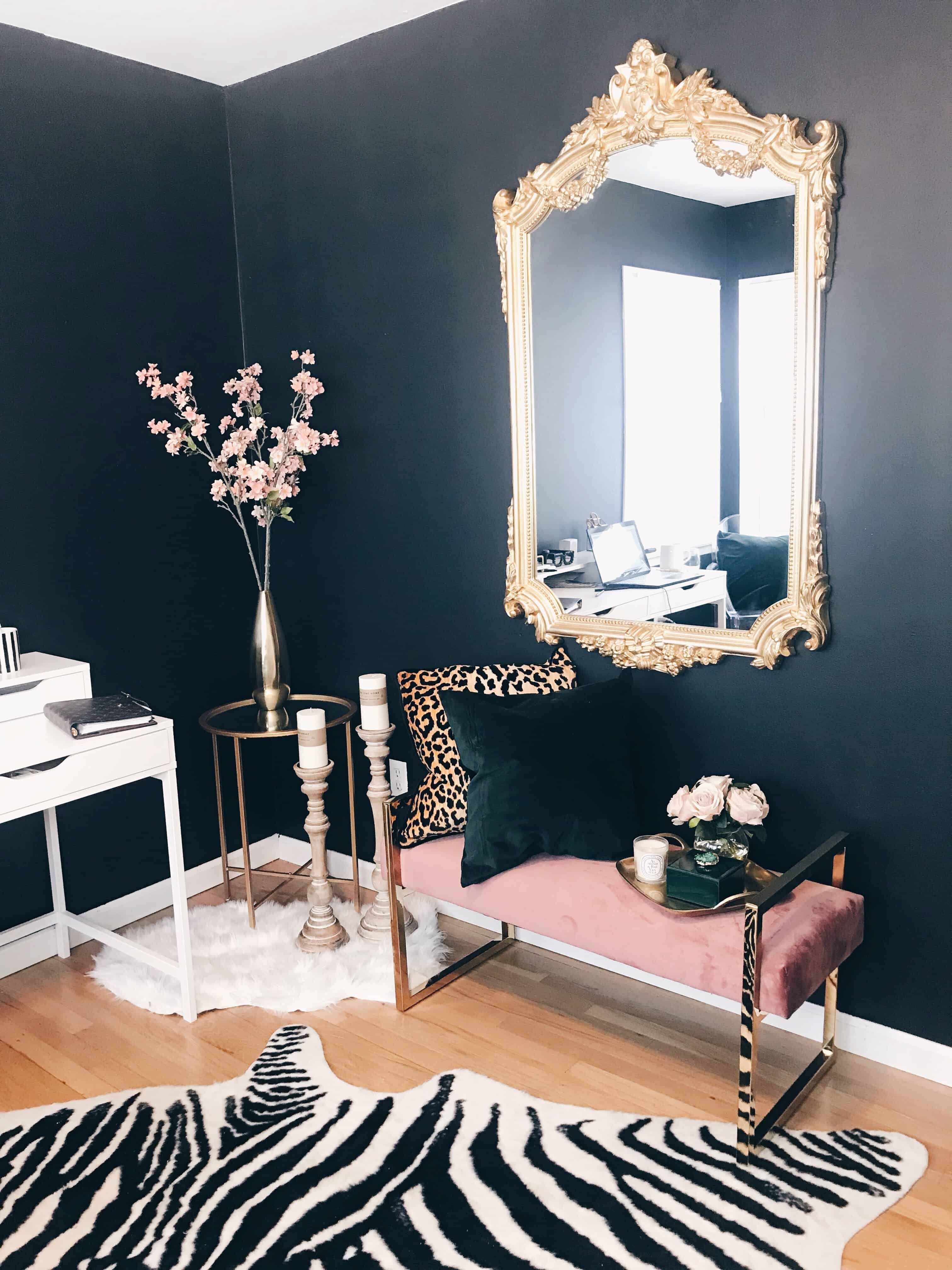 I fantasize about making 3D room-designing my career. I plan on eventually designing rooms in Photoshop because RoomStyler limits the selection of items (that art should be skull art but apparently skull art isn't that popular?), but for now, RoomStyler will do.
One thing I want to mention because I think it's very important – I live for decorating and designing on a budget. I'm a born bargain hunter and it becomes a personal mission to find the best possible price.
****PSA****
YOU CAN STYLE YOUR SPACE ON A BUDGET. 98% of my house was purchased at either Home Goods, Overstock, Joss and Main or Wayfair, which are all budget-friendly places to shop. I suppose I should continue this PSA with a post on how to style on a budget?!
(I'll just pretend that wasn't already in my "future blog posts" queue…)
I would absolutely LOVE to hear how you style your space!
Chat soon <3
-Alisa