Being an ex-personal trainer and long-time gymnast, most people are surprised when I tell them I haven't been a member of a gym since 2014 but still manage to stay active/somewhat in shape. "Wait, so what do you do to workout?"
My answer for the last three years has always been the same, single word that no one seems to have ever heard of: "Tabata."
WTF is Tabata?
Tabata is essentially another form of High-Intensity Interval Training (HIIT). It's 20 seconds of pushing your body to its limit, and then resting for 10 seconds, repeated for a total of 8 rounds. The quick bursts of energy and short rest periods prevent your body from recovering from the previous set – leading to a more efficient workout and burning more fat than you would during a 30 minute steady-state run on a treadmill (where you will most likely be burning muscle).
And, you'll keep burning fat for 24-48 hours after your workout has ended.
Holy shit.
Because this is a more intense, full-body workout and requires a significant amount more energy, I only do Tabata 2-3 times per week for no more than 10-15 minutes per workout.
That's 45 minutes or less per week of working out.
You're probably thinking "what's the catch?"
The catch is that you may be wondering after the first two minutes if it would be less painful to set yourself on fire.
But, hear me out, the results are significantly greater than any steady-state workout. Just a few weeks after I started Tabata, my body fat percentage went from 22% to 19% with no changes in my diet (I should note that I don't count my calories and my diet is generally 70% "healthy" while the other 30% consists of pure chocolate and candy).
I also get a ton of time back to do things I actually want to do, like mindlessly roam the internet instead of mindlessly floating on an elliptical (bonus – I'm still burning fat while roaming the internet). Mind = blown.
So at this point, you're probably wondering what consists of a typical Tabata workout. I've included a quick sample workout of a typical workout below. You don't need a gym, you don't need fancy equipment, you don't need a shake weight (lol) all you need is:
A timer
Water
Yoga mat
Your bod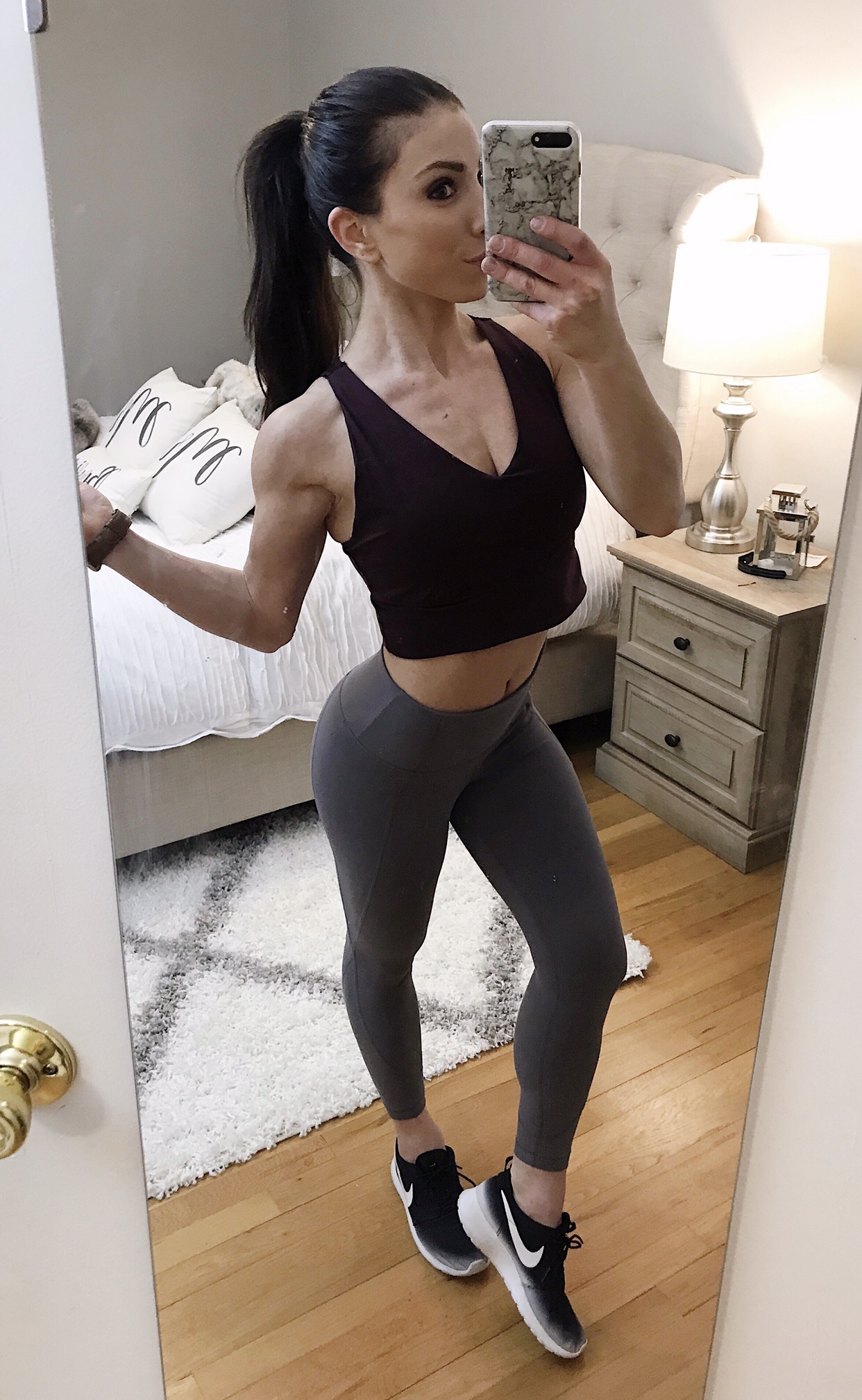 *Disclaimer – this is not for beginners. There's a lot of quick, rapid movements and it's easy to injure yourself if you're not careful. Don't forget to warm up!
OK, quick recap:
20 seconds of pushing yourself to the max (no reps, just as much as you can do)
10 seconds of rest
8 rounds per set of exercises. One round =  two exercises –> 60 seconds total
If you don't feel like you're dying after the first two minutes, you're not pushing yourself enough. K?
Try this!
Set 1:

Burpees to tuck jumps
Bodyweight squats

Set 2:

High-knee jog
Bicycle crunch
Total time: 15 minutes
BTW… I am OBSESSED with these leggings I'm wearing. I ripped the tag off before I could even fully get them on – they are the comfiest tights ever and are so flattering!
If you guys are interested more Tabata workouts, leave a comment or send me an email. I may start a Tabata series if I get enough inquiries!