PSA…it's almost spring. And if you can't sense it coming with watery eyes, constant sneezing and feeling like pollen is slowly invading your cranial cavity then, I envy you. One of the first things that comes to mind when I hear spring is spring cleaning. More specifically – spring cleaning our kitchen.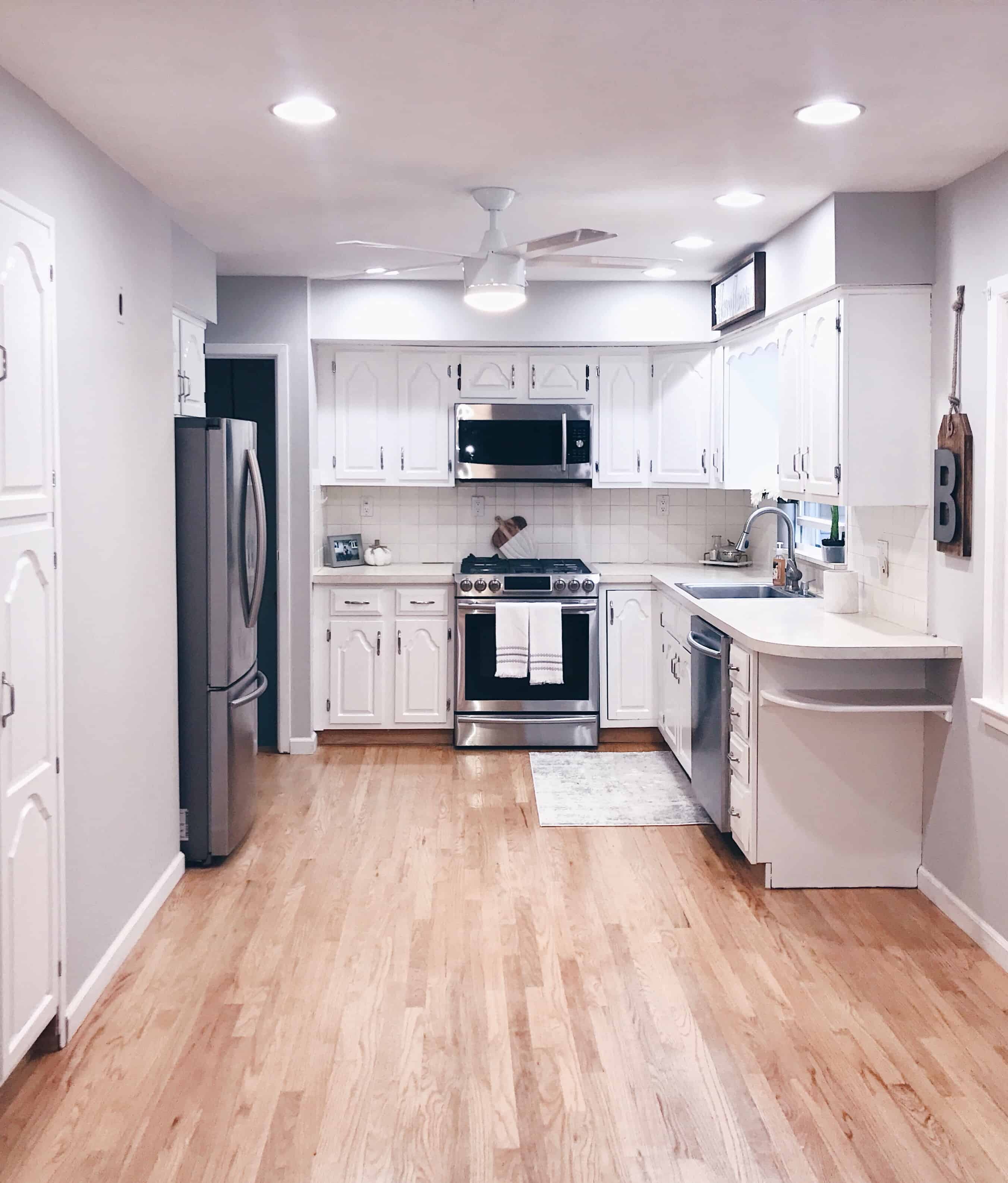 The words "spring cleaning" give me anxiety. Like, excuse me – where do I even start?" Do I just dive right into the back of the pantry and become wide-eyed after finding stale half-open snacks that I thought were gone months ago? And what does one do to begin "spring cleaning? (*anxiety intensifies*)
This year I want to focus on not only spring cleaning, but spring organizing. Since this is the first spring in our home, I'm looking forward to purging everything we don't need and clearing the space to create an impeccable kitchen that stays impeccable.
I firmly believe that in order to keep your kitchen clean, you have to keep your kitchen organized. I'm no mathematician but…
organized kitchen = efficient kitchen = clean kitchen.
I know from experience – if I don't have a place for something, the kitchen slowly becomes a compact war zone without even realizing it. I only start noticing the clutter when my mind becomes cluttered…and that's when I realize it's because the kitchen is a visual disaster. Believe me when I say that storage and organization is key to keeping your kitchen clean. And there are so many ways to keep your kitchen organized without being an eye sore, because let's be real, no one likes an eye sore.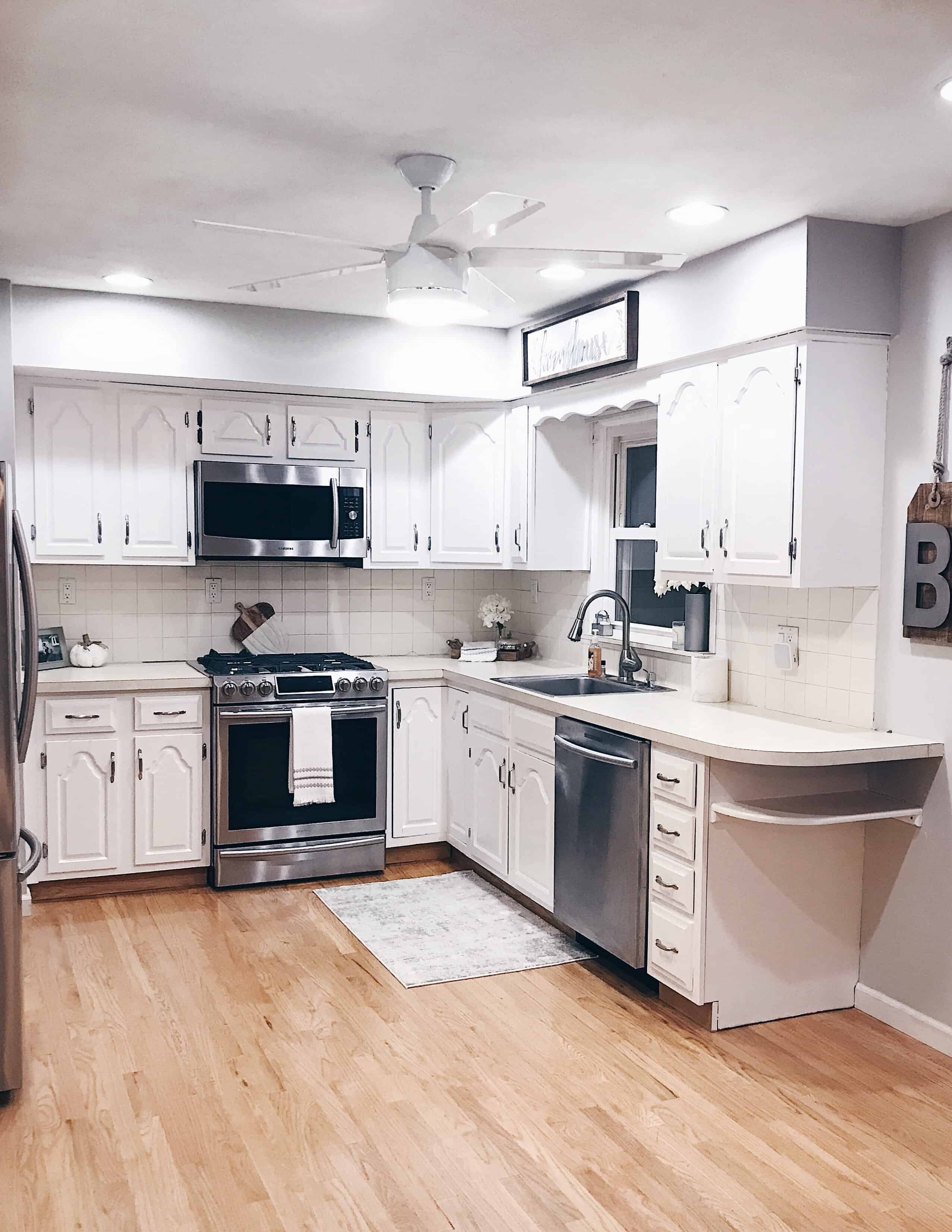 I also firmly believe that your kitchen isn't just another room in your house – it's the heart of your home. It doesn't have to look like a generic space without any personality just because it's, well, the kitchen. Like the rest of your home, it should be styled to reflect you and your personality. Again with my phenomenal math skills:
styled kitchen + organized kitchen = efficient, clean & happy kitchen = happy and clear-minded you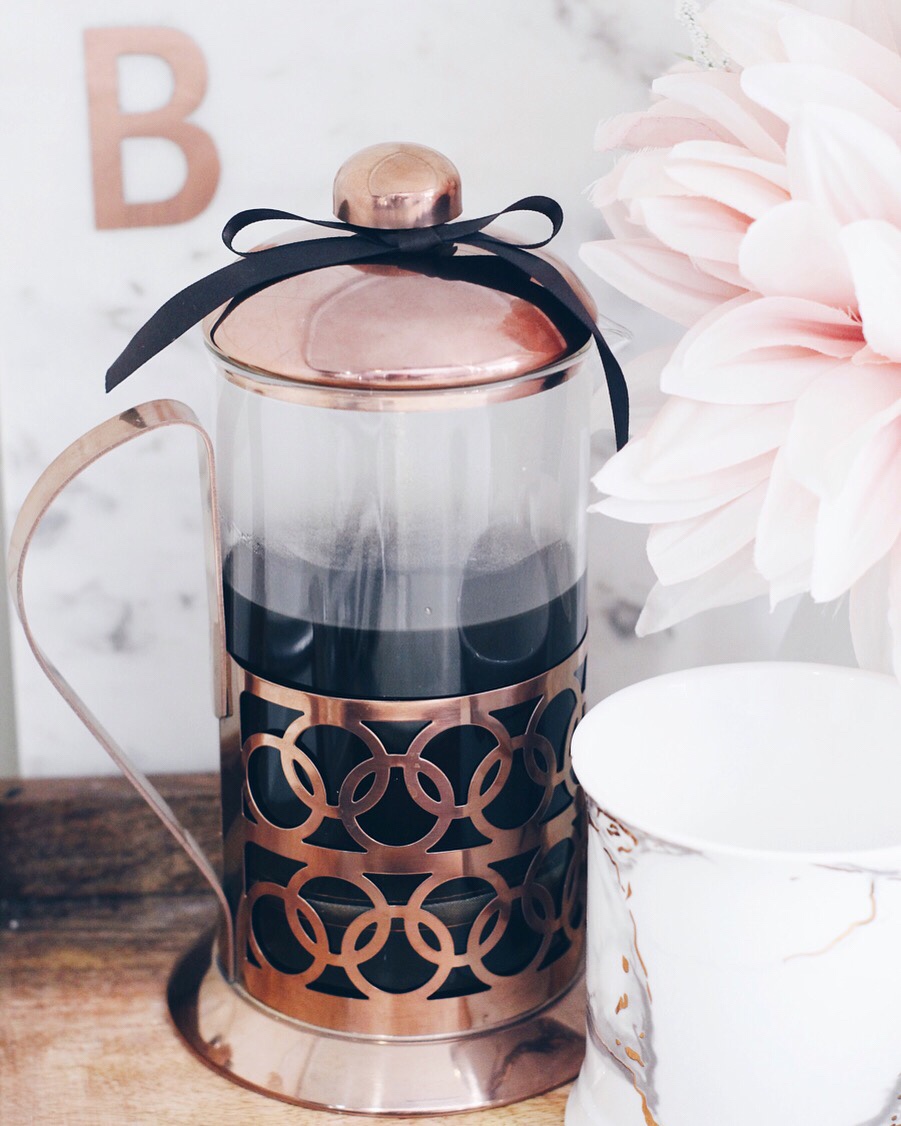 OK, I'm about to go off on a mini tangent for a minute, but stay with me. When shopping for our home, one of the sites I always find myself hitting the "place order" button on is Joss & Main. Not only do they have an enormous selection of anything and everything, but their prices are unreal. I couldn't believe the price we were able to buy our gorgeous tufted bed for. And the sweet juicy cherry on top of that (and something that is very important to me) – their customer service is the best I've ever encountered.
Needless to say I was nothing short of ecstatic when Joss & Main reached out to me to partner with them for their #pristinespringeclean campaign. I think it's worth mentioning that I would not put in the time or effort to write for a brand that I don't 110% believe in or feel passionate about. It's just not who I am, nor is it something I can do well. But Joss & Main is one of the companies I would recommend to anyone a million times over because I just feel so strongly about their brand and products.
That being said, today I compiled a roundup of my favorite 12 #pristinespringclean items from Joss & Main to keep your kitchen organized, styled and refreshed for Spring.
Wine (vino) Racks
You would think a girl who has a blog called "A Glass of BoVINO" has a cute and stylish wine rack on display for all to see. False – at least not until I found this wine rack. Prior to this discovery, my vino was allll over the place. I would find bottles in random places throughout the kitchen that I completely forgot about. I mean, it was a nice surprise but I would have rather known I had those bottles before I stocked up on more?! Now I proudly display my organized bottles of vino on this wine rack. It's beautiful, minimal and uhh, GOLD?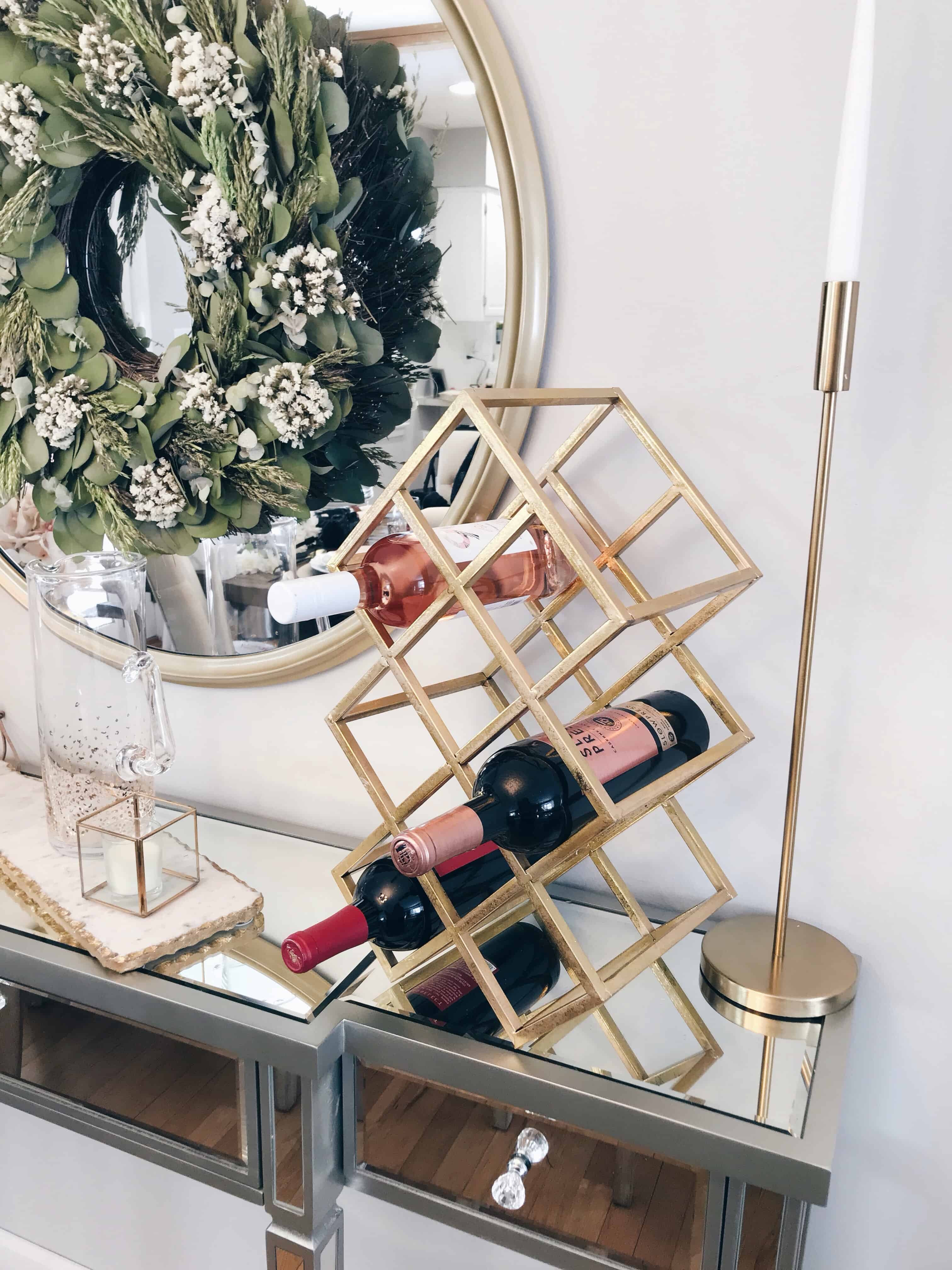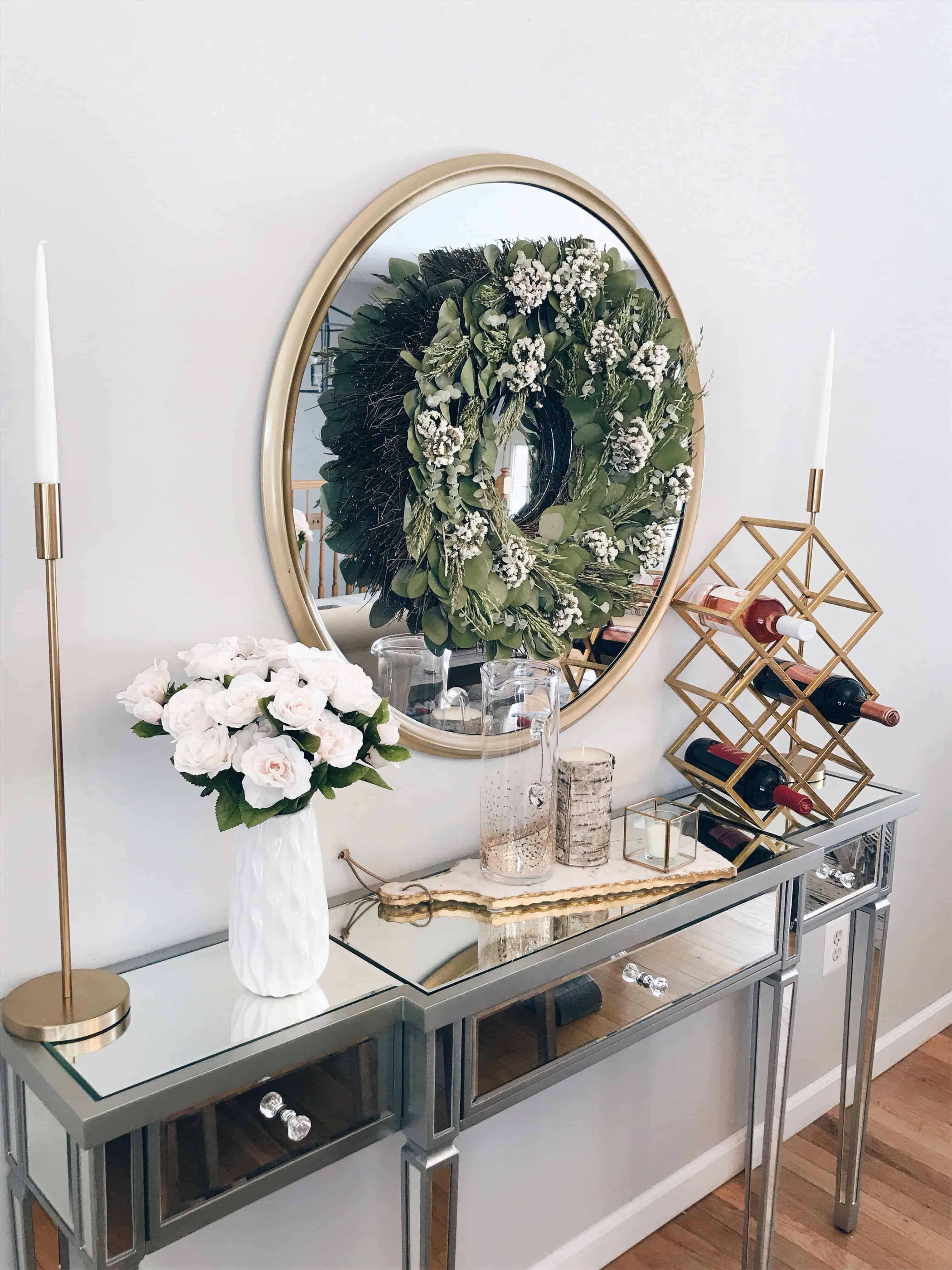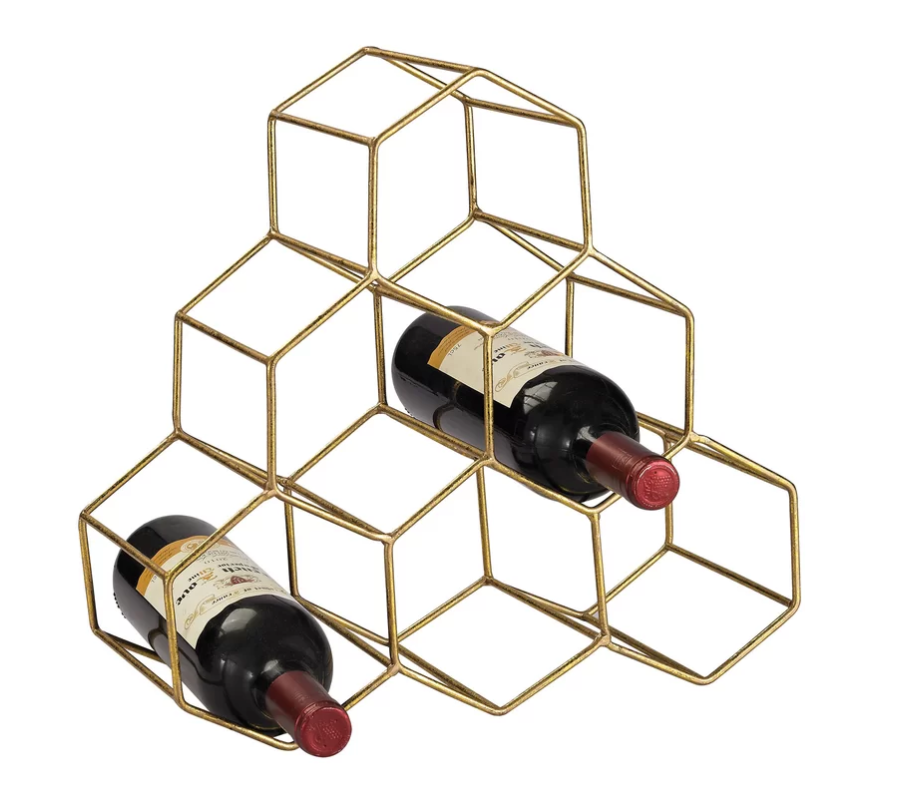 I also love this minimalistic gold wine rack!
**Quick tip – once you're done cleaning and organizing your kitchen, go ahead and pull one of your bottles right off one of these cute wine racks and have yourself a glass of (bo)vino. See what I did there.
Canisters + Jars
If you want an organized yet styled kitchen, you need stunning jars and canisters. I'm careful with what I put in clear jars as they can sometimes create an illusion of visual clutter, even though the contents are contained in a jar.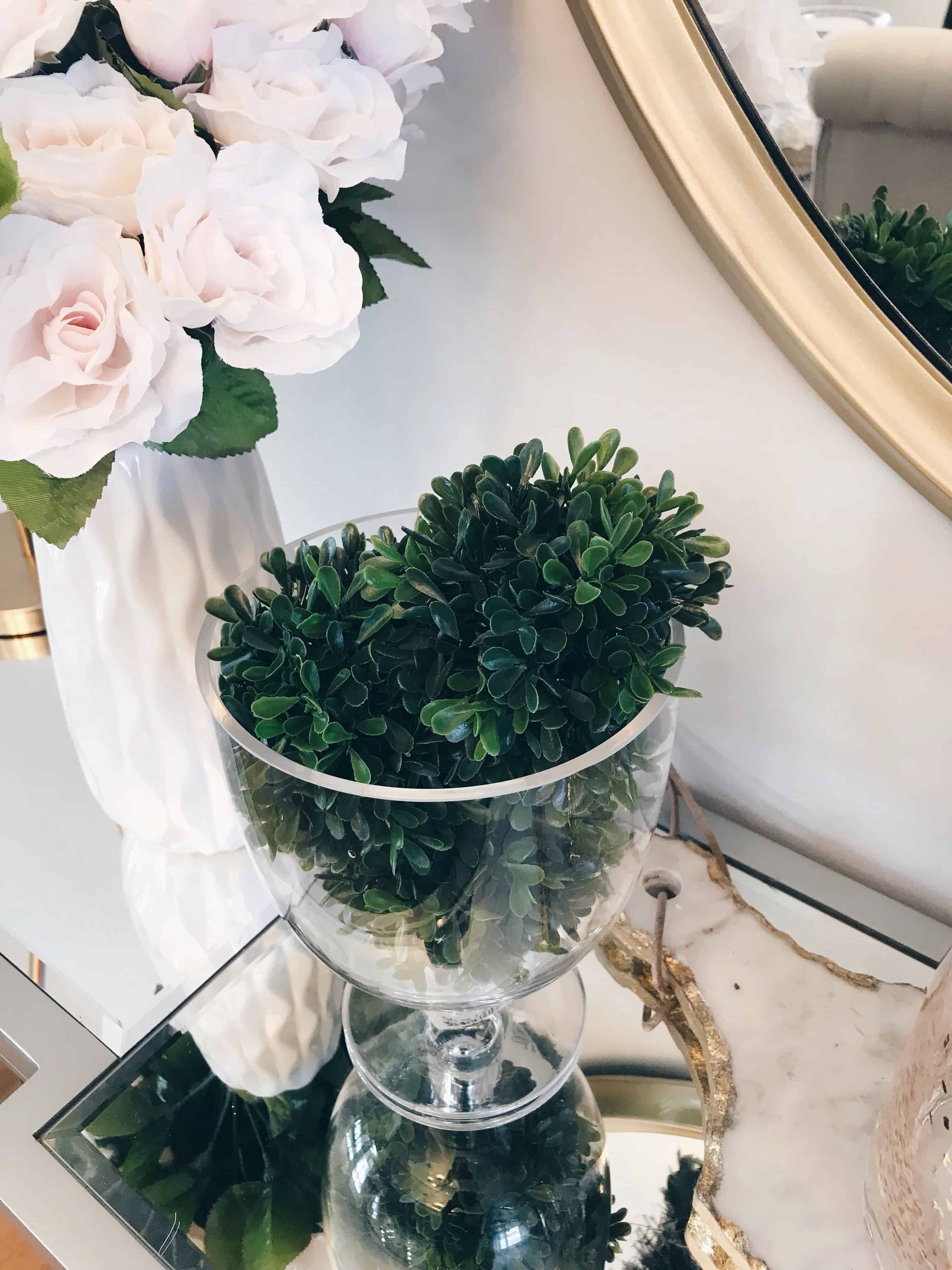 I love using apothecary jars like these.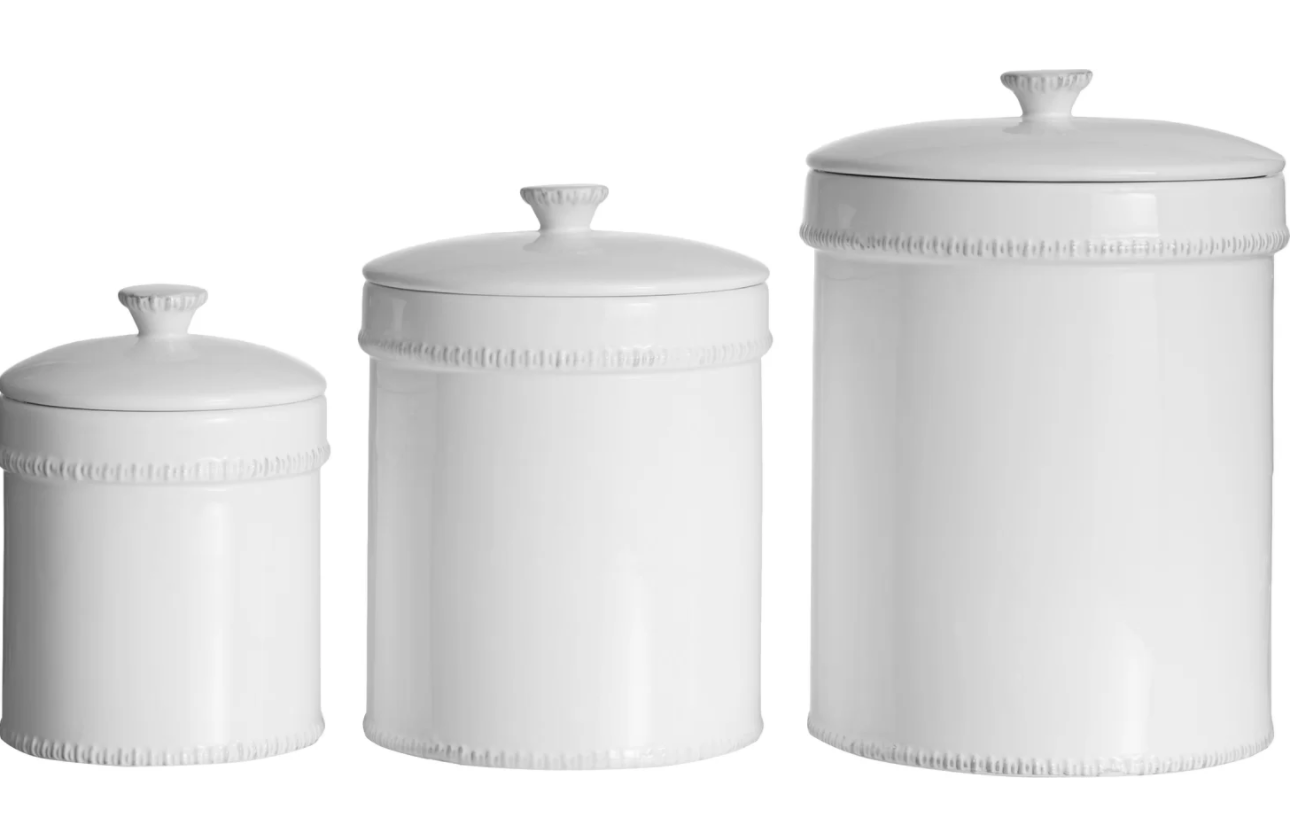 For my bridal shower last year, I received a set of canisters almost identical to these and I cannot express how helpful they are when it comes to organizing our kitchen. I use them to store k-cups, sugar packets and tea and they're perfect because I can see whenever we're getting low on stock and add those items to our grocery list.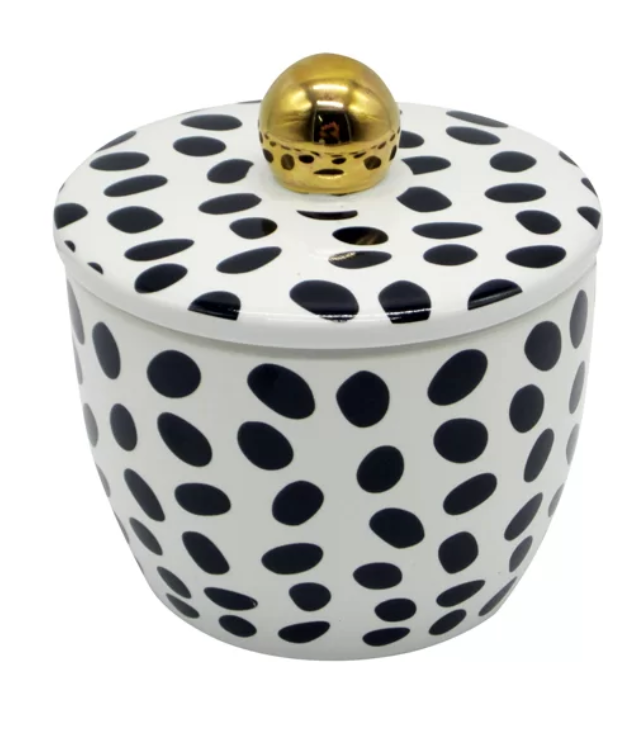 This jar is so cute and perfect to display on a counter top tray, which leads me to my next topic…
Decorative Trays
I love trays. They're great for minimizing visual clutter and they're the perfect accessory for organizing your kitchen! I keep one next to my Keurig to corral our coffee station items.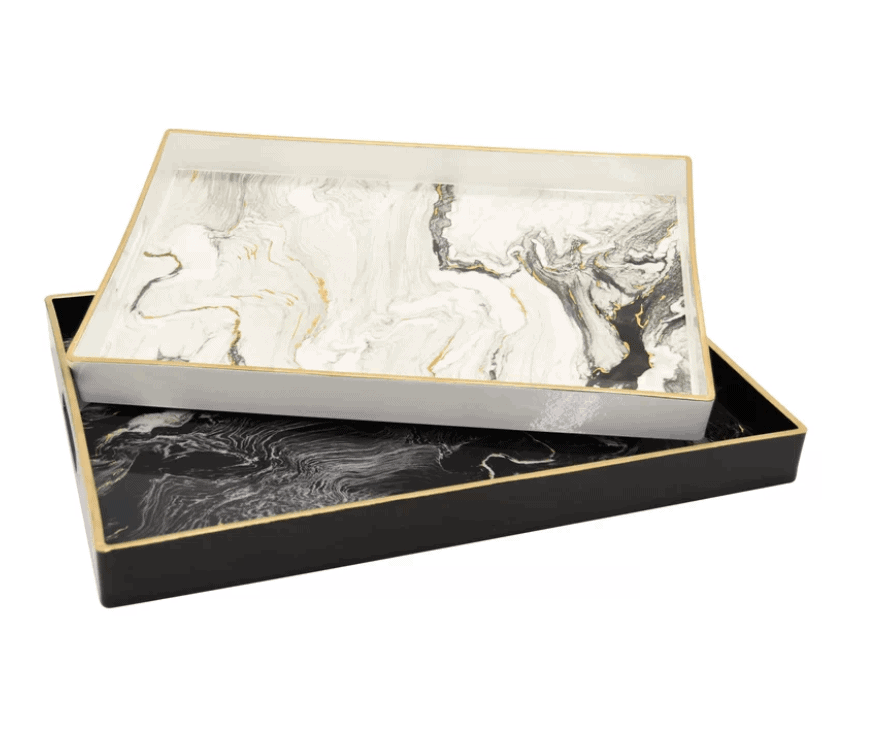 These trays are not only beautiful, but they're the perfect size for counter tops!
And this tray took my breath away. Definitely a splurge but could easily be one of the most gorgeous decorative accents I've ever seen and would be worth the investment.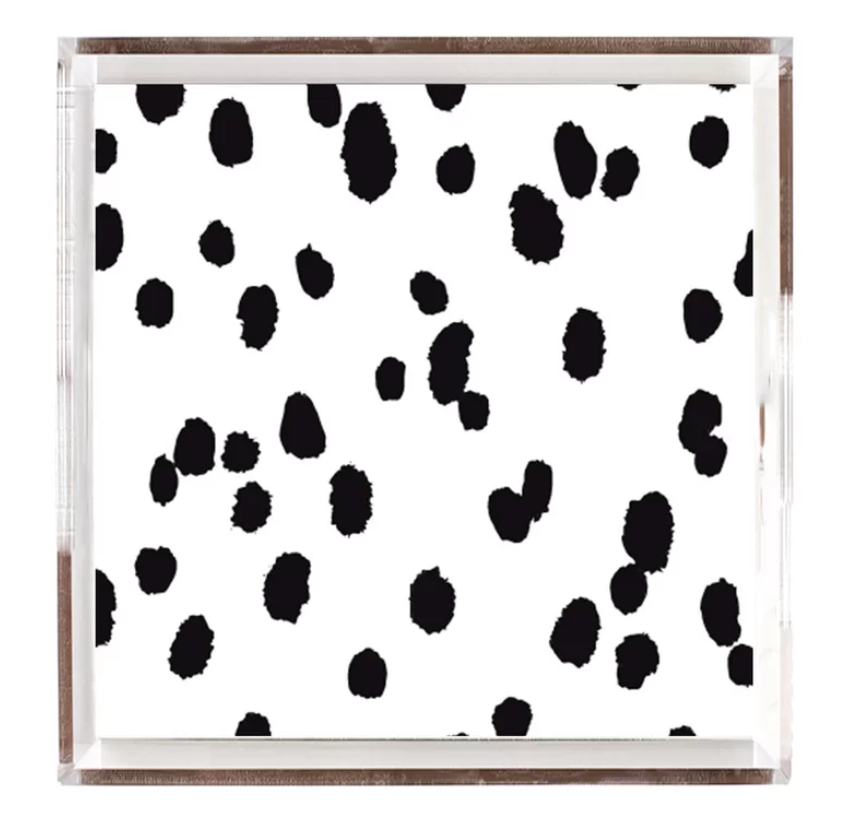 Polka dots remind me of warmer weather, so naturally, this cute lil' tray is on my wishlist.
Fresh Dinnerware
You guys know I'm allllll about tablescapes and our dining room table has become one of my absolute favorite things to style. I guess it's no surprise that the "always on the hunt for something new and exciting" in me thinks that spring feels like the best time to grab some new and exciting dinnerware. After all – that's what spring is about, right? Fresh and exciting starts. So that means brand spankin' new plates and bowls that make you eager to sit down at the dinner table (besides the fact that there'll be food to consume).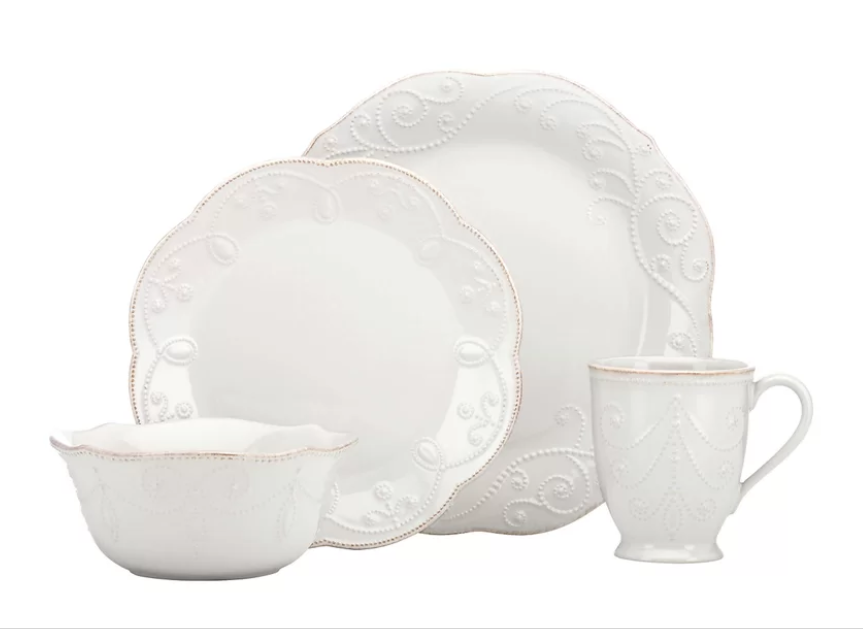 This French perle dinnerware set is just…stunning (and it comes in different colors).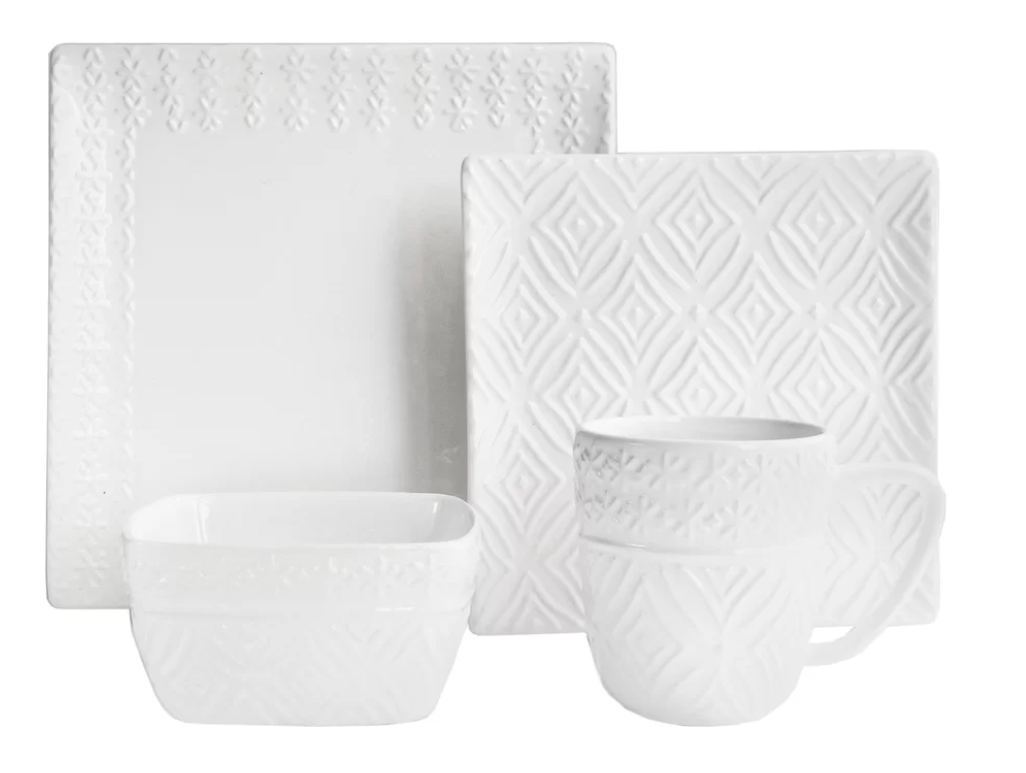 And I adore the patterns on each of the pieces in this dinnerware set!
Plants + Flowers
The perfect addition to your pristine kitchen and the ultimate way to make a room feeling clean and looking fresh. I love styling my home with faux plants and flowers, particularly when spring comes around I begin my yearly over-purchasing the faux succulents, plants and flowers (emphasize on *faux* – I have enough allergies from the crap floating around outside).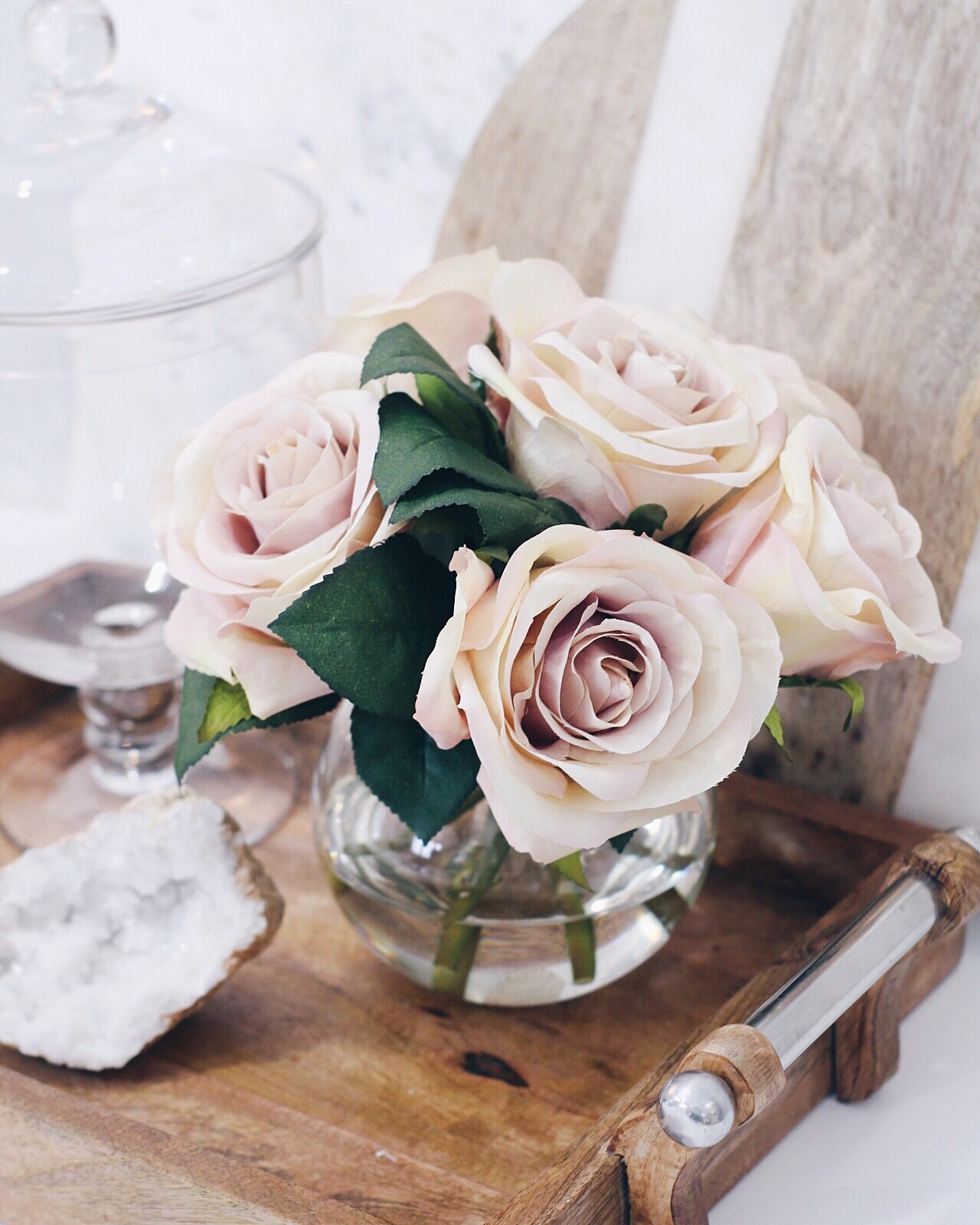 These roses are at the top of my favorite faux flowers list (you know because we all have those?) and whenever I have guests over they receive so many compliments. Seriously, how freakin' pretty are they.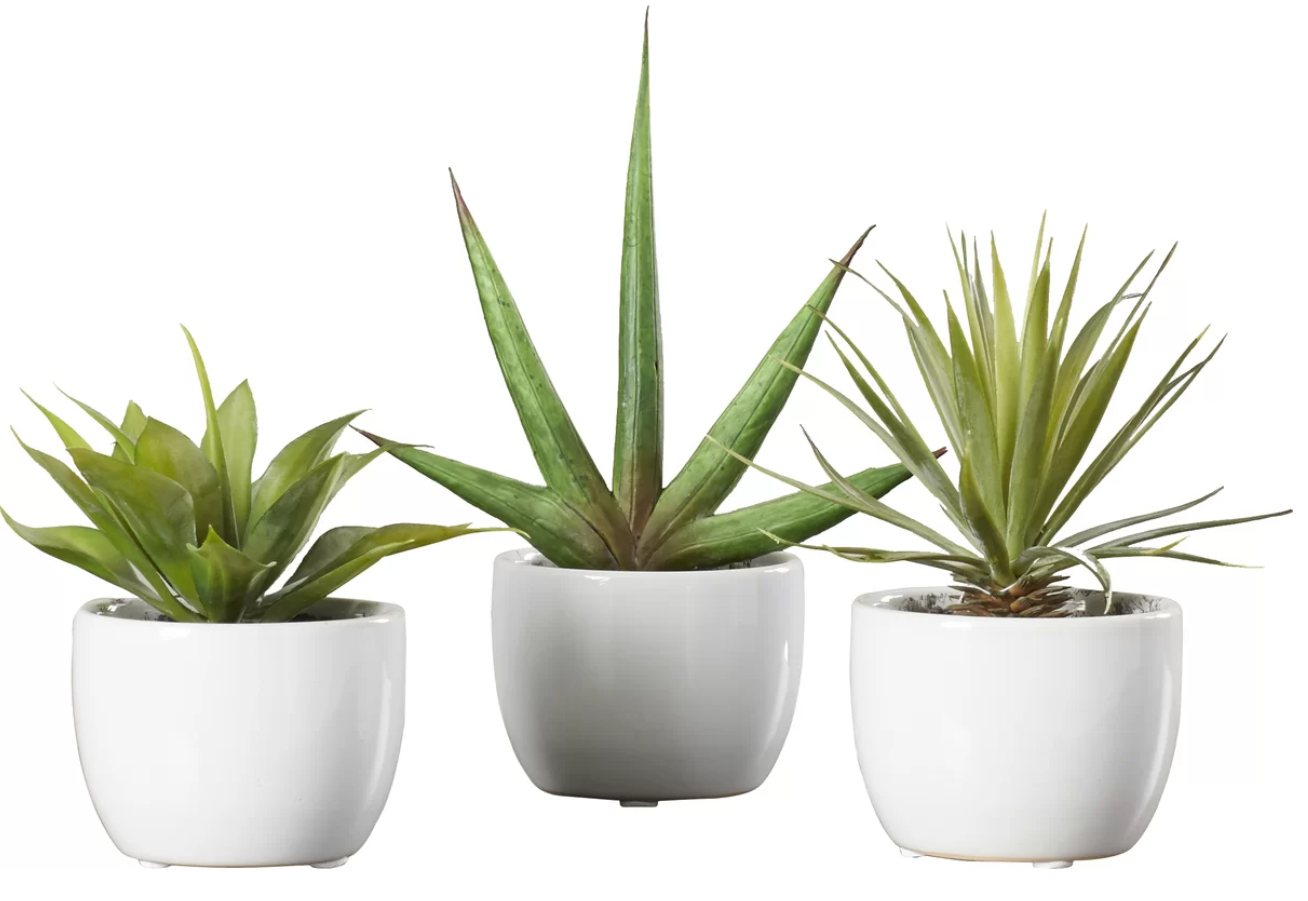 If you have windowsills in your kitchen, these succulents belong on that windowsill.
There you have it! I truly hope you enjoyed this post and I'm dying to know – how do you get your kitchen ready and refreshed for Spring?
Shop all my wishlist items below!
| | |
| --- | --- |
| 3-Piece Klein Jar Set | 3-Piece Mamie Canister Set |
| Serving Tray Set | Iulian Horn Handle Accent Tray |
| Eila Jar | Spots Tray |
| French Perle 4 Piece Place Setting, Service for 1 | Modesto 16-Piece Dinnerware Set |
| Faux Pink Roses in Glass Vase | 3-Piece Faux Southwest Succulent Set |
| Georgia Wine Rack | Anthony 9-Bottle Tabletop Wine Rack |