In addition to my 7 oz Sunday Series, I've been itching to start another series of posts (since I love commitment). A series that's a bit more topic-focused – specifically about how we're slowly transitioning over to the dark side. Calm down, we're not hosting seances.
By dark side, I mean:
Using dark (black) paint in our home.
I liked the idea of "Dark Side Diaries" –  it really flows and I didn't want to start another "series" with the word "series" in the title. Can't have newcomers showing up and thinking I'm a serial "series" poster. Nomsayin'? So with that uh, weird introduction…
I have a question. About your bedroom.
Are you really friggen excited to escape to your bedroom at the end of the day? And I don't mean the "ugh what a long, shitty, unfulfilling day at my 9-5, I can't wait to go to bed" feeling (tongue in cheek, my friends). I mean…do you consider your bedroom a sanctuary that not only makes you feel relaxed but – reflects you?
Up until a few weeks ago, I didn't feel like our bedroom was…blissful. It wasn't the bedroom I had imagined it would be when we bought our home. I cut myself some slack because like my living room, I sort of "Frankensteined" our bedroom to have, you know, like, a place to sleep when we moved in?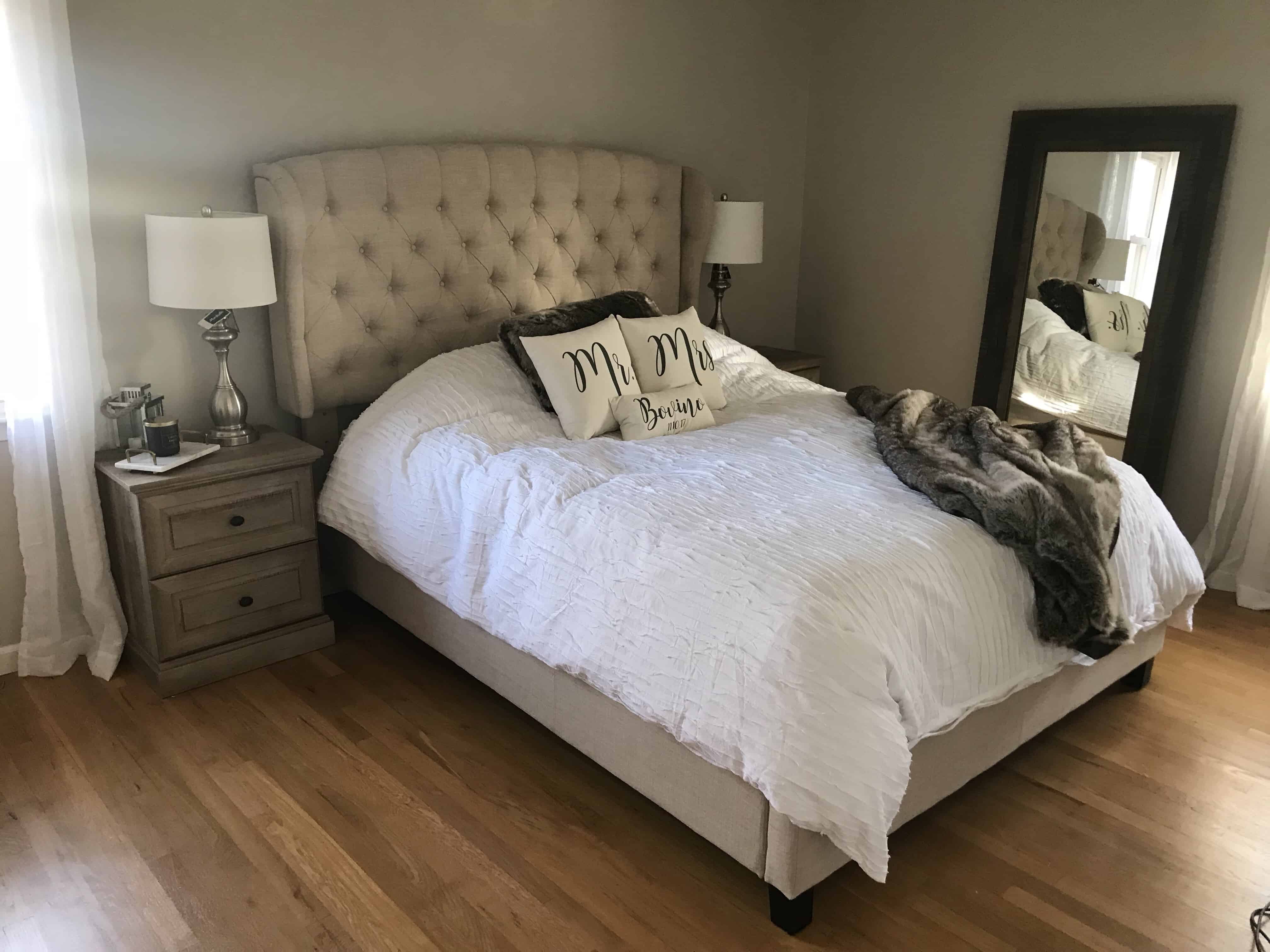 It looked and felt so…meh. Where was the personality?! Great question. There was none.
I feel strongly that your home and *especially* your bedroom should make you feel good and reflect who you are, and I didn't feel like that was the case with our bedroom. Nor did I feel like our bedroom was a blissful sanctuary that we couldn't wait to run to at the end of every day. So I decided that it was time to make a few small changes to transform our bedroom. This transformation was important. This had to reflect a peaceful, "good vibes" sanctuary to escape to at the end of the day and make us feel good to wake up to every day (and of course, also reflect our style).
No pressure. 
On a cheesy creative whim, I began to think about us, as a couple. What we love and our favorite memories together. Maybe this could spark an idea to curate the perfectly blissful bedroom.
One of the first thoughts that came to mind was the trips we've taken to Lake Placid. Unlike most people, we prefer autumn over summer and the woods, mountains, and lakes over the beach, so every fall for the last few years, Lake Placid has been our escape together. We love staying in secluded Airbnb's and the ambiance of the cozy, quiet, dimly-lit restaurants. Some of our favorite memories together are from our trips to upstate NY. 
I mentioned in a previous post how I spent an entire summer trying to choose the perfect grays for our home, but suddenly had the strongest urge to paint a room/wall black after our mini-moon to Scribner's. The lodge's exterior was jet black and the inside was built completely with knotty pine wood, which reminded me of the floors in our home. It was a design unlike anything I've ever seen before and since then, Angelo and I have been wanting to use black paint in our home. This unique and cozy getaway was definitely one of the driving factors behind wanting to transition over to the dark side.  
Unlike the other rooms I've brought to life, there was no vision board or e-design for this. The only idea I was working off of was a theme – "Glam, Dark + Cozy Woods." I liked it, so I ran with it.
Next thing I know I have a bucket of Sherwin Williams Caviar paint in my hand. Luckily I've become a skilled painter (sarcasm), and the whole wall took me about 2 hours from start to finish, including moving furniture, prepping and painting.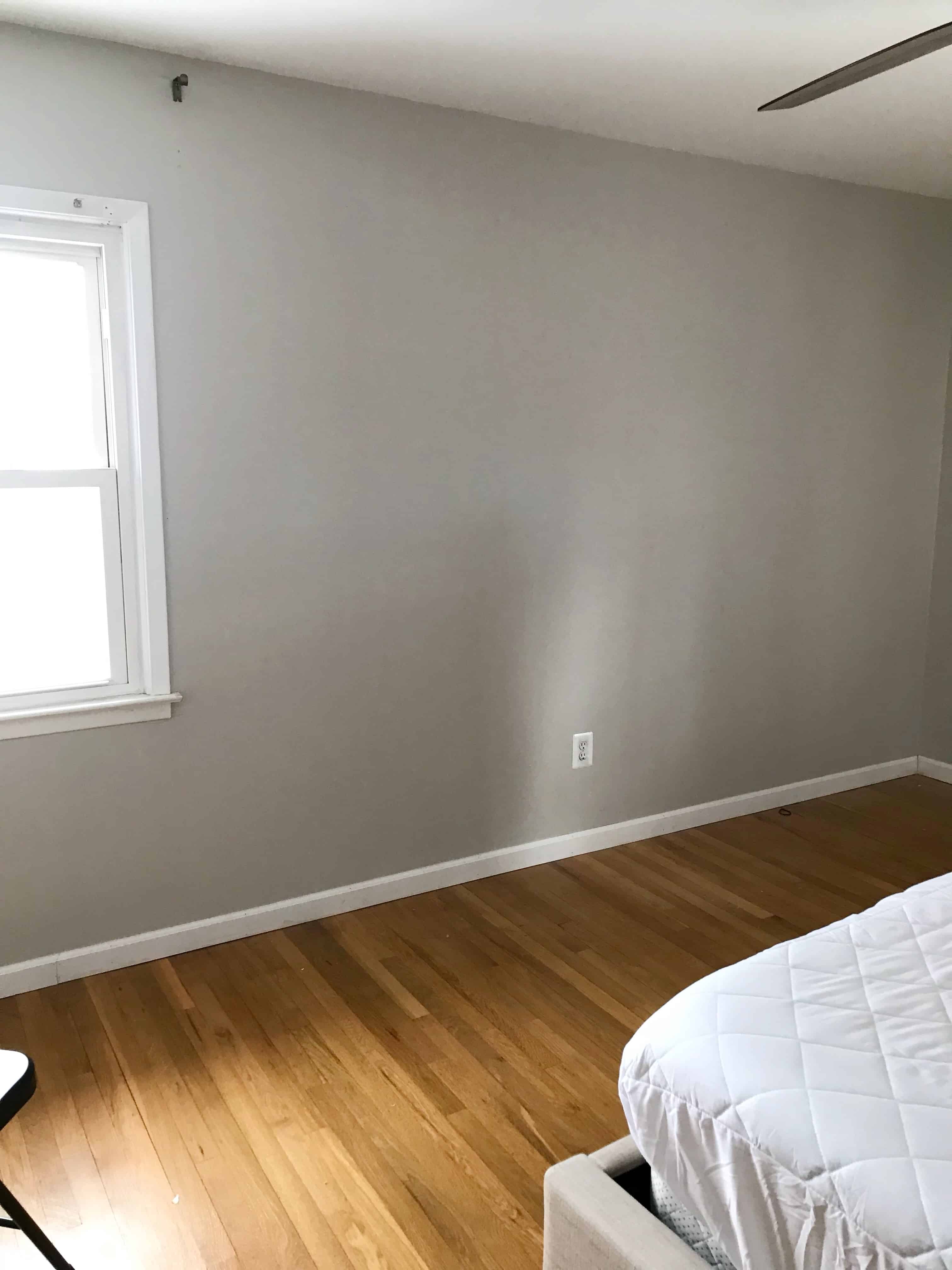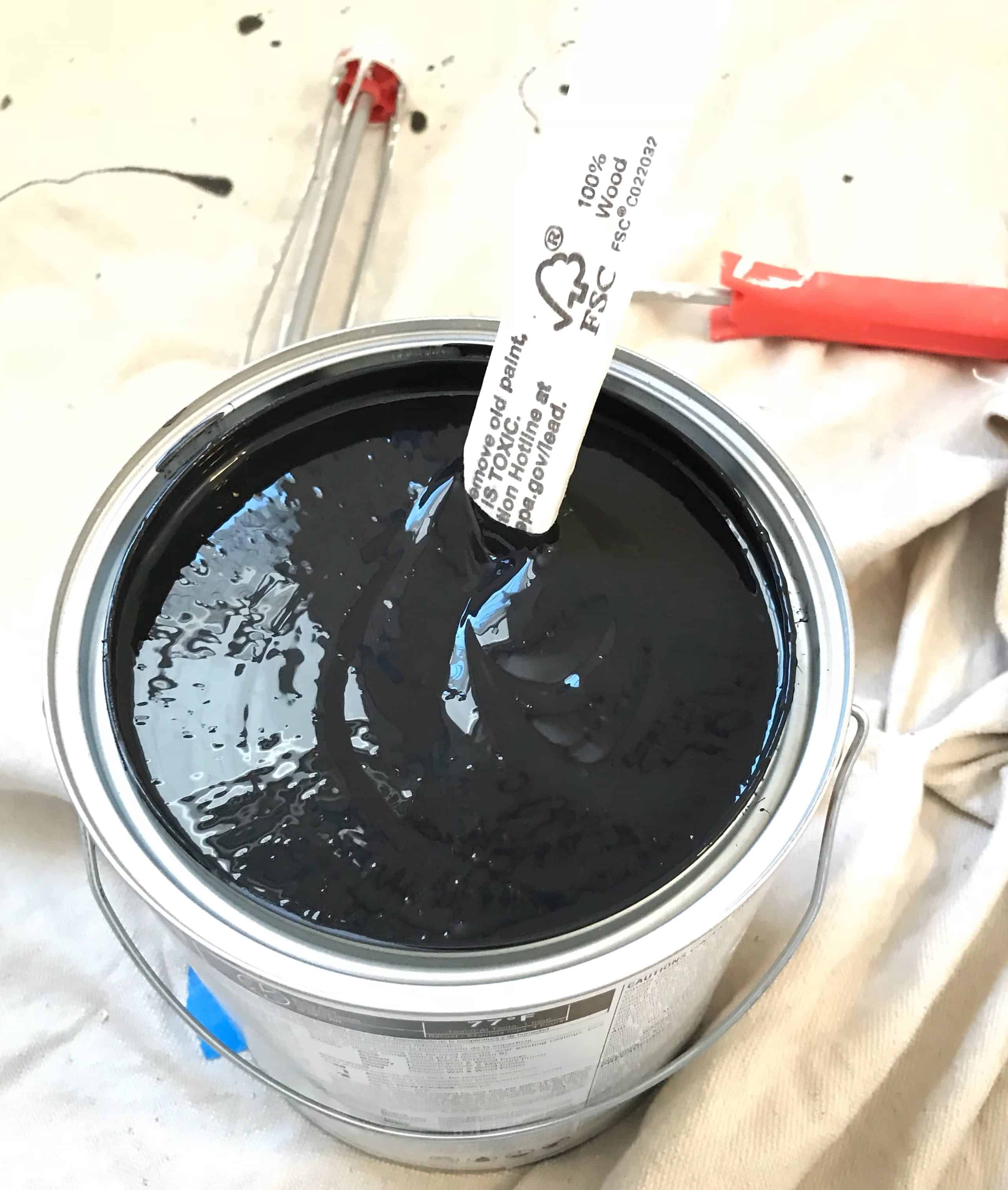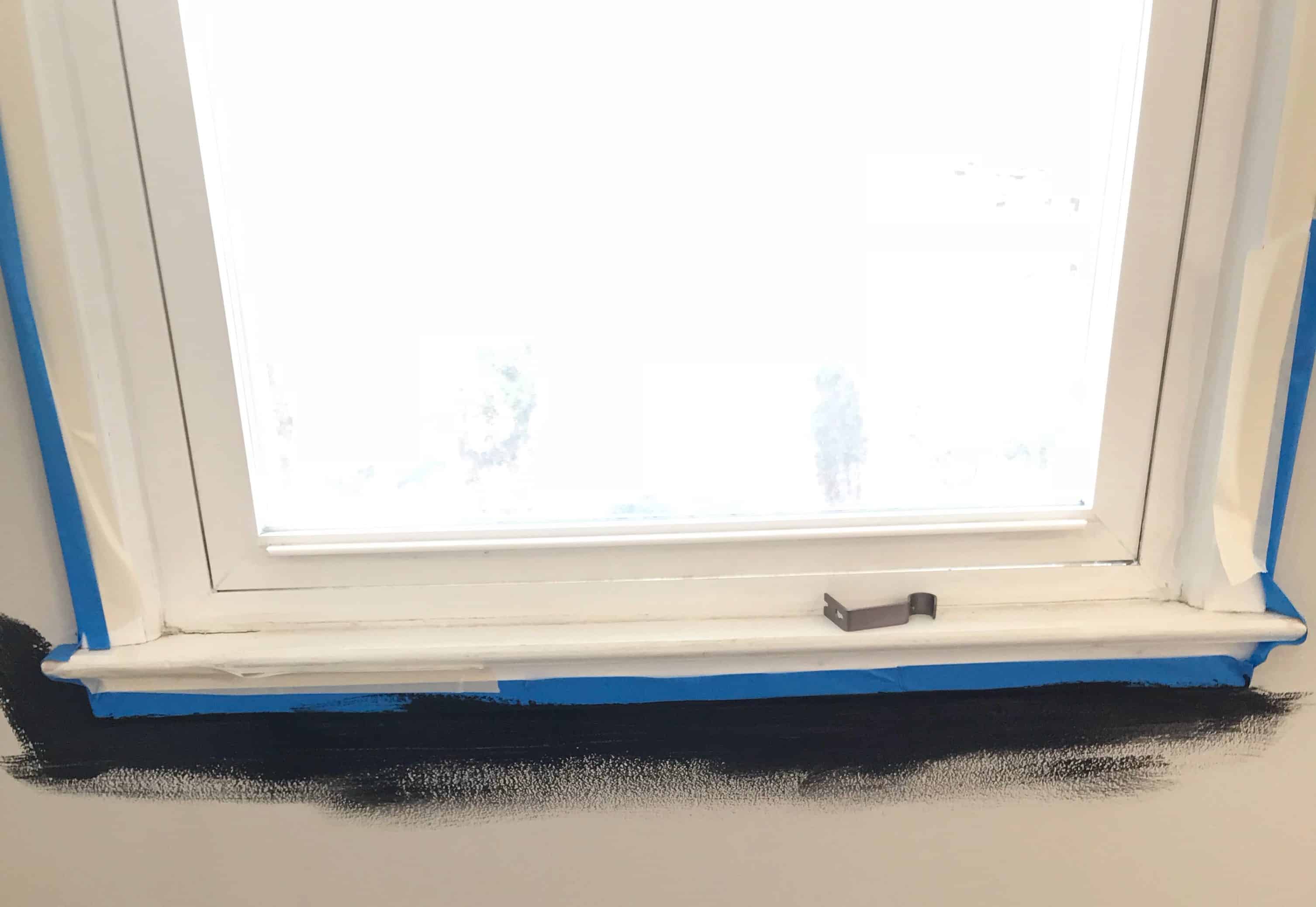 The first brush stroke is always a slight adrenaline rush but this was a particularly exciting rush because uh…black.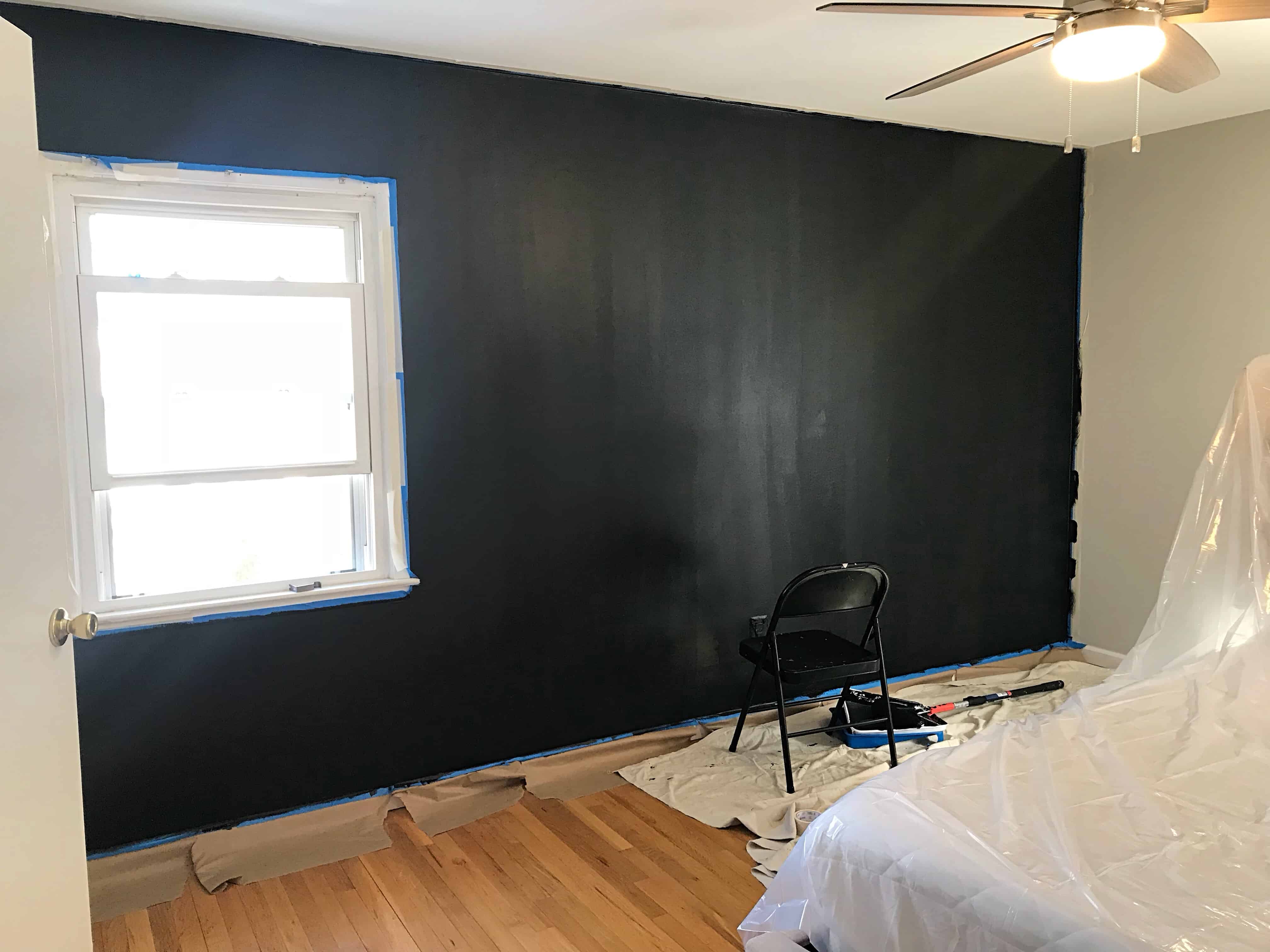 Unfortunately, there were some visible brush strokes, but we've gotten used to it. I tend to be a little too aggressive when rolling on paint. I just get excited. I can't help it??
I took my daily trip to Home Goods just minutes after I was done painting as I was so eager to find the perfect decorative accents. As I turned down the lamp aisle, the heavens parted and I spotted these absolutely stunning gold tree lamps. It's like someone had known I was searching for the PERFECT lamps to fit like a glove in our GLAM, DARK + COZY WOODS themed bedroom. I had a conniption in the middle of the aisle. The conniption progressed when I noticed they were ON SALE. I thanked the Home Goods Gods and ran home to throw everything together.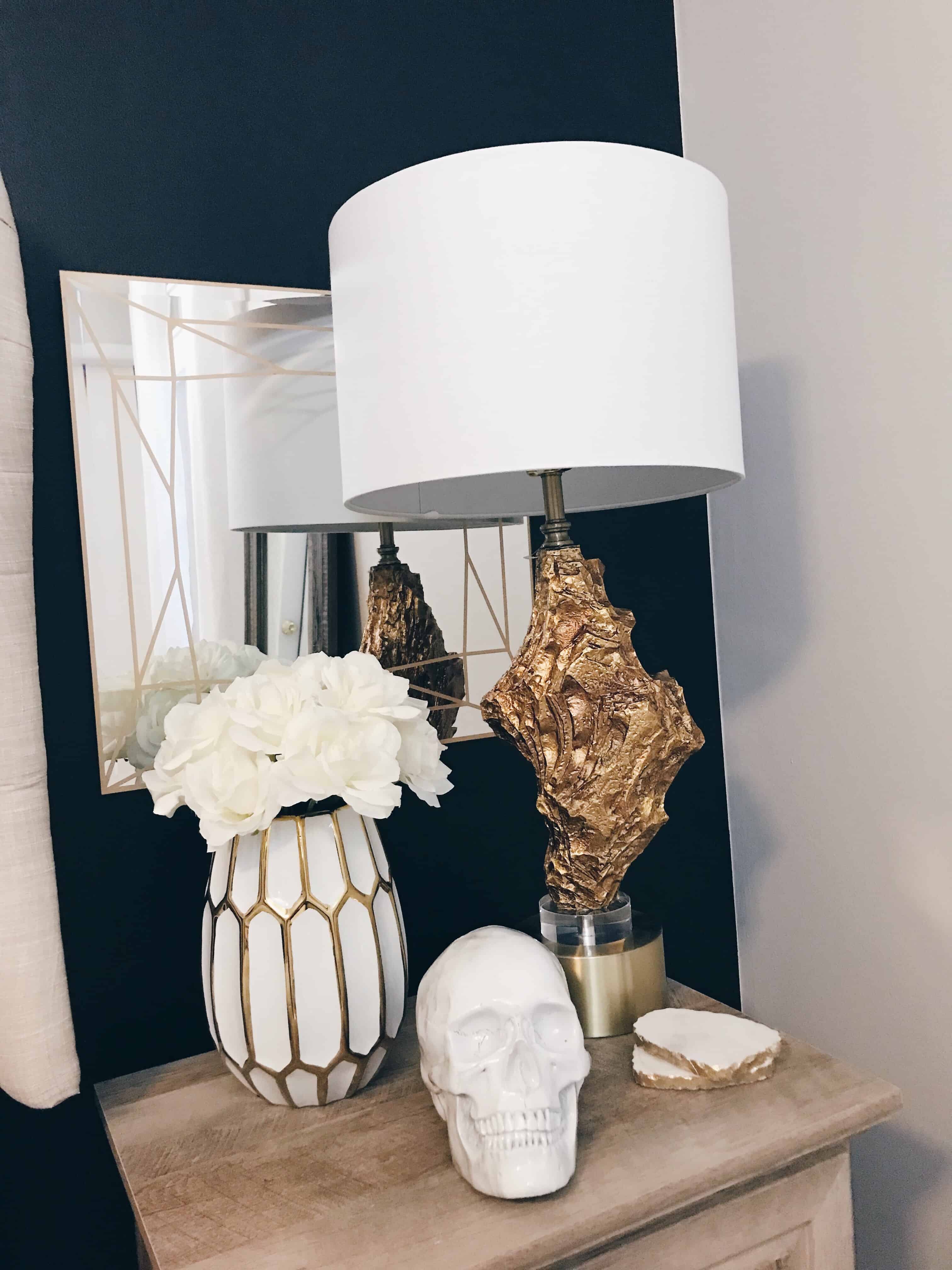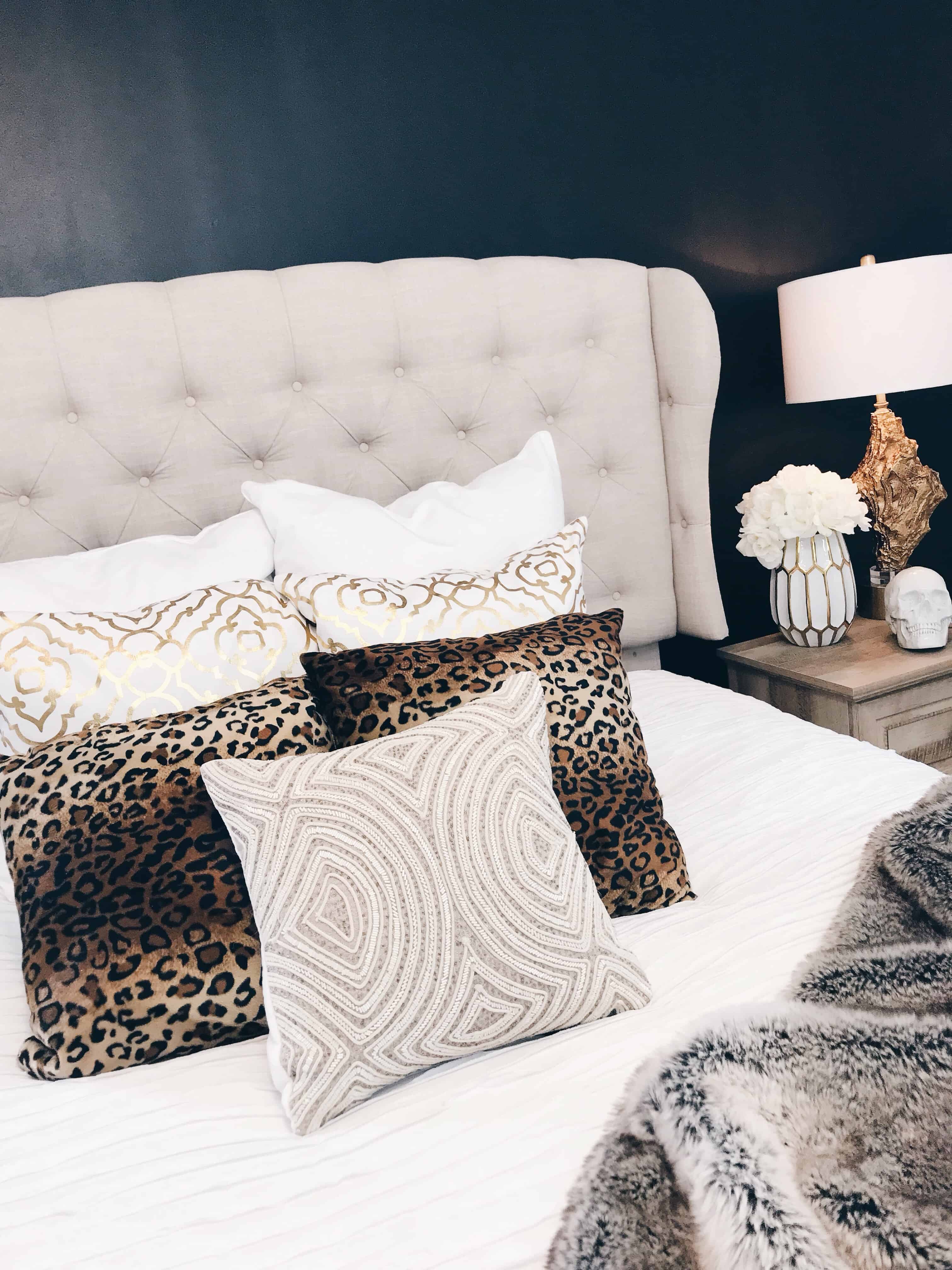 Quick backstory to this next decorative accent…
Every time we've taken trips to Lake Placid, we joke about how amazing it would be to spot a moose, but we've never been able to find one. It became a "thing" between us and I knew this gold faux taxidermy moose would be the cherry on top of the perfect bedroom.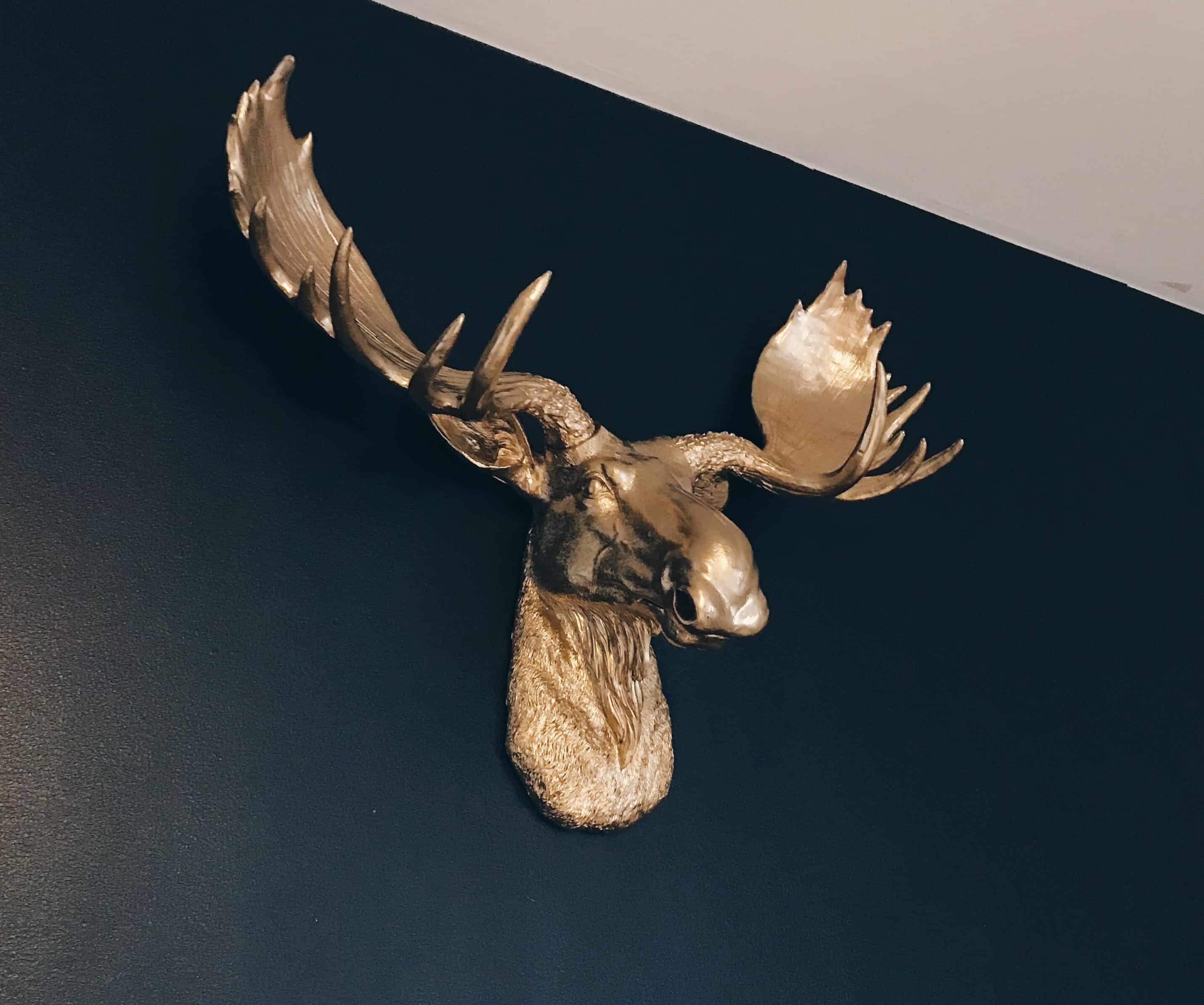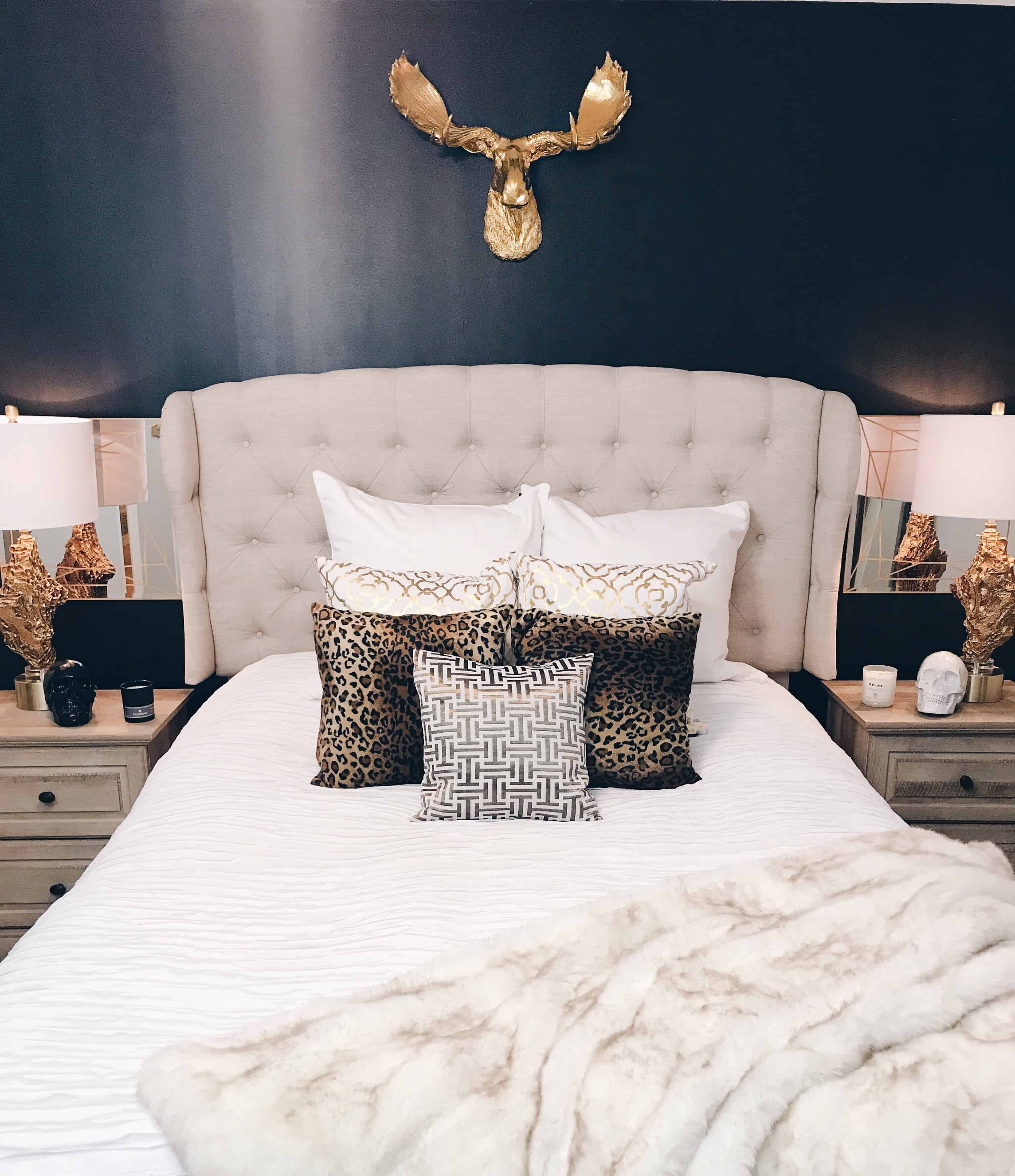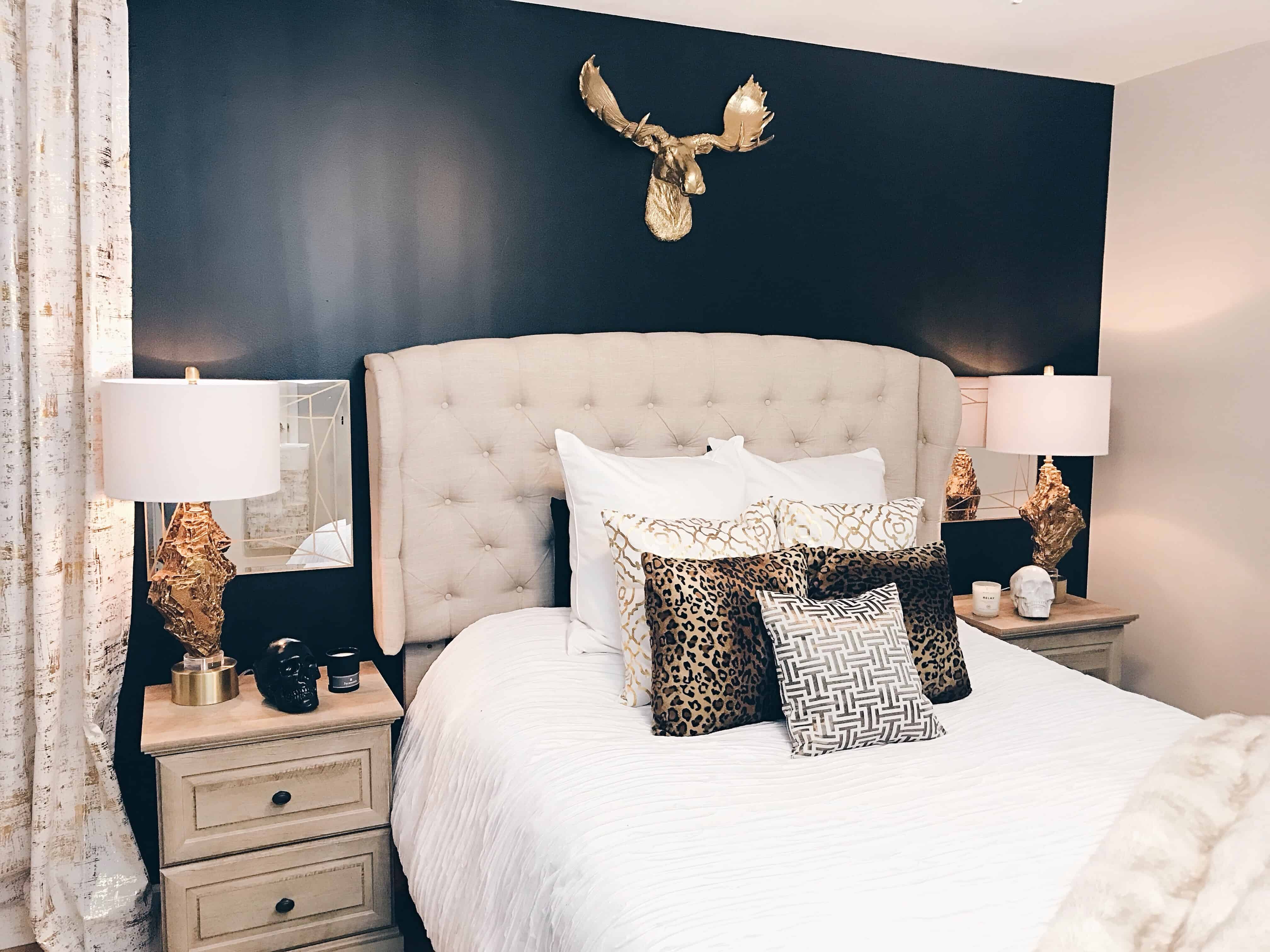 To say I'm obsessed with how it turned out is an understatement.
Of course, had to throw in a before & after comparison…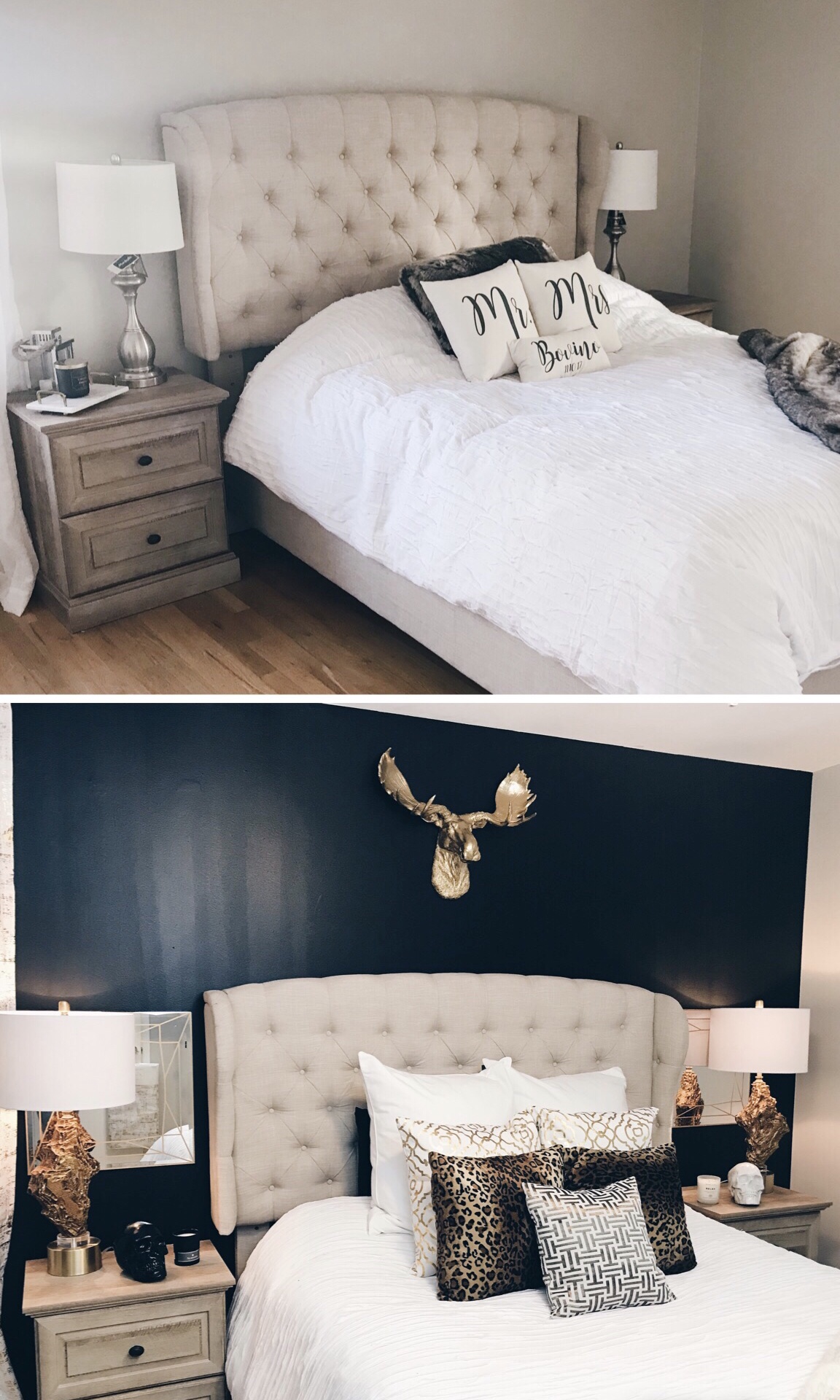 I can now honestly say that I'm genuinely happy whenever I walk into our bedroom. It looks and feels completely different and all we needed was some paint and a few decorative pieces to make the room give off a totally different vibe.
I want to end with this: if you have even the slightest bit of intrigue to use dark paint in your home but are hesitant, my advice is to just do it. I highly, HIGHLY recommend experimenting with dark paint in your home. It took a while for me to finally cave and just go for it (gray was so, comfortable), but I'm telling you-you won't be disappointed. It creates an entirely new vibe that will make you feel like you never want to leave.
I truly hope you enjoyed this post and I can't wait to share my next "Dark Side Diaries" entry about (you guessed it), my entirely black office.
<3
Alisa