Reveal posts are probably my favorite types of posts to write, because I love recapping all of the details that I've invested so much time into for the last few months and sharing all of the before and after photos of a fresh new space.
This reveal is particularly special because after *wishing upon a star* for years, the green velvet chesterfield of my dreams is finally nestled next to me as I write this. 
A few months ago I posted about what my dream living room would like if my dear husband would just allow a green sofa in our home. Longgg story short, he finally caved after some compromising. And maybeee a persuasive PowerPoint presentation. Doesn't matter. The point is…I got the OK.  
Here's the vision I had for our living room:
+ Bringing my love for jewel tones to life. I wanted the green sofa to be the dominating center of attention while also incorporating bits of other jewel tones throughout. I also wanted to step outside of my comfort zone and include colors that I normally wouldn't include in our home, which I was surprised to find I actually loved doing.
+ Display my unique, growing collection of vintage/antique thrift finds
+ Install molding throughout. The living room wall is 24 feet long and flows into the dining room, and the bare naked wall just looked so….boring
And now, for the before photos:
A few weeks after we bought our house, we painted this space Repose gray. Because this is a northern facing room, it always looked so…gloomy. If you want to see the different iterations of this room since we moved in, check this post.

This is the photo from the listing when we bought our house. I'm only sharing this because I just want to show the dramatic difference between styles then vs. now…

And (finally), the big reveal…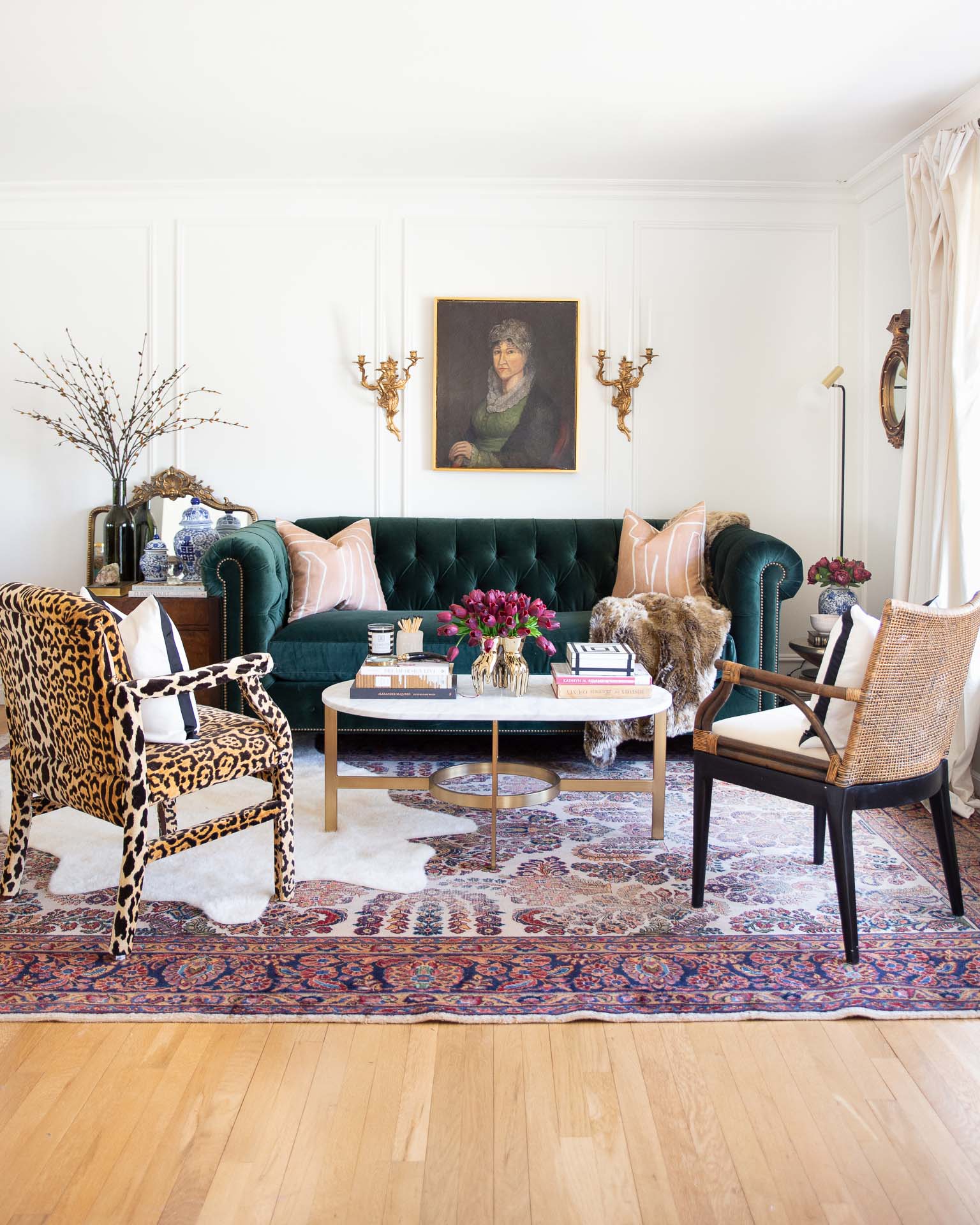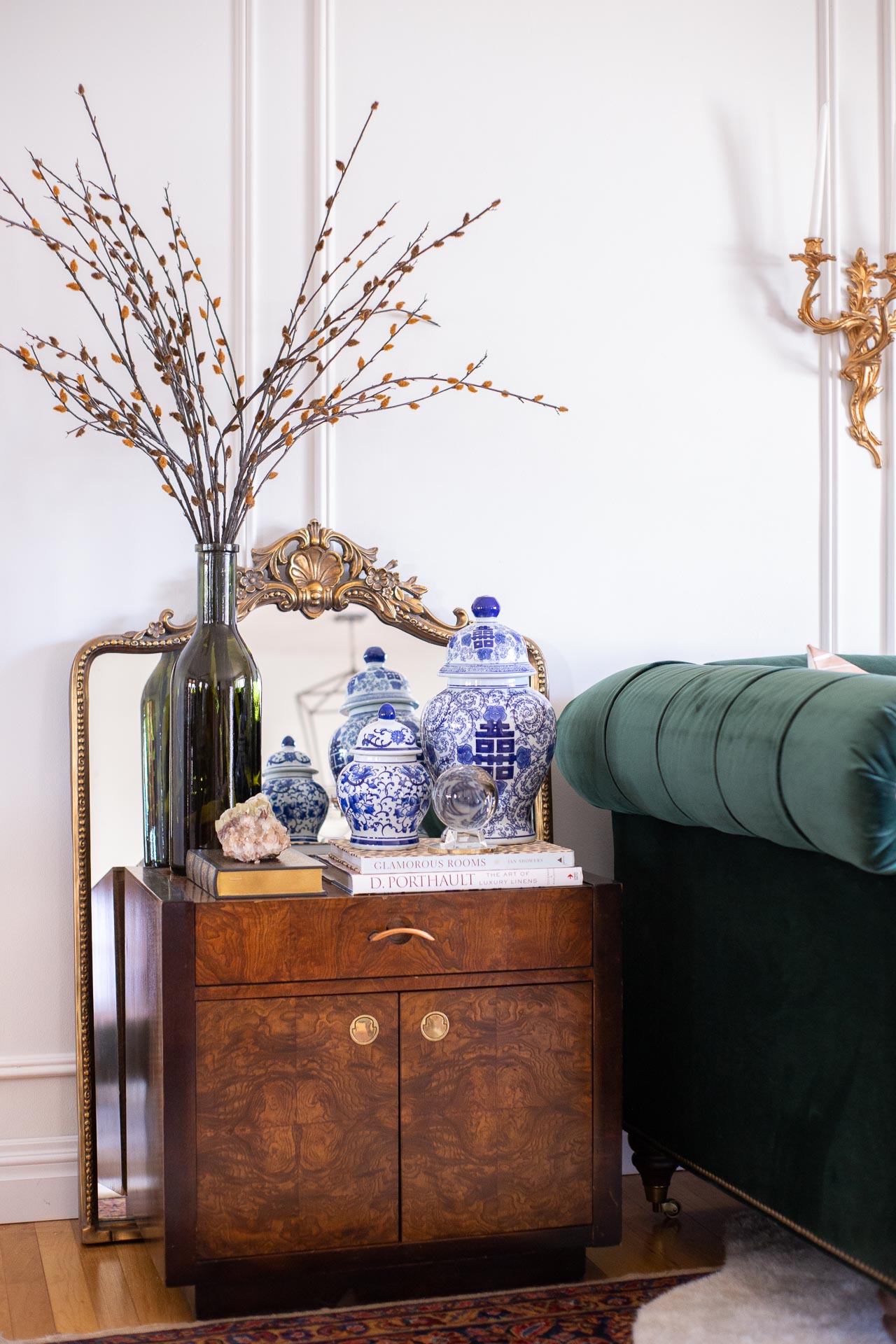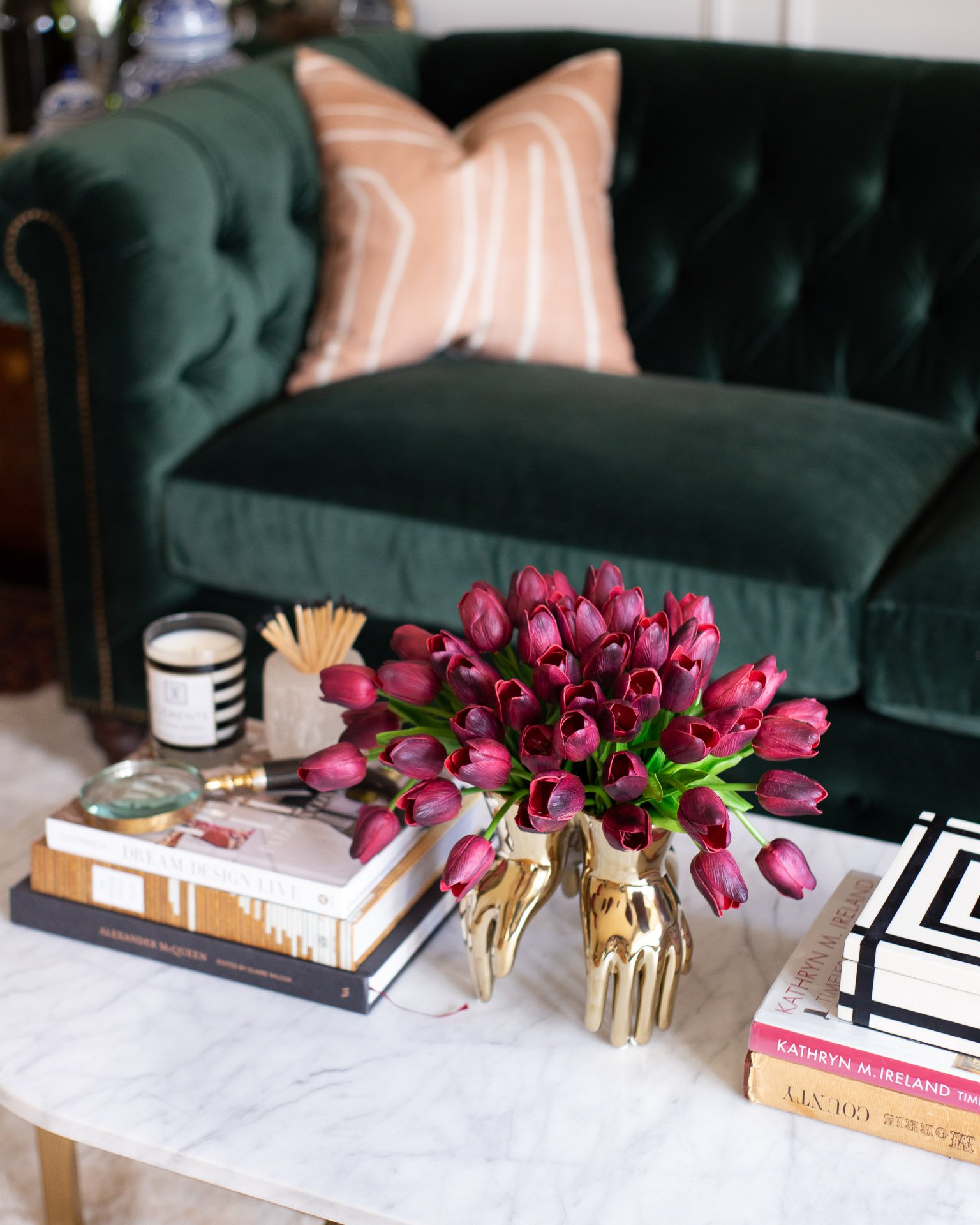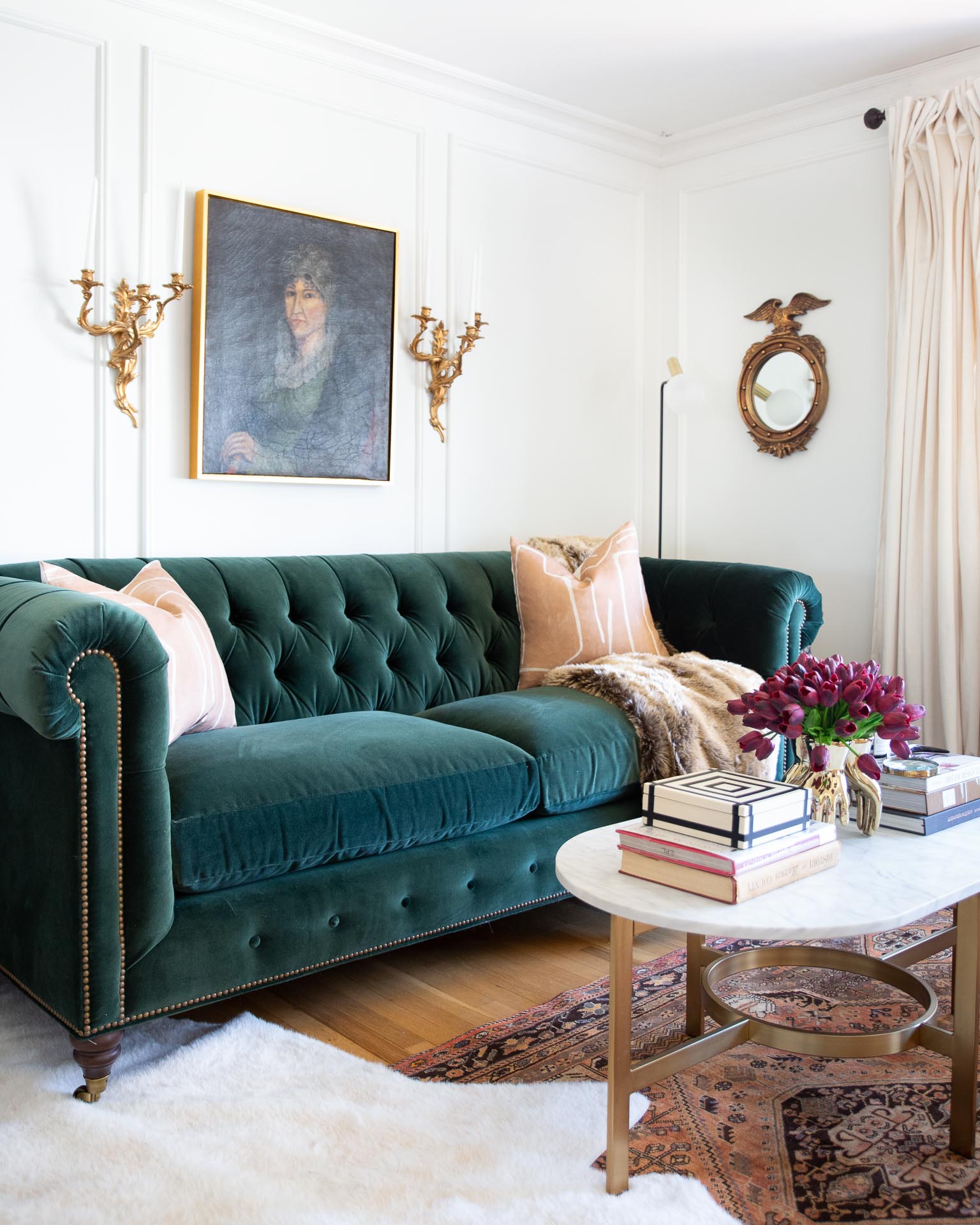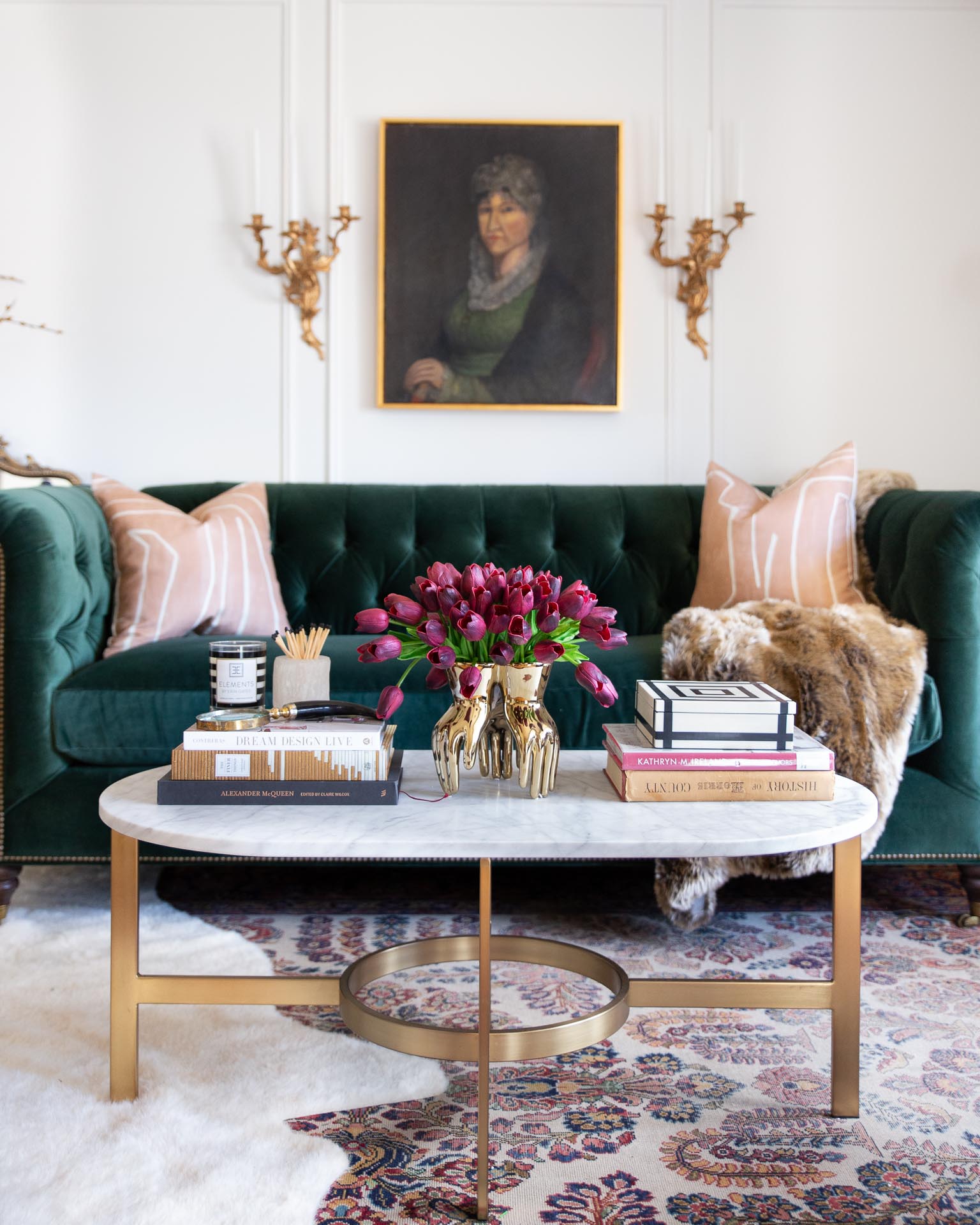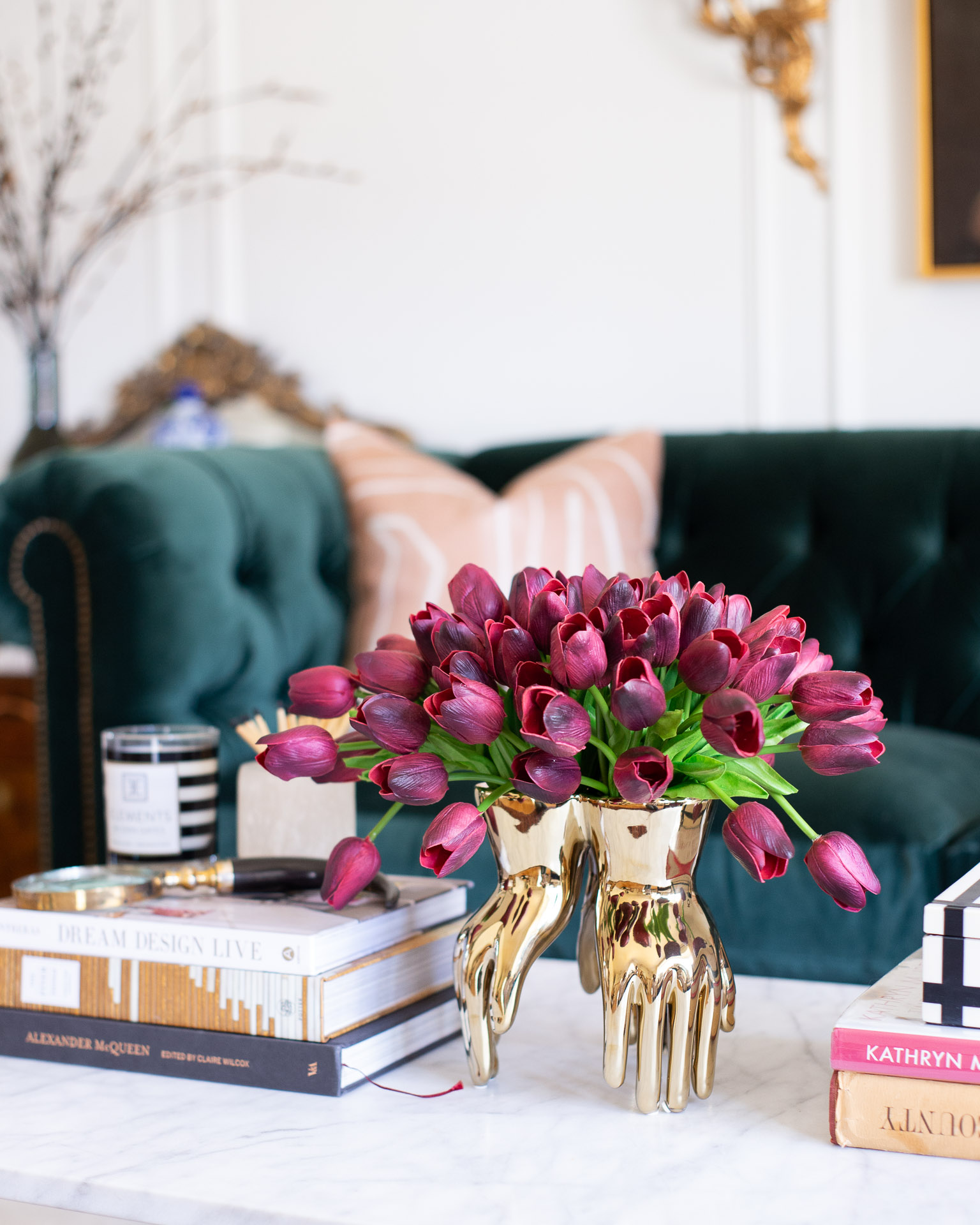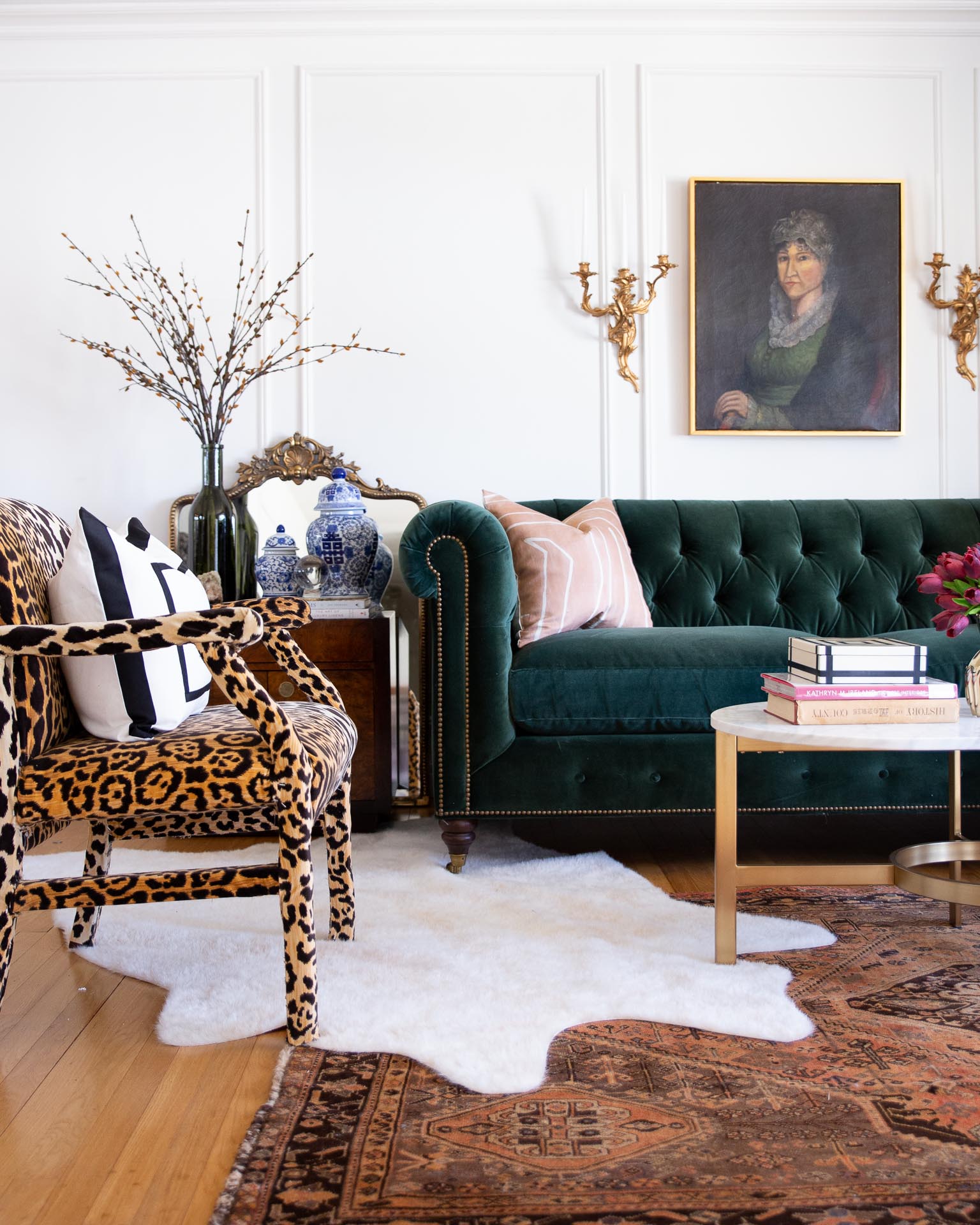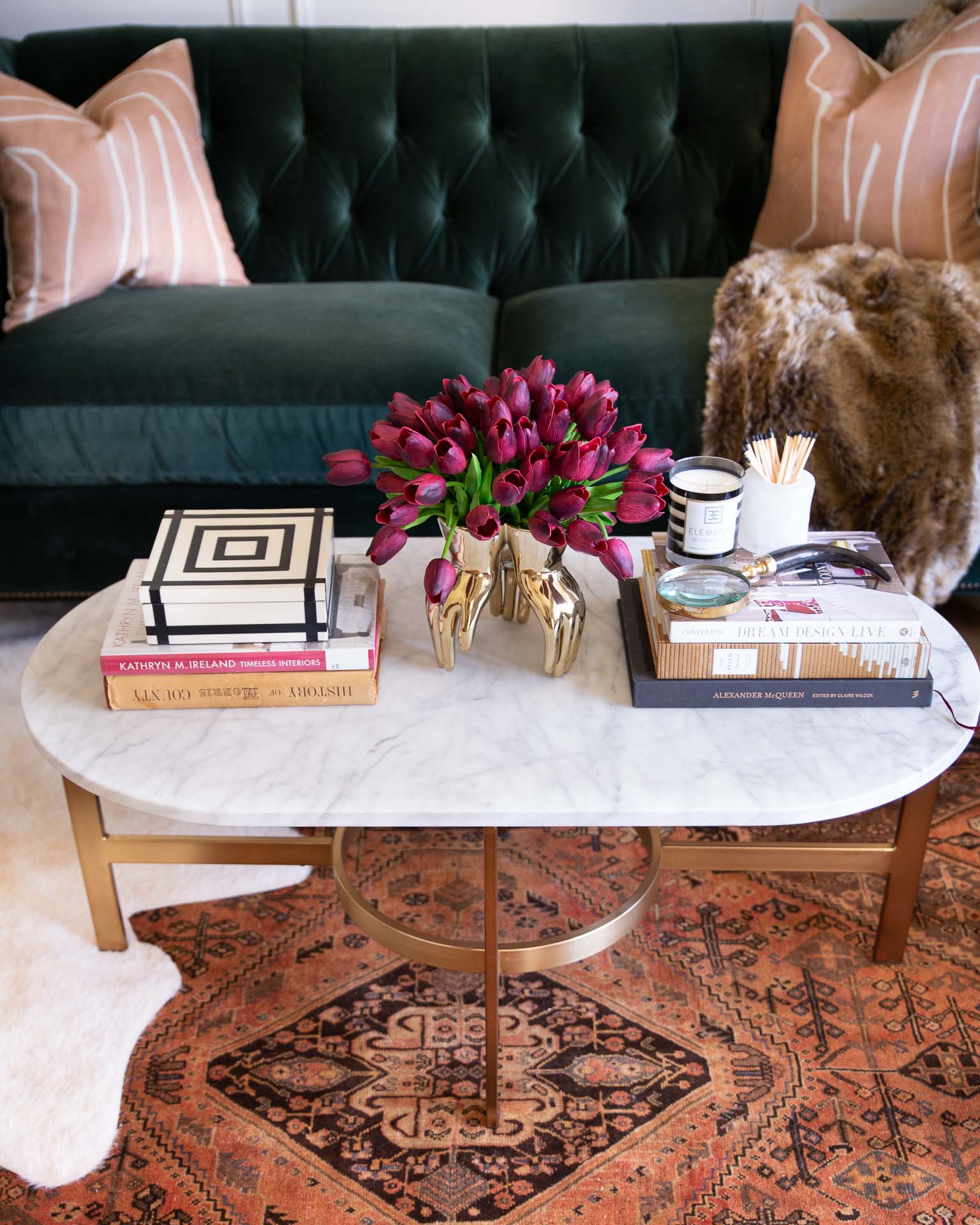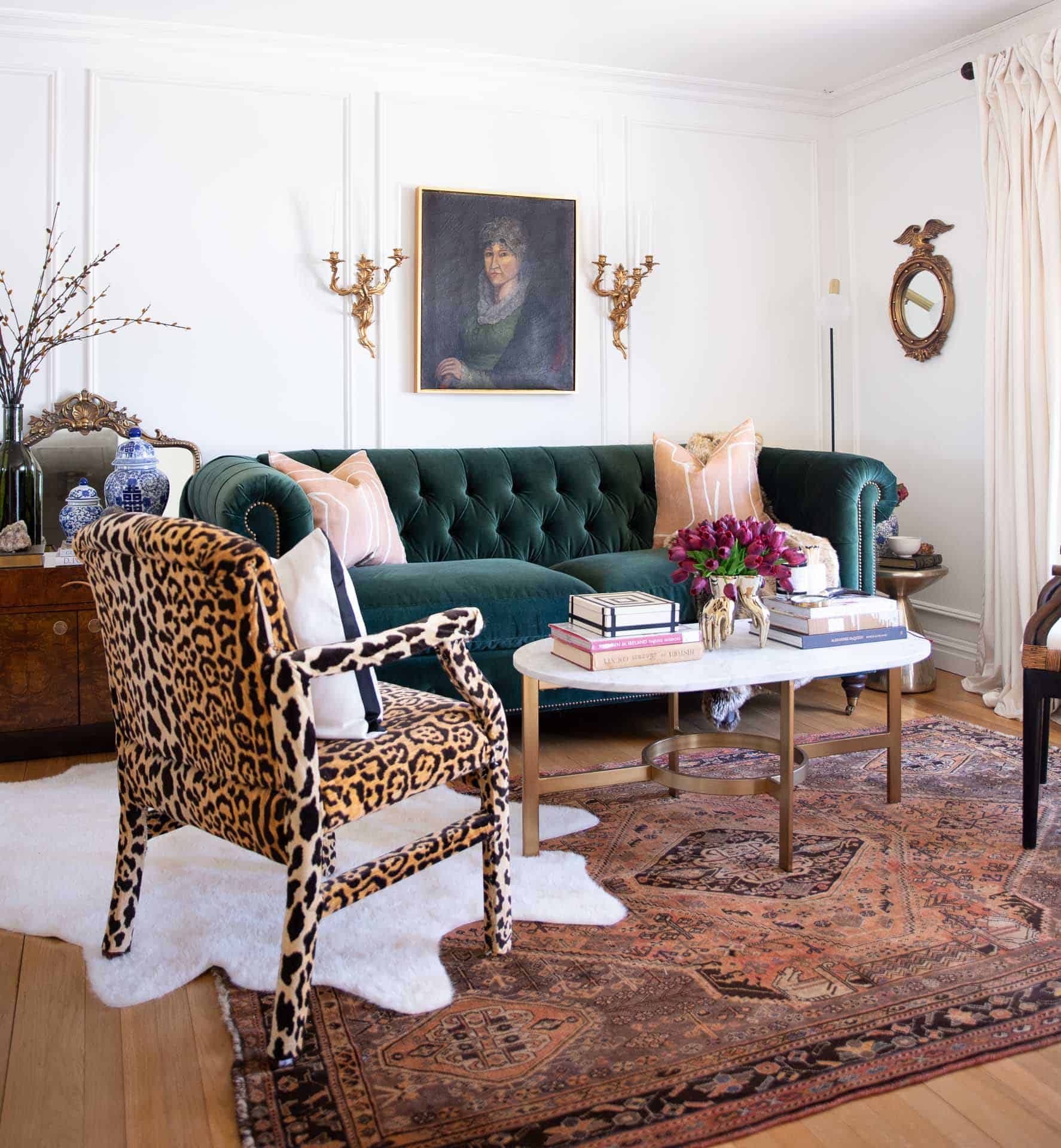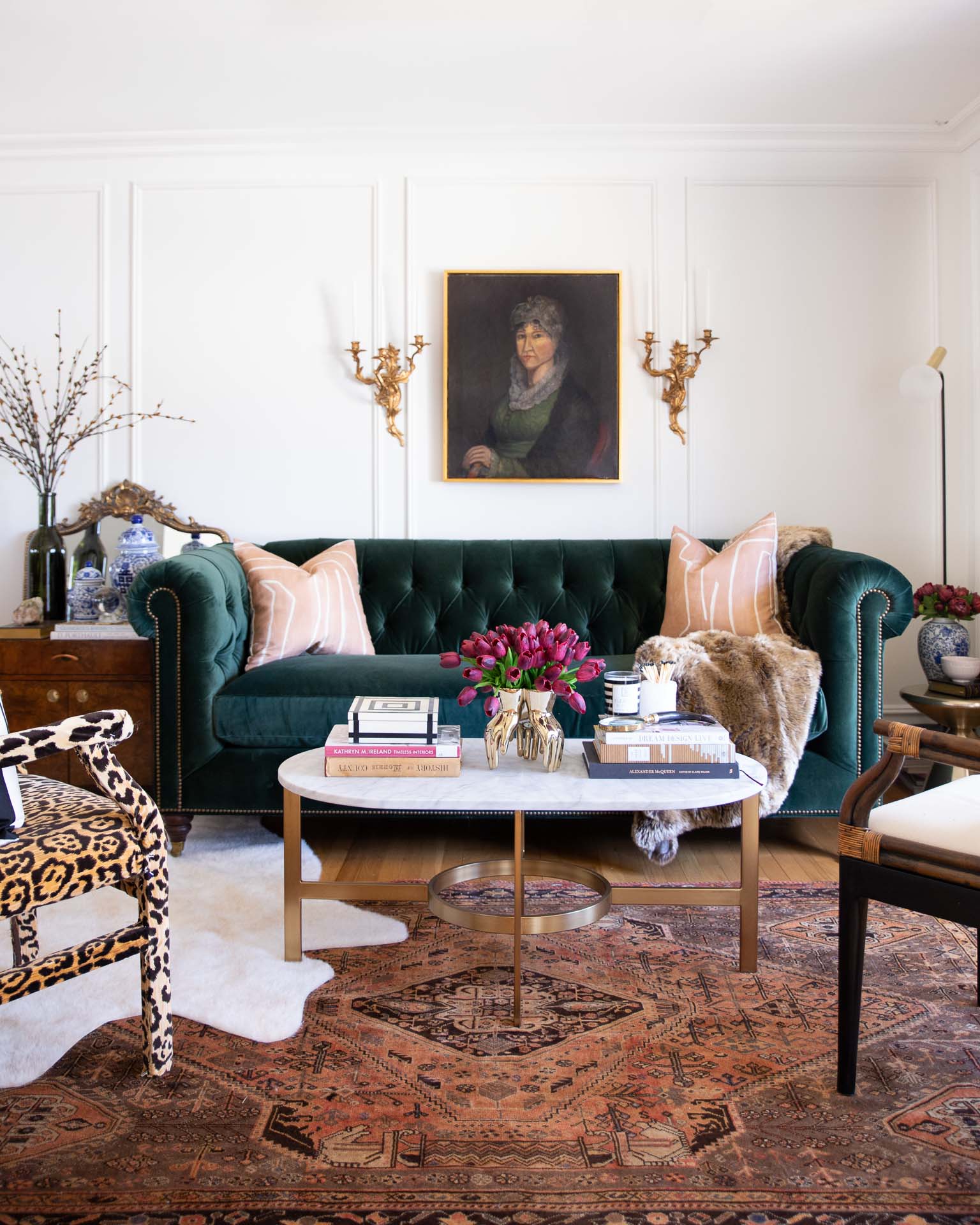 Of course, I have to recap the details that encompass our new space (and p.s. – you can shop each item at the end of this post)…
THE ITEM OF MOST RESISTANCE: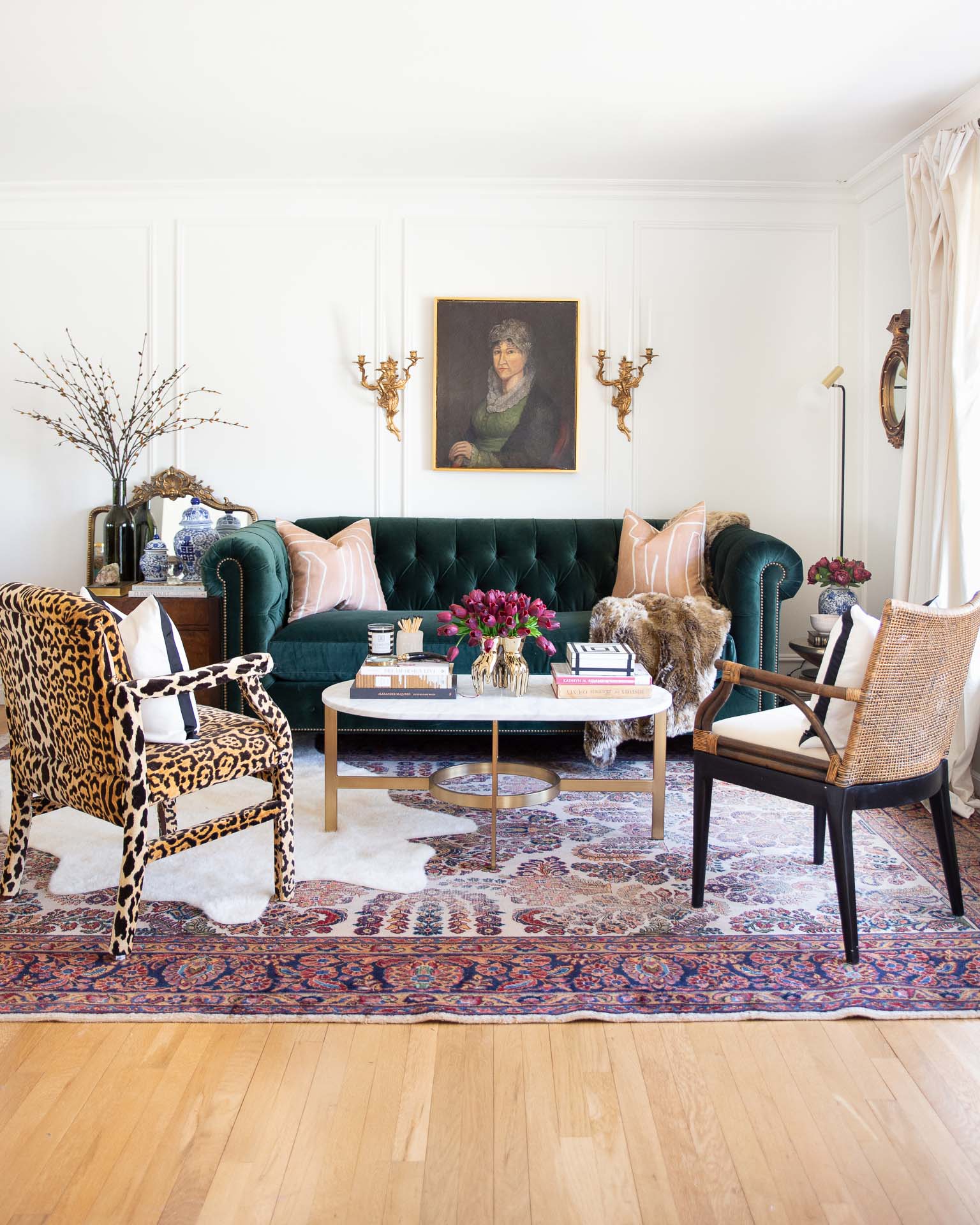 I spent WEEKS on the hunt for the perfect rug and finally stumbled upon this vintage floral Karastan for an absolute steal on eBay. I know that a rug can make or break a room, and I would not rest until I found a rug that I felt would be the perfect contrast to the sofa and would pull together and (literally) ground the space.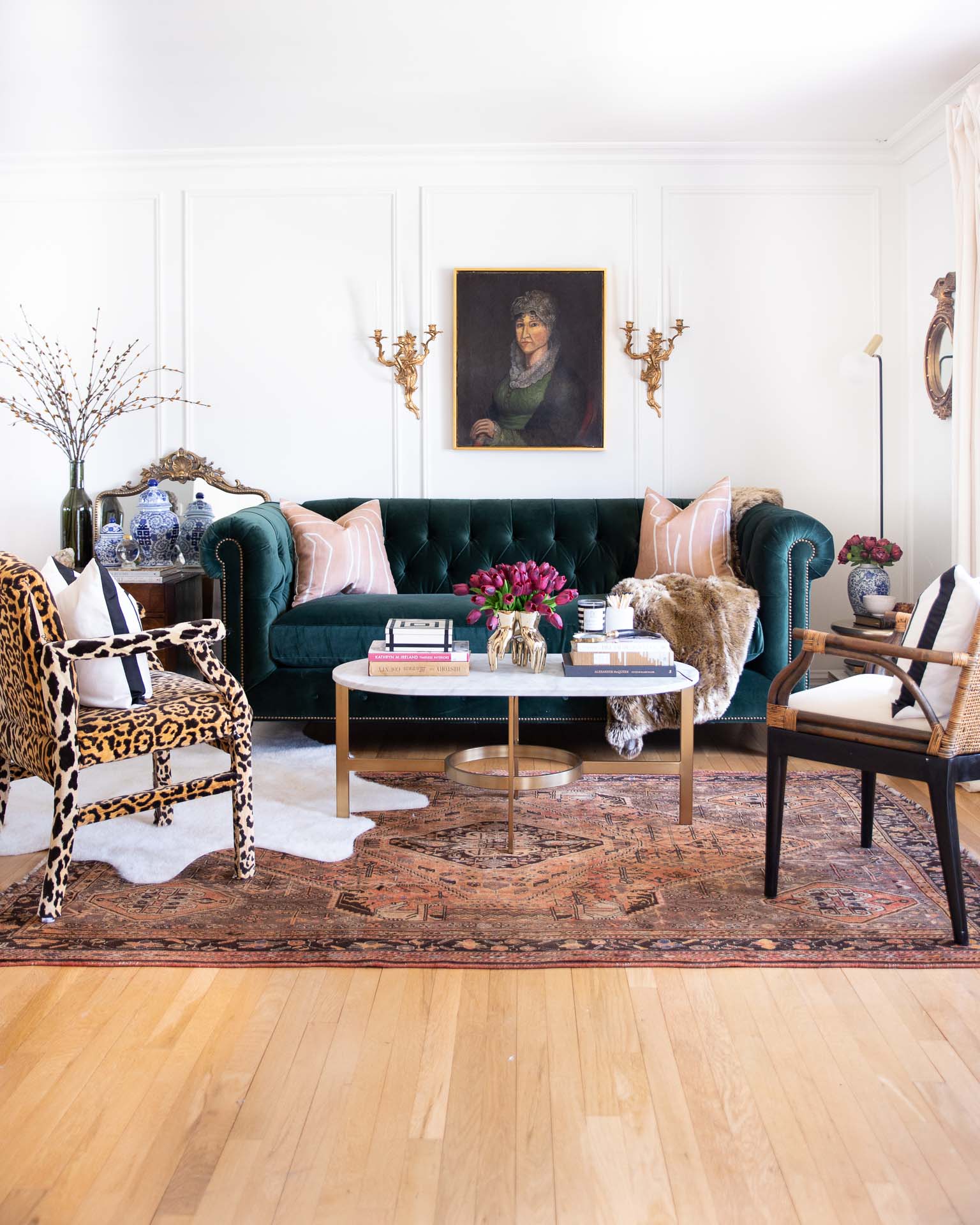 However, as luck may have it, Jessica from Kennedy Rose Interiors gifted me this gorgeous vintage tribal rug named Riley. I was clearly having a hard time choosing which rug to use in the final reveal photos, so I switched them up!
THE BALANCER: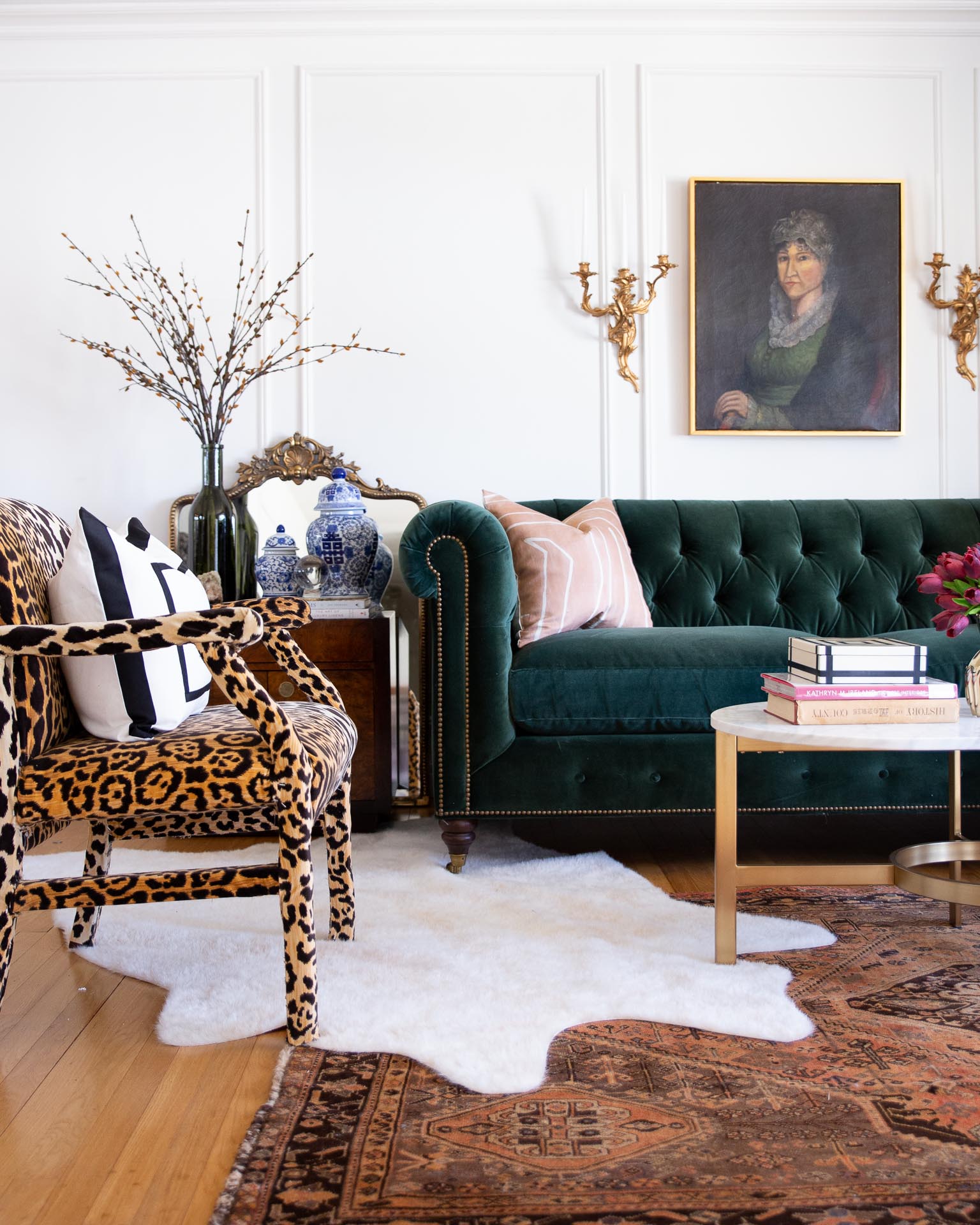 I was worried about the rugs appearing too busy, especially paired with the leopard chairs, so I bought an ivory cowhide rug to layer on top/tone the space down. I love that it adds layers and dimension to the seating area.
THE NOT-SO-FUN DIY: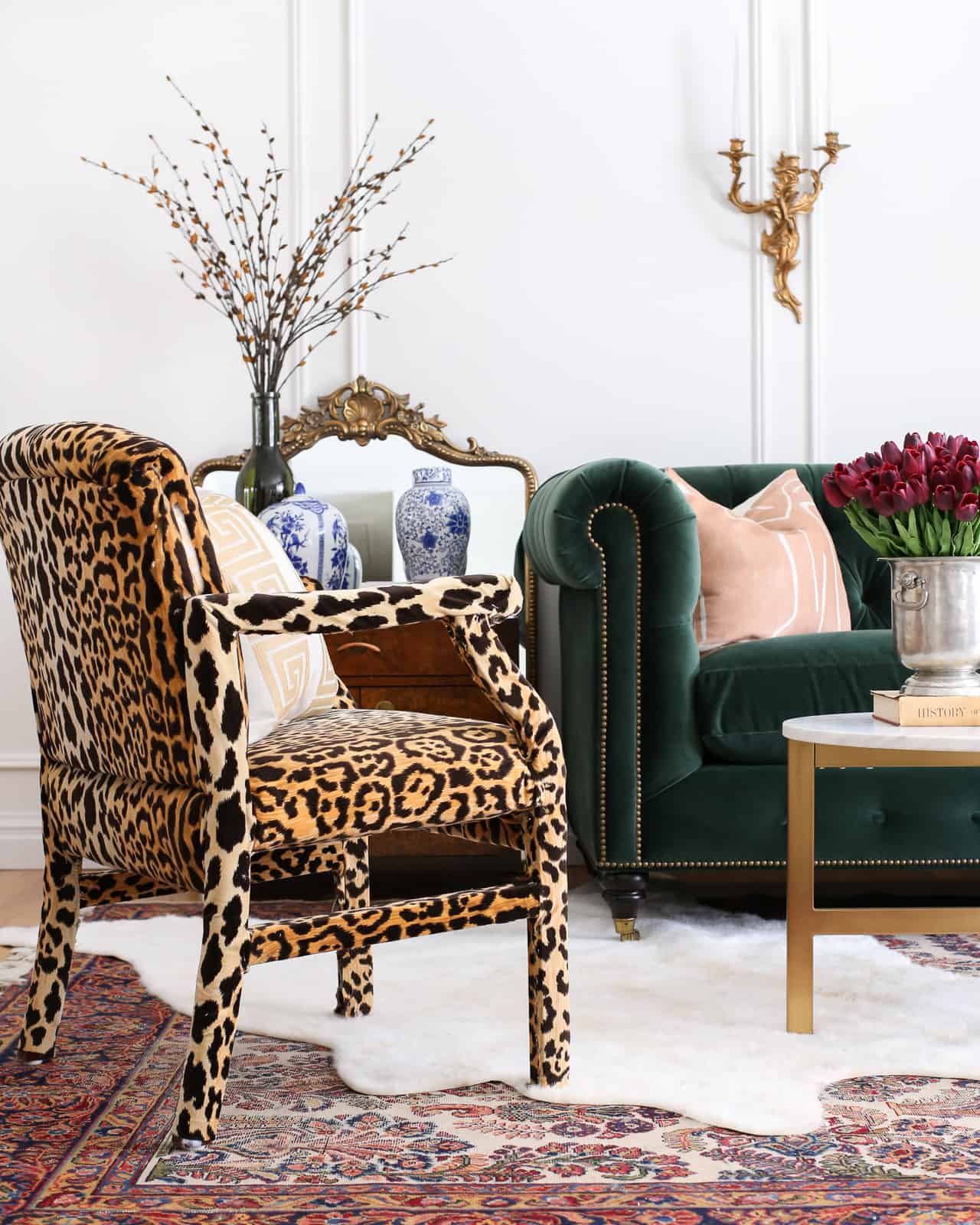 I upholstered my very first set of chairs with my all-time-favorite leopard fabric and I have to say – upholstery is a bitch. I couldn't have done it without the help of a friend, who walked me through the reupholster step by step, and I am forever grateful for that. But if you ever come over, I ask that you don't look at them too closely 🙂 
THE MODEST TOUCH OF ORNATE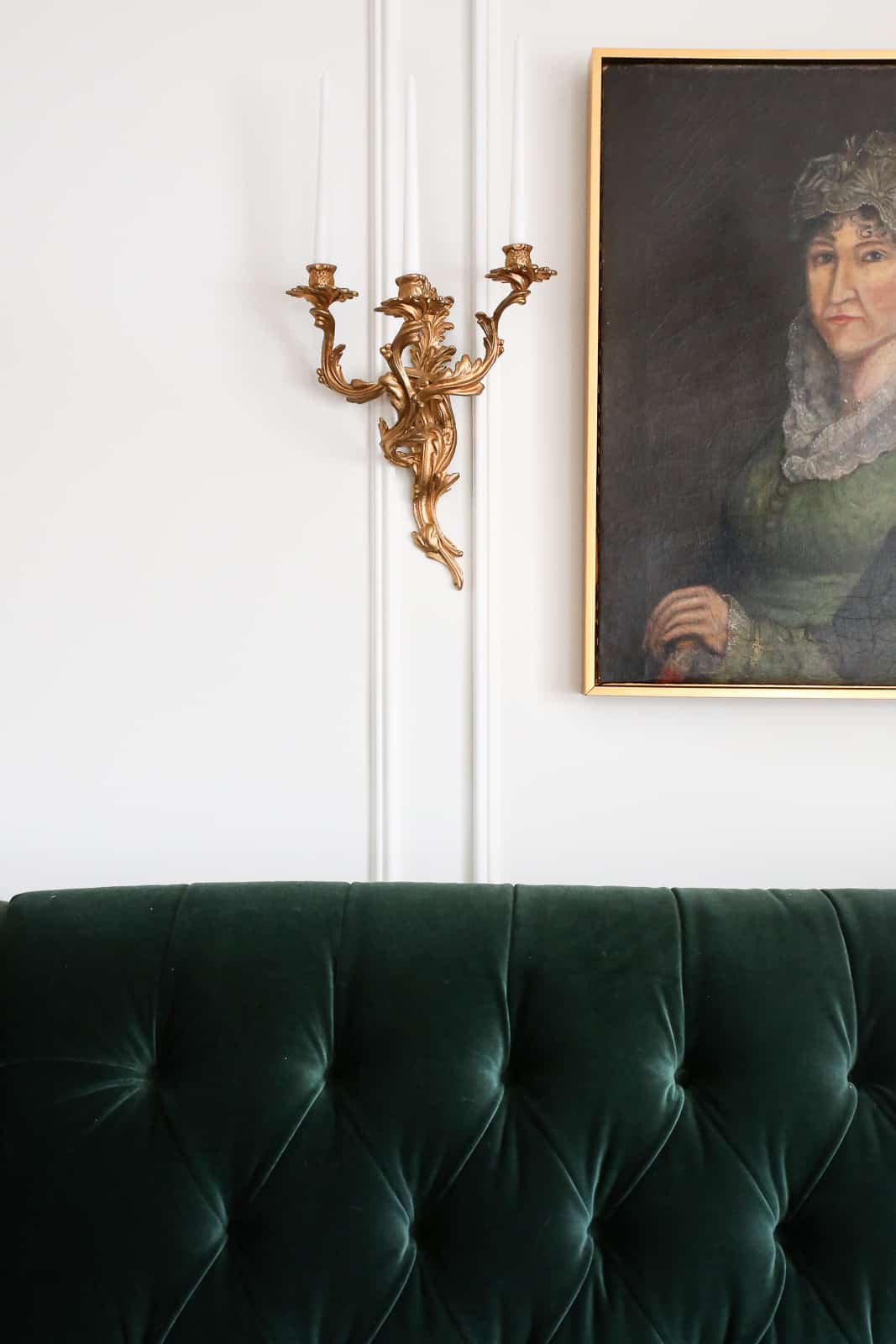 There's like, one mandatory design rule in our home: every room needs something gold and ornate.
These cast iron Rococo sconces were hanging in one of my favorite local thrift stores for weeks, and I wasn't quite sure about them. But I'm so glad I took a leap of faith and although others may feel they're a bit much for this space, I think they're perfect.
THE POP OF PERSONALITY: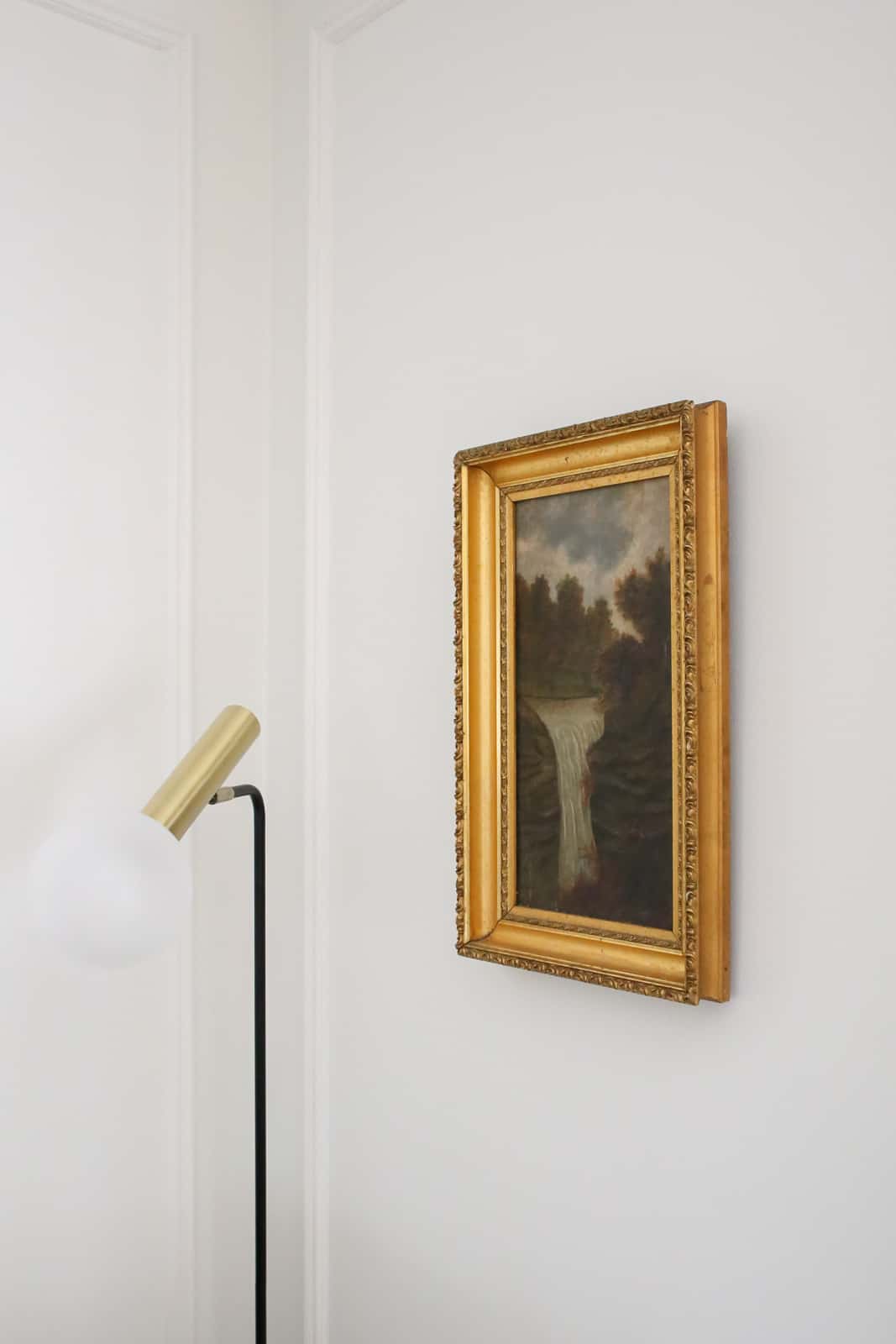 Autumn is mine and Angelo's favorite season, and anyone close to me knows that I've been infatuated with fall since I was a little girl. So when I stumbled upon this antique oil painting of a scenic autumn waterfall of the Hudson Valley (where we love visiting every fall), I knew it would be the perfect addition to this space.
THE BOLD ONLOOKER, AGNES: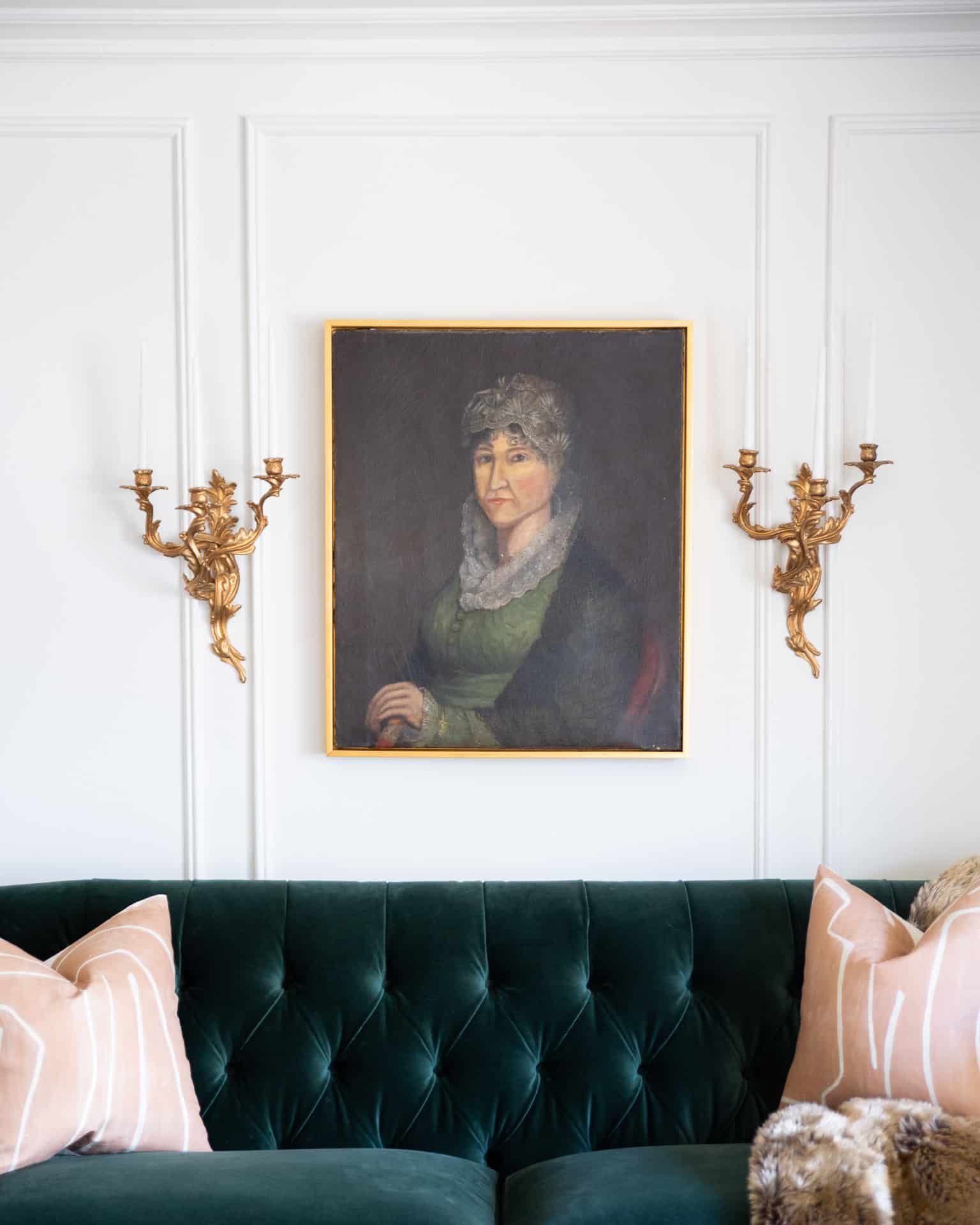 I have a thing for pre-1900 smirky oil portraits. I found this portrait canvas (whom I now call Agnes) on e-bay and knew she would look beautiful over the sofa.
I didn't love the fact that she wasn't framed, so I partnered with Framebridge to add a modern twist to an over 150-year-old painting. She's now displayed in a beautiful gold floating canvas frame over the sofa and thanks to Framebridge, I couldn't be happier with the way she looks.
THE STEAL(S):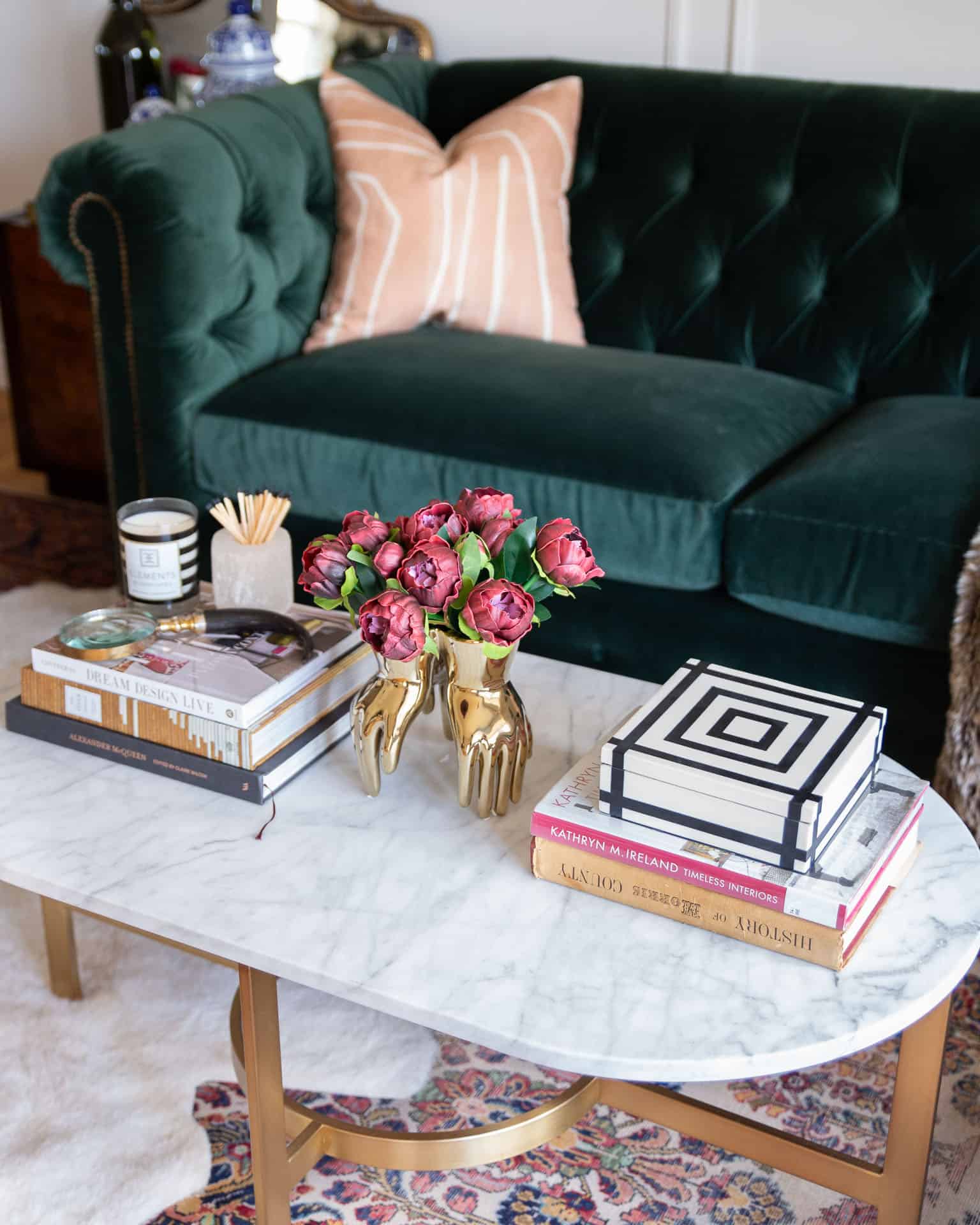 This Versailles marble coffee table goes for ~$900 online, but I found it brand new for $200 on my favorite hangout spot: Facebook Marketplace.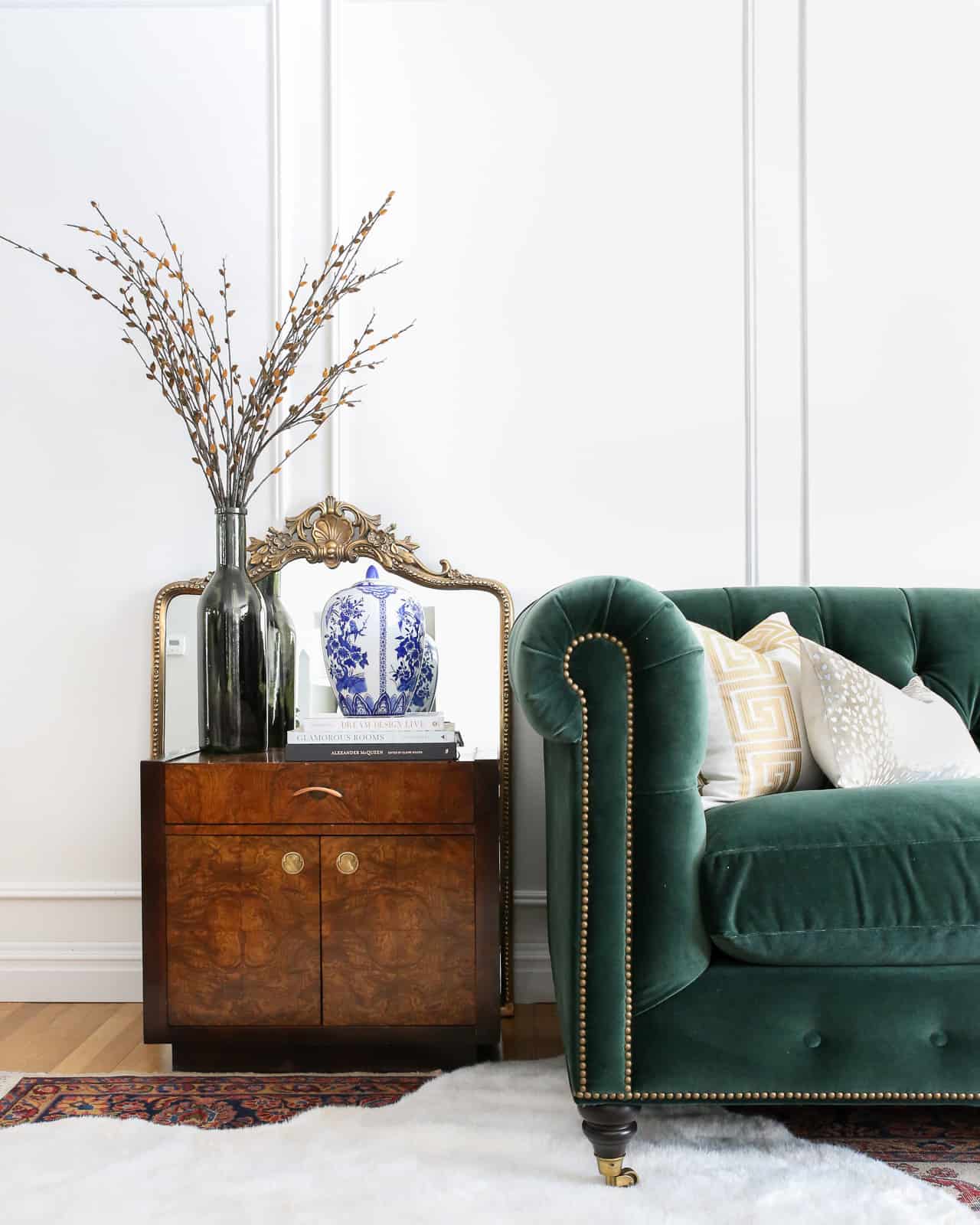 Also, the 3-hour drive for this vintage burlwood side table was worth every second in the car on a rainy Sunday morning.
THE MOST IMPACTFUL CHANGE: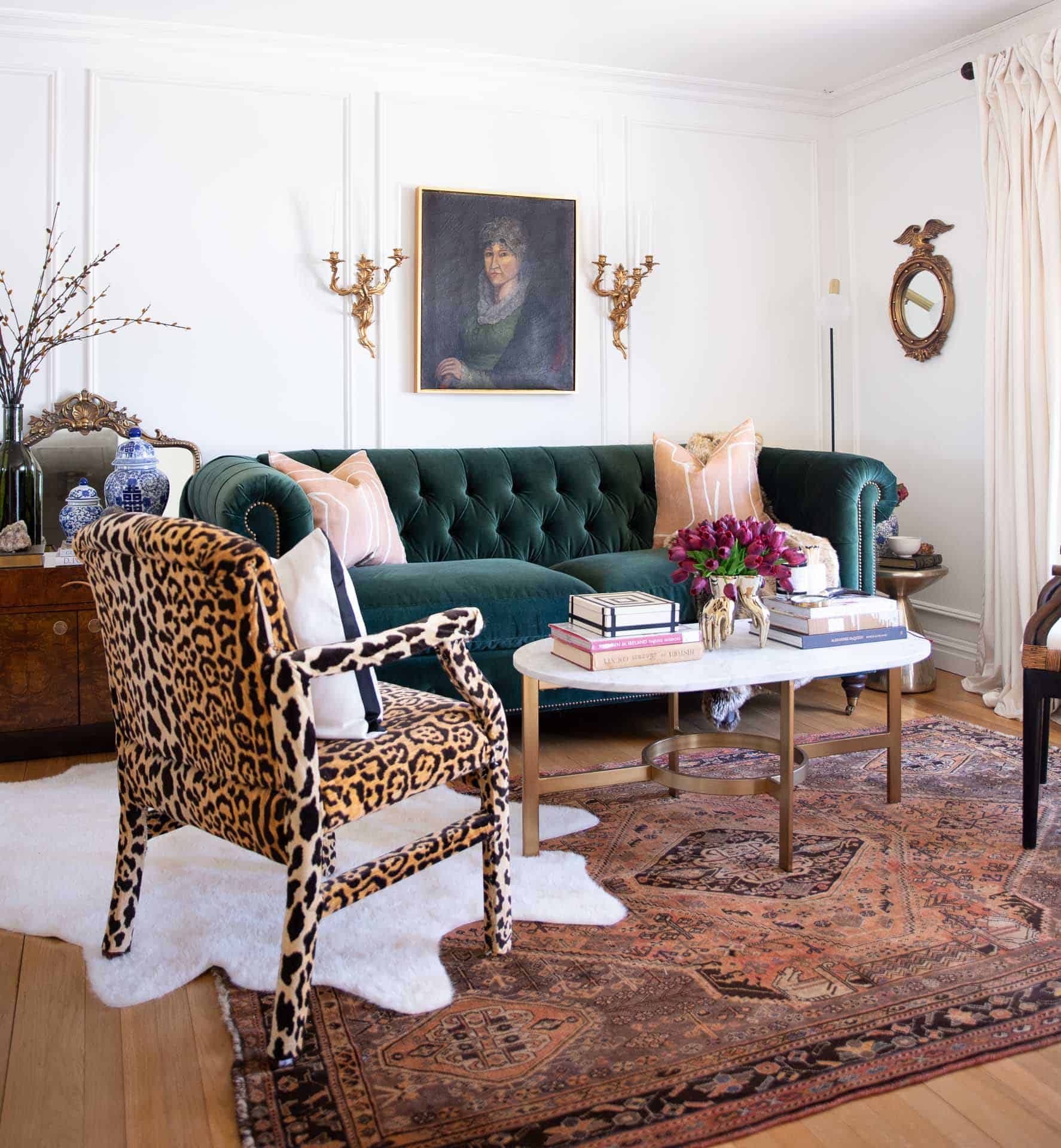 Painting the walls BM Dove White (they were previously Repose) and installing molding from Metrie.
I was gifted crown, base and wall molding for this space, and I cannot say enough good things about their products. I've dreamt of installing molding on the dull, 24-ft long wall since we moved in, and the addition of this molding has made the biggest impact – even the ceilings look higher! 
THE UNEXPECTED COMBO: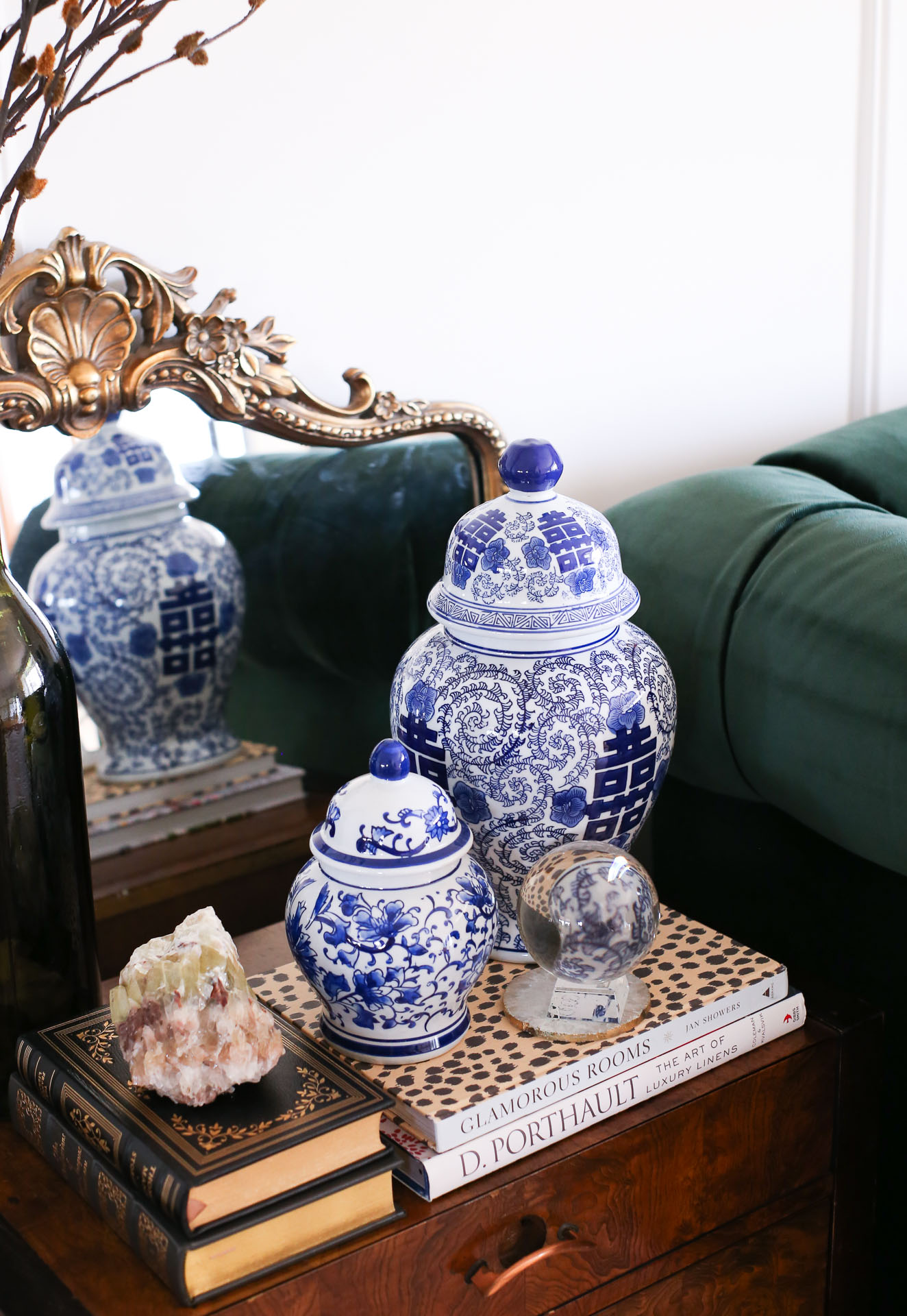 I promised myself that 2019 would be all about taking design risks that make me uncomfortable, and although I was hesitant at first, I'm glad I decided to try out Chinoiserie in this space. I love how the blue and white looks next to the green!
THE REGAL TOUCH:

I strongly felt that I needed to include an accent chair that wasn't so…loud. Something that would balance out the beauty and boldness of the sofa and leopard accent chairs.
I tried DIY painting a set of cane back chairs but it didn't go according to plan, and so then I was stuck with no additional accent chairs at the 11th hour. I searched Joss & Main and found this beautiful yet simple regal cane back wicker chair.  
And last but not least…
THE QUEEN B: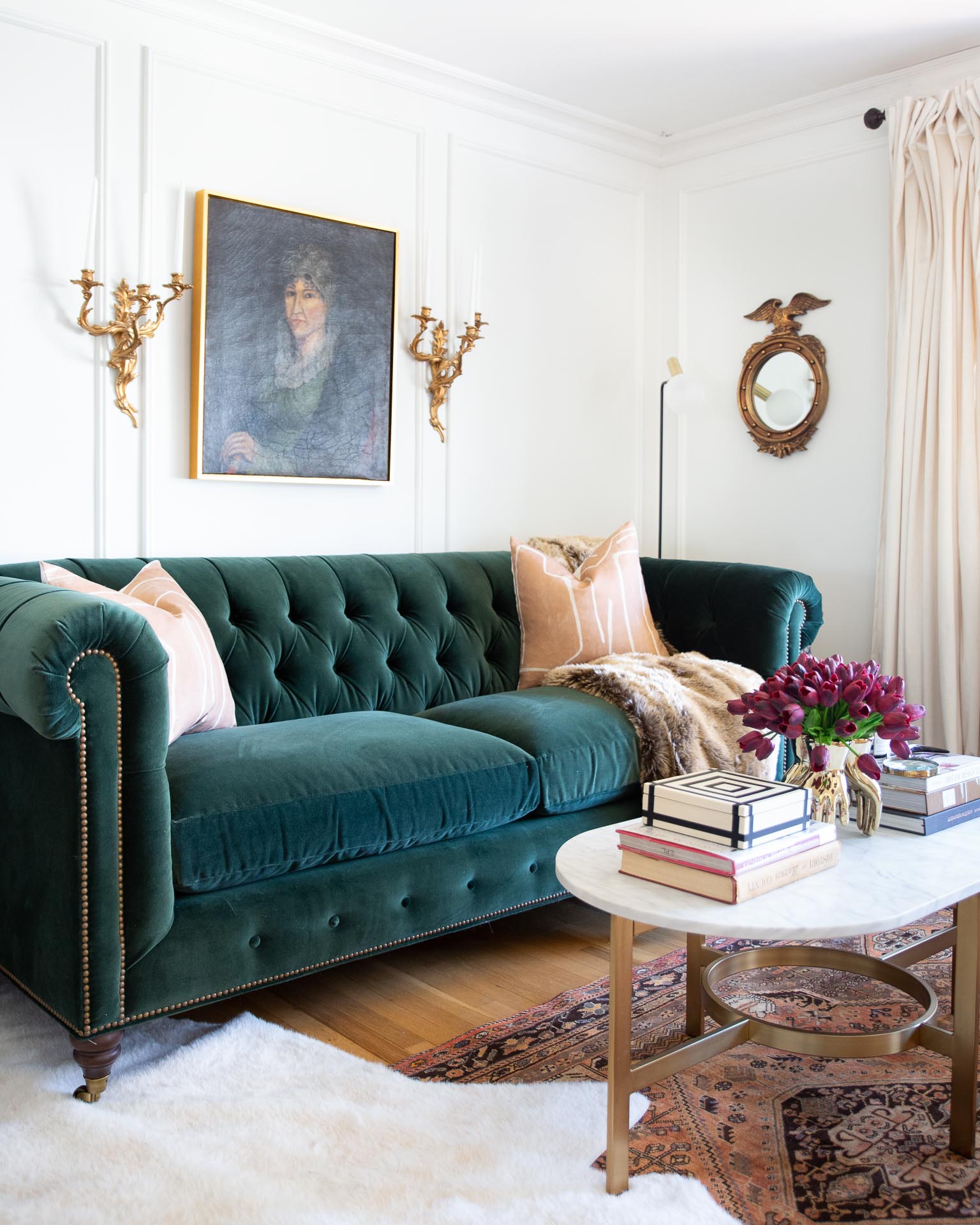 A side by side comparison…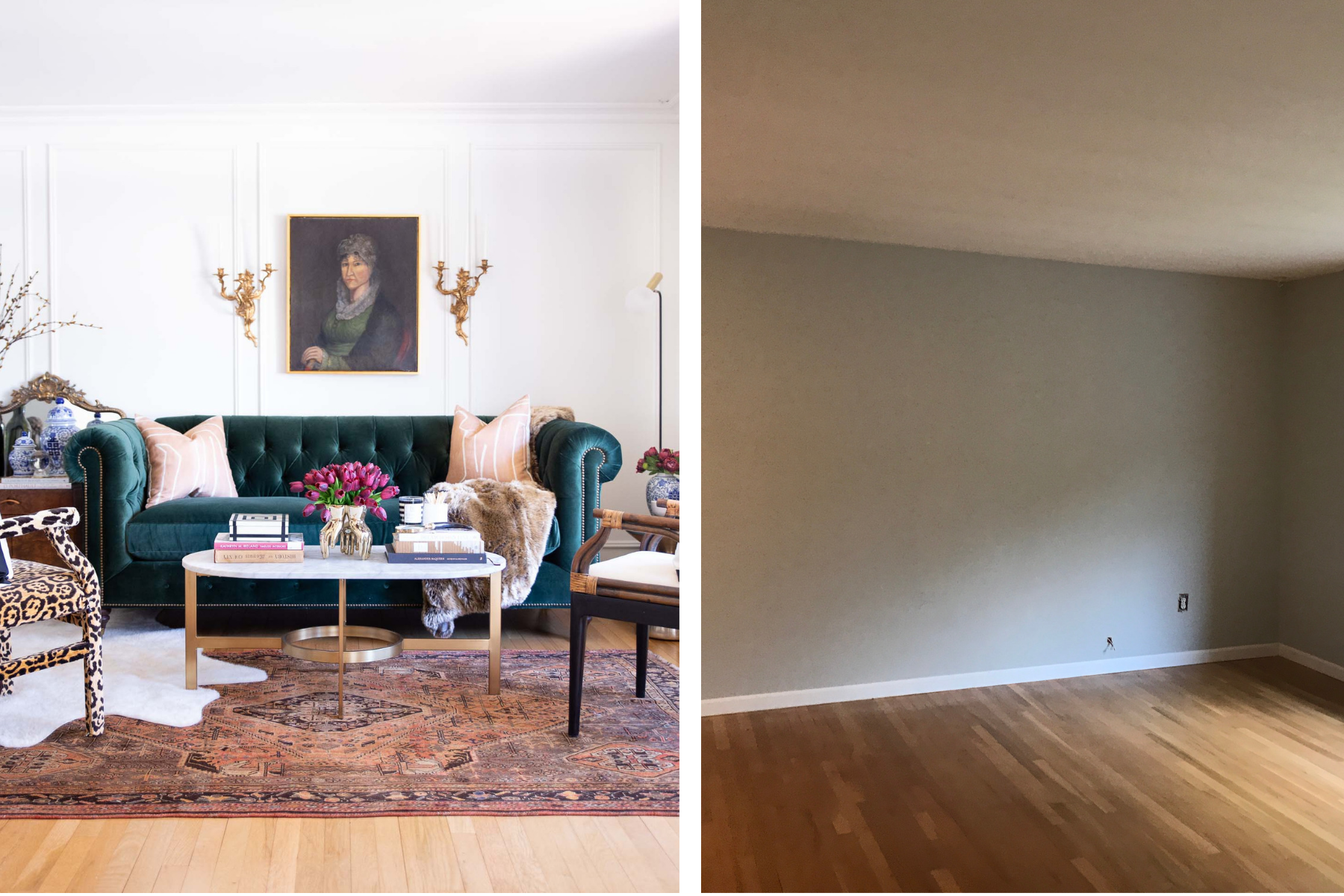 Like what you see? Shop my living room here:

Oh, and if you happen to be wondering what Angelo thinks of the sofa…
Let's just say….he's been spending more time on it than I have.