I'm a tray hoarder. I mean, I'm a home decor hoarder in general but I'm particularly "triggered" by trays. Metal trays, marble trays, glass trays, wood trays, vintage trays – I don't discriminate. I have a shit ton of trays and I will never pass up a beautiful tray when I see one. Have I said "tray" enough yet?
Trays are one of the most versatile items you can use when styling your home and they're a quick way to enhance practically any room. Not only are they visually appealing, but they're great for organizing items you want to have on display, minimizing visual clutter and perfect for entertaining guests.
When styling trays I usually like to use the decorators' timeless rule of 3. In case you've never heard of this – items grouped in 3 are more visually appealing and memorable to the human eye versus items grouped in even numbers (5, 7 and 9 work too, but I like to stick to 3 or 5, otherwise it can be overwhelming). I also typically include a tall item, a short item and an in-between item to balance everything out. If all the pieces you're using on your tray are the same height/width, it may look off.
Here are some of the many places and ways you can style trays throughout your home: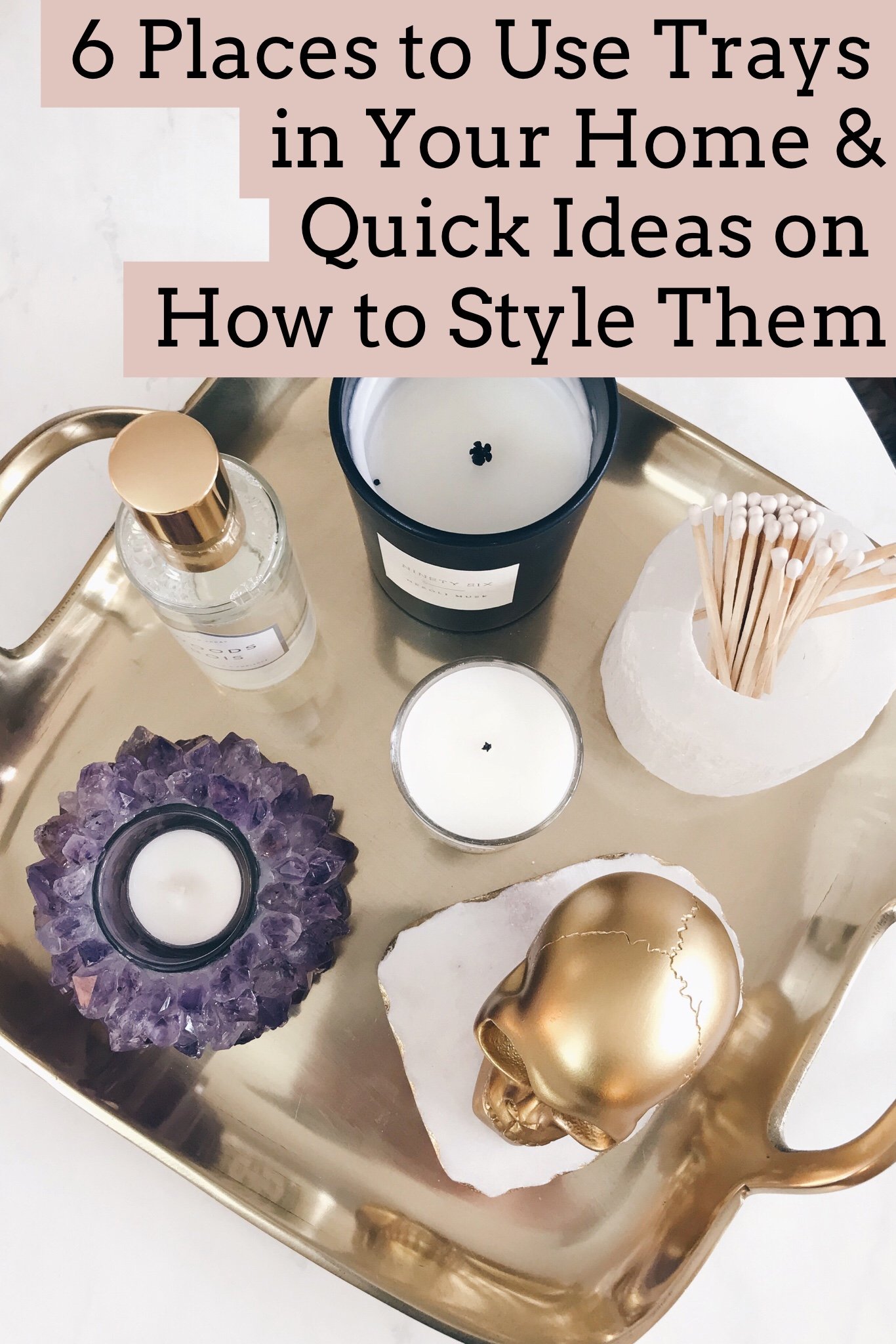 1. Ottoman/Coffee Table
This seems to be the most common place to use a tray, which makes sense because when used correctly, it can make or break your living room/seating area. I use a larger tray on my coffee table and style with 3-5 items like small books, candles, matches, candle holders, room spray, agate coasters and maybe a precious stone. I personally always have a decorative skull nearby which manages to find its way to a tray. Buttt since skulls aren't everyone's style – can you think of a (smaller) decorative item in your home that you love and can use to style a tray? Be creative. You can do it.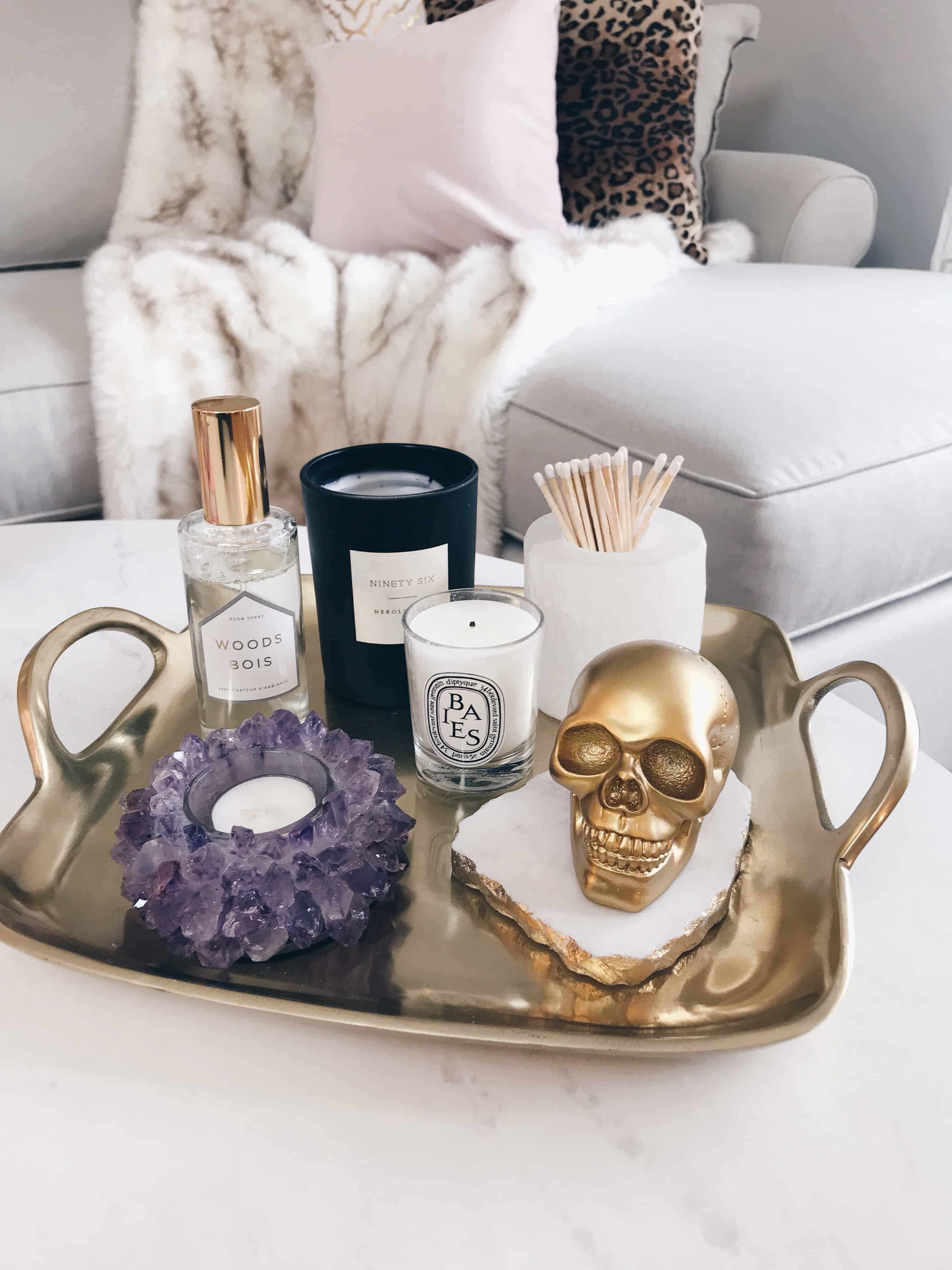 (Breaking the odd number rule in this pic. Sorry guys)
2. Bathroom Vanity
You can have a ton of fun with this one. My bathroom tray has mason jars that I painted which hold cotton swabs, cotton balls and cotton pads for easy access. You can style a bathroom tray with your most-used (visually appealing) items like soap, perfume, makeup, hair products – basically nothing that belongs to a man. Want to take it one step further and add an extra touch of "I have my shit together?" Buy decorative bottles and pretty labels and fill them with your most-used items. So instead of having mismatched packaging, you'll have a cohesive look that screams "Welcome to my bathroom. Here's my labeled mouthwash bottle. And I definitely have my shit together." I'm not including a photo for this one because my only "pretty" bathroom is currently being renovated. *sigh* 
3. Dining room/Kitchen tables
Presentation is key – especially when entertaining, and trays are the perfect presentation piece when you're having guests over. In fact, who needs plates when you can just feed your guests off of decorative trays? Seriously though, it's always good to have a few "entertaining" trays a.k.a. bigger trays that are still pretty but can hold more stuff. Style with drinks/drink accessories like a wine/bottle opener, wine decanter, water pitcher, cocktail shaker, and of course fresh flowers (a must if you're having company).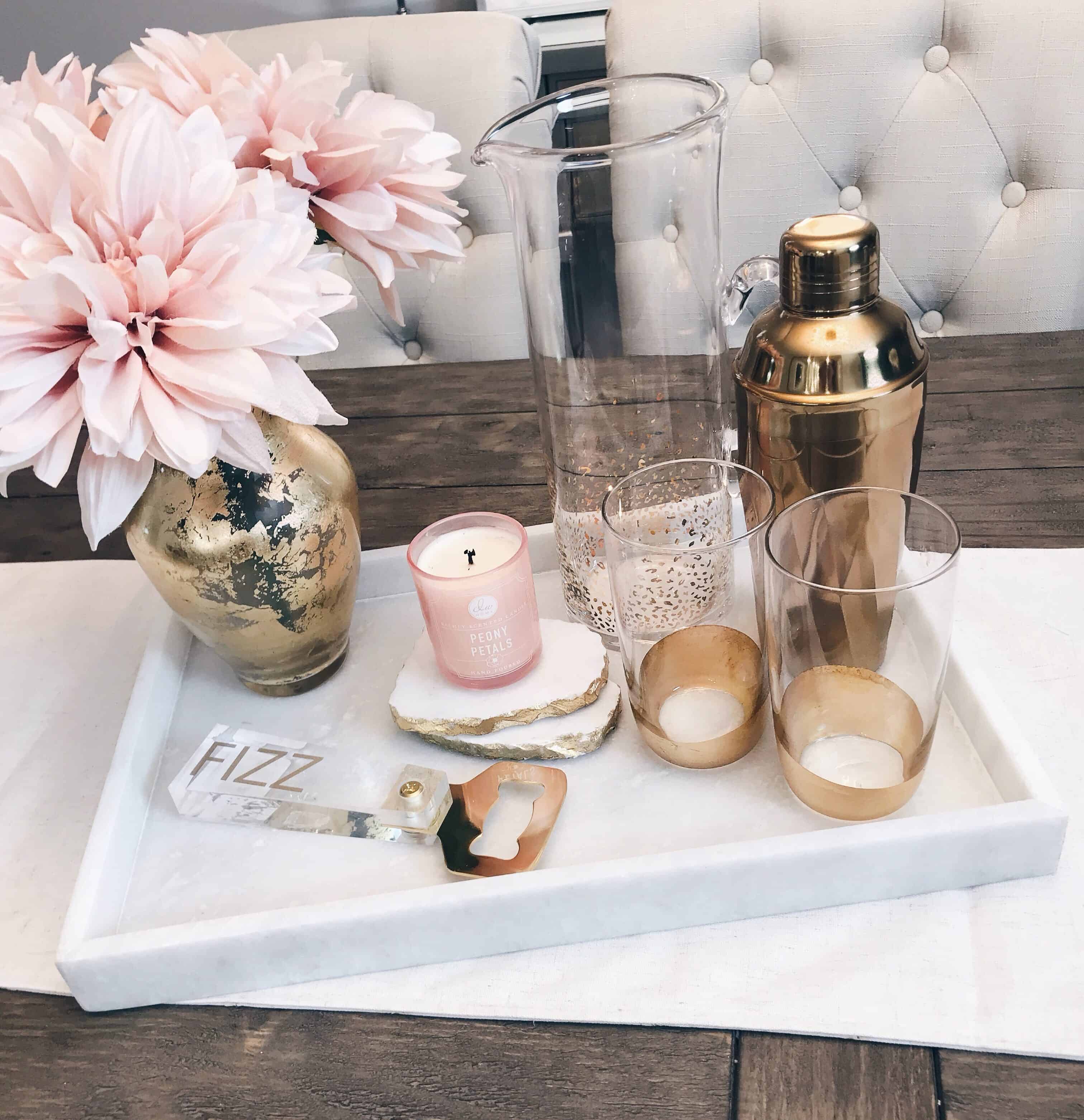 4. Console/Entryway Table
An entryway table is one of the first things people see when they walk into your home, so this one is important. Do I have to explain further? You can style a console table tray similar to how you would style a coffee table tray – i.e. a vase, candles and some personal items (i.e. picture frames), but don't overdo the picture frames. It just looks tacky. I don't have an entryway table since I have a split level and I can't physically put a table on the 2'x4′ landing when you walk in – trust me I've tried. So if you have the space for an entryway table, god bless.
5. Nightstand/dresser
If you have a nightstand in your room, you can use a tray to keep morning/evening essentials right where you need them. On my nightstand, I have a tray with my favorite lotion, a relaxing candle with decorative matches, a book, and some chapstick. You want to be able to access these items (esp when you're half asleep and your lips are as dry as a sponge in the sun on a 90-degree day).
6. Kitchen Counter/Coffee Station
 I like having a tray on my counter and sometimes I'll put one next to my Keurig to make it feel like a mini coffee station. I keep decorative items there as well as sugar packets, a mug or two and some stirring spoons just for show.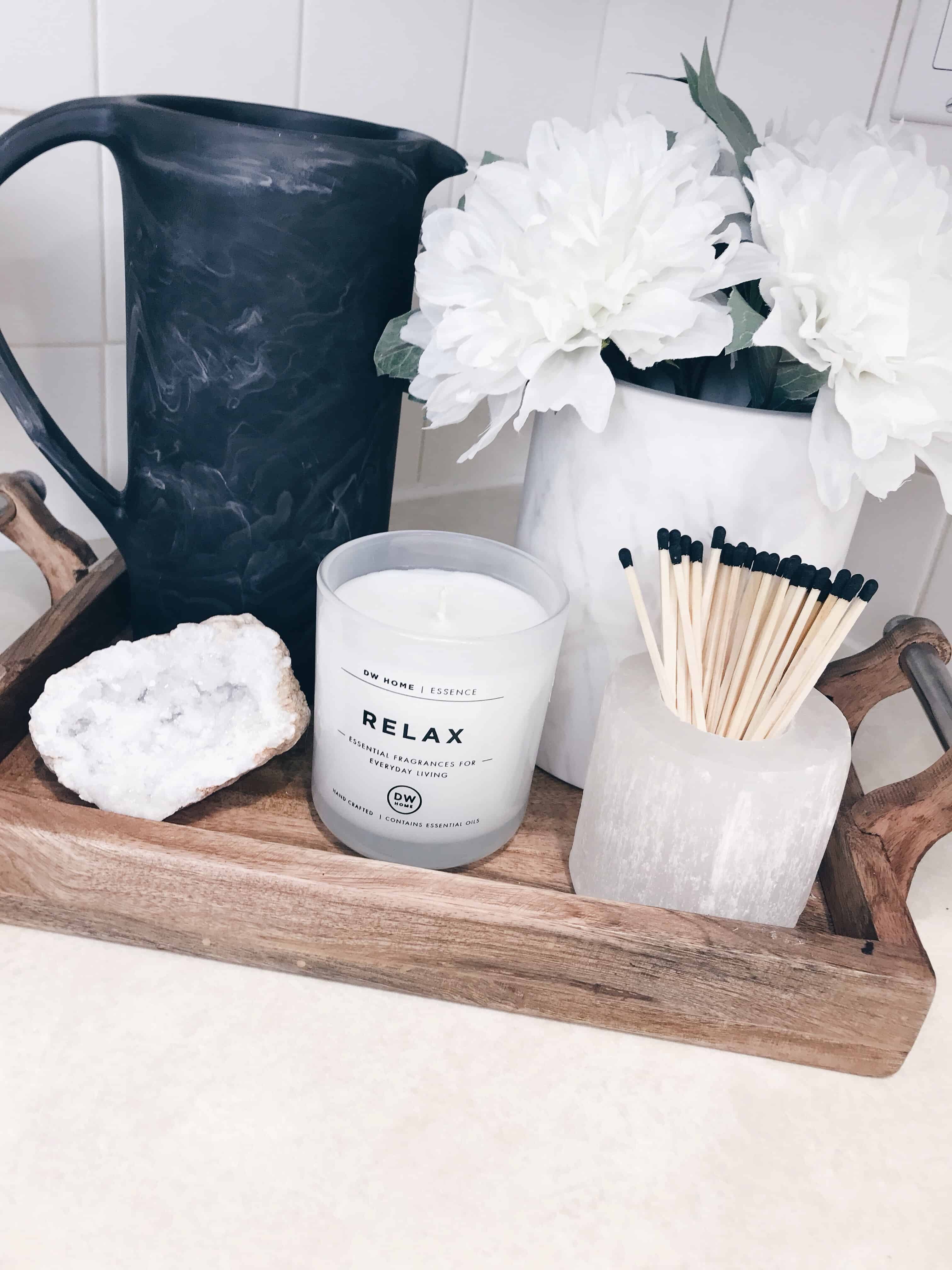 Other places where I've used trays in my home: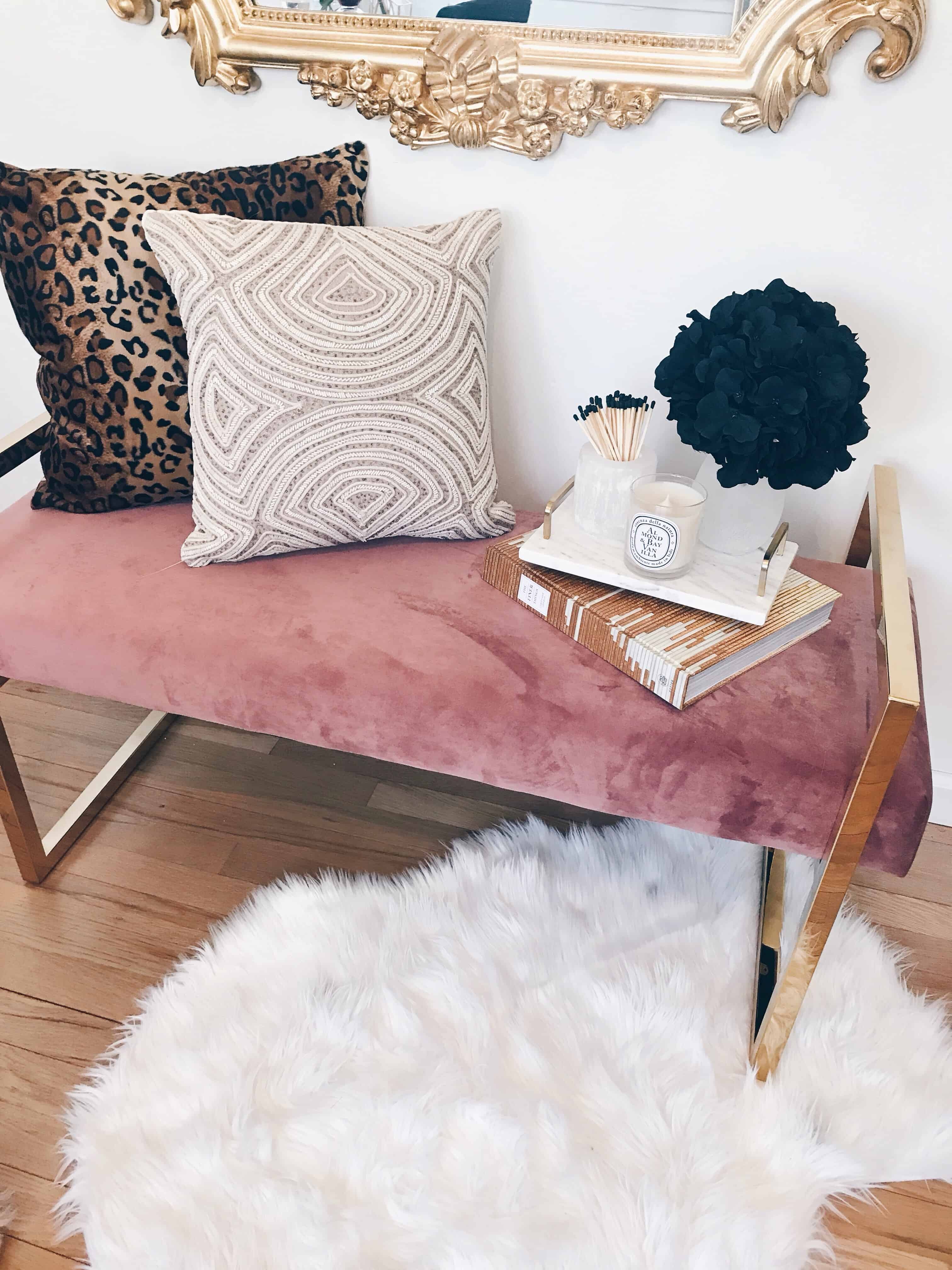 A bench in my office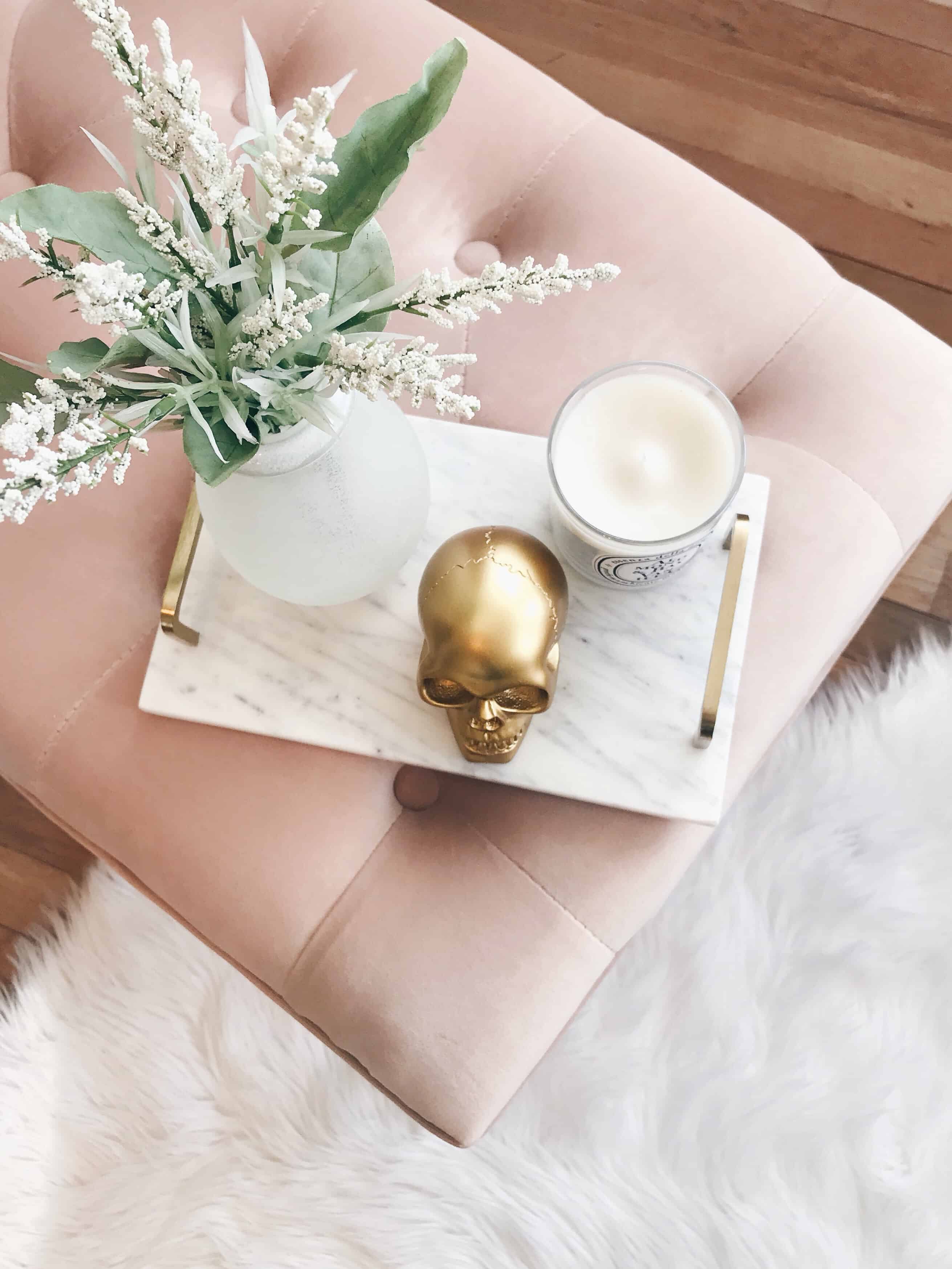 Another bench in my office. I know I said I'm a hoarder but I'm only keeping one.
Shop some of my favorite items that I use for styling trays:
Chat soon!
+ Alisa