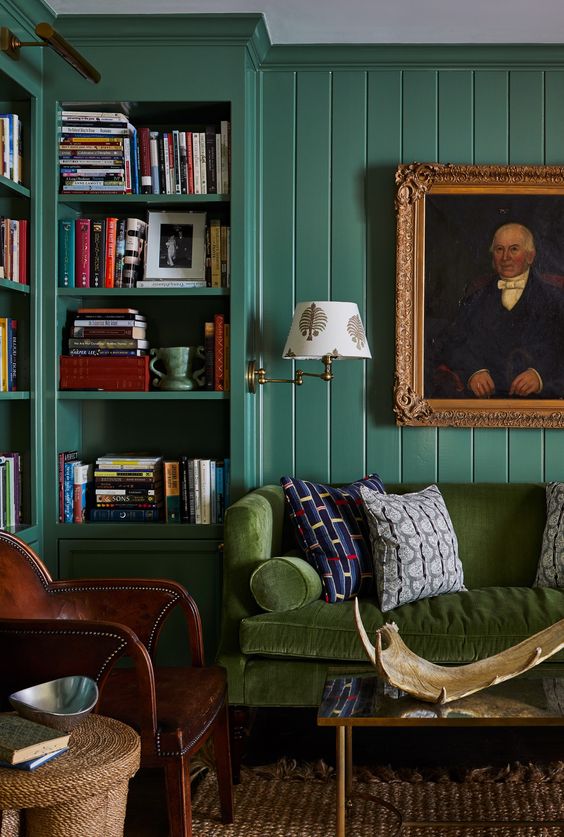 I recently realized that I've been an eBay member for over 10 years. I signed up for an account back in 2009 because at the time, I had a razr flip phone and I really wanted a blackberry. I somehow stumbled upon eBay and found myself bidding on a blackberry and a few hours later, I had won the auction. 
I was hooked. And I had a new blackberry to tweet about it. 
Over 10 years later, I still use eBay, but not for upgrading my flip phone. eBay is now my #1 go-to when sourcing antique art (amongst other things, which I cover in this post). I also use Chairish, Etsy and Facebook Marketplace to search for antique art, but I've had the most luck on eBay, so that's what I'll be referring to throughout this post. 
My first eBay antique art purchase was a portrait of a woman, whom I now refer to as Agnes. She was just a canvas when I bought her, so I had her placed in a modern frame. I think it suits her, although her smirk might say otherwise.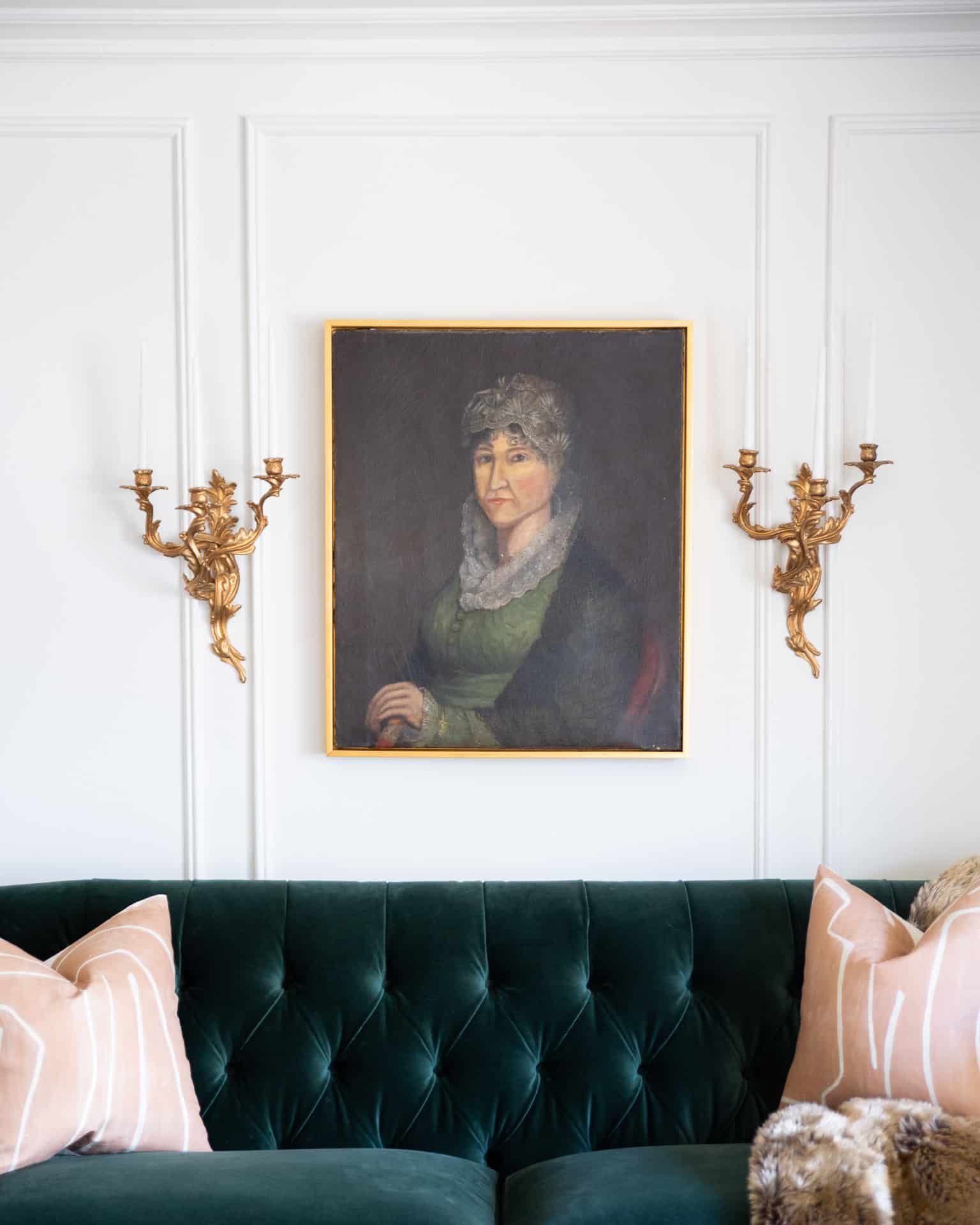 Before we dive in, I want to mention that I am not an expert on the subject of antique art (or antiques in general), I am just sharing what I've learned from my experience.
There are three types of antique paintings I personally look for when browsing eBay:
Landscape paintings
Floral paintings
Portrait paintings
These are all common types of antique painting and not at all hard to find, but I use a variance of search terms when browsing to find exactly what I'm looking for, such as:
Antique oil painting
Antique oil on canvas
Antique landscape 
Antique portrait
Antique floral
Antique still life 
Antique pastoral
19th century painting
Antique oil painting framed
Original antique painting
Antique oil on board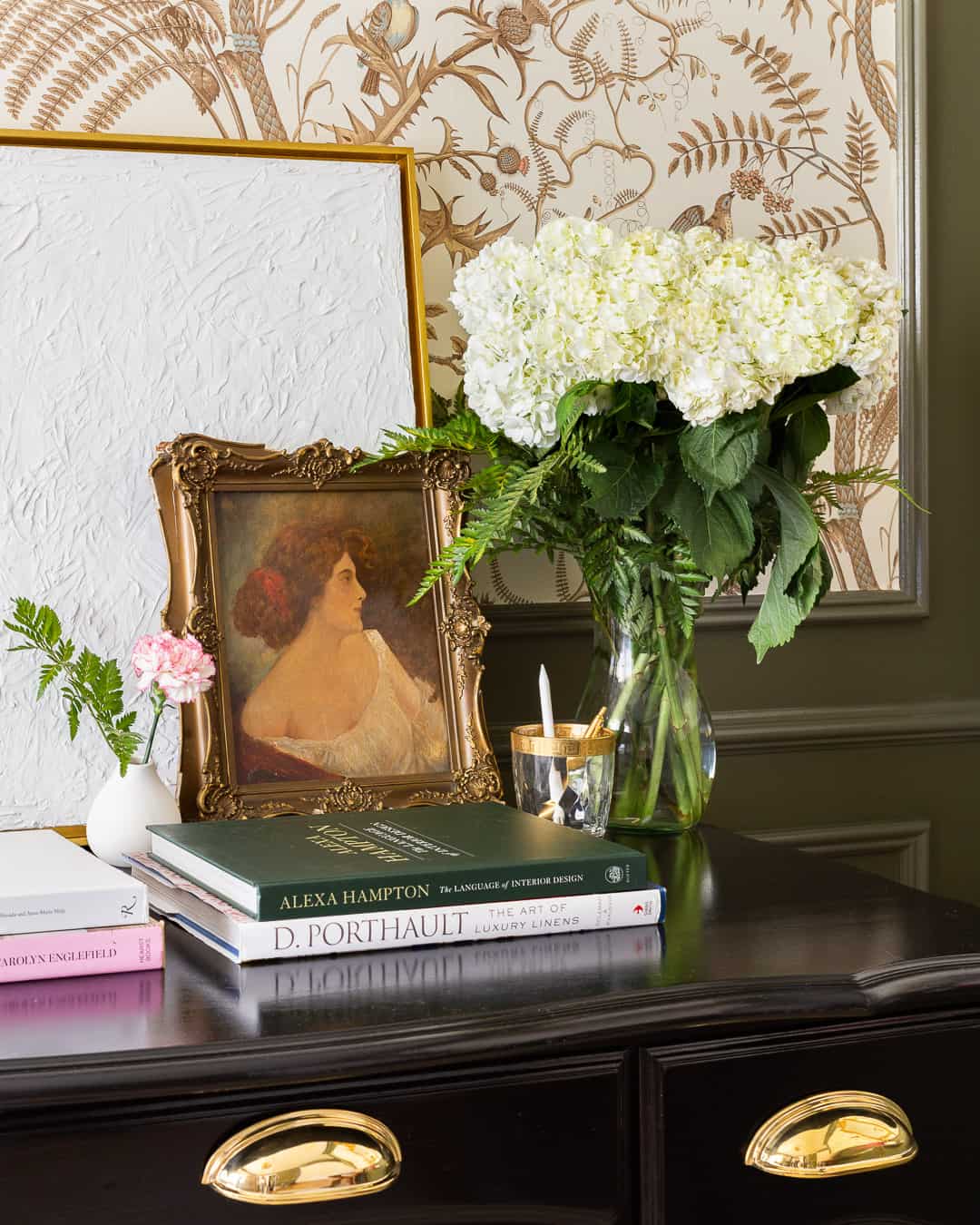 Here's a list of criteria and things to consider when browsing search results:
.01 // IS IT A LEGITIMATE ANTIQUE?
Sometimes, reproductions are peppered in my search results and they're usually labeled as "reproduction," but if you're not sure, zoom in on the photos (and if there aren't enough photos, ask the seller for more). Reproductions often have tiny dots which are supposed to mimic the look of original artwork, but some antique oil paintings have something called craquelure, which is a web of fine cracks that appear on the canvas.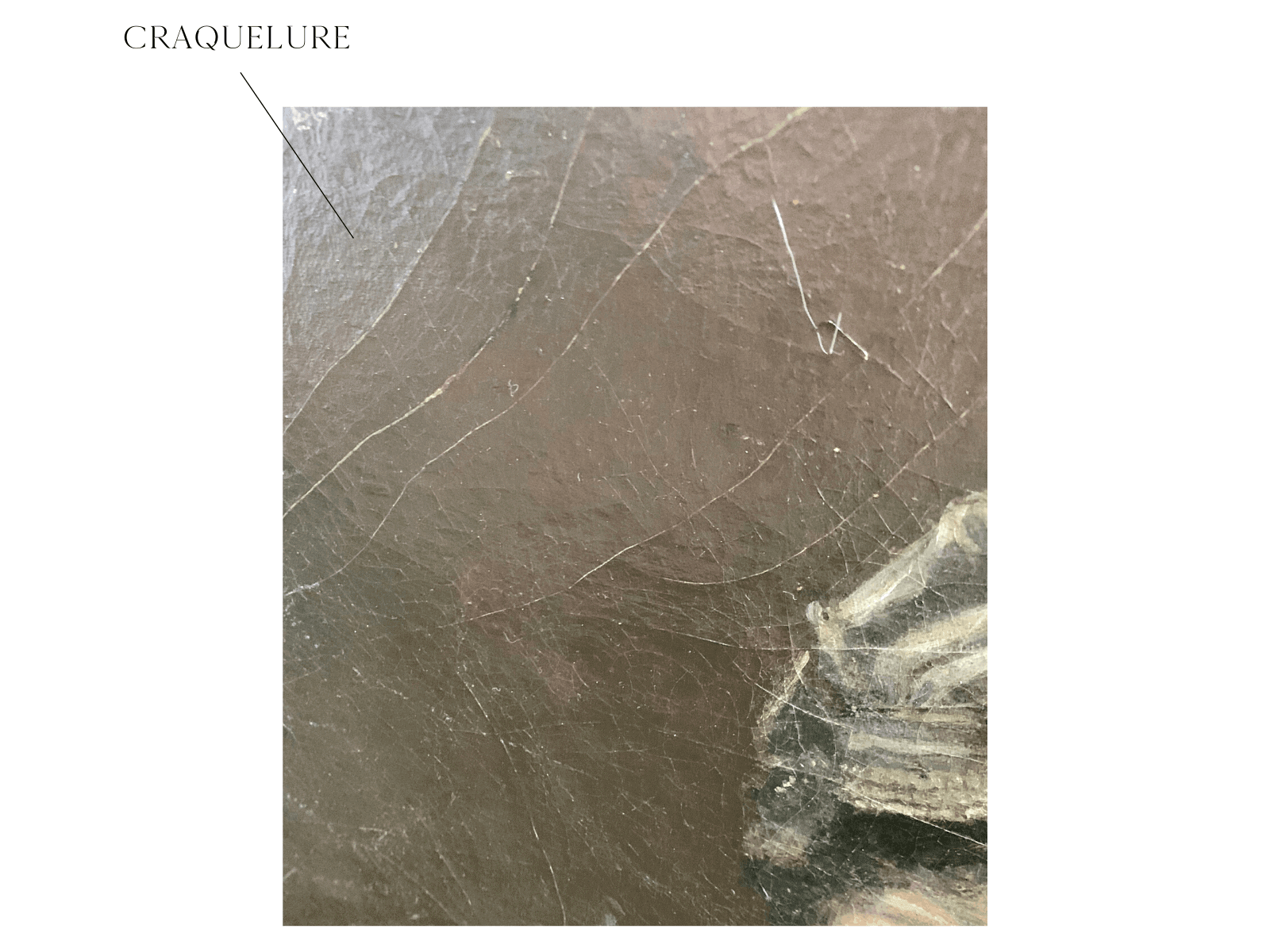 Not all antique paintings have craquelure, so here's a good rule of thumb when inspecting art:
DARKER = OLDER
Canvas paintings darken over time, so of course after 100+ years, a canvas will patina and be relatively dark in color. If the back of a canvas is white or a light beige, that's a sign that the art is not a true antique.
The back of a frame will also tell you a lot about the age (probably more than the front). A darkened, patina wood backside and old nails is indicative of a true antique (although there is a chance the canvas may have been restored over the years and placed in a new frame with staples/modern hardware). 
For me, a darkened canvas surrounded by a gold ornate frame is what I'm drawn to. I fell in love with this Hudson Valley autumn painting I found on eBay last year – look at the gorgeous dark colors and that craquelure!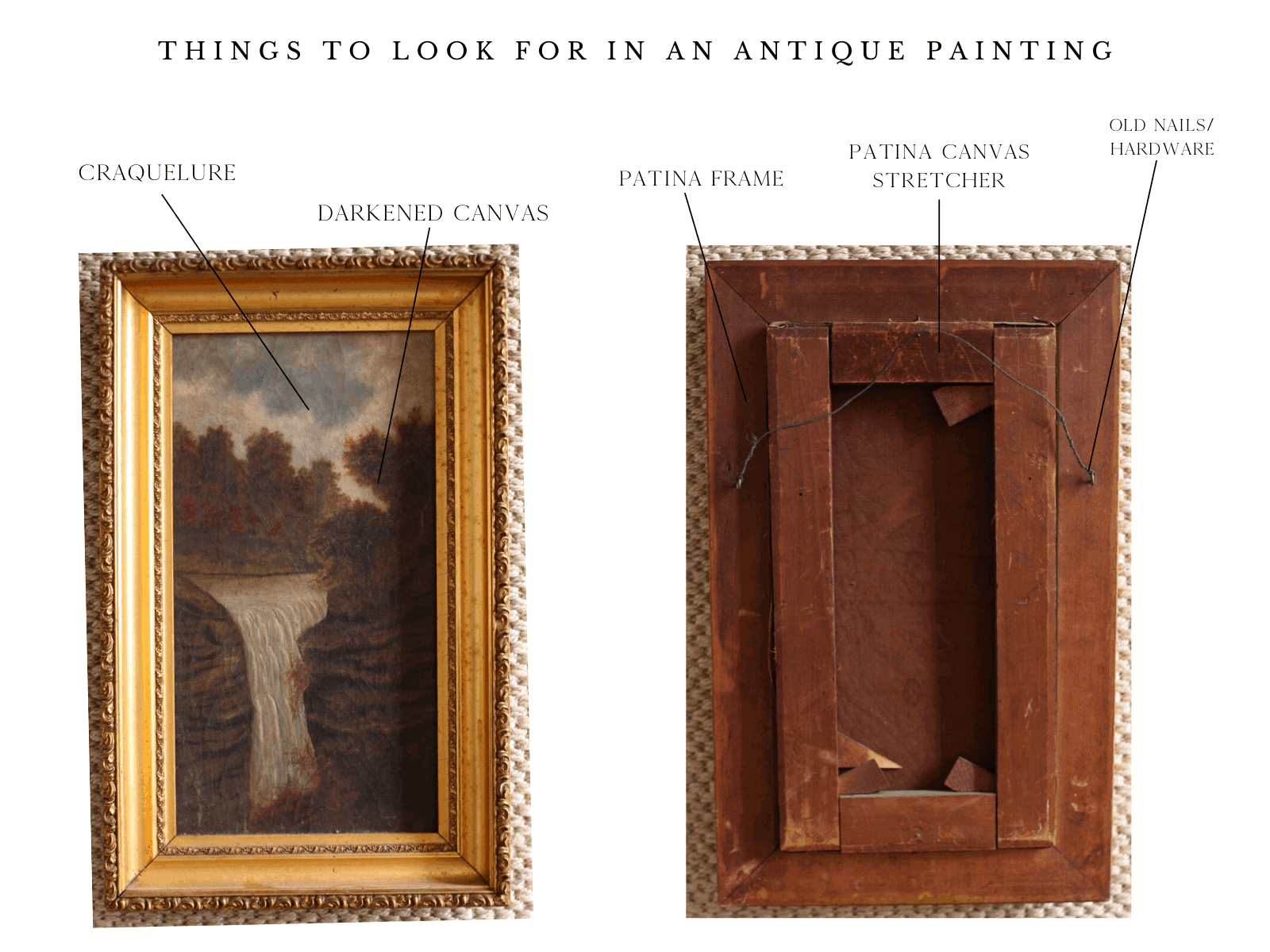 .02 // WHAT'S THE CONDITION OF THE ART?
Antique art has been around for 100+ years, so chances are, you won't find items in excellent condition. I think minor imperfections add to the character of any antique item, but if I see there's a large chunk of the frame missing or significant canvas tear, it's a pass. It's really up to you and your standards, but be on the lookout for things like frame damage and canvas rips. 
This landscape painting that I purchased a few weeks ago is slightly damaged, but not damaged enough to deter me from falling in love and making an offer!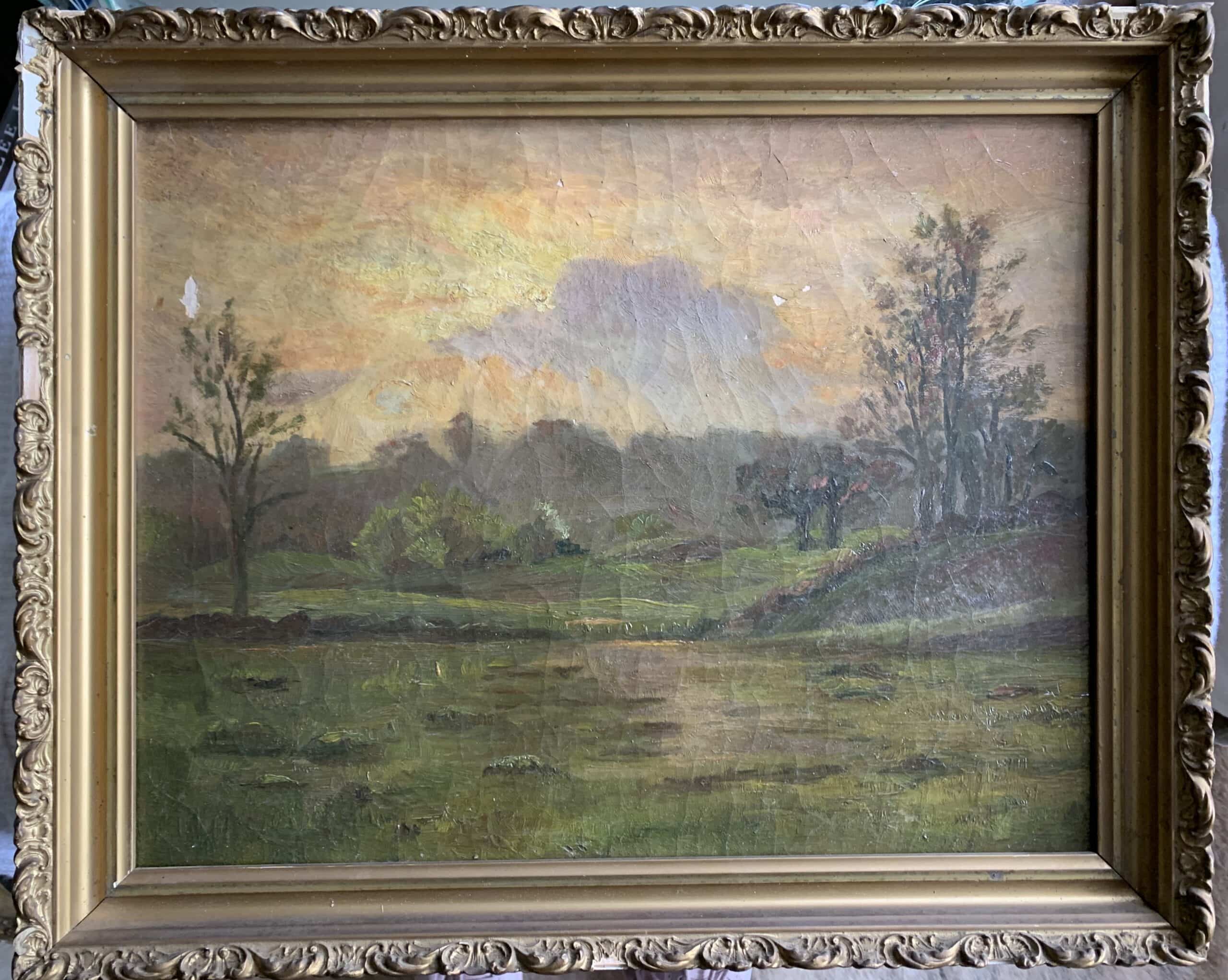 .03 // WHERE IS IT LOCATED?
Most of the antique paintings I've purchased are from the U.S., but I definitely don't shy away from paintings located in Europe. 
As long as the shipping is reasonable, I sometimes find that paintings from Europe are selling for a lower price than similar ones I find in the U.S.. The international items usually come up towards the end of my search results, so just something to keep in mind. I've found that 99% of "paintings" on eBay that are located in China are not actual antiques, but just a cheaply made canvas reproduction, and you should beware of that when browsing. 
.04 // HOW MUCH DOES IT COST?
Depending on the room I'm shopping for, I set a budget for myself so I know my limits while browsing. On eBay specifically, items with the "Best Offer" option is ideal, because you can send an offer to the seller.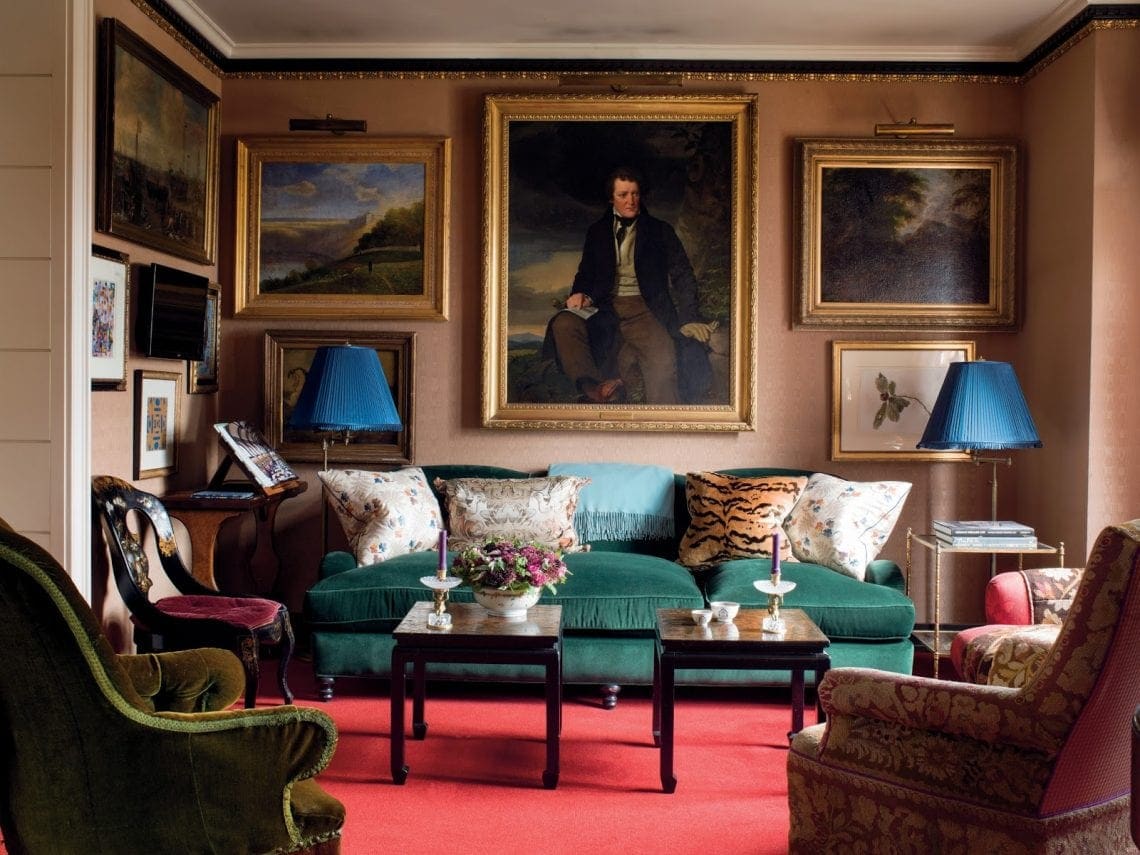 Most of the time I find myself falling in love with art that's way out of my price range, but if I'm patient, I'll eventually find something that I love within my price range (albeit a few imperfections).  
The cost really varies from seller to seller and from piece to piece, but if  you spend some time browsing, you'll start to pick up on how much why some pieces are more expensive than others, and if they are (or aren't) worth the price tag.
.05 // HOW DO I KNOW IF I SHOULD BUY ANTIQUE ART?
Loaded question, easy answer. If you're drawn to it and it's within your price range, go for it (I guess that's my rule of thumb for everything I'm shopping for). As someone who's intrigued by and drawn to "old" things, I think antiques in general are truly special and something that bring character and charm to any room. 
I created a roundup of some antique paintings for you to shop, and did my best to include a variety of paintings and price points. 
Enjoy!

*This post contains affiliate links, which means I may get a small commission if you purchase an item.