A gallery wall is a great way to create a statement in any room while showcasing your personality and interests. And if you're like me and have no patience – it's also a fabulous way to create multiple unnecessary holes in your walls.
I recently (blindly) created and hung a mini-gallery wall in my office. I have no patience for meticulously planning/measuring and would rather just "wing it" and hope for the best. I suppose it didn't come out *that* bad?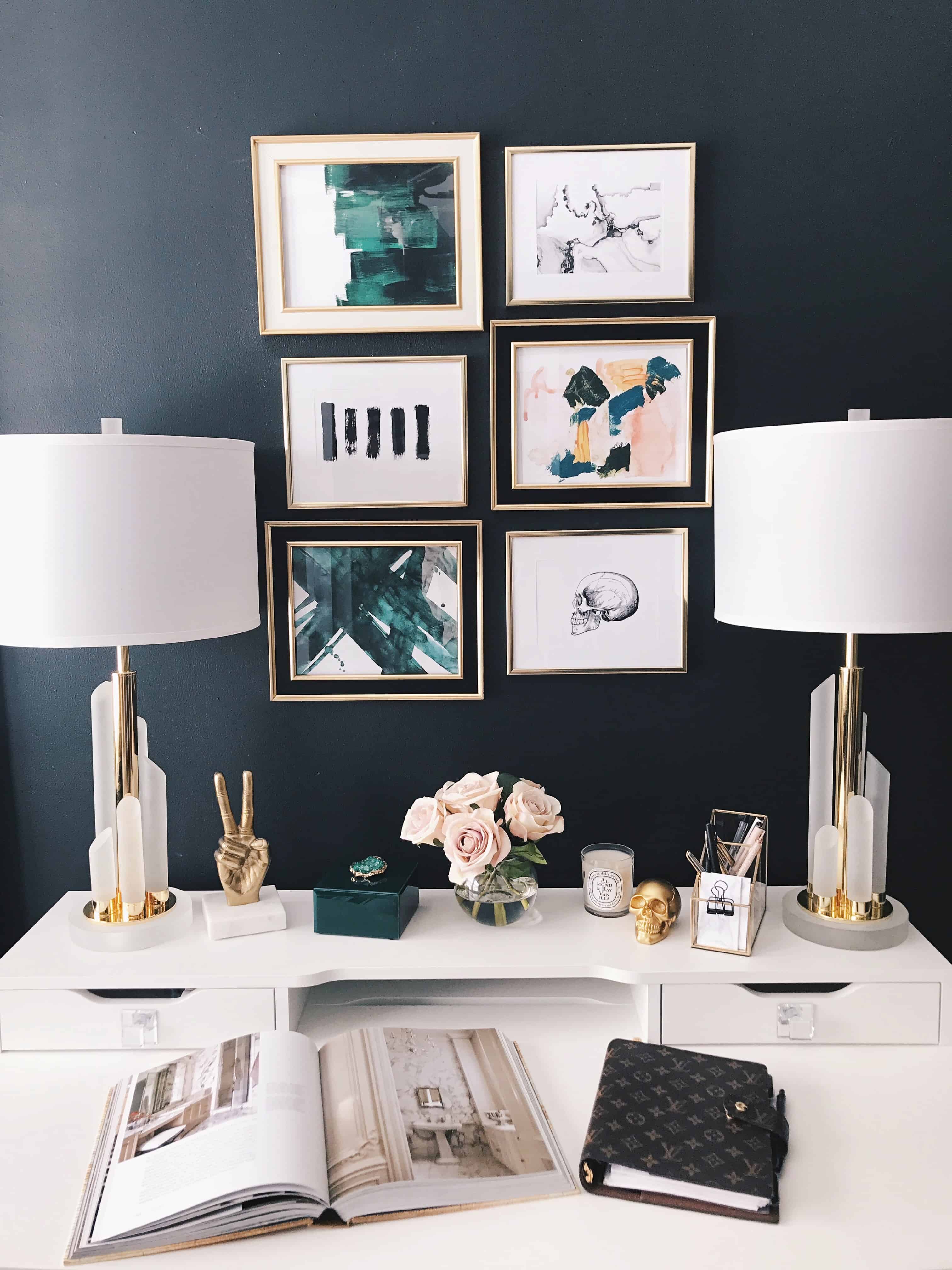 A "typical" gallery wall should be meticulously planned and require a massive amount of patience. It should look and feel cohesive and curated and you certainly won't find everything you want for your gallery wall overnight. However, with a litttle bit of patience, youcan create and display your own gallery wall that makes a statement!
Choose art that showcases your personality 
A gallery wall is only as good as the art you have in it and I knew I wanted to go with a green, black & white themed art for my office. Since we're talking about affordability – I should let you know that I found all my prints on Etsy, for under $7 each and printed them at home on 64 lb. white paper. Etsy is FILLED with talented artists who sell their work at a great price for those of us on a budget – all you have to do is search for whatever your heart desires. If you can't think of anything specifically, try thinking about the color scheme you want and the kind of art you're drawn to. I typed in keywords like abstract art, green watercolor art, black and white art, etc.
Here's a list of some of the Etsy shops I've purchased art from and would definitely recommend:
A side note – I would save (not purchase) your favorite art until you've figured out the next step…
Determine the gallery wall layout 
This, to me, was the biggest challenge. I had decided on one layout and found myself standing in Home Goods scratching my head and wondering if the layout made sense for the wall size. You don't want to choose a layout that takes up 6 feet of your wall when your wall is only 8 feet long. It'll look a bit…off.
I used diagrams from Pinterest to help determine what I wanted: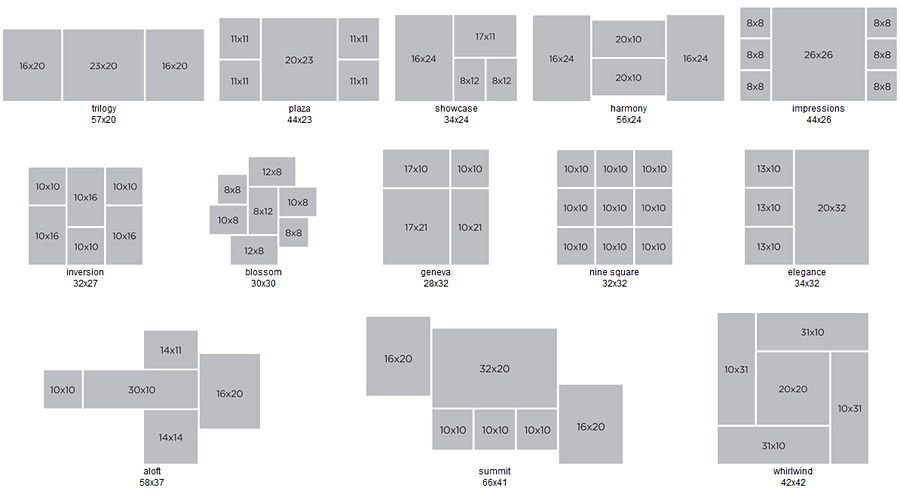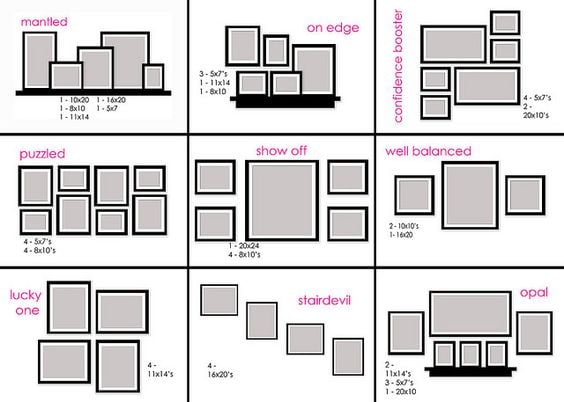 I ended up choosing the "puzzled" layout pictured above
Once you've figured out your layout, then I would recommend heading back to Etsy and purchasing art. Most Etsy sellers provide multiple sizes when you purchase a digital file, but make sure that the digital file size will fit the frame size you're using. For example, I chose 5 x 7 frames and 8 x 10 frames, so I made sure the art I chose would fit the frames before I hit the "place order" button.
Purchase the frames
One way to keep your gallery wall cohesive yet still looking "high end" is to search for frames that either match or compliment the colors in the art you choose. Once you choose your layout, it's time to buy the appropriately sized frames. I personally like "visual cohesion" and I knew I chose black, white and gold frames.
I chose a layout that required 6 total frames, which I bought at WalMart and Wayfair.
Total cost for frames: < $50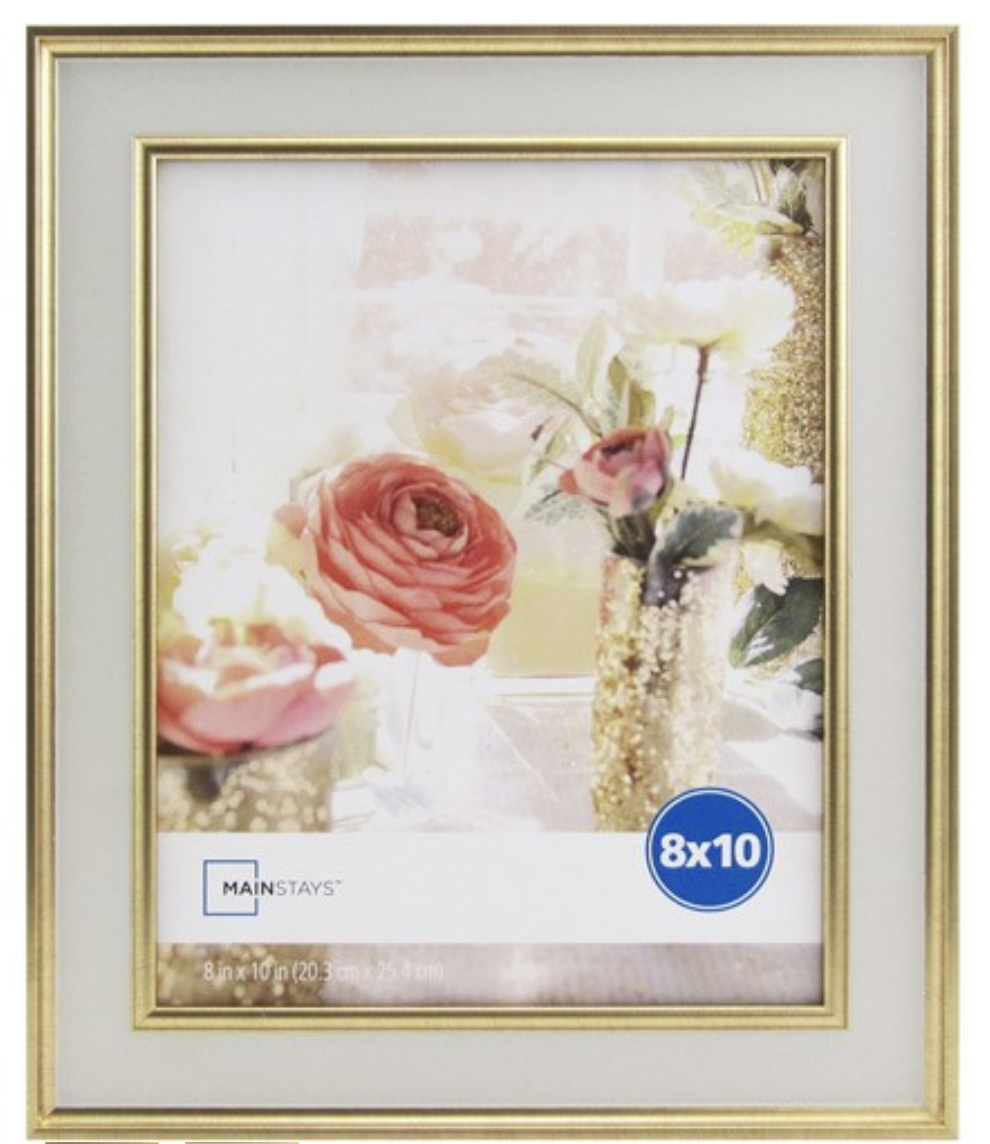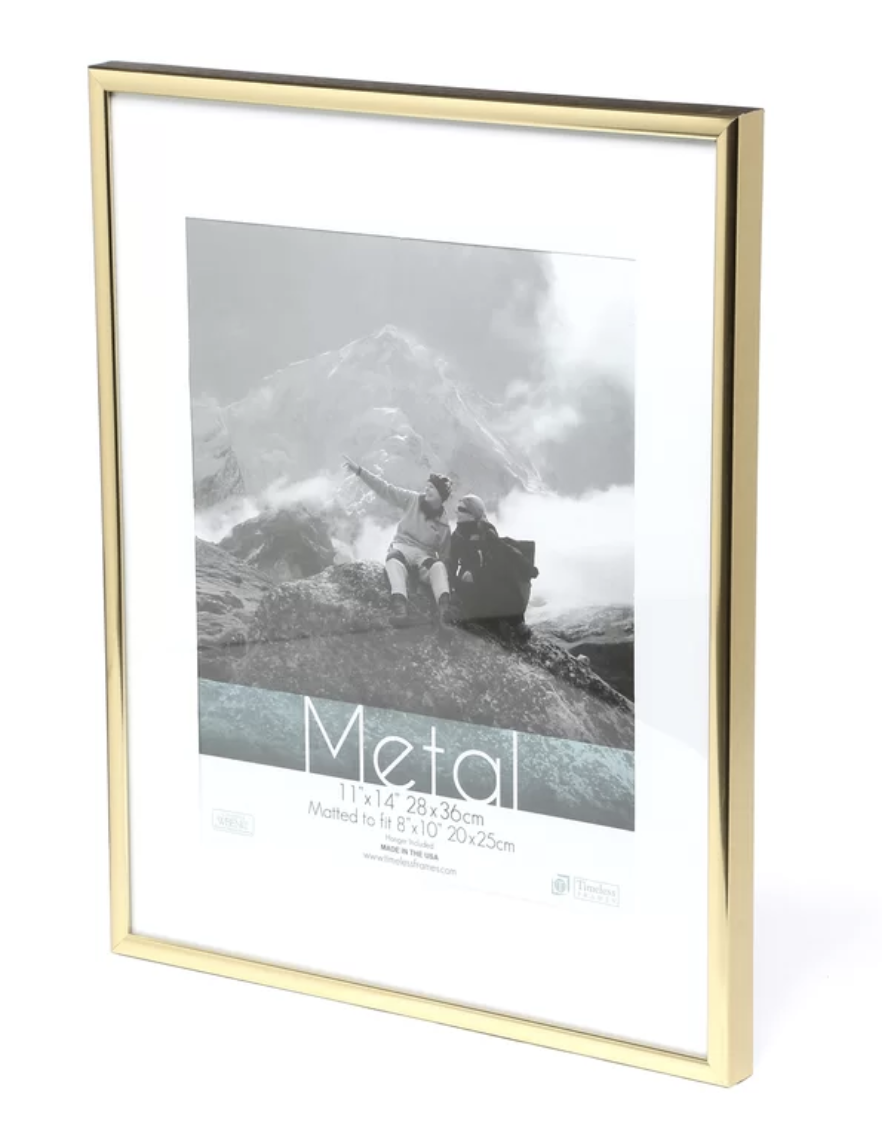 Lay the frames out on a large piece of paper before you hang on the wall
This is what I should have done. Grab a large piece of kraft/tissue paper and lay all your frames down the same way you want them on your wall. This gives you an idea of what the frames will look like next to each other before nailing to the wall and it's the perfect time to play around with the art. Maybe you thought one print would look great next to the other but now you're having second thoughts.
As a side note, I spaced my frames about 1.5 inches apart, which I think looked best for my wall. Remember, they're supposed to compliment each other – not compete with each other or be too far away that one would wonder if they're sitting with the same group of friends. Is Vicky sitting with Kelly, Monica, Amanda, and Courtney? Or is Vicky sitting by herself? Don't let Vicky sit by herself.
Once the frames are laid out the way you want them – trace them on the paper and tape the paper to the wall. Ask yourself – how does it look on this wall? Is it too close to the furniture? Does the proportion of wall to the frames look OK? This step will prevent excessive and unwanted nail holes.
Hang your Gallery Wall
With the paper still taped to the wall, mark each spot where the nail should be placed. Then, directly through the paper, hammer a nail into each marked hole.