Hellllo friends!! In trying to think about a "series" that I could write for my blog, the idea of "7 oz Sundays" came to mind for a few reasons. I figured it would be a fun way to post every Sunday about anything (in addition to my usual weekly posts). Sorta like a diary post about what's inspiring me (anticipate a lot of pictures), current thoughts, what's bugging me, what room I want to style next…basically, whatever's on my mind on any given Sunday. And since Sunday's typically call for a littttle extra vino in your glass (like 7 oz versus the "recommended" 4 oz) – why tf not.
So without further ado, I introduce to you…
Kicking off my first ever Sunday series with what I've been fantasizing about the most lately…
Dark Green.
Oh excuse me…let me clarify. I'm actually always fantasizing about dark green.
 I'll admit – I don't love using color in my home. My style is pretty neutral with touches of animal print (I lovingly blame my glam-loving mom who dressed me like a cheetah every other day until I was old enough to dress myself) and nothing too bold in color. But I have two colors that I love to wear and incorporate into my home whenever I find the perfect piece to do so. Those colors are blush/dusty pink (surprise) and hunter/forest green – which I feel are just STUNNING together.
However, today's post isn't about blush pink. She'll have her time in the spotlight another day. Today is alllll about the dark green.
It's my all-time favorite color to wear and such a beautiful, rich color. I used to fantasize about not having a white wedding dress and just wearing the most beautiful dark green dress. Obviously, it was just a fantasy, but since I couldn't wear that on my wedding day, my gorgeous bridesmaids flaunted the shit out of their Vera Wang forest green dresses.
The black paint I used for my office was Sherwin Williams "Greenblack" and I chose it because it has the slightttest undertone of green. I've been visualizing dark green accents in my office (velvet curtains, lamps, pillows) and it's surprisingly hard to find dark green home accessories. It has to be the right green, know what I'm sayin'? And whenever I do find the perfect dark green item (usually it's hunter or forest green) – I need it. It's my instinct to throw it in my cart.
Here are seven dark green images that inspire me:
Don't get me wrong. I loved my wedding dress. It was perfect for me. But how drop-dead gorgeous is this green velvet gown?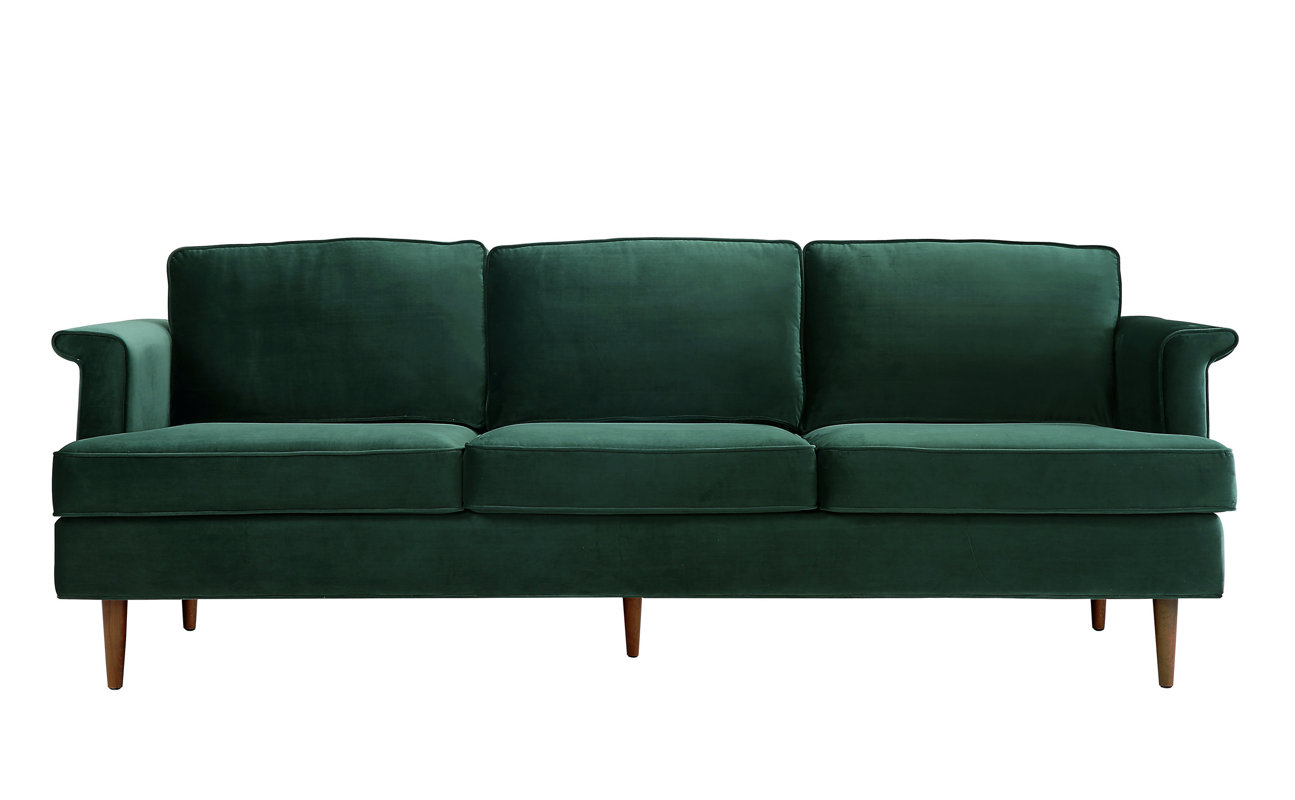 This forest green velvet sofa is under $1,000, has great reviews but it's *of course* sold out. Not that I was going to buy it but like…it would have been nice to have the option. Right?
I cannot even fathommmm how absolutely perfect this room is by D&A Designs LLC. Their work is just…stunning.
Tell me this isn't one of the richest colors you've seen on a wall? TELL ME.
My dream escape. A secluded cabin surrounded by (dark green) trees.
Yes hello, Benjamin Moore? I'd like to place an order for 11 gallons of Hunter Green.
Last but certainly not least, this ottoman has been on my wishlist for a few weeks.
I suddenly have this urge to create a dark green mood board.
Stay tuned for next weeks' 7 oz Sunday Series! Hope you have an AMAZING week <3
xox
Alisa