Oh, what's this?! A ~*~ lifestyle ~*~ post?! I'm not sure I'll do this regularly but the topic of my daily skin care regimen is something I've wanted to share for quite some time because when I'm not obsessing over our home, I'm obsessing over skin care.
Having always struggled with feeling confident in my own skin, I started wearing makeup the second I was allowed to, around 7th grade (the blue Limited Too eyeshadow I tried at a slumber party in 5th grade doesn't count) and I quickly realized that putting on makeup helped me feel confident in the skin I was never confident about. 
In my early 20's, I realized how important it was to take care of the actual skin that was underneath all of the makeup I had on. If I could improve my skin, I would feel more confident in my skin. What a realization, eh?  I'm now a sucker for anything claiming it will prevent wrinkles, smooth, de-puff, cover up, tan, brighten, whiten, etc. Do they all work? No. But I will quickly and easily succumb to anything claiming it will make me look ~rejuvenated~.
To this day, I rarely ever leave the house without at least some concealer and mascara on, but I do feel way more confident about my skin now than I did back then thanks to these products I've discovered and have grown to love/use daily. I've tried many products over the last few years but these are the ones I have been using for at least 12+ months and don't see myself stopping anytime soon.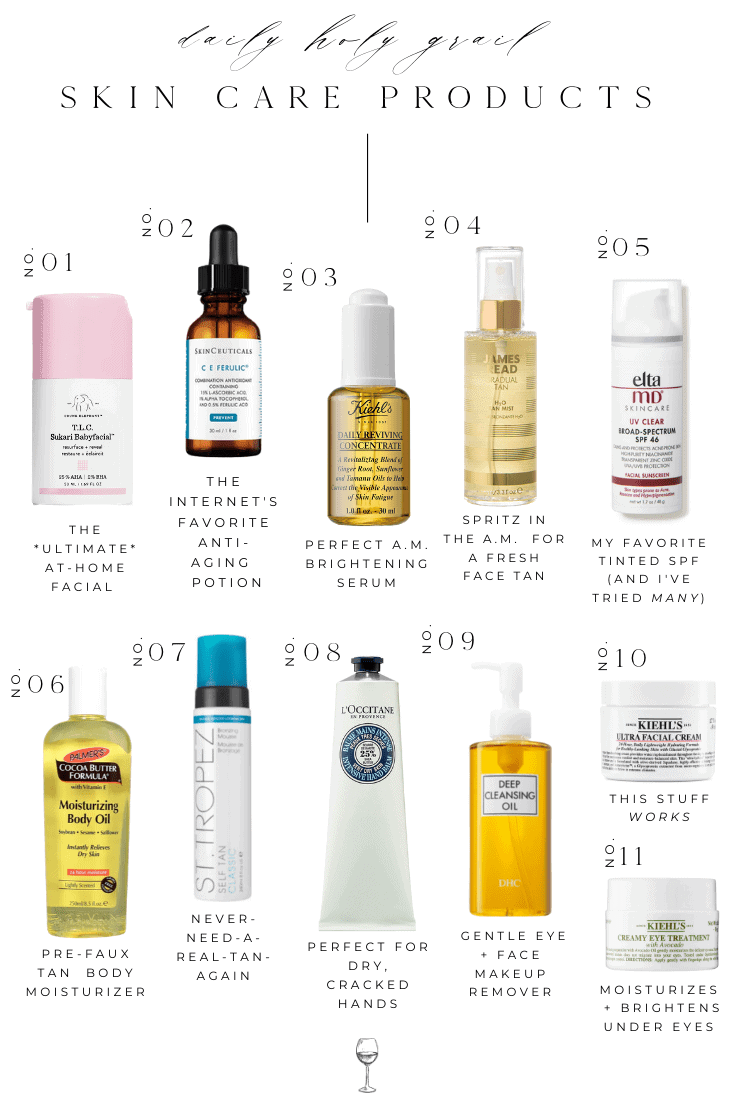 NO. 01 Drunk Elephant Sukari Babyfacial // An AHA/BHA that resurfaces your skin – basically a facial in a bottle. I used to regularly get facials before I conveniently discovered this stuff right before our wedding. Now, I use this a few times a week and my skin looks amazing the next morning. PSA, it tingles a bit when first applying but I only leave it on for 5-10 mins before rinsing. I also use this Drunk Elephant product about 1-2x a week and it really makes my skin smoother/brighter.
NO. 02 Skinceuticals C E Ferulic // While looking for the *ultimate* anti-aging product, C E Ferulic kept showing its' face (heh) and I couldn't ignore the thousands of positive reviews. This Vitamin C serum lightens lines, firms skin and brightens complexion. And it freakin' works. It's pricey, but skin care is a non-negotiable investment for me. I've been using it nightly for over a year and I just purchased my second bottle.
NO. 03 Kiehl's Daily Reviving Concentrate // I put a few drops on my face first thing each morning and even sometimes at night before bed. It's a lightweight antioxidant facial oil that leaves my skin feeling and looking refreshed.
NO. 4 James Read Gradual Tan Spray // I spritz this on my face and neck each morning and within an hour, I have a nice, glow-y tan. This has replaced my foundation during quarantine and is also the only face tanning spray that doesn't make my sensitive skin break out. 
NO. 5 Elta MD Tinted SPF // I've tried so many different tinted SPF's and this is the only one I love. This actually makes my skin appear smoother while providing sun protection and has a light tint to it. 
NO. 6 Palmer's Moisturizing Body Oil // I stumbled upon this by accident one day while searching for moisturizer in CVS. I now use it every.single.night and it blows even the more expensive moisturizers I've used out of the water. When I apply before St. Tropez, I have barely any tanning streaks, even if I'm in a rush and apply the tanner in a rather sloppy manner. It's super moisturizing, lightweight, not greasy, and smells lovely (bonus – it also helps with stretch marks). 
NO. 7 St. Tropez Classic Self Tan // With my skincare obsession comes obsessing over not baking in the sun to avoid looking like a thick raisin by the time I reach 33. So when I discovered the St. Tropez special on QVC, I was hooked. The trick to getting a seriously good tan is to moisturize well before applying. BTW QVC has the best price/deal I've found and two bottles lasted me 10 months!
NO. 8 L'Occitane Hand Cream // Angelo bought this for me as a Christmas gift after I complained that my dry, cracked, horrifying hands were in desperate need of a new hand cream. Even though it's summer, I still use it on my hands each night before bed and it's so good that I don't need to re-apply for another 24 hours. 
NO. 09 DHC Deep Cleansing Oil // After years of tyring combo face/eye makeup removers that were gentle and removed all of my makeup (I know, a lot to ask), I finally stumbled upon this last year and still can't believe how easily it removes makeup. And my eyes don't feel like they're on fire when I'm removing mascara, which is a bonus.
NO. 10 Kiehl's Ultra Facial Cream // I usually apply the C E Ferulic before bed, then this Kiehl's moisturizer (and then the next product). This is one of the best moisturizers I've used and a single bottle lasts a while. 
NO. 11. Kiehl's Creamy Eye Treatment //
This is another product I use each night and it instantly brightens & moisturizes my eye area. The combination of this, Kiehl's Ultra Facial Cream and C E Ferulic help me to wake up looking like less of a character from 
Night of The Living Dead. 
Would this be a true *~*lifestyle*~* post without taking a photo of myself in the act of doing the very thing I'm writing about?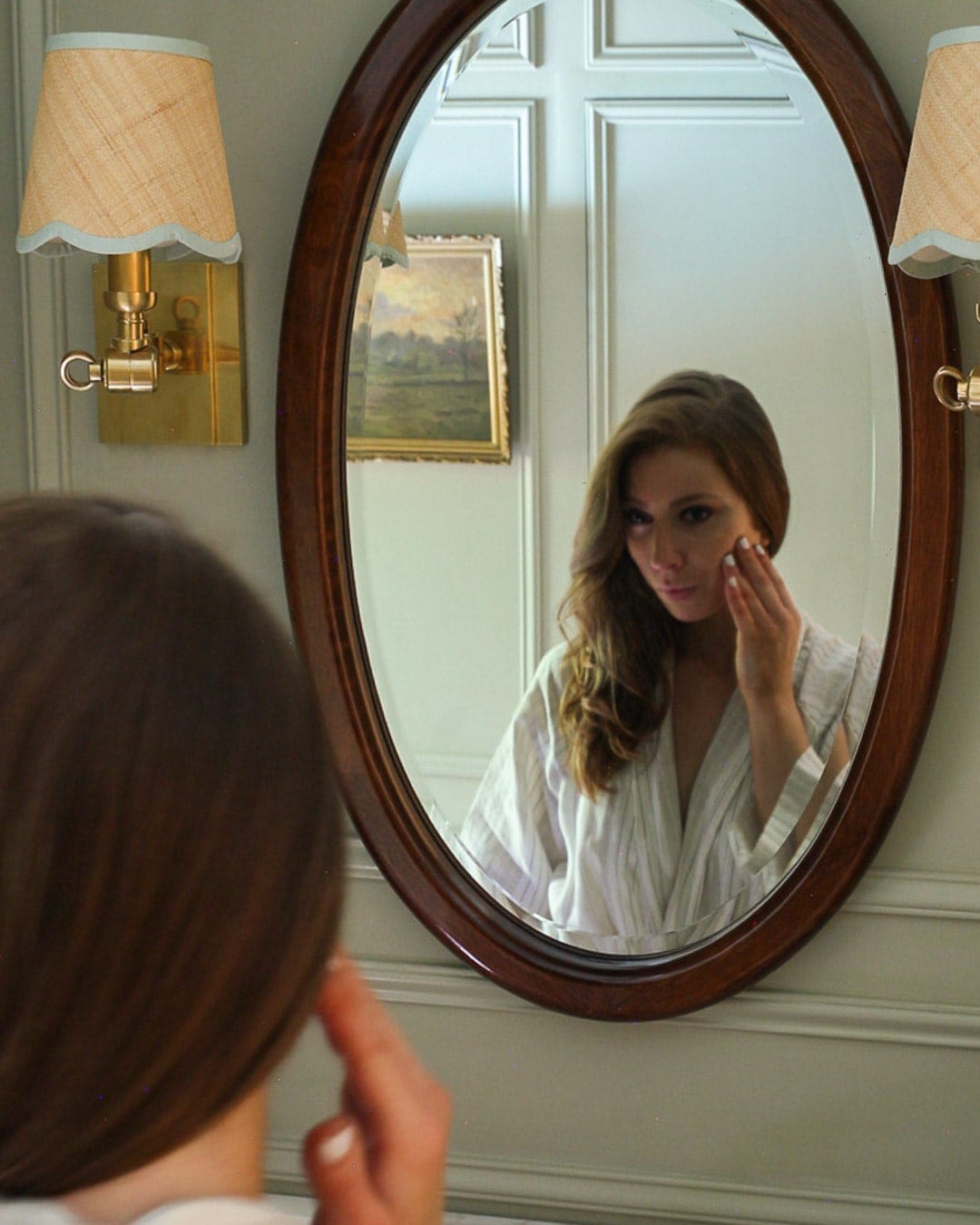 *This post contains affiliate links, which means I may receive a small commission if you decide to purchase an item. It does not change the price of the item.