Allow me to rip off the bandaid.
~per our new Bowood headboard~ that I scored on FB MP a few weeks ago, I'm making over our bedroom. And I don't mean a mini refresh like I did last year.
I mean, a makeover, paint and all.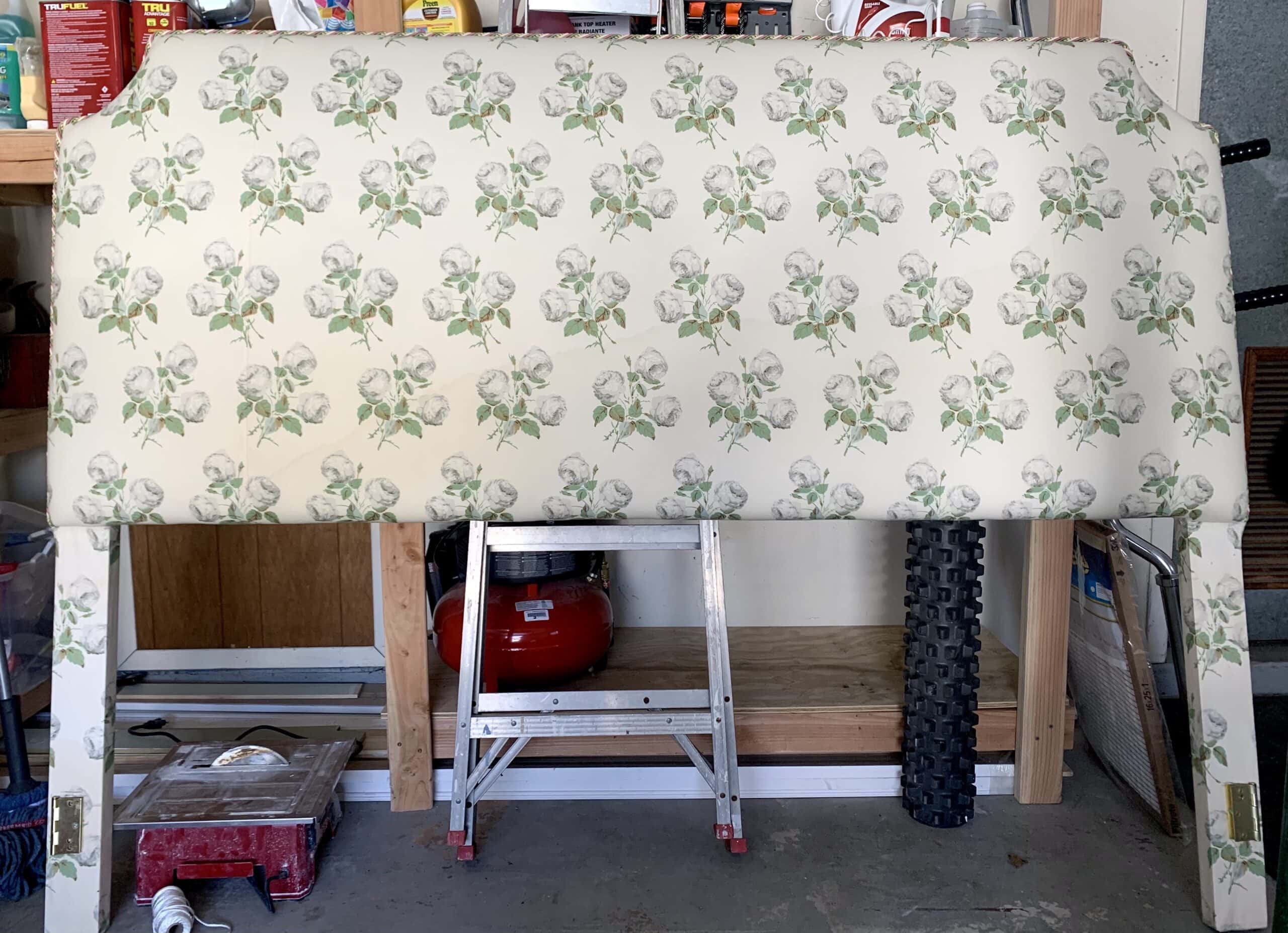 I want to emphasize that I'm fully mentally aware and capable of comprehending that this announcement has deemed me to be unhinged.  
That aside, let me provide my rationale. 
I completely transformed our bedroom in Spring of 2019. I don't know how to say this without sounding like a douche, but "what color is your bedroom?!" has since become the most-asked question I receive and according to my IG & Pinterest analytics, it's the most "saved" space I've renovated to-date.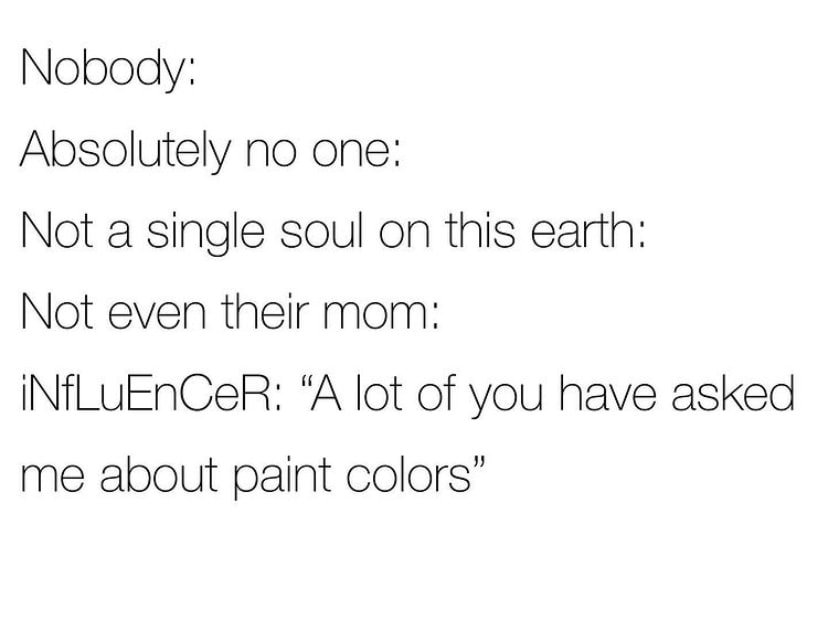 Although there is some blue in Bowood and I'm sure the new headboard would look lovely against DeNimes, it's not a look I'm particularly drawn to. 
Additionally, and most importantly (can you sense the persuasion?), after living with DeNimes for 2 years, I realized I don't enjoy having our bedroom painted a dark color.
So this makeover may seem impulsive of me but I promise it's not, I've been ruminating on it for a while. The new headboard was the spark that lit a fire…and here I am, burning like a raging beach bonfire.
This is a good lesson on LRV (light reflective value), which I have an IG story highlight on. The LRV of DeNimes is ~20. For reference, pitch black is 0 and bright white is 100. So, De Nimes is dark, and our bedroom barely gets any sunlight. Which, is kinda dreary. 
"Well, why did you originally choose the color?"
Because it's the most beautiful paint color I've ever seen. And I didn't think the darkness of it would get to me but, if I've learned something after my 30 years of existence, it's that the darkness always gets to you. 
Now, my plan is to paint it a lighter color – something with an LRV of at least 60 to make the room feel brighter. Less dreary. And I figured while I'm at it, why not go the whole nine and start from scratch.  
Here's a mini presentation of the draft concept, given the new headboard. Of course, some of this is subject to change as my thoughts and indecisiveness evolves 🙂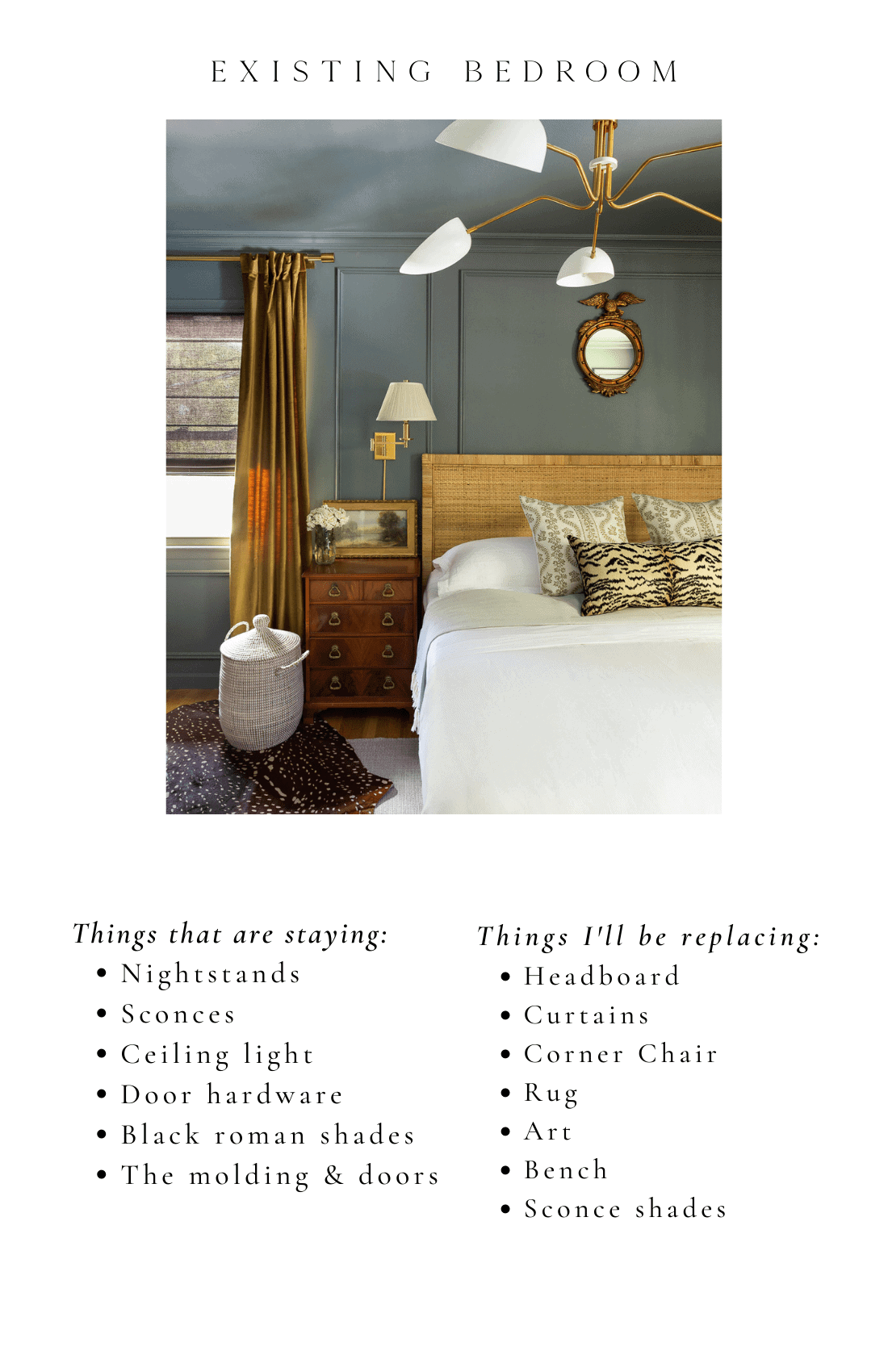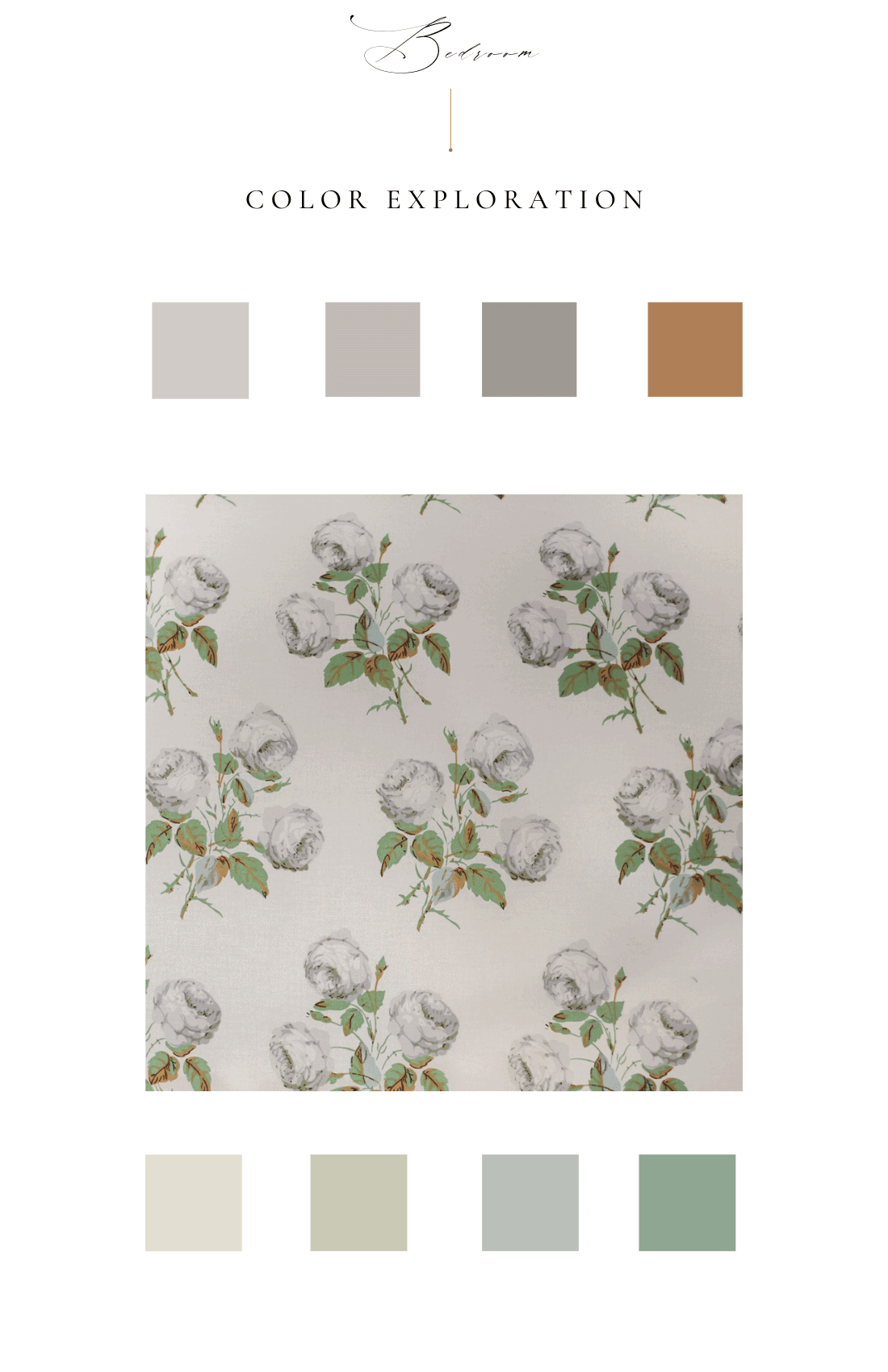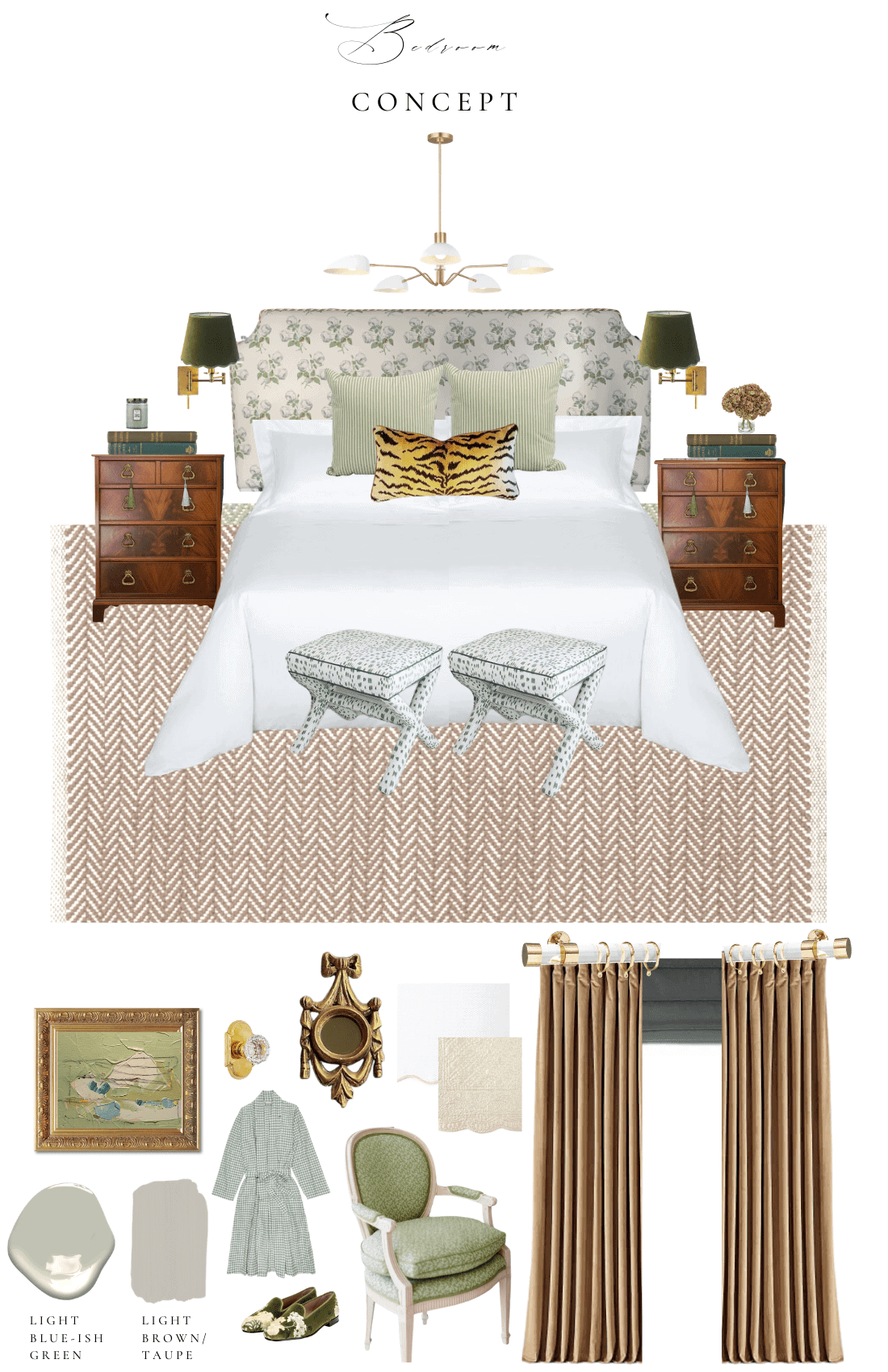 I'll be polling on some of the undetermined choices and explaining my thoughts & rationale more via my IG stories. My to-do list is not long, it's really just swapping out some existing stuff. The most time-consuming task will be painting 3 coats on the walls, trim, ceiling and doors.
One last thing…
I feel this needs to be said, because it's how I feel as someone who's deemed herself a home & DIY blogger…
As excited I am for this project, I wasn't particularly excited about announcing it, because I know there will be…judgment. On one hand, I couldn't give two shits about being judged. It's our house and I'll paint this bedroom a million times over if I want, and you can watch if you please. 
On the other, I care about my "brand." Then again, my brand is me – and I am unhinged. Off my granny-chic rocker. 
I thrive off of creating content. It's what makes me jump out of bed every morning (even in a dark & dreary bedroom). And right now, with the delay of starting the living room due to mine and Angelo's conflicting work schedules, I have no content to create. Therefore, I am quite frankly not thriving.
I've been in a creative lull for months and as soon as I made the decision to makeover our bedroom, I felt that creative spark come back almost instantaneously. 
The next morning, I awoke sans alarm and tip-toed into our master bath with a pep in my step and paint samples in tow while Angelo slept to hold up Bowood-inspired colors to the plain white walls. 
I'm so grateful for our home, I truly am, but we don't exactly have a huge house where each month I can pick a new space to renovate. Yes, we still have a few rooms to do, but those are larger projects that will involve a lot of planning and saving $. 
This project, however, should be quick, painless, fun. And guess what? I already chose a paint color.
But I have a backup color in case my first choice doesn't work.