A week or so ago I decided to take a casual stroll into my local Target (or as I call it; tar-jai), as it had been a few weeks since I visited and I wanted to see the brand-spankin' new floor plan/layout changes they made. I entered through the rather unappealing produce section and started briskly walking (may have picked up a light jog) towards the other end of the store, where I could see the hovering HOME sign. I could equate the experience to following a rainbow to find a pot of gold…except this pot of gold was tangible. After weaving through crowds of women and small children for what seemed like a lightyear, I made it. I sort of stood there for a few seconds and soaked it all in. They must've replaced the lighting or put some sort of hypnosis powder in the air vents because everything was shinier and…prettier? Damn it, Tar-jai. Always on top of their marketing manipulation tactics.
Target's in-store home style represents a more affordable version of the ever popular West Elm, which errs on the side of mid-century/modern and features sleek designs paired with geometric patterns. I'll admit the mid-century modern isn't favorite when it comes to home styles, so I tend to browse through their general decor section. It didn't take long for my "shiny object" radar to go off, and I essentially levitated towards the gold/brass decor. I let out a few ooh's and ahh's as I started picking up everything and fell in love with all of it. I have a thing for brass/gold, so I began thinking "what a perfect time to share these gorgeous items on the blog!" So today, I'm sharing a roundup of the brass accents I've been lusting over from Tar-jai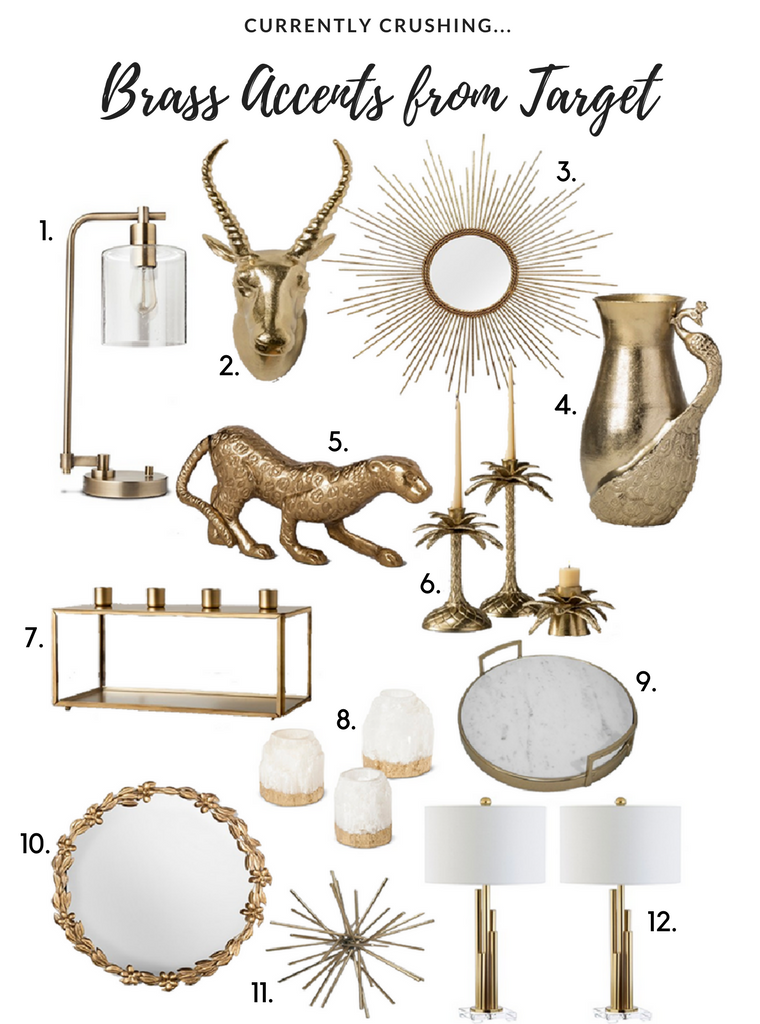 4. Peacock Vase
7. Glass Box Tapered Candle Holder
9. Marble Tray
12. Table Lamps
A quick note about #12. I found these and FREAKEDDD TF OUT because I've been asked countless times about the table lamps I have on my desk and since they were a Home Goods find, I haven't been able to link them anywhere. HOWEVER, these Safavieh lamps from Target are almost identical to the ones I found at Home Goods for those of you who have been on the lookout!
Have an AMAZING day! <3
– Alisa