When I say this renovation has been a long time coming….it's been a long.time.coming. At least it feels that way. I mentioned earlier this year that we would be tackling this project during 2019 and even shared the concept design back in February that received a lot of positive feedback.
But… life got the best of us and that never happened. However, it's now our main priority for 2020. We most likely won't start this project until the second half of the year, which is fine, because I love the planning portion before starting large projects. 
The space we're going to tackle? 
Our main bathroom.
I've never shared an actual photo of this bathroom  – mostly because the backstory is kind of embarrassing. But I can't hide from this forever, especially now that this project is coming in hot. 
Two years ago almost to the date (and long before I knew what I know now), I convinced Angelo that we needed to casually tear the wallpaper out of our main bathroom – the bathroom that we use every day, for everything. My idea was to simply remove the wallpaper, paint the walls black/dark gray and keep everything else as-is until we had the funds to renovate the full bathroom. Just a quick paint fix. Easy, right?
Here's what the bathroom looked like before I decided we needed to remove the wallpaper: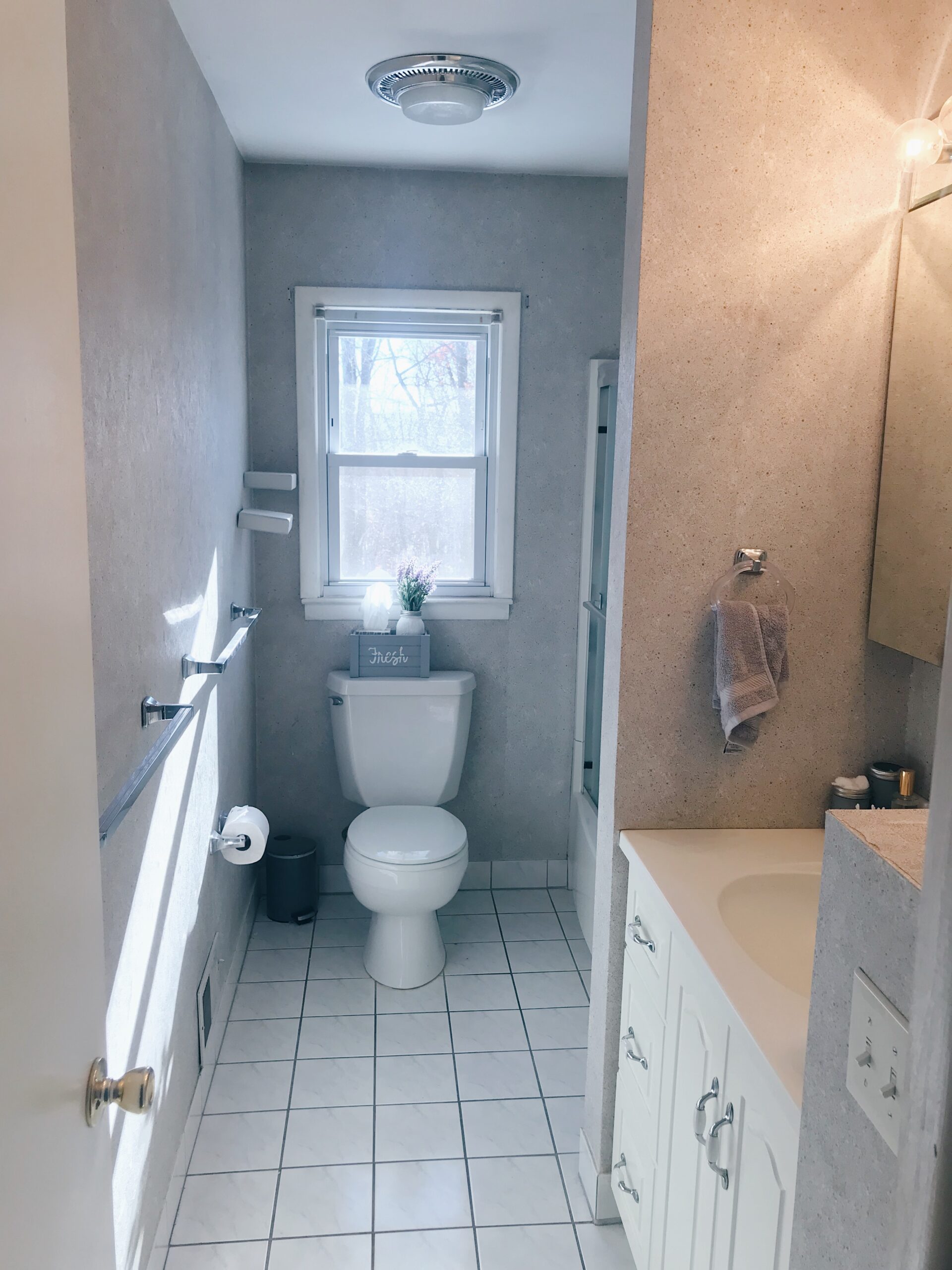 It was not terrible, but could use a little botox – aka paint. 
I told Angelo about my plans and asked if he wanted to participate in this wallpaper removal party – he happily obliged. Because he is a perfectionist (bless him) and needs to know exactly what he's doing before diving in (whereas I like to learn as I go), I want to clarify that he made sure we both knew what we were doing before going to town on this wallpaper. 
Long story short…we started removing the wallpaper and with the wallpaper…came the walls. Or at least the top layer of drywall. He suggested we stop after realizing the walls were not cooperating, but my persistent-ass said "no, let's keep going! It's fine!" 
So…I ultimately committed the murder of the bathroom. Angelo was just an accomplice who tried to stop me.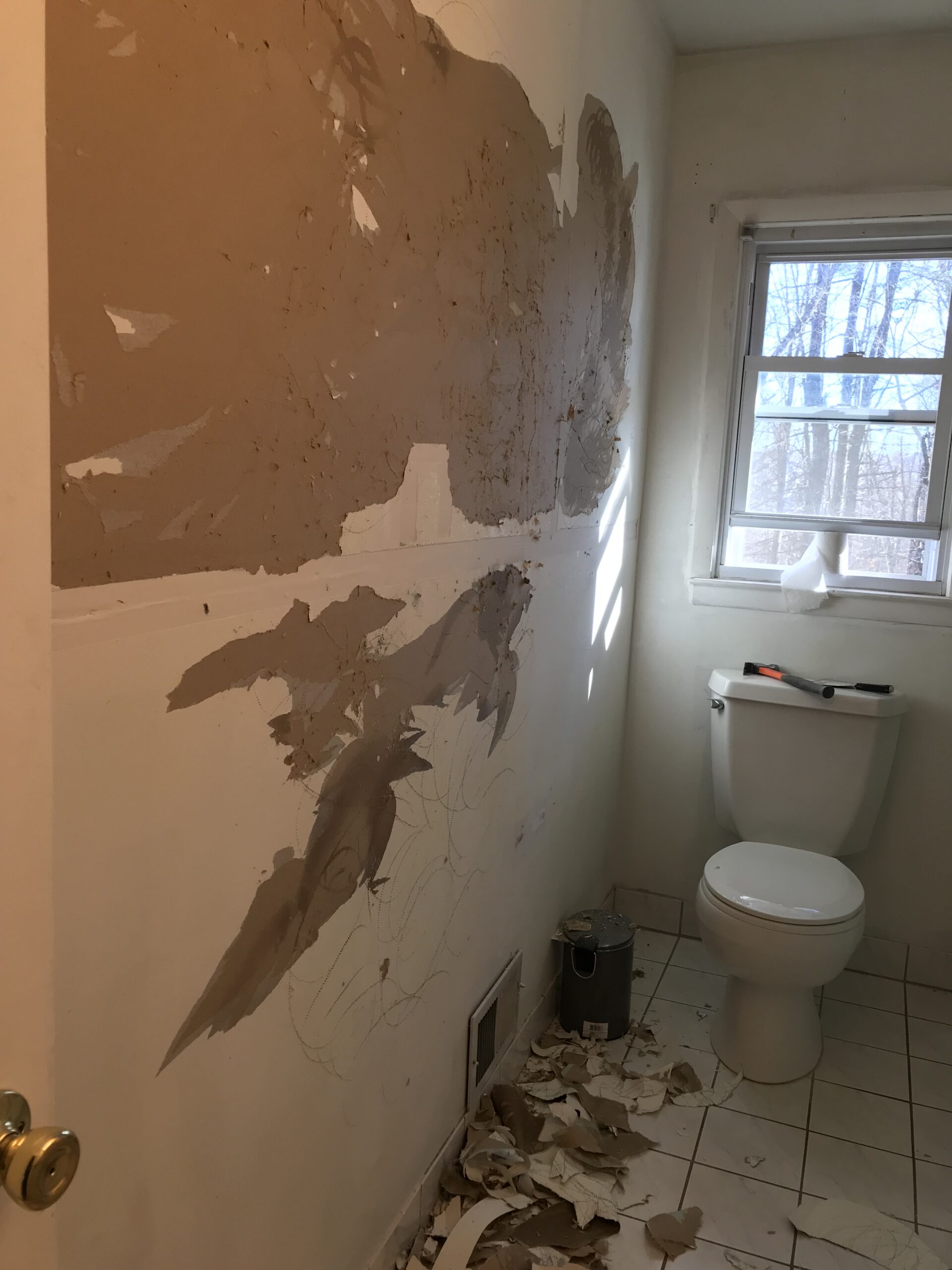 I'm not sure if whoever originally applied the wallpaper did so in a way that no one could ever remove the damn wallpaper (especially because wallpapering in a bathroom is not common to begin with due to humidity), but it was an absolute nightmare to remove. 
Regardless of whether or not we were removing the wallpaper incorrectly or the wallpaper was applied in a way that no one could ever remove it, I am pretty sure we need to replace the drywall.
And BTW….
Our bathroom has looked this way ever since.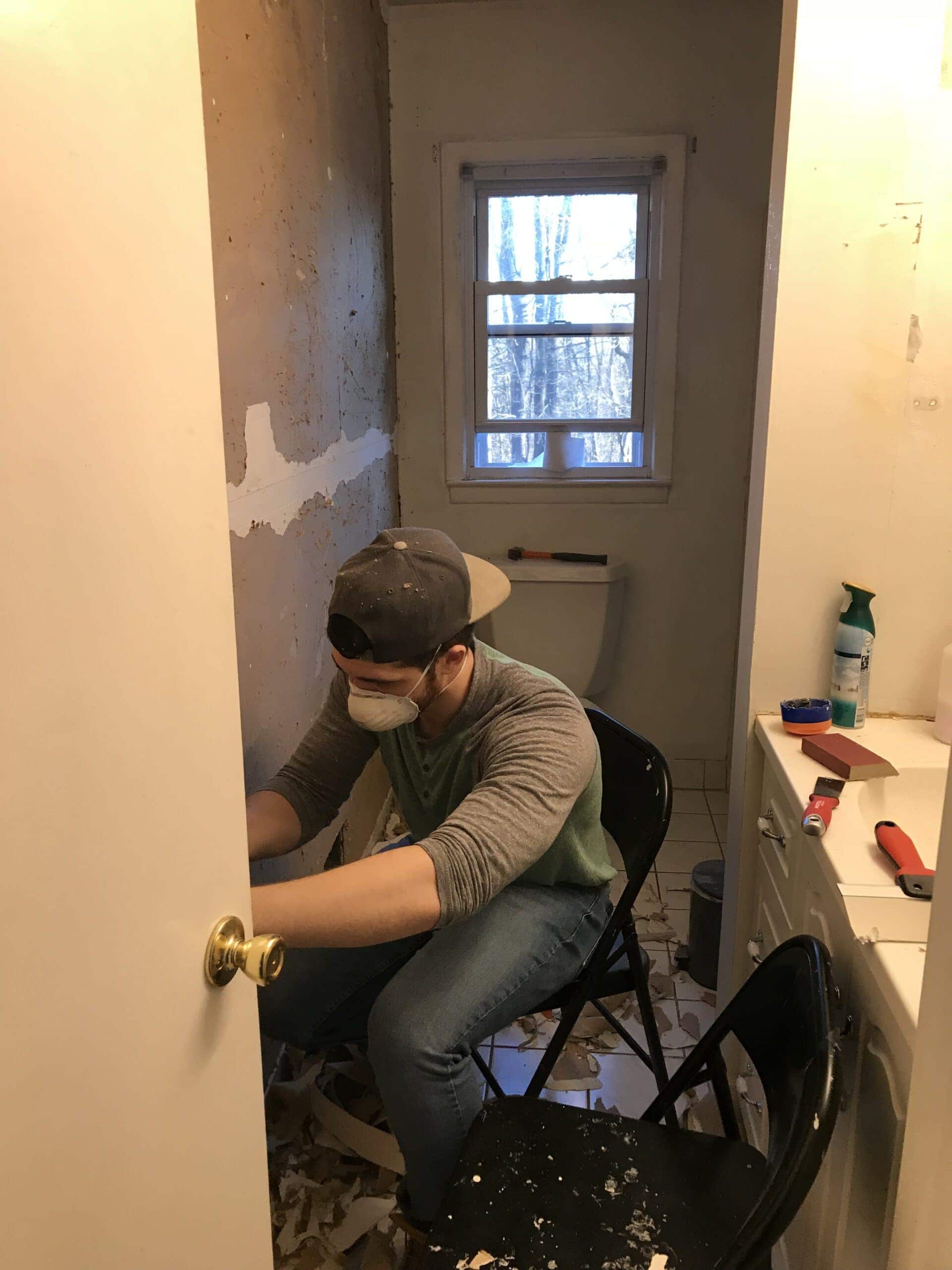 Yup – brown, flaky paper walls. I've been dreaming of the day when we could finally renovate this bathroom for 2 years now, and it will finally be happening next year.
There's going to be a formal project kickoff blog post coming before we start this project, but as of right now, we aren't sure exactly when this renovation is going to happen in 2020. I'm thinking around summer. For now, I'm just sharing this embarrassing space along with initial thoughts and ideas that I've been sitting on for quite some time. 
The design considerations and challenges:
Because this will most likely not be our forever home, we need to consider the resale value of the house. I'm not thinking of a completely basic black and white bathroom, but I really need to challenge myself to think outside of the box – how to design a bathroom that makes a statement without turning off potential buyers down the road.
My current idea is using a mostly neutral tile (or at least a muted color), and infuse "boldness" via the shower curtain, a roman shade, the towels, wallpaper (kind of have PTSD about using wallpaper in this room) – basically non-permanent details.  
The current inspiration & concept:
This is the concept design that I shared for this bathroom in February of this year, when we thought we would be tackling this bathroom in 2019: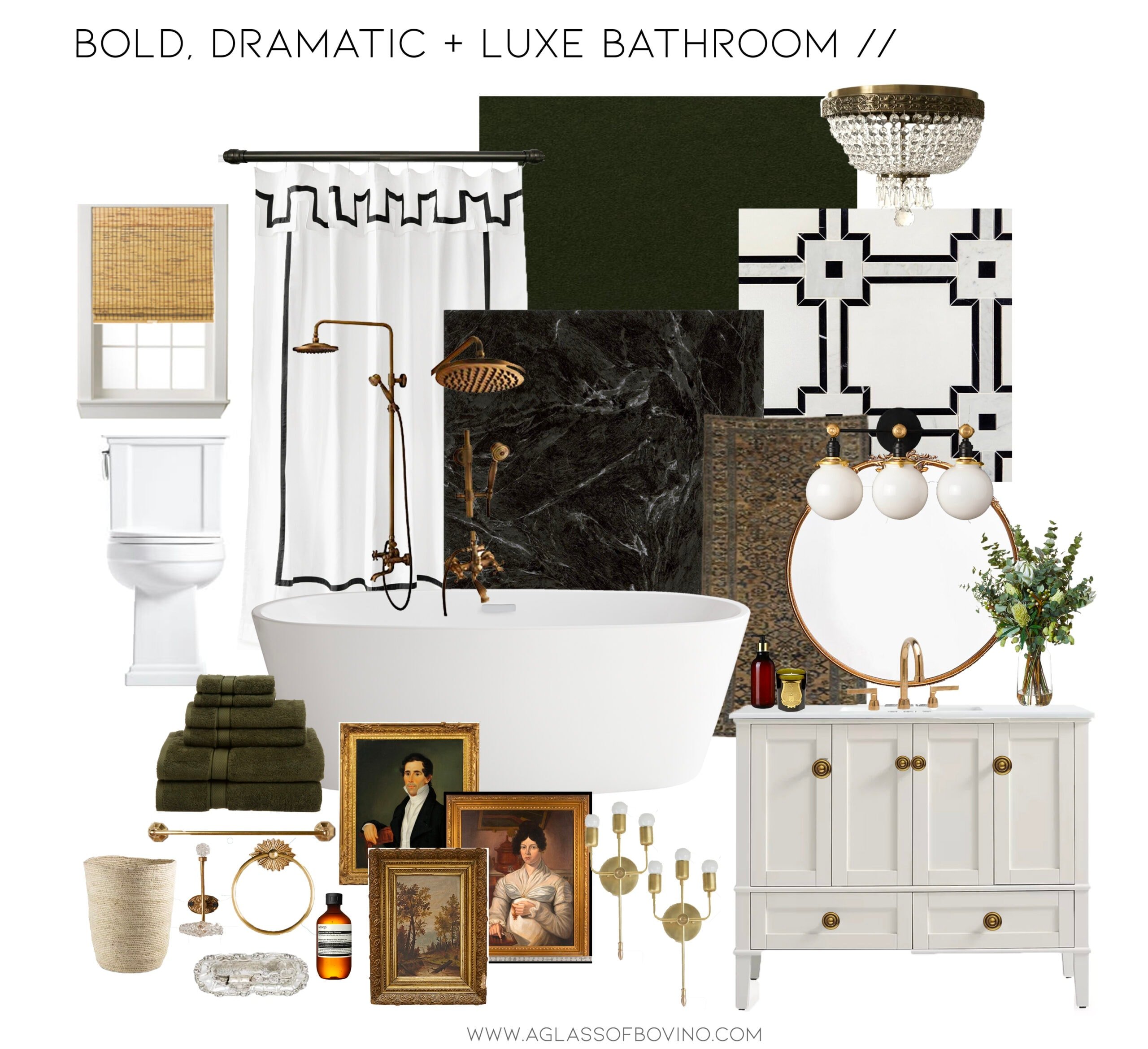 I actually still loveeee mostly everything about this concept, but I have a bunch of different ideas in my head and the final concept is TBD.
Inspiration: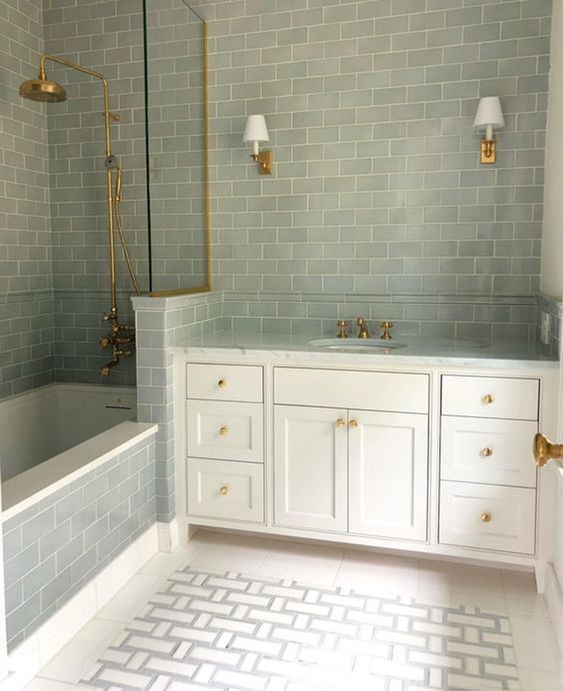 I love this image. I'm actually not a fan of classic subway tile, but I love this type of subway tile.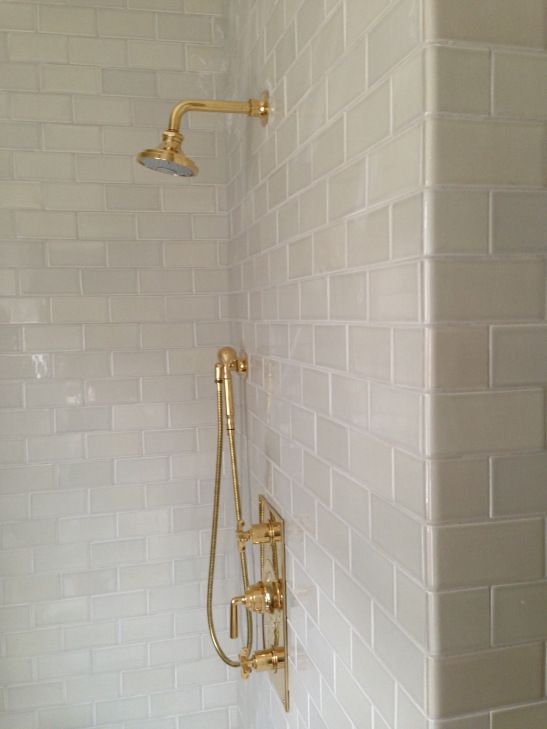 I also have had this image pinned for a while and keep going back to it – the brass against the warm tile is just so classic.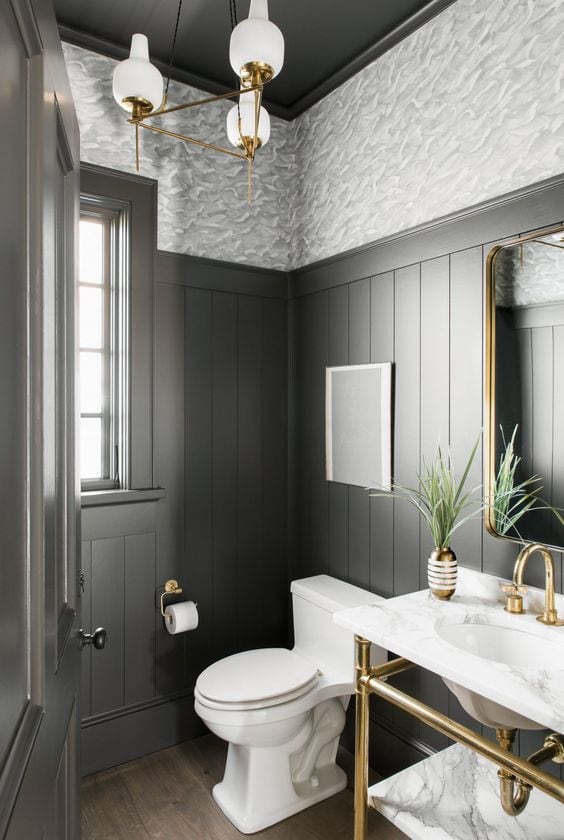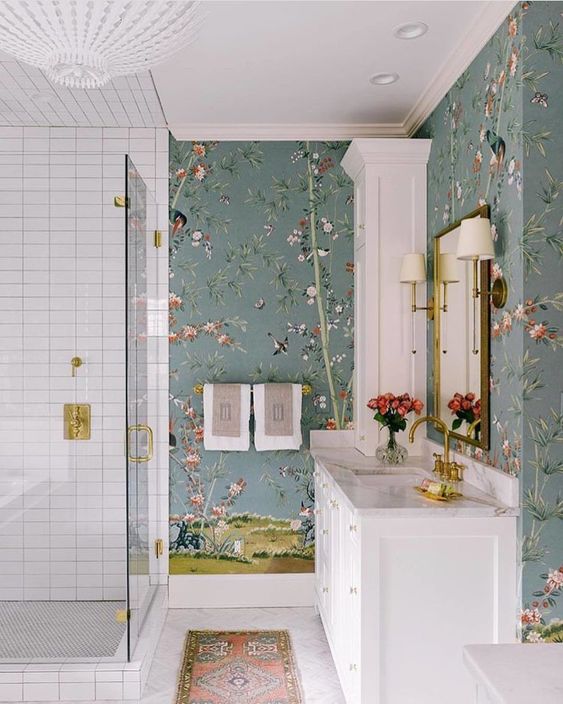 I love the tile/wallpaper look in this one!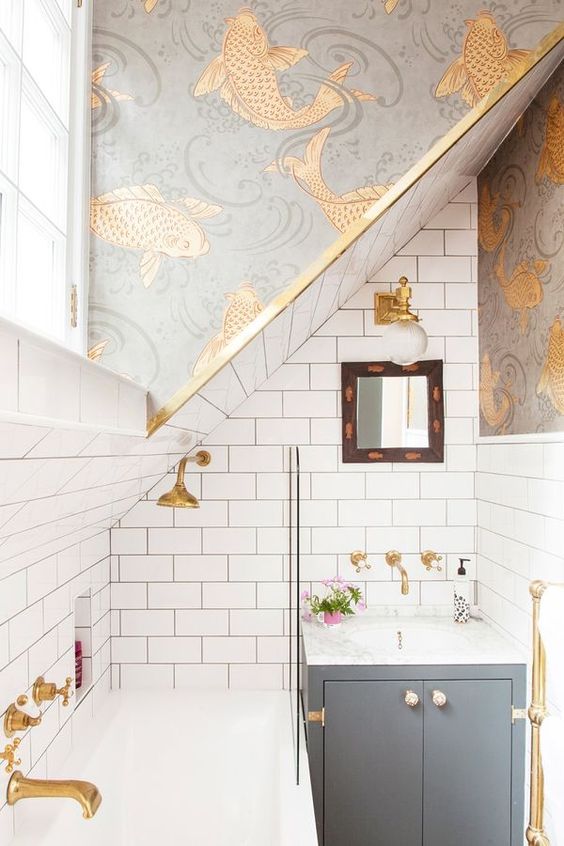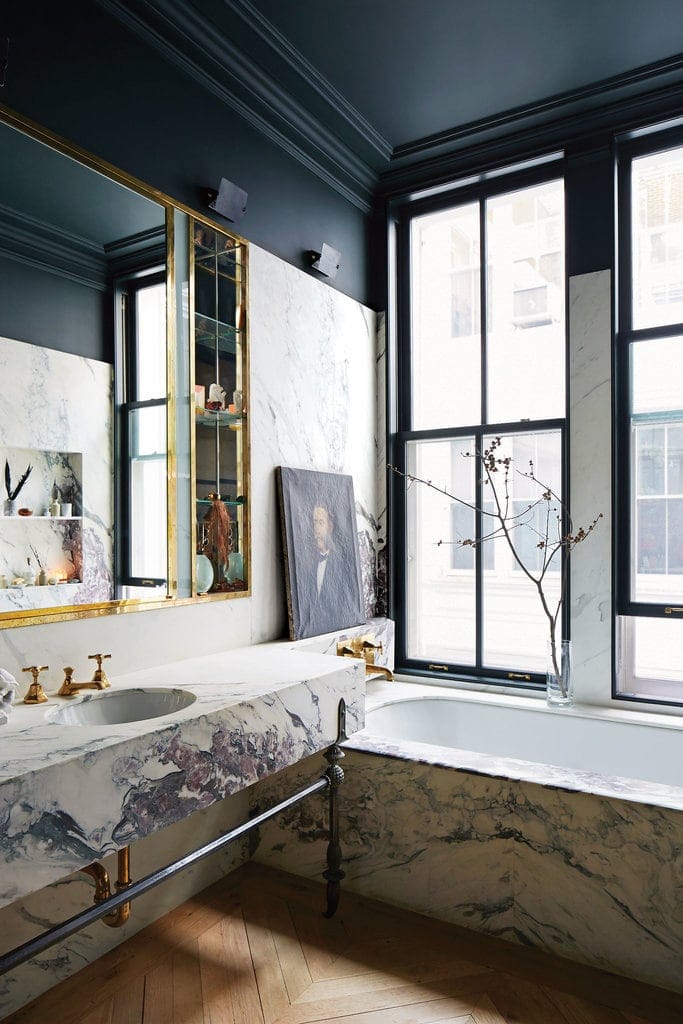 Moody walls and marble gets me every time.
In terms of the design, I have envisioned the tile around the tub can be carried through the back wall. I don't love the look of walls being "broken up" (i.e. tiled wall on the back and then the left wall would be painted – it doesn't flow), so I'm considering pulling the tile through the left wall too. I'd also like to use the little pop-out wall next to the vanity to my advantage to break things up, like with wallpaper or something.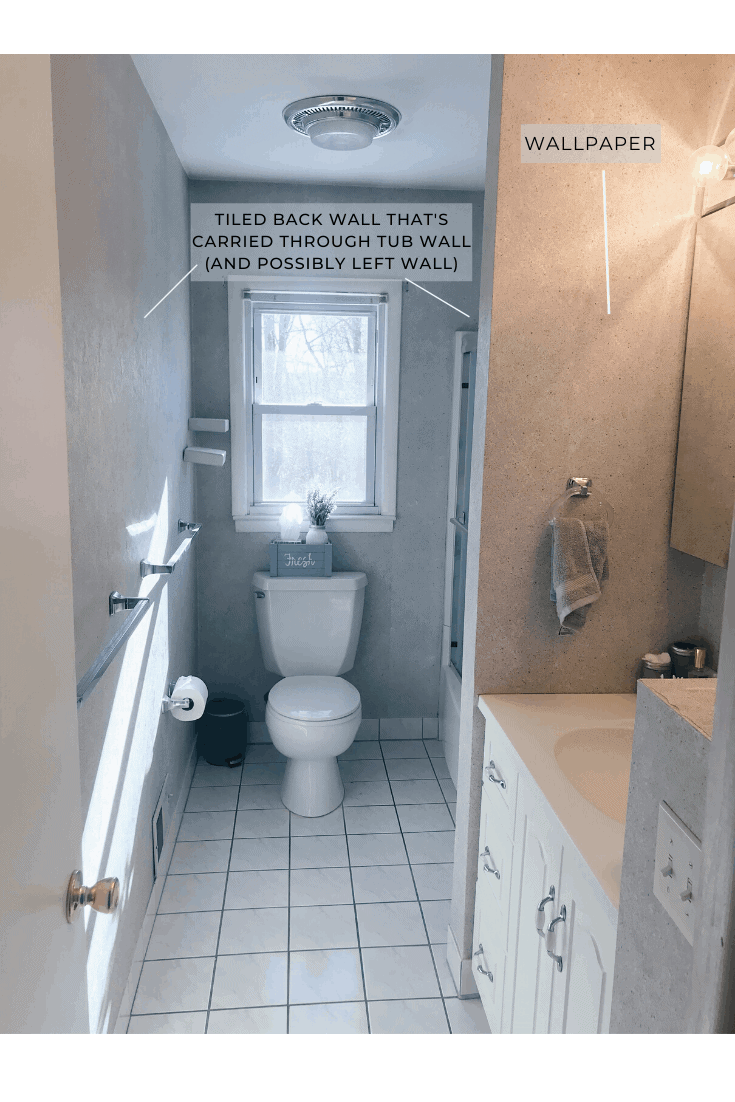 This will probably require a full gut given the condition of the bathroom. That means new drywall, new floor, new vanity, new tub, new lighting, new toilet…you get the picture. And this will definitely be mostly/partial DIY. I already proved to myself that I could renovate a bathroom on my own, so Angelo will be way more involved in this reno and we're excited to tackle some of this space together. 
I can't wait to finally have this bathroom done so we can invite friends and family over without being embarrassed (lol) and also share the process of this bathroom renovation with you! The next few months will be all about planning and I'll be sharing and polling via IG stories. 
Have a great week, friends!
xo
Alisa.