Happy new year! I was grateful to have some time off work last week. I planned to be productive, tackle some cleaning/organizing, and just general getting-my-life-together stuff, you know? Instead, I turned into a human potato and decided to marinate on the sofa while bingeing The Crown and doing some online shopping. 
Today I'm sharing some of my recent home and non-home-related purchases that I've been enjoying as well as items I've been eyeing because….#blogger
Enjoy!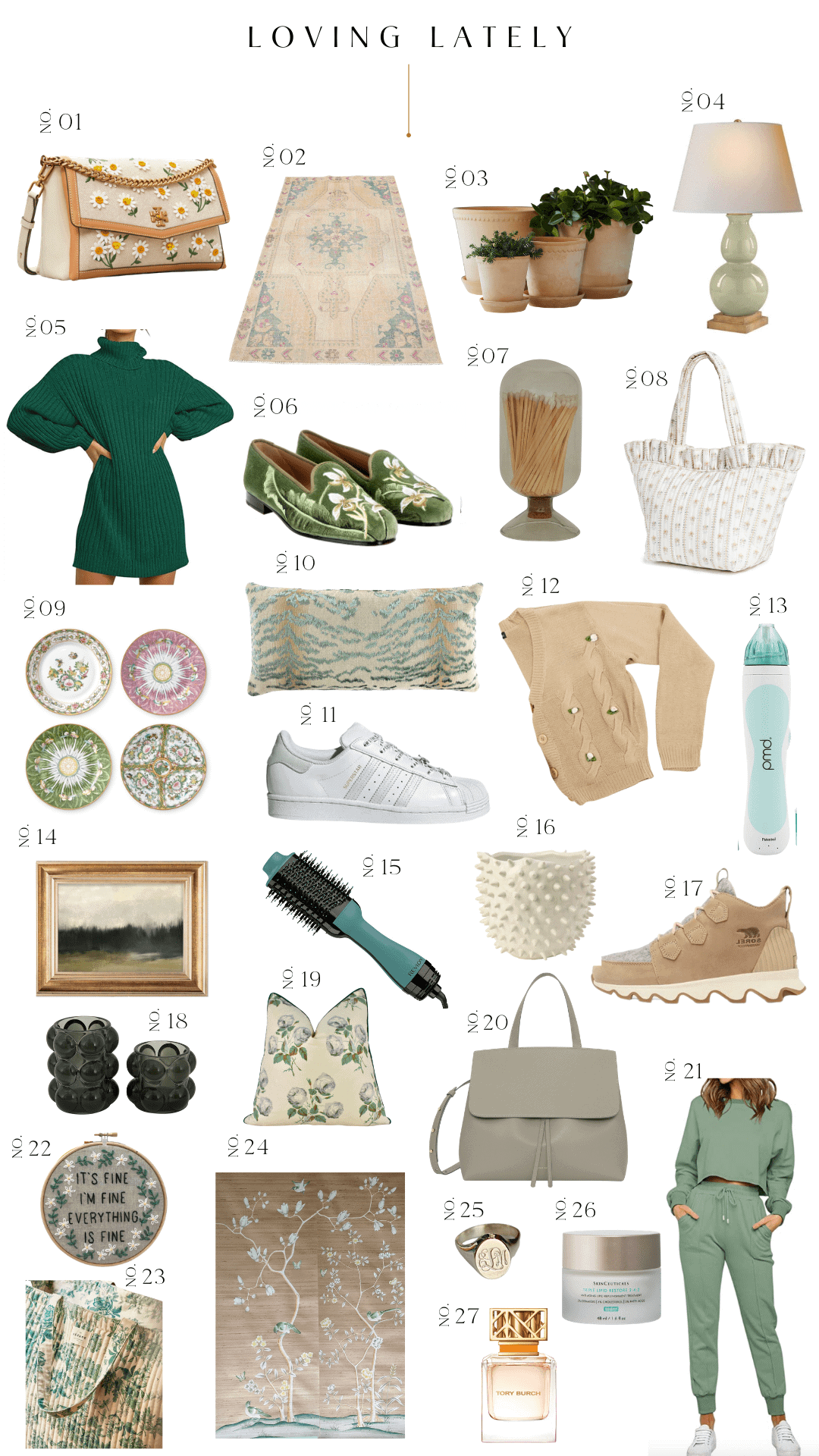 NO. 01 | This Tory Burch applique bag is the perfect springtime bag and it's on major sale right now (too soon to be thinking about spring)? 
NO. 02 | I'm loving the colors in this vintage Oushak rug. It was on my wish list before I placed a custom order with The Loom & Co (which I'm so excited about)!
NO. 03 | Thinking of putting a few of these planters on our awkward entry landing. How cute is the scalloped detail?
NO. 04 | Visual Comfort Celadon Gourd lamps – I rarely buy anything for the house at retail, but lighting is an exception. In fact, I think lighting is one of the things you should splurge on when designing a room. I'm not entirely sure if I'll take the plunge on these Celadon lamps but I keep going back to them, you know, just to look.
NO. 05 | This $32 dress from Amazon would be perfect with leggings and a pair of flats…
NO. 06 | Colefax and Fowler Fern Stubbs and Wootton Slipper. 
Stubbs and Wootton beautiful, versatile slippers caught my eye a while back and I could never justify the $500 price tag, but I did score a new pair on eBay for wayyy less than $500 a few nights ago. There were plenty of options to choose from between eBay, The Real Real, Poshmark and Tradesy, so search those sites if you love these shoes too! Stubbs and Wootton have collabs with Colefax and Fowler and Scalamandre – need I say more?
NO. 07 | Because we can all appreciate a chic match-holding cloche
NO. 08 | A granny-chic floral nylon tote 
NO. 09 | I was thinking about ordering these plates and displaying in the future built-in shelves
NO. 10 |  How divine is this Rajah pillow?!
NO. 11 | I will always own a pair of these comfortable, classic Addidas sneakers. I recently donated an old pair and just purchased this style because…mint. They're currently on sale for $48!
NO. 12 | Rarely have I been disappointed with the quality of items I order from ASOS, and they don't break the bank. I ordered this cardigan because it's granny chic and less than $50
NO. 13 | PMD Personal Microderm – I'm always looking for ways to improve my skin at home, and I took the plunge on this little microderm machine. I've only used it once, but based on the reviews, I have a feeling I won't be disappointed. 
NO. 14 | Affordable landscape art (only $16)!
NO. 15 | I used this $40 Revlon hot air brush for the first time last week and I really wish I discovered it sooner. My hair looked like I had just left the salon, which I haven't been to in over a year (yes I cut my own hair don't @ me). 
NO. 16 | How cool is this spiked pot?! 
NO. 17 | I've been wearing and running on the treadmill in these Kinetic Caribou Sorel boots. They're stylish, keep my feet warm and provide great, cushion-y support
NO. 18 | Cute green bubbly votives
NO. 19 | This Bowood pillow…because…Bowood.
NO. 20 | Loving the muted green color and versatility of this Mansur Gavriel bag/backpack. 
NO. 21 Ordered this 2-piece green loungewear set after doing extensive research on the most flattering yet cheapest option that Amazon fashion has to offer. It's cheap, had great reviews and comes in a lot of colors.
NO. 22 | Funny Needlepoint – if you search "funny needlepoint" on Etsy, you won't be disappointed (unless you don't have a twisted sense of humor, then maybe don't bother). 
NO. 23 | Sezane, a French brand, caught my eye and I fell in love with this green floral tote, which is only $80! 
NO. 24 | How pretty…I mean how pretty is this Chinoiserie paper? I'd love to frame Chinoiserie panels and frame in our entry, but I'm worried it'll be too much with the floral drapes. A male does live here too 
NO. 25 | I purchased this monogram Signet ring on Black Friday and I've been wearing it every day
NO. 26 | Skinceuticals Triple Lipid Moisturizer – I've been using C E Ferulic for over a year now and it's made a difference in the appearance of my skin, no doubt. I've heard great things about this moisturizer and it's at the top of my list of skincare products to try next. I talk more in-depth about my skincare routine in this post
NO. 27 | I've been looking for a new perfume, and of many the samples I tried, this Tory Burch perfume the one I kept going back to. And it's the only one Angelo liked. Sold.
Have a great week!
xo
Alisa