Whenever I finish a project I like to spend some time to reflect about what went well, what didn't go so well (usually my chaotic whirlwind of indecision), and what was really beneficial to us during the renovation process. Today I'm going to share the beneficial planning tools and DIY resources we used to complete our recent bathroom remodel so you can take these resources and use as guidance for your renovation too.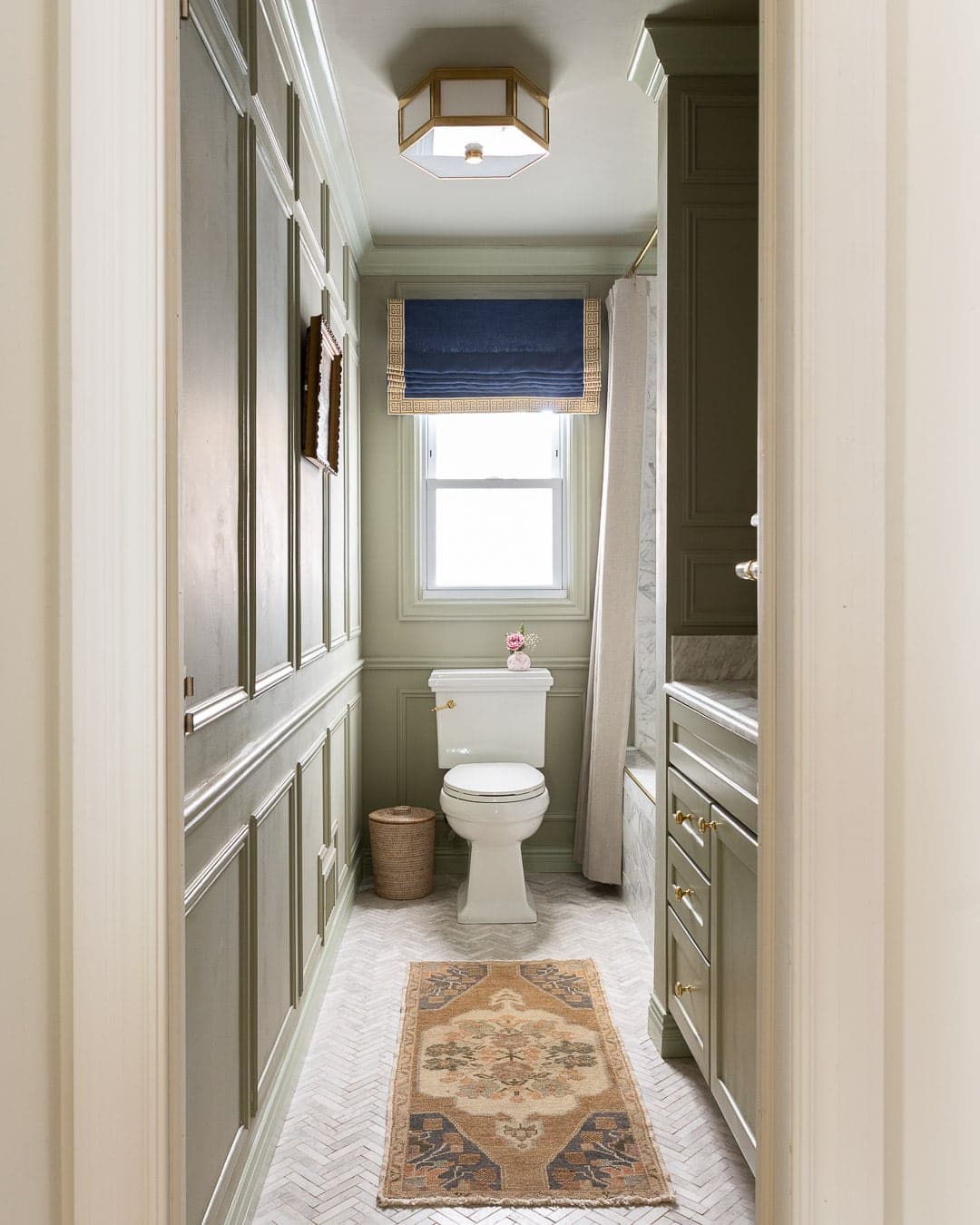 BATHROOM RENOVATION PLANNING + PRODUCT SPREADSHEET
One thing that turned out to be really helpful to us was a renovation planning spreadsheet I created early on in the process, which I'm sharing with you below. A few things to note before you download this spreadsheet:
This spreadsheet could be used whether you're planning to DIY renovate a bathroom or hire out (or both)
I removed steps that had to do with the secret cabinet and anything that was very specific to our renovation to make this more general rather than more specific (and potentially more confusing)
There are two tabs – one for the actual planning process/steps involved and one tab for the product list, which contains all the products we needed from start to finish. This product list doesn't contain tools and materials we already had (i.e. paint brushes, wet saw, etc.)
The spreadsheet may not look like there are many steps involved, but some steps take a while, like tiling a shower. I tried to keep things in the order we completed them because it can sometimes get confusing about which steps come before others
These are the steps we personally took to complete our bathroom, and I recommend using this spreadsheet as a guidance tool for your own renovation. I encourage you to add, edit or remove some of the steps based on your own situation
I've been asked "how do I even  know where to start with my bathroom renovation?" and I'm hoping this spreadsheet will provide you with some context, direction and organization if you're unclear.  
Here are snippets that shows parts of each tab: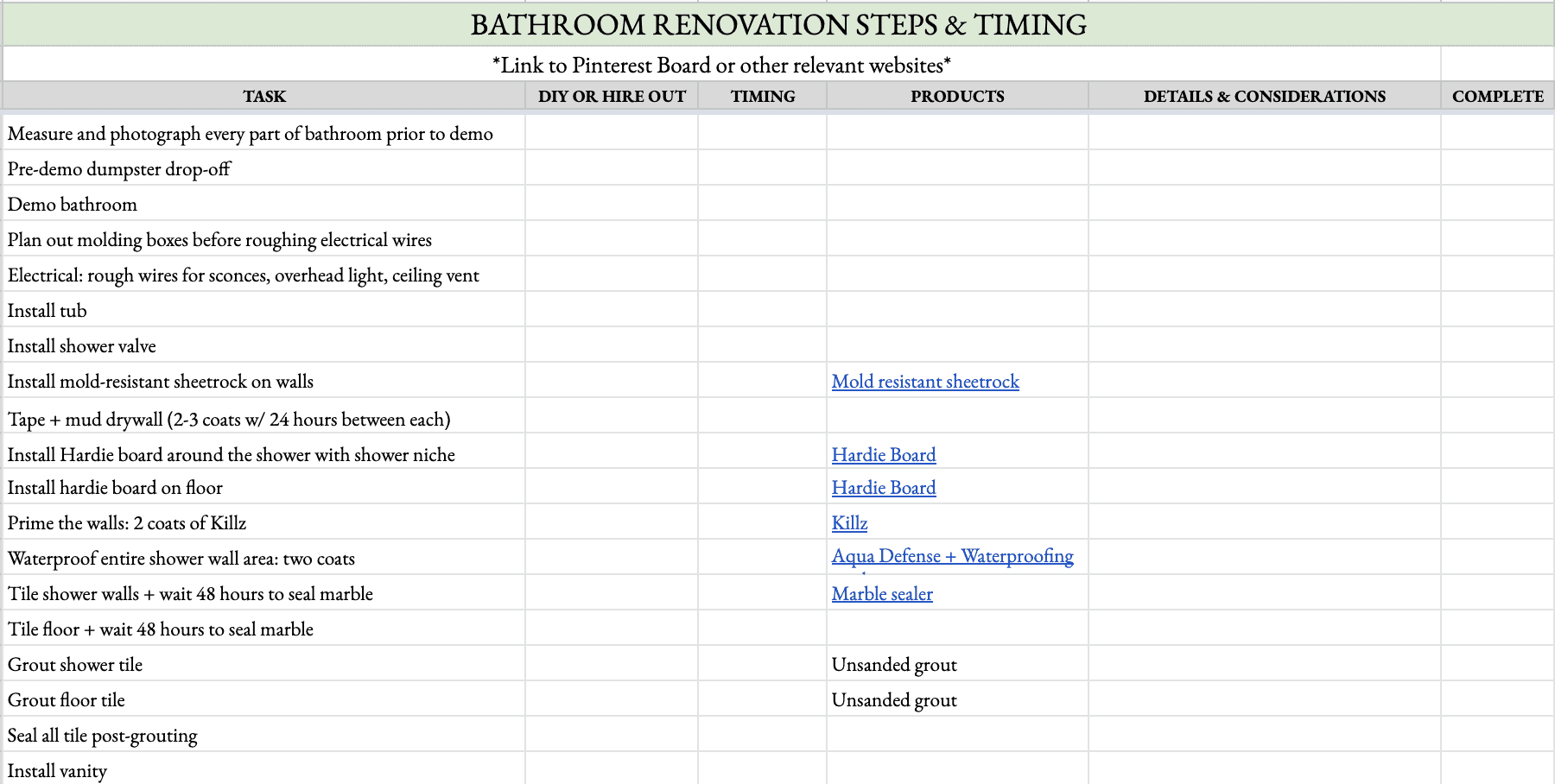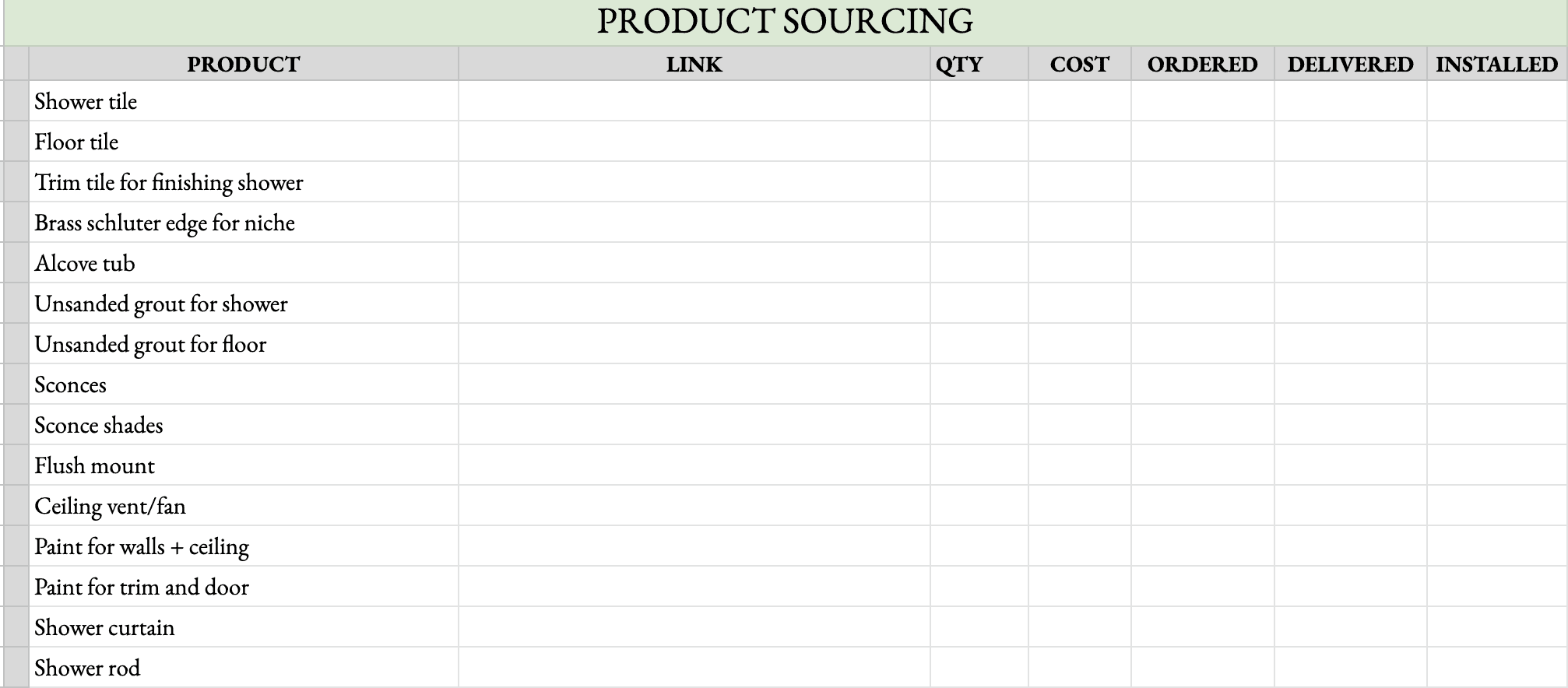 CLICK THE LINK BELOW TO DOWNLOAD: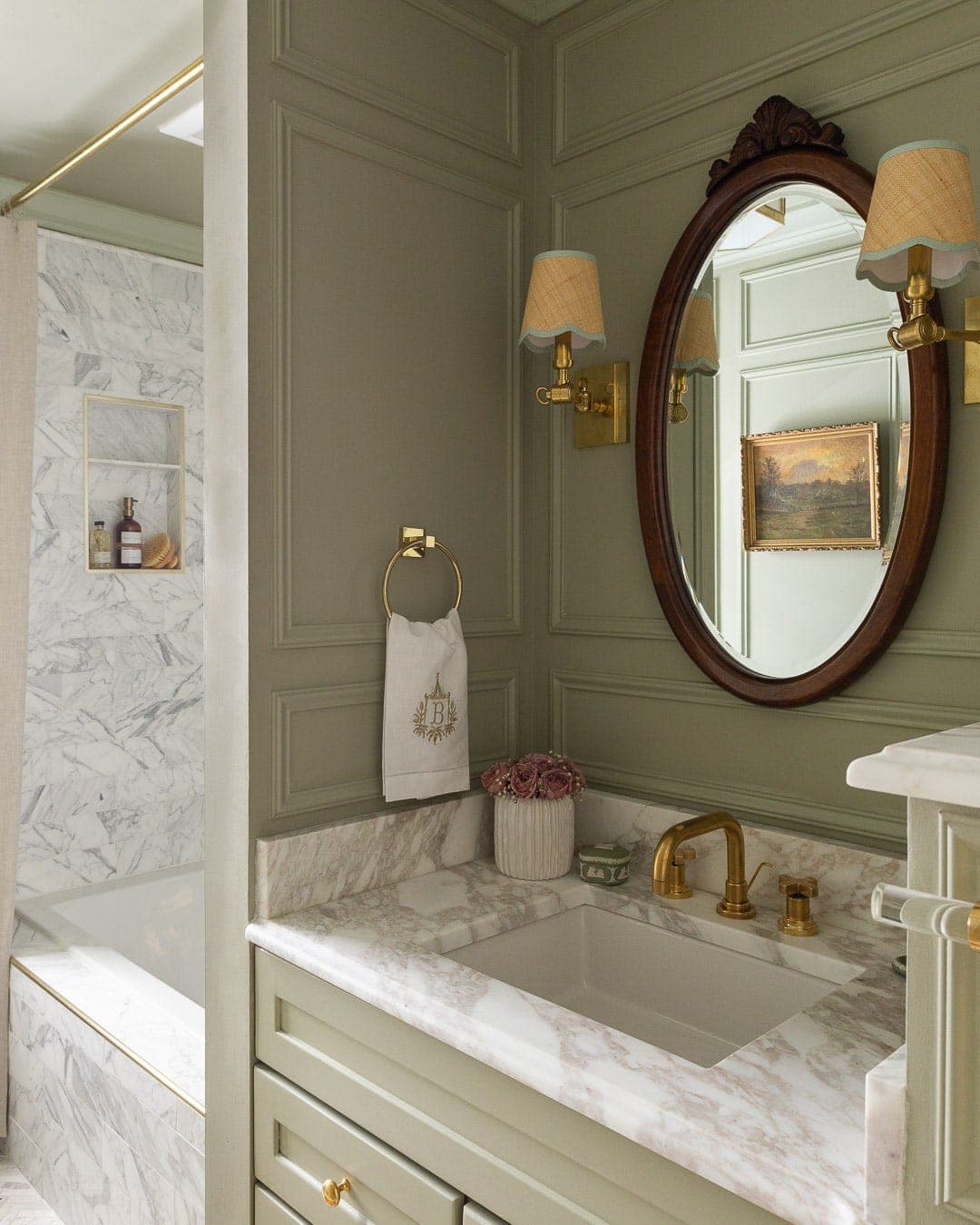 YOUTUBE DIY RESOURCES
We spent a lot of time on YouTube University, but there were a few channels we kept going back to, which are also the same channels I used when I renovated our master bathroom. 
This is my go-to channel for all things bathroom DIY (he literally guided me through every single step of our master bathroom renovation). I highly recommend spending a decent amount of time on YouTube and watching different videos of different people explaining how to do the same thing, because there is more than one way to do something. Watch, understand, watch some more, and then execute.
 Also, grab some popcorn and read through the comments of each video because if someone's way of doing something isn't the right/best way to do it, people (ahem, *strong minded contractors who definitely know what they're talking about, bruh*) will be announcing their opinion in the comments. I only followed videos that had a lot of views and mostly positive comments.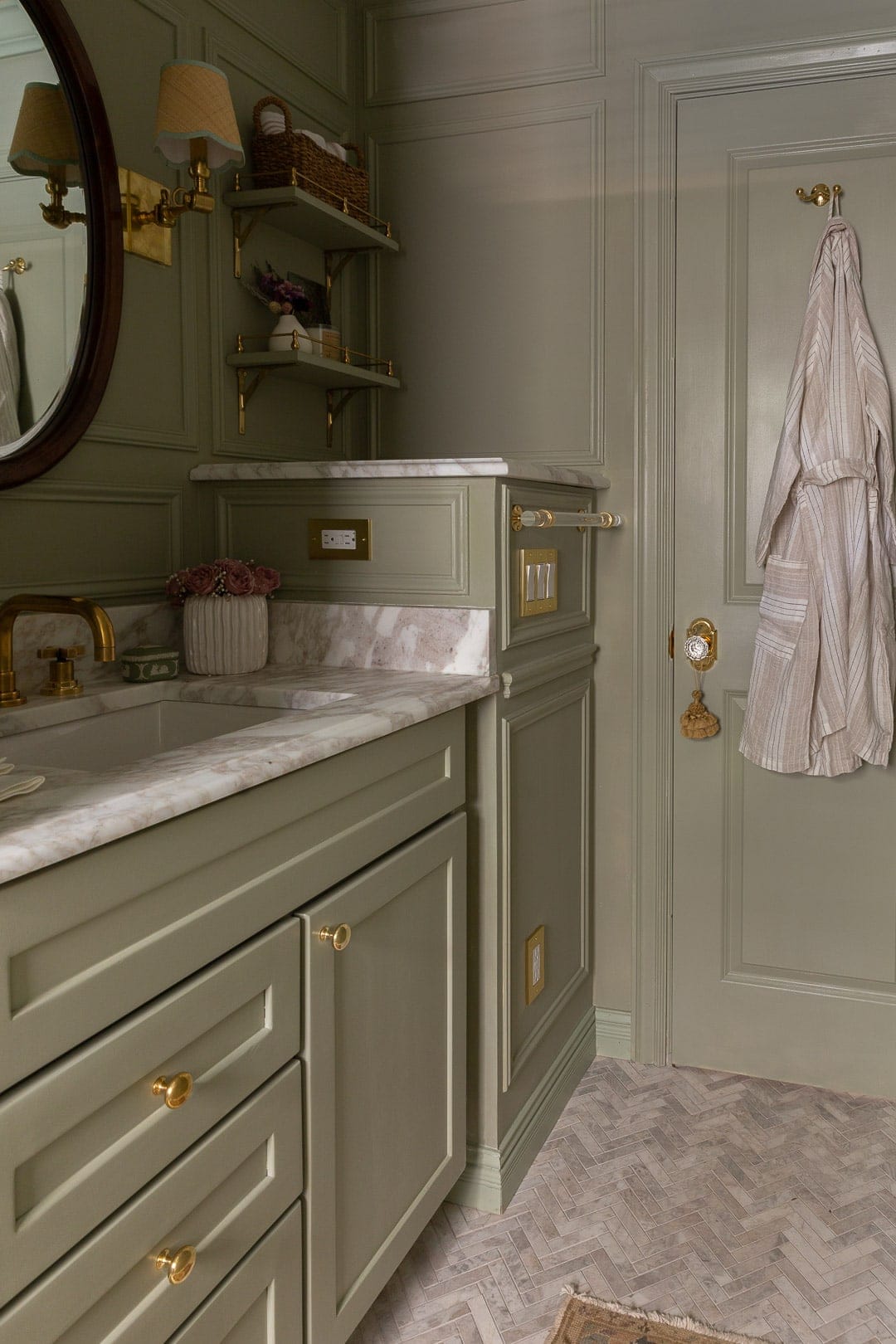 Anyway, these are all the videos we used/found helpful:
And a few blog posts that I wrote that may also be helpful for your renovation:
I truly hope this was helpful for you – whether you're planning to DIY renovate, hire out, or a little bit of both. As usual, please leave a comment or send an email if you have any questions.
Have a great week!