I've shared a decent amount of
Facebook Marketplace tips
, but rarely have I touched upon tips for shopping my second favorite secondhand site –
eBay
.
It's been around longgg before Facebook (since 1995) and I've personally been a member for over 10 years. I signed up while I was looking to upgrade my blackberry to an android circa 2009 and have since shopped for and purchased the following items on eBay:
new and refurbished goods (i.e. Dyson products, iPhone)

Art – I have a

blog post dedicated

to how I search for art on eBay because there is so much abundant, original art for cheap

Furniture (locally)

Vintage decor

Mirrors

Vases 
Vintage dishes, plates, glasses, etc.
Lamps

High-end fabric and drapes (more on that in

this post

)

Rugs (new and vintage)
Handbags/shoes/clothing
I think there's a common misconception that eBay is an archaic platform where old men partake in bidding wars over baseball cards and scammers are looking to take your money and run for the hills, but that's not the case at all. To me, it's a treasure trove. You just need to know how to use it.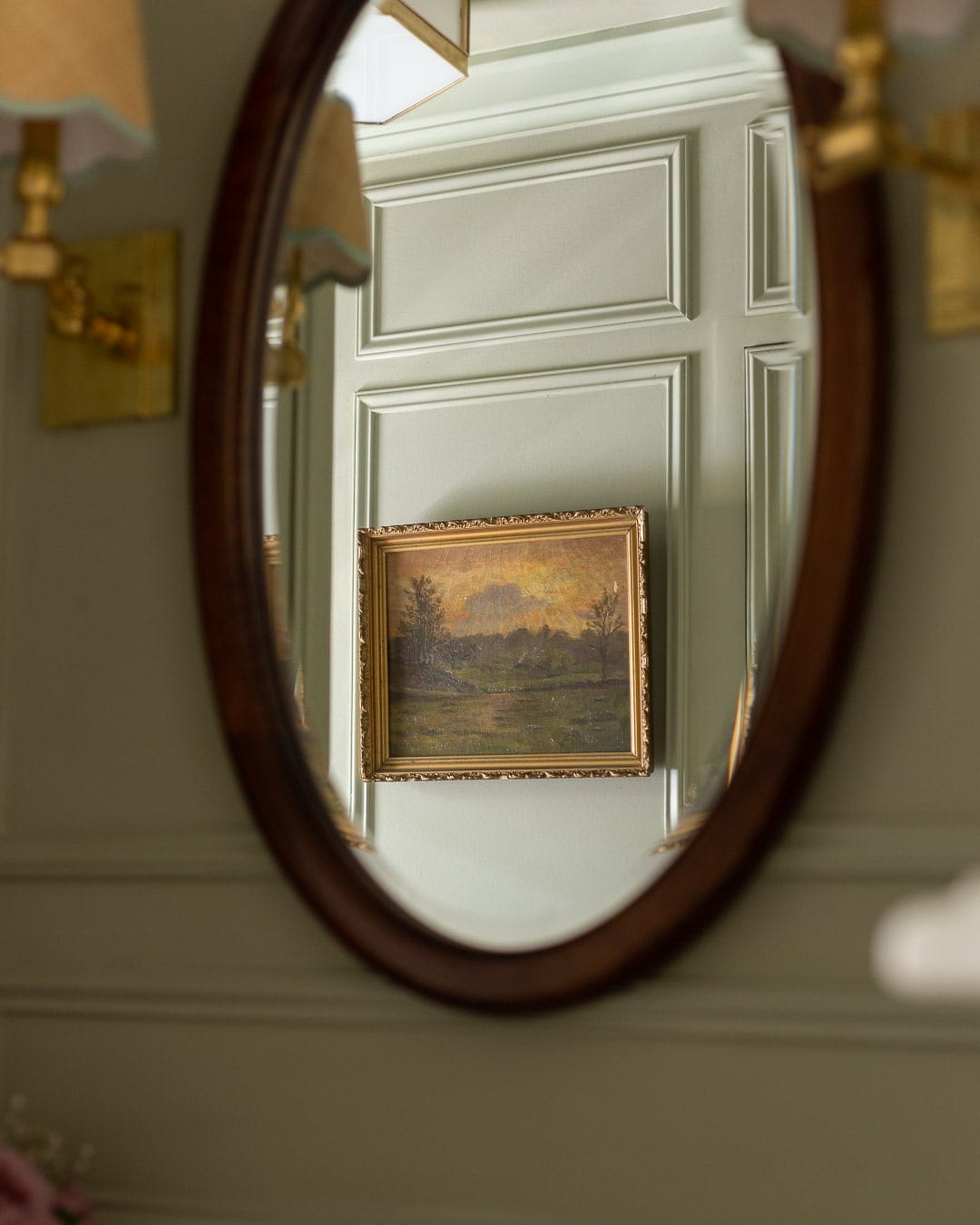 I found this antique landscape art on eBay that fits perfectly in our main bath 
SEARCHING & FINDING 
Unlike Facebook Marketplace, there's no algorithm. But like FB MP, there could be thousands of items to comb through depending on what you're shopping for. And people actually know what they're selling (for the most part), so it's easier to find what you're looking for. 
On the contrary, you have to know what you're looking for on eBay. When you open FB MP, you're served up items that are relevant to you based on what you save/search for, whereas with eBay, you need to type in search terms that are at least somewhat similar to what you're looking for. It's a double-edged sword.
Sometimes if I don't know exactly how to describe an item I'm looking for, I'll search what I *think* it's called, and the results will usually give me more clues/verbiage that more accurately describe the keywords I should be using. 
I found this vase after searching "vintage white vase" Only $14!
YOU DON'T HAVE TO BID ON ANYTHING
…if you don't want to. In fact, I can't remember the last time I purchased something that I bid on. I only search for "Buy it Now" because I hate bidding wars and need immediate gratification.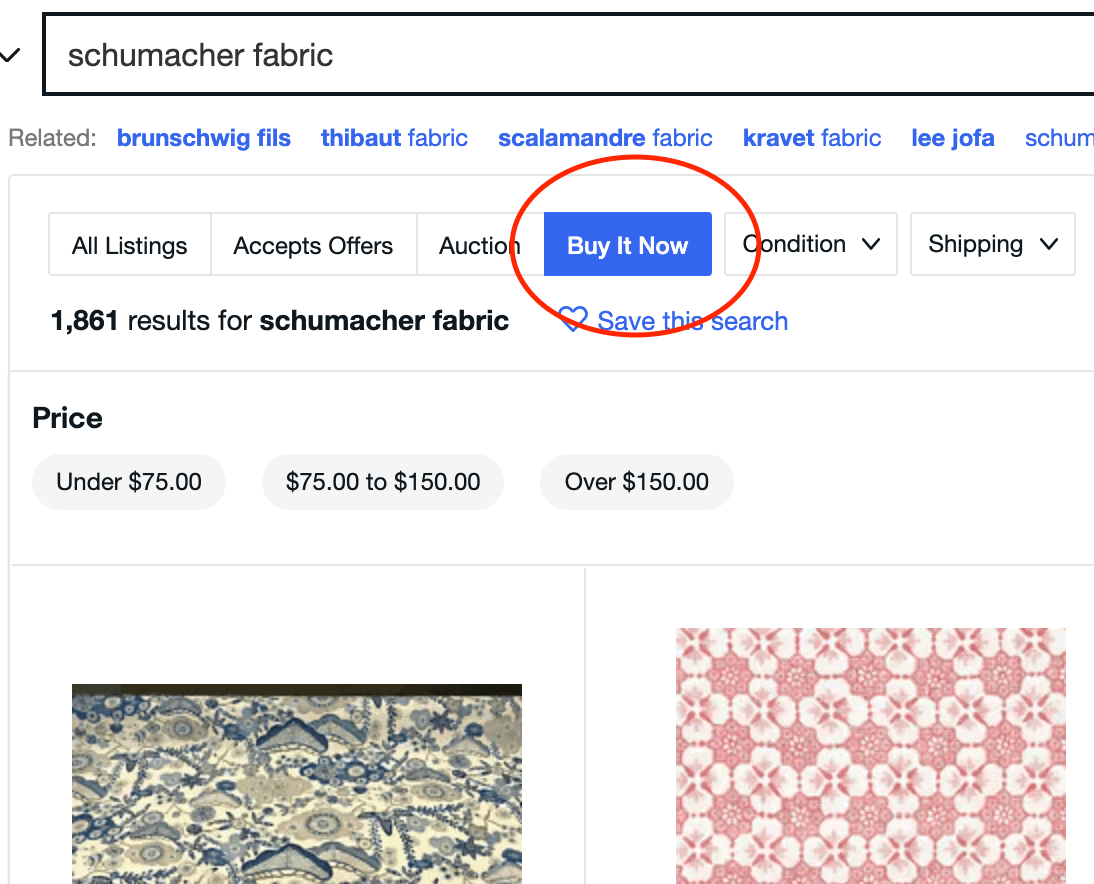 USE THE BEST OFFER BUTTON
You can also search for Best Offer only. I like when an item has "Best Offer" because that means you can negotiate the price with the seller.
But there are usually less items that have "Best Offer." See how the above  Schumacher fabric search had 1,861 results when I searched and selected Buy It Now? Let's see how many results when I select Best Offer…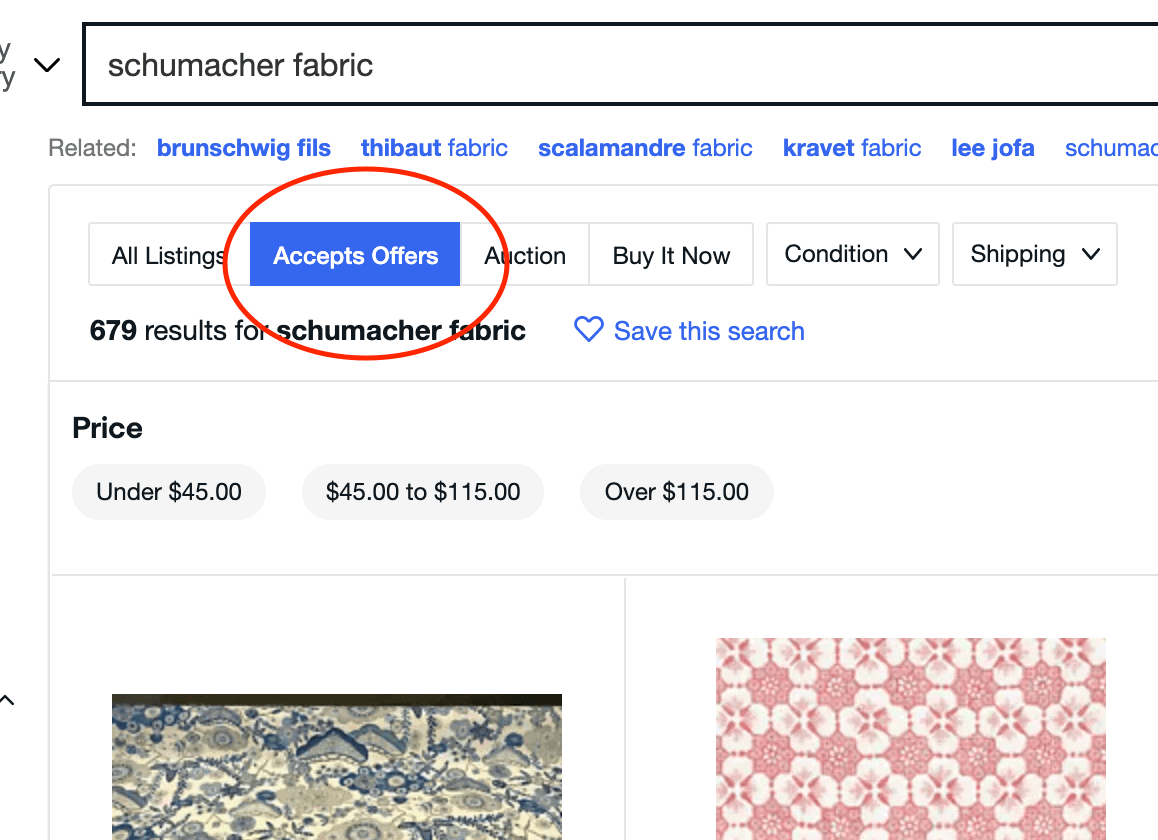 Only 679. It's really personal preference how you want to search for listing type. But selecting "Buy It Now," does include all items that are also listed under best offer, so I usually just select Buy It Now. 
SET ALERTS ON THINGS YOU'RE LOOKING FOR
Search for an item, then click "Save this search"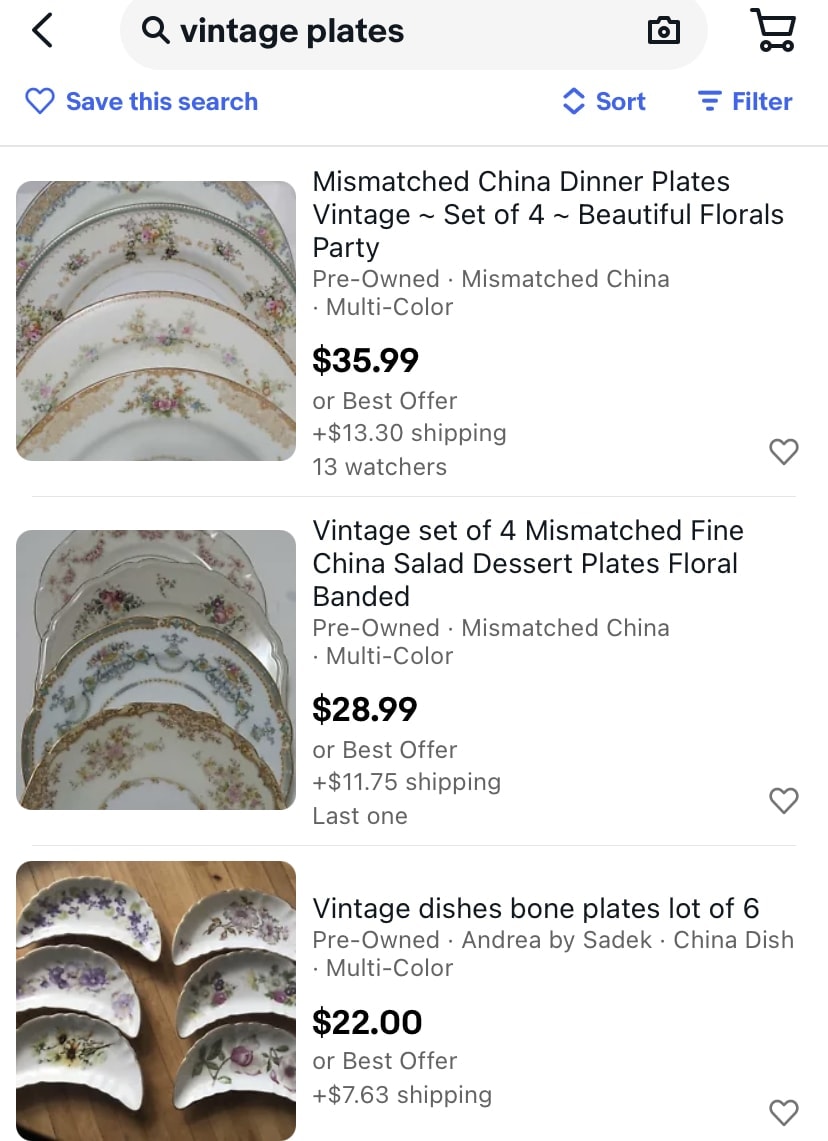 Then select whether you want alerts on phone or over email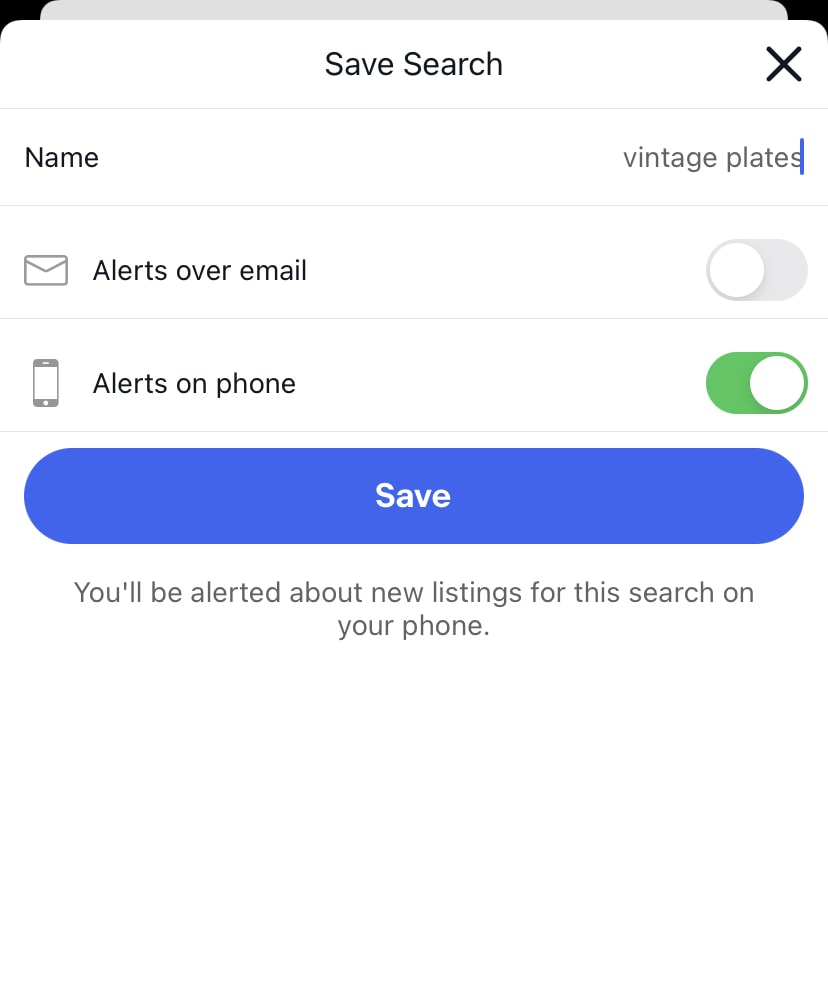 You can set as many searches as you want! 
CHECK SELLER REVIEWS
eBay has gotten really, really good at removing fraudulent accounts, but I usually just check the seller reviews before purchasing anything. If they have at least 10 positive ratings, I'm comfortable with buying from them. If they have hundreds-thousands of positive reviews, you are golden. 
And luckily, eBay is the liaison between buyer/seller protection, so if something does go wrong, you can submit a case and they will work to fix it (unlike Facebook Marketplace). 
BEFORE YOU PURCHASE ANYTHING…
Check the return policy. Each seller sets their own policy. Most of the time it's 30-day returns, but buyer pays return shipping.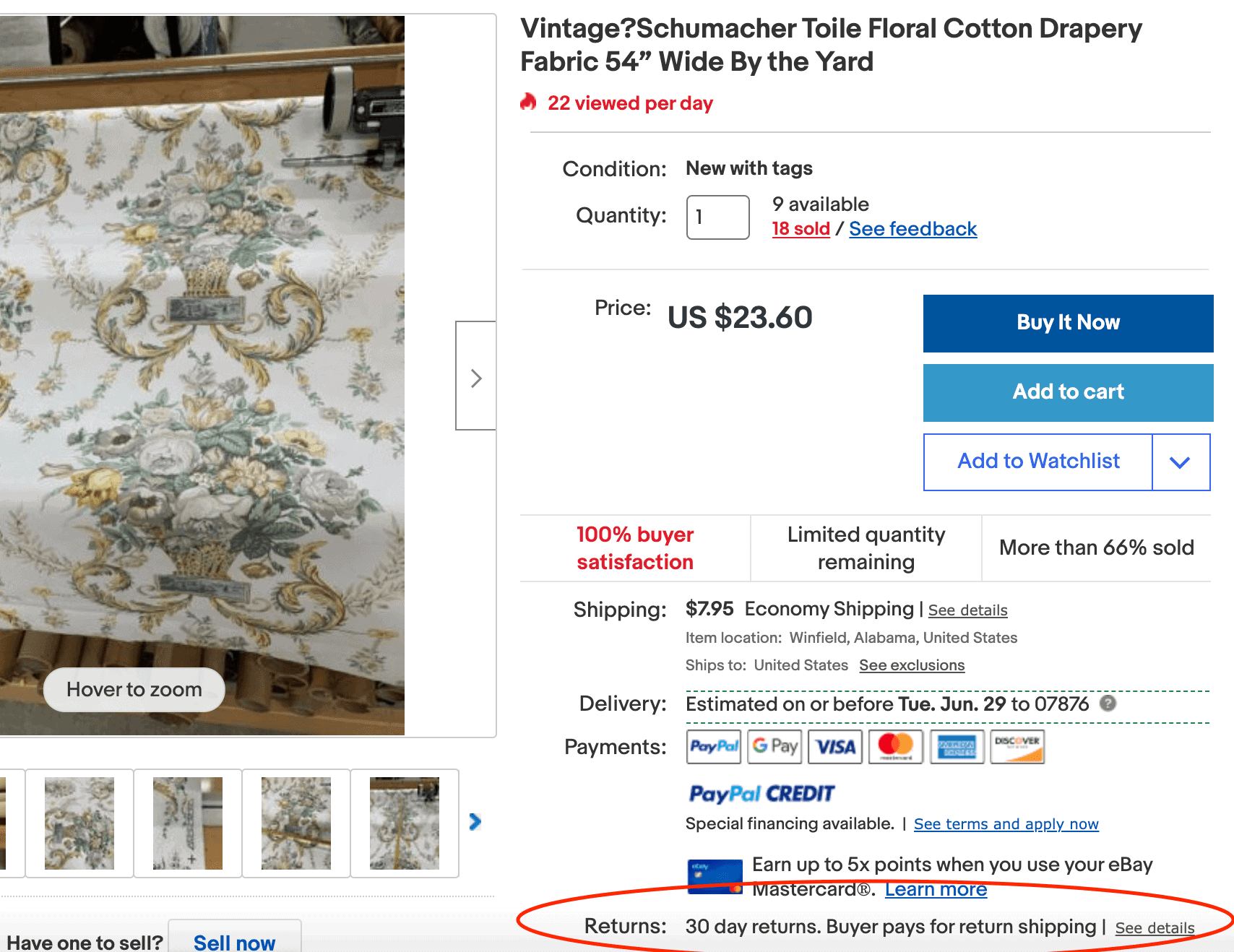 SHOPPING LOCAL 
I usually check this option if I'm looking for furniture/things that would cost too much to ship. I'll search for an item, and just like FB MP you can select how far you're willing to travel under "Item Location." I usually search within 50-75 miles of my zip.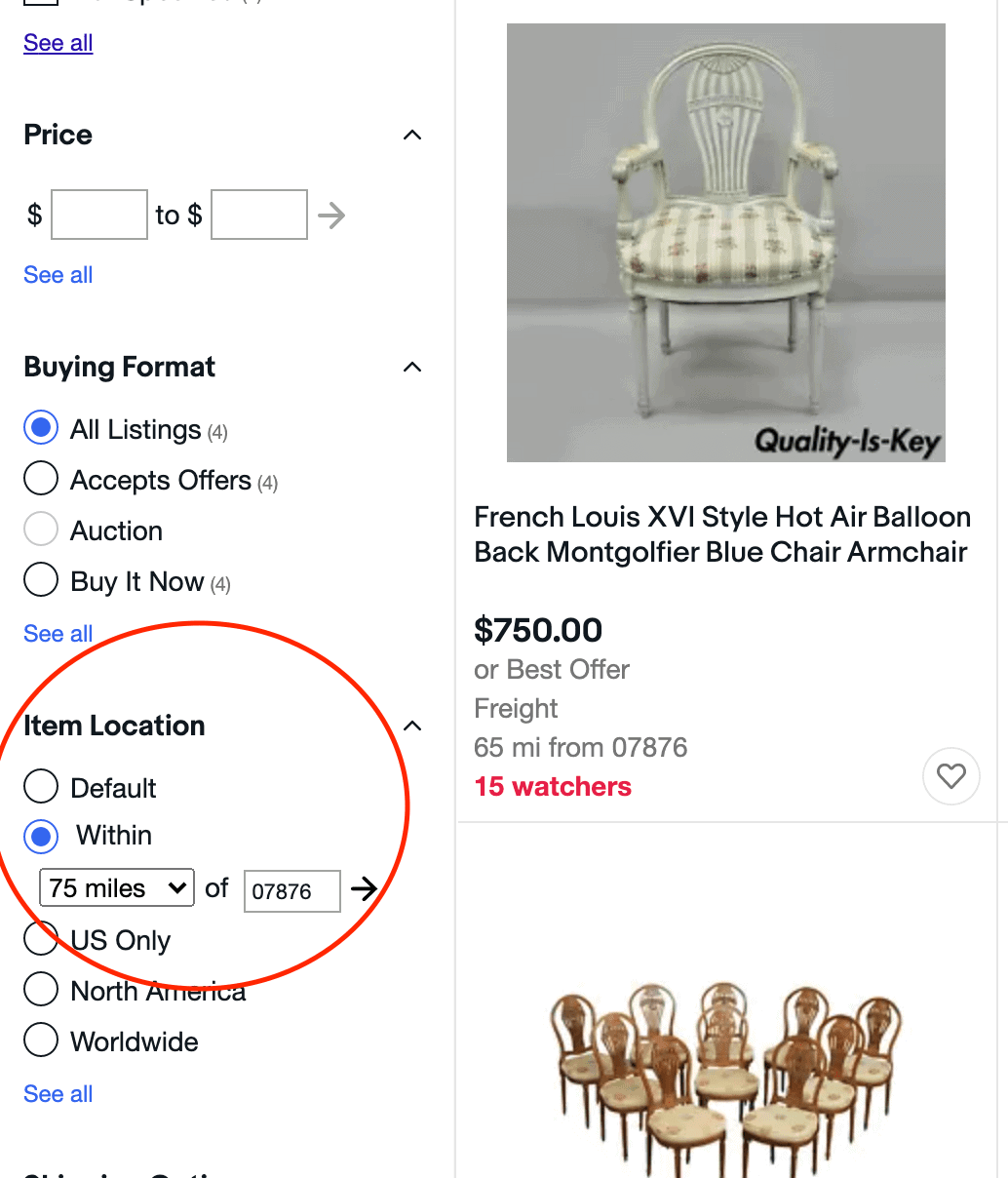 You
could
always look anywhere in the country and get a quote from
uShip
for shipping. Some sellers offer shipping of larger goods but I'm sure shipping would be cheaper via uShip. Always get a few quotes!
BUYING & SHIPPING FROM OTHER COUNTRIES 
I recently purchased a
Bowood
bedspread on eBay for our bedroom, which was located in the UK.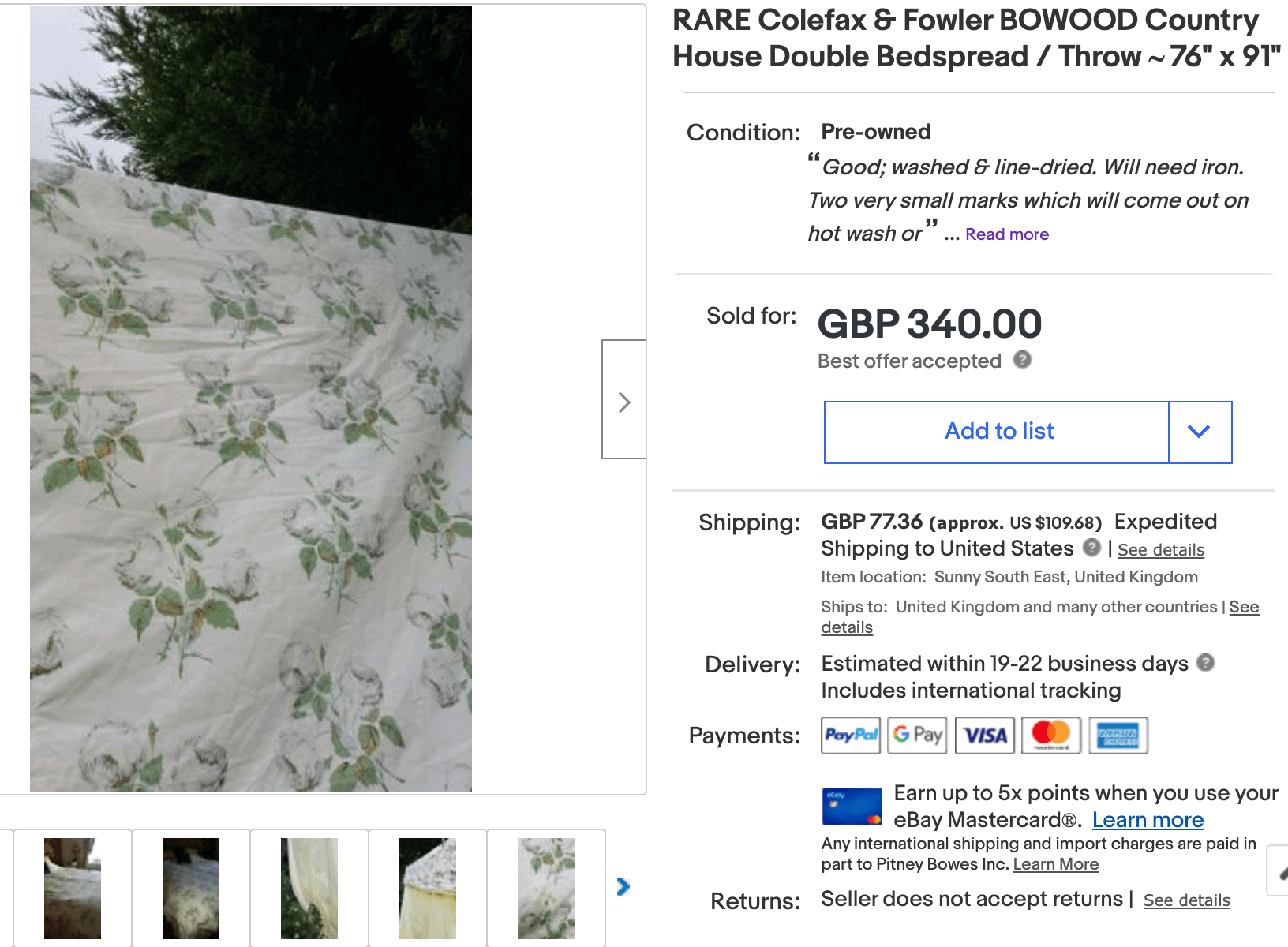 Under shipping, it says "Ships to United Kingdom and many other countries." Since she offered to ship to the US, I made an offer. But first I triple-checked the currency exchange on the amount I was offering + the shipping cost on Google by searching GBP to USD.
Also, when you're buying from other countries, DOUBLE-CHECK THE DIMENSIONS! Especially when buying overseas, because they use a different metric system. An example: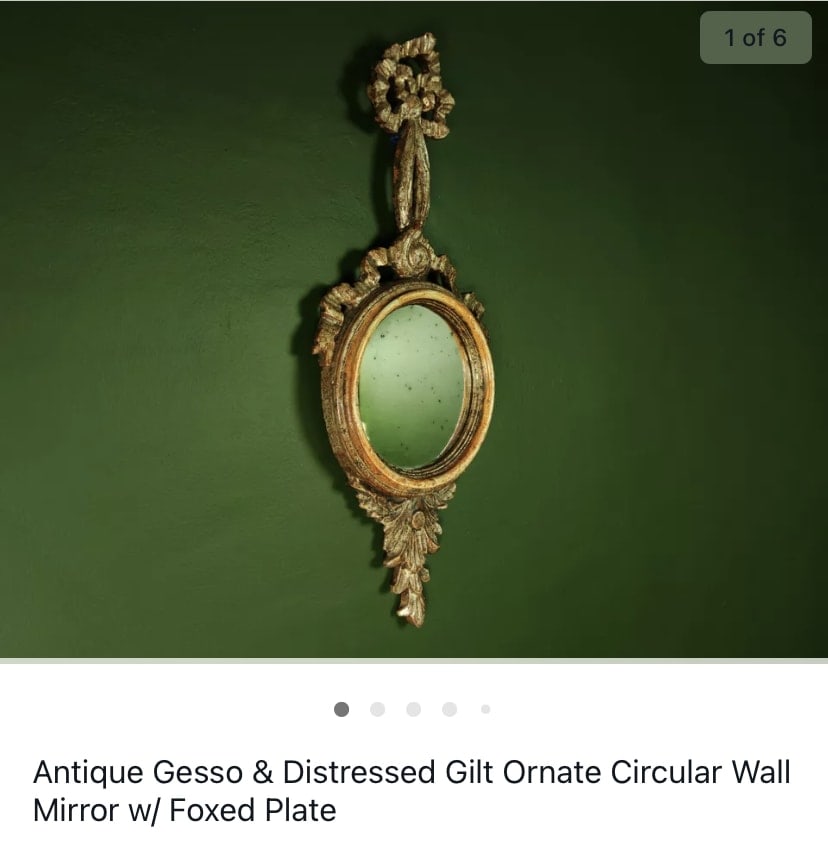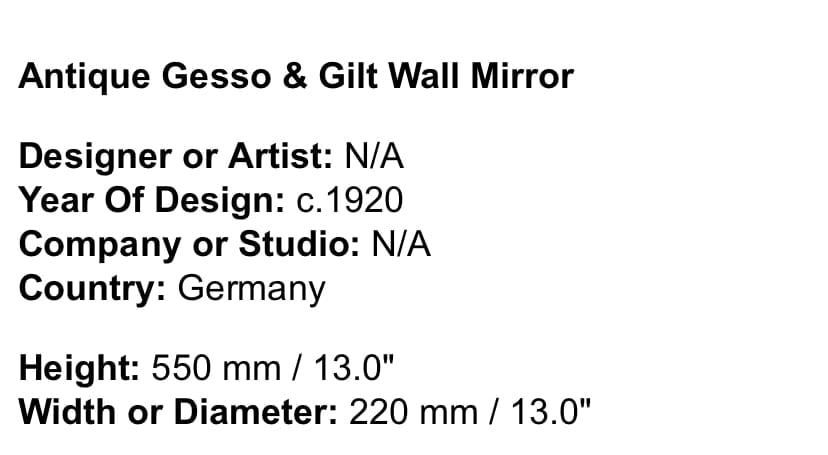 The mirror I wanted for above our bed needed to be a really specific size, and I found this one which was also located in the UK. I double-checked the dimensions because 13″ x 13″ wasn't making sense based on the photos. So I googled mm to inches, and it turns out the mirror is actually 21 inches high x 8.5 inches wide. It turned out to be the dimensions I needed but always double-check or message the seller to confirm anything you're unsure about. 
FIND OUT WHAT SIMILAR ITEMS HAVE SOLD FOR
I'll show you an example on my mobile eBay app.
Search for an item (I searched Lee Jofa drapes), then go to "Filter." Scroll down and check "Completed Items"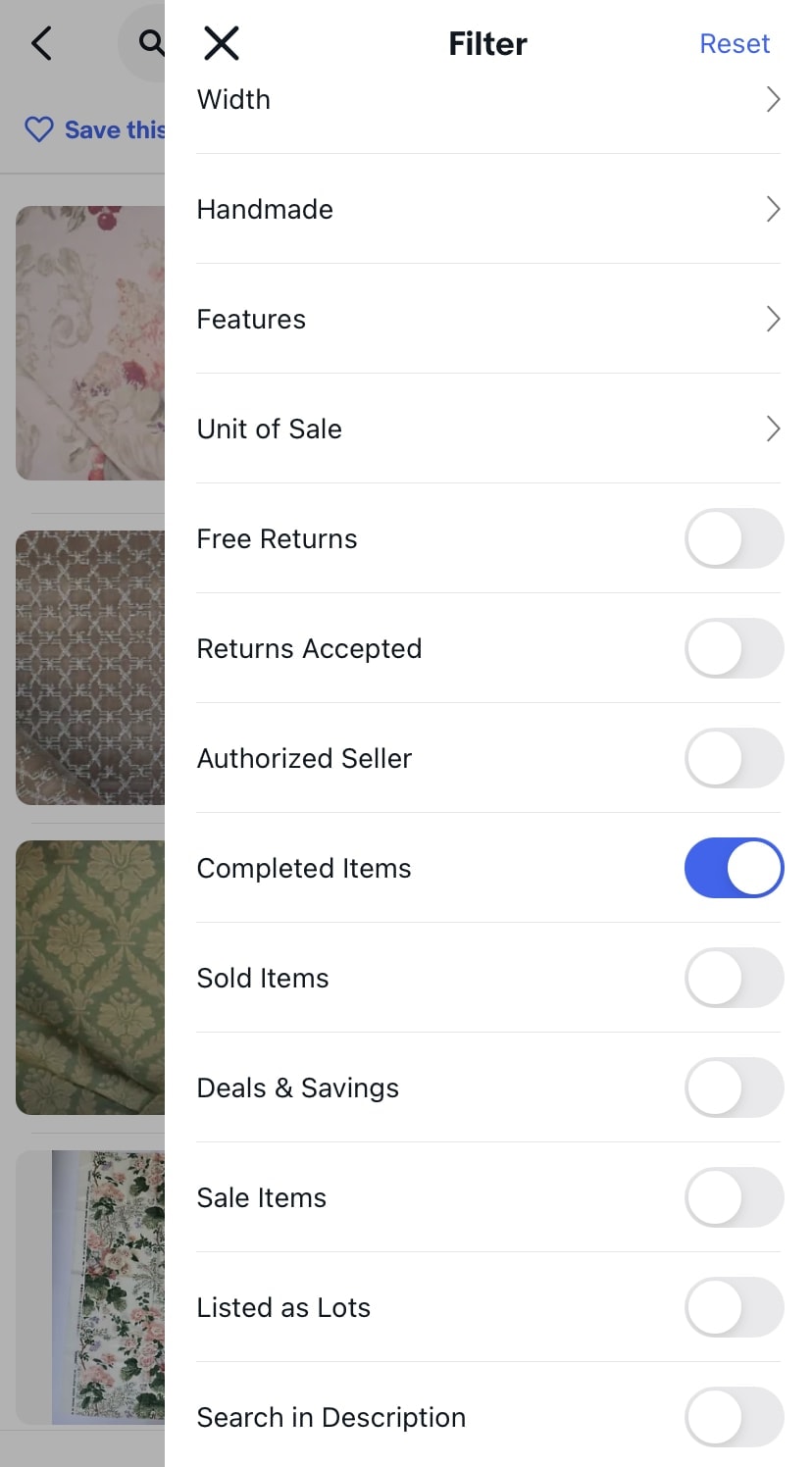 Look! A pair of large, GORGEOUS althea drapes sold just a few weeks ago for ONLY $510!!!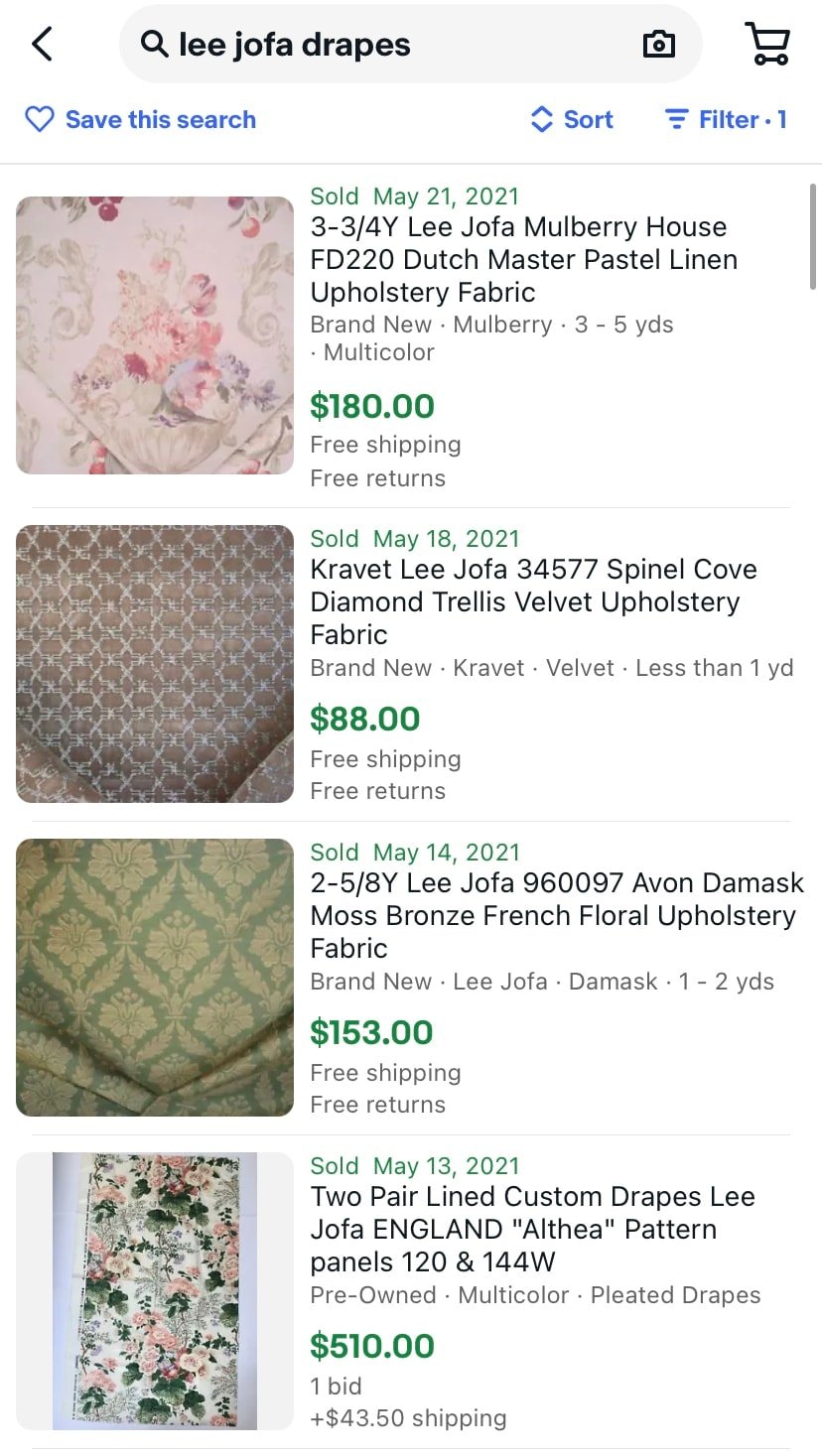 This is a good way to see what similar items have sold for to determine whether you're getting a deal or not. $510 on those drapes is robbery. An absolute steal. 
SHOPS I FOLLOW
Pacific home: I stumbled upon this shop in 2019 and have a whole IG highlight on how amazing it is (eBay Rugs). They sell new but manufacturer-damaged rugs at a discount and with most of the items, you can't even see the damage (but always look closely at photos). If there's obvious damage, furniture will likely go over it anyway 😉 Most of the items are "Best Offer" and I bought a 9×12 Safavieh Jute rug for our living room for $160!
Bucks County
: They usually have some great furniture listed if you're local to PA but if not, you can pay freight or get a quote from uShip. And again, most of their items are "Best Offer" so there's room for negotiation
Rug Source
: I've purchased one or two rugs from this shop over the years. So many beautiful options (and tons of positive reviews)!
SHOP MY RECENT eBAY FINDS: