Confession: life has been quite a bore since completing the One Room Challenge, but I told myself I would chill TF out for a little while before I started to plan our main bathroom renovation. You know…sleep in a bit, relax, come up for air after finishing the bathroom, living room and bedroom over the course of 6 months.
But apparently, I don't like breathing, because if there's one thing I'm sure of about myself…it's that I can't just do nothing. The never-ending pleasure of being Type A.
So here I am with two Chrome tabs open…one for scouring my favorite hangout spot (Facebook Marketplace) for items I can pawn off locals for my next mini project: re-designing my office. And another for therapists to seek help for my addiction to starting new projects.
Anyway…during my downtime, I received an email from one of my favorite design magazines, Domino, asking if I was available to present 2019 Summer Trends and host a Q&A at my local CB2 on May 15. The goal of this "Let's Leisure" presentation was to promote CB2's outdoor products and tie them into 2019 summer trends.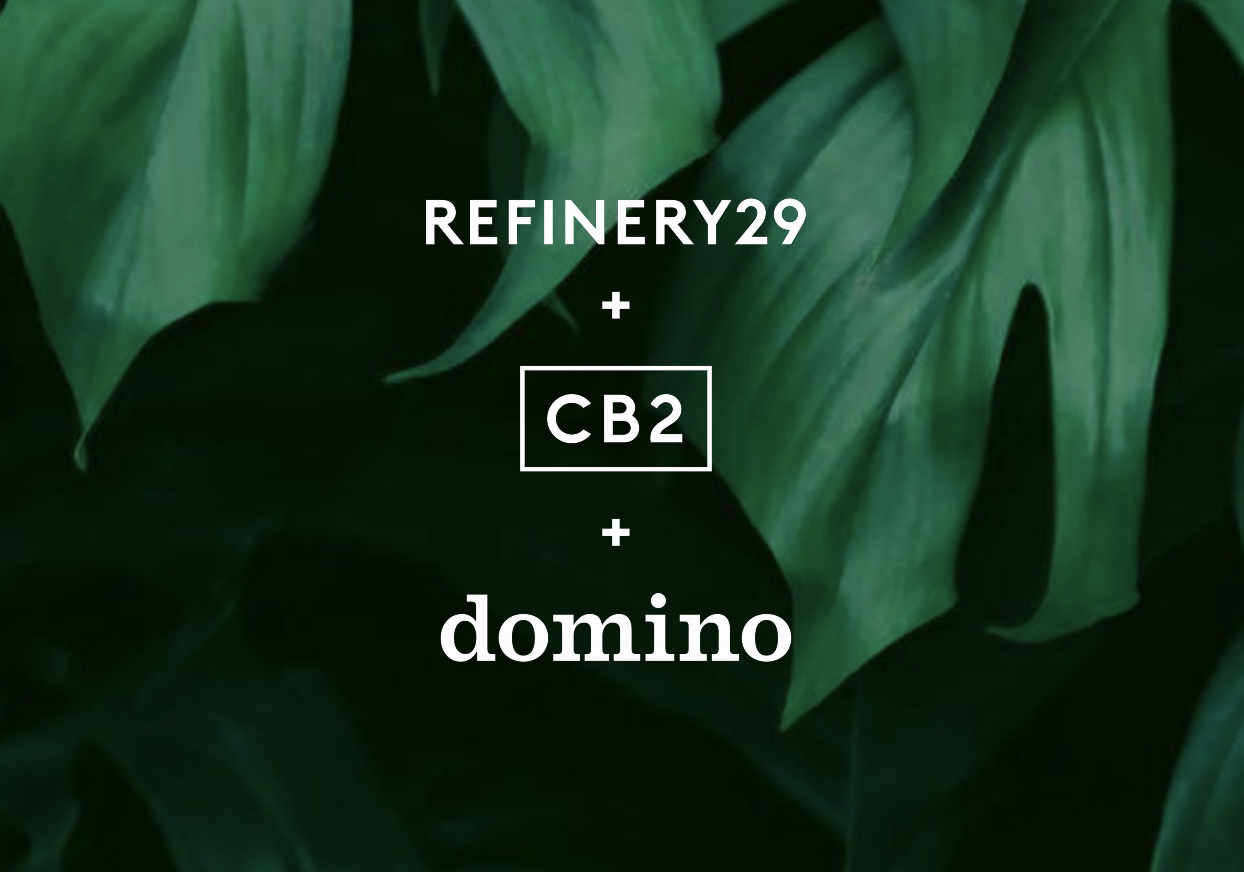 Hesitant at first (public speaking = knees weak, arms heavy, mom's spaghetti…catch my drift?), I accepted the opportunity.
After all, I've been all about stepping outside of my comfort zone this year, why not continue the trend? 
The "Let's Leisure" event was amazing and the Paramus NJ CB2 employees made me feel so comfortable. I had actually never been to that CB2 store, but after nervously pacing around for a bit before my presentation, all the shiny things that caught my eye will likely draw me back soon.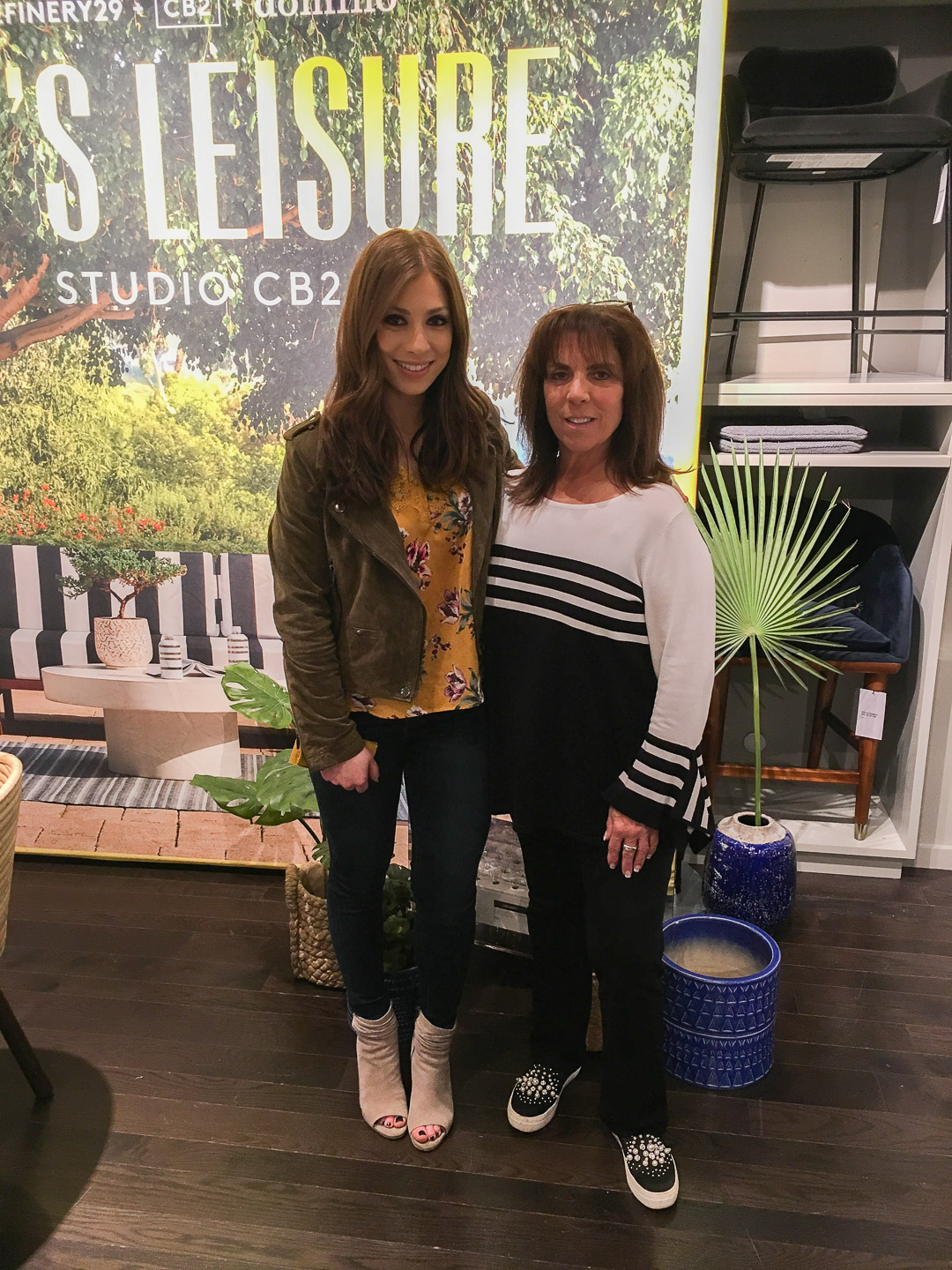 Mom even came to support me!
Before diving into what's trending, I want to note a few things:
These are not trends that I came up with myself. Domino partnered with Refinery29 to create these summer trends but I thought it would be fun to leverage their content that I presented at CB2 (with my own voiceover) for this post
Whether you have a large backyard or a small terrace, these trends can be incorporated into your outdoor space one way or another (and whether you're a minimalist or maximalist).
I spoke about trends and when you should cave or save on them a few months ago…check out that post here.
With that said…

Outdoor Trend #1: Blush Pink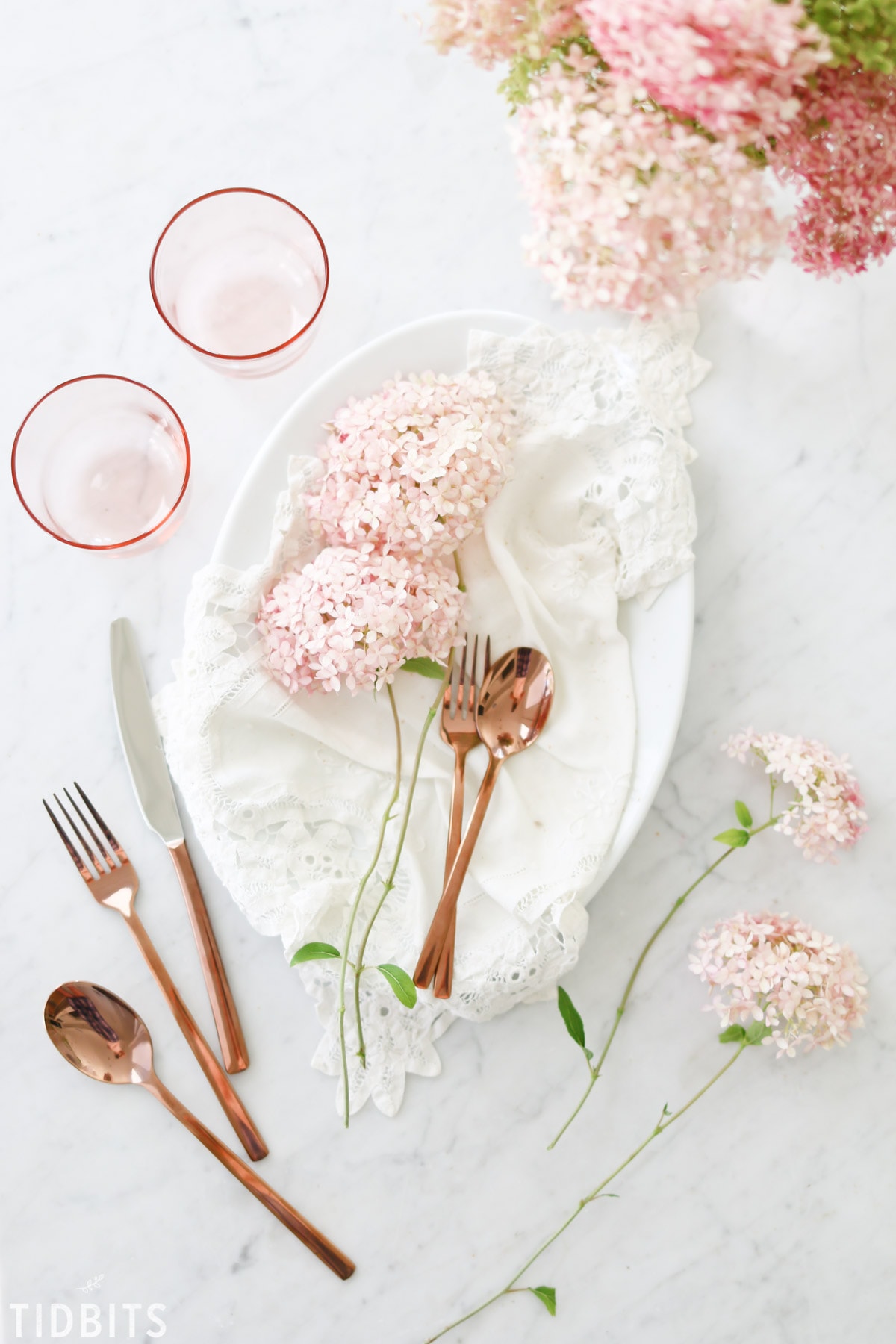 I was ecstatic when I saw blush on Domino's list of trends. To me, a trend is something that comes and goes, but when your obsession with something outgrows the time it's considered trendy is when it's evolved from infatuation to true love. That's how I feel about blush – I will never not love it. So,  I would definitely cave on this trend.
Blush is bold yet subtle at the same time, it's extremely versatile, and it's the perfect color for any season. I think when blush first started as a trend it was considered very feminine, but as it's evolved, it's become masculine too. Which is great because…husbands.
I'm always sneaking blush into every room I can and it's perfect for incorporating outdoors – whether via tablescape or patio furniture.
Outdoor Trend #2: Wovens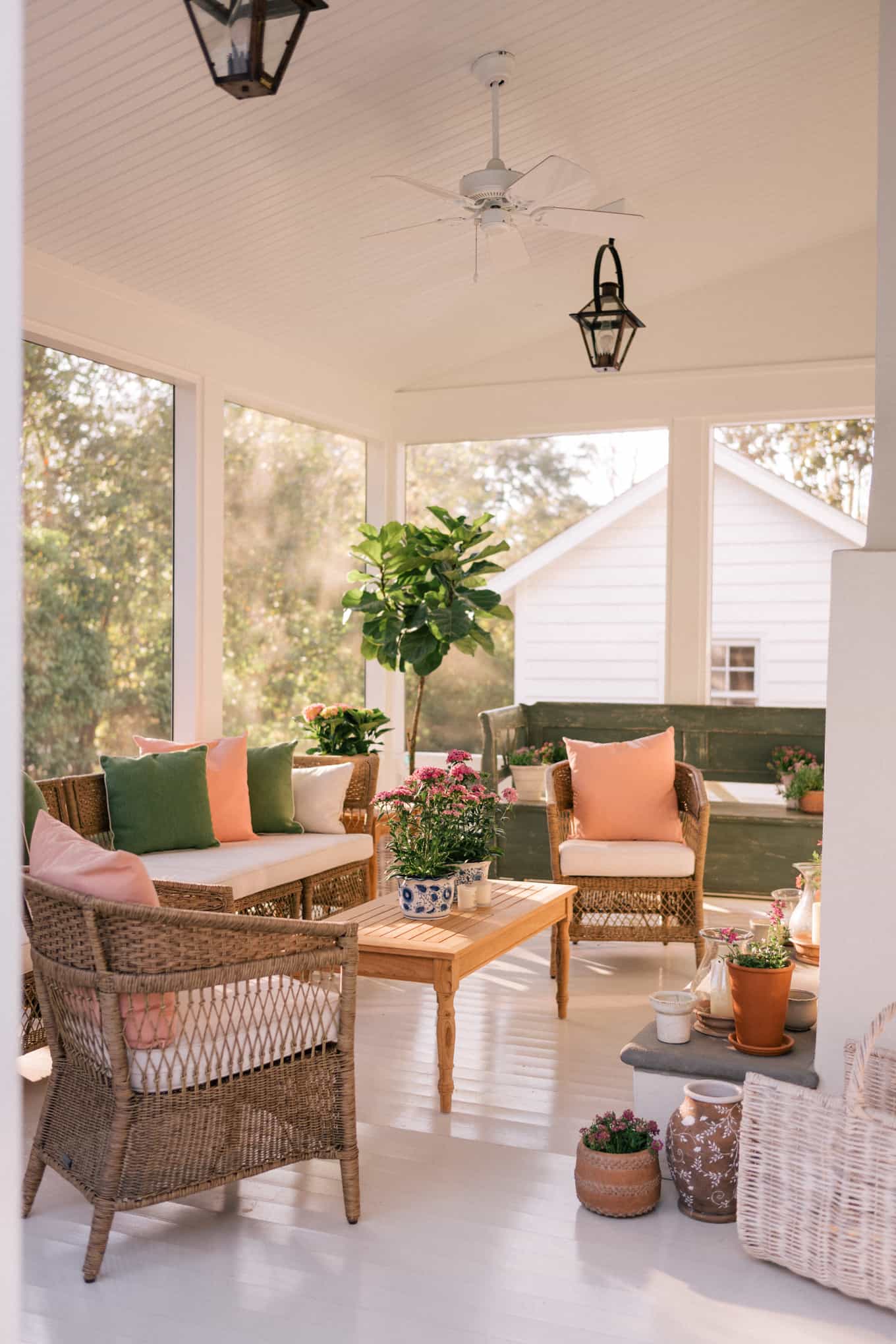 This 3-seasons porch from Gal Meets Glam resembles what ours would look like if we gave it a coat (or 2) of paint and actually furnished/decorated it, and that's why I can't get enough of it. The woven chairs throughout the seating area are perfect for the outdoors and they look so chic on her porch (especially dressed up with blush and green pillows).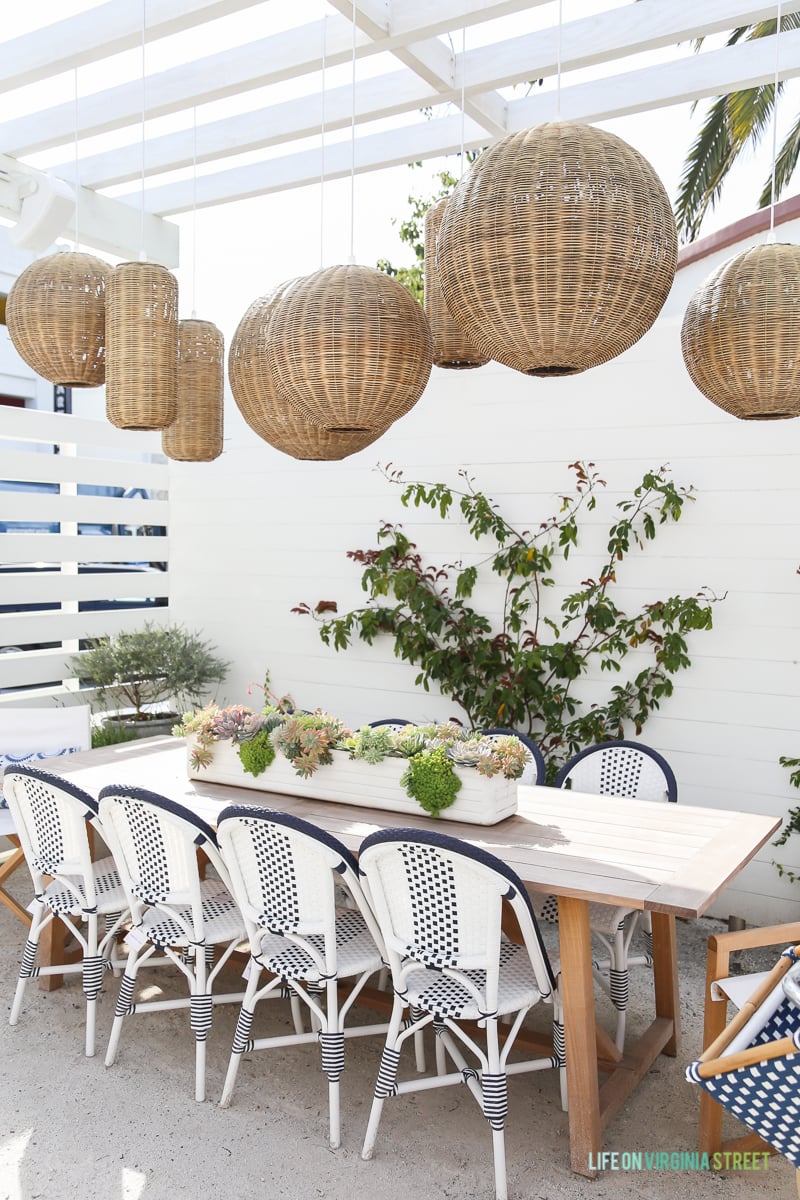 Wovens is another trend that I think is here to stay, particularly because they truly work in any room, no matter what your style is. When I think of wovens, I think of outdoors and I love that they have a natural feel and add a pop of texture to break up other colors and patterns. Anddd wovens are perfect for the outdoors because they're usually built to be weather-friendly.
Outdoor Trend #3: Tubulars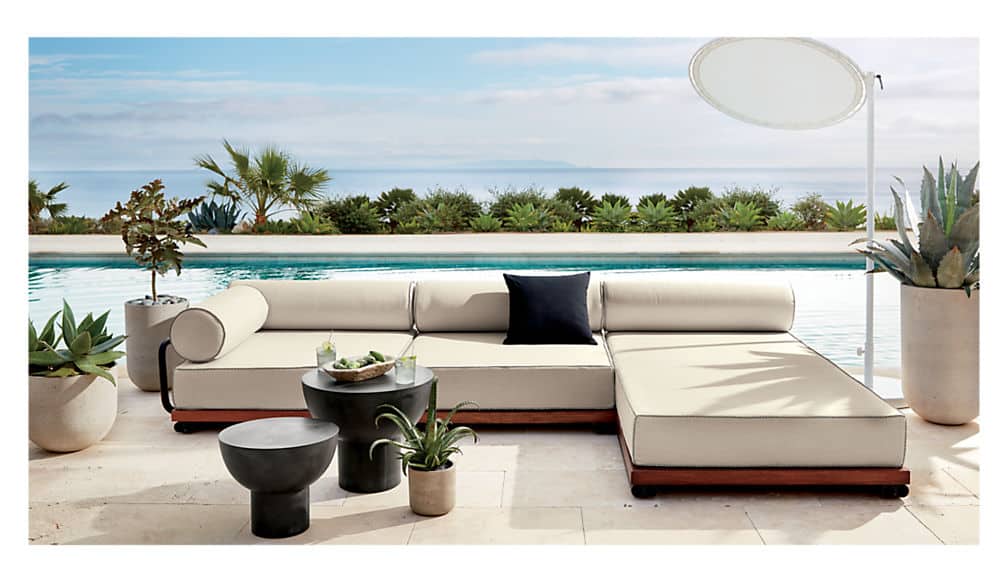 I have to be completely honest – I'm not sure how I feel about tubulars. They have a Jetsons-meet-Grecian-column feel and I don't consider anything tubular to be my style (but a bolster pillow is always a nice touch).
Although, here's what popped into my mind when I first read about this trend…
I feel like there's a lot of straight lines when it comes to design (i.e. chairs, tables, walls, etc.), but tubulars have this curved, bubbly feel to them which can break up a lot of the straight lines you see in furniture.
Outdoor Trend #4: Black & White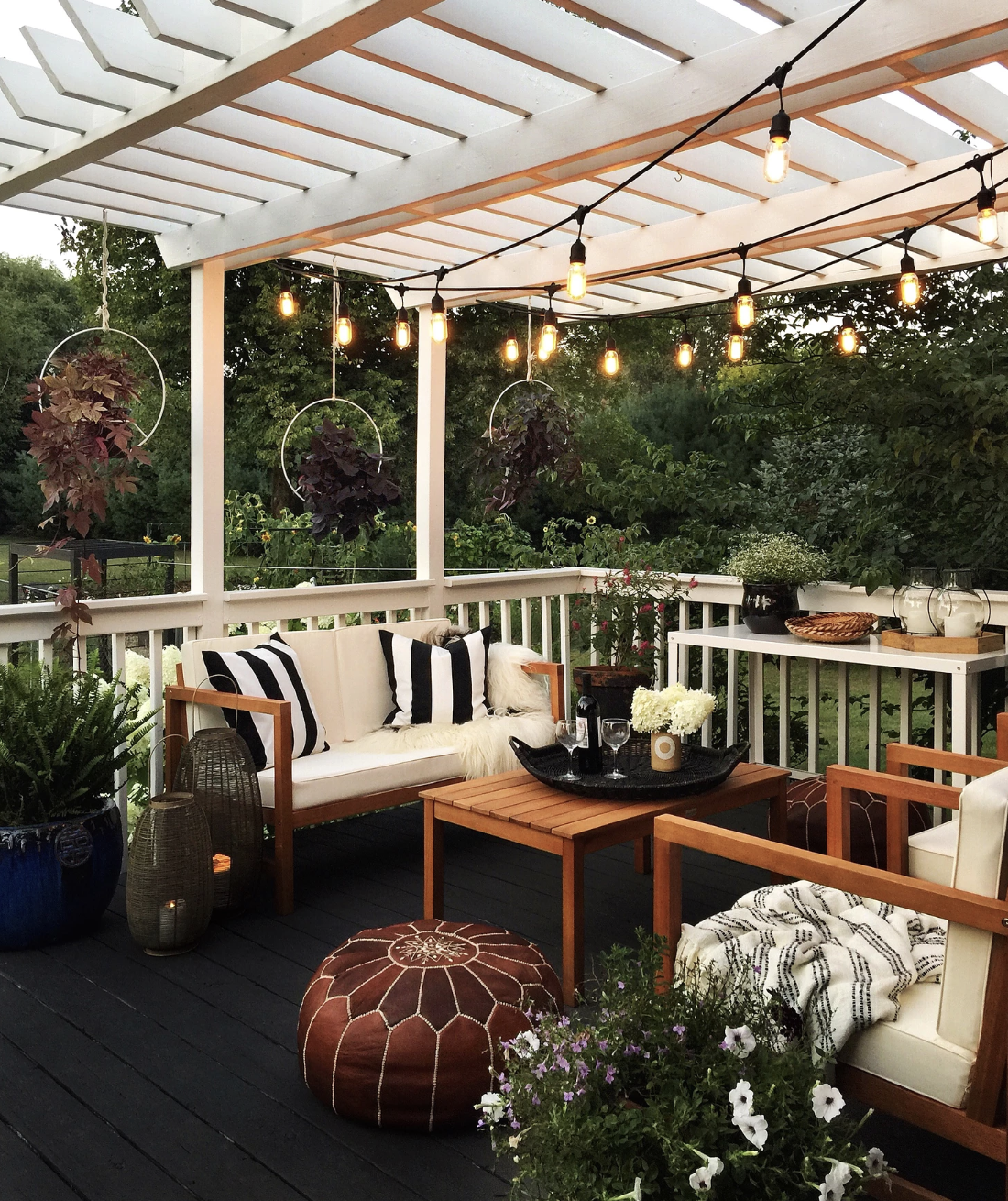 Via Undecorated Home
Black and white may be hot to use outdoors right now (see what I did there), but this is a trend that you can definitely invest in because, well, it's timeless.
What I love about bringing black and white outside is that it's a beautiful contrast to the outdoor elements – the blue sky, the green grass/trees, plants, etc. I feel like this is turning into an episode of The Joy of Painting with Bob Ross.
I also love how you can use black and white no matter what your style is, and no matter if you're a minimalist or a maximalist. When it comes to decorating outside, you can use pops of color, texture, patterns, so on and so forth, and no matter what it will always look fabulous when black and white is involved.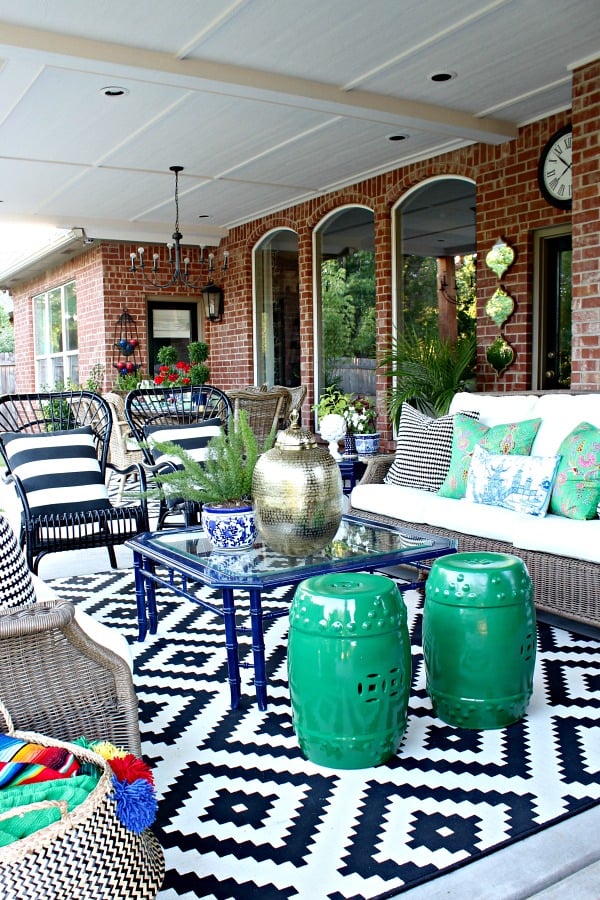 There you have it! Our backyard/deck is currently not furnished (minus a few $10 lawn chairs from Tar-jai), and I really would love to create a more comfortable and styled outdoor area for summer entertaining featuring a few of these trends.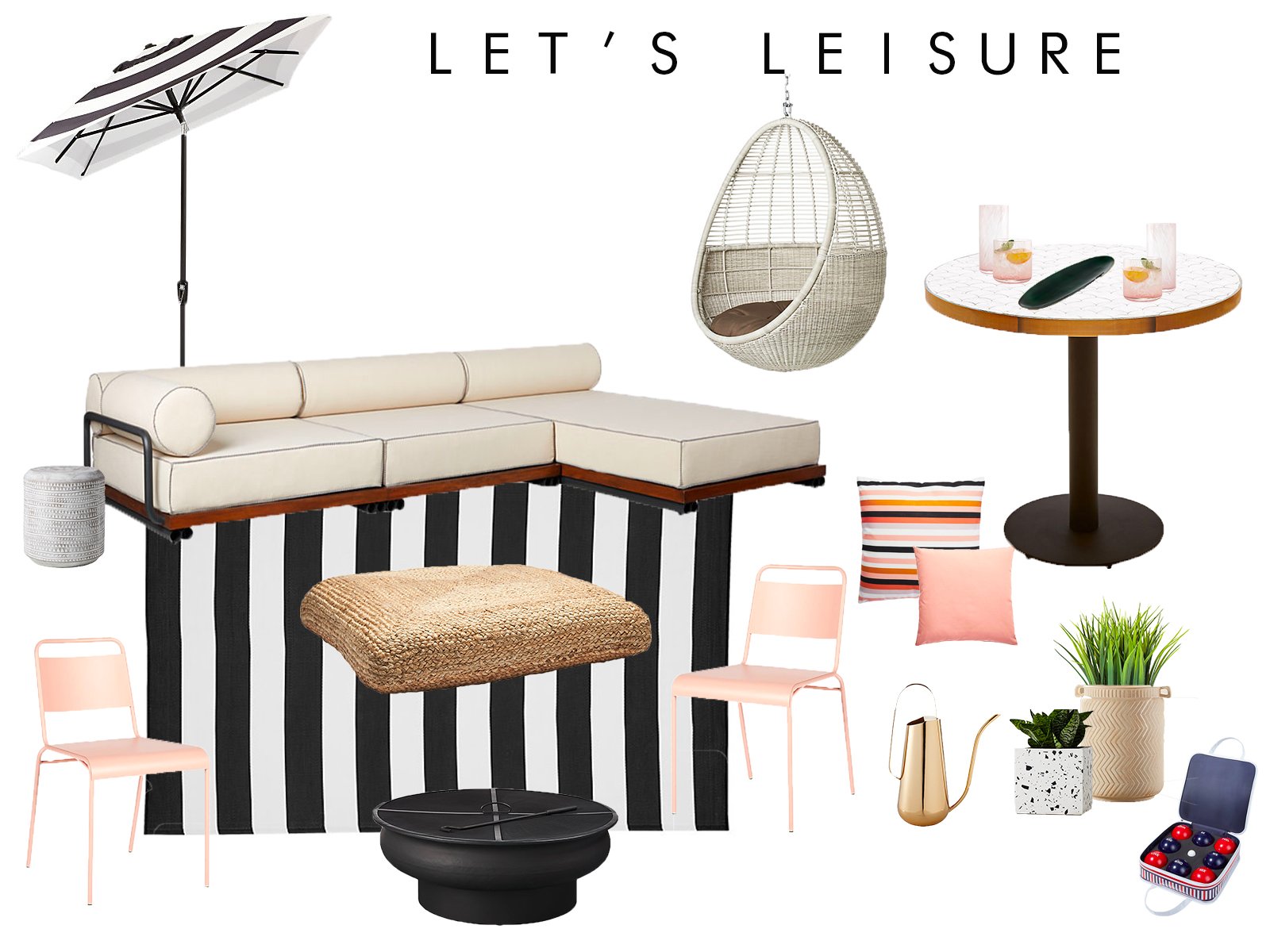 Shop the look:

How will you be decorating outside this summer?
let's connect: