Week 1 | Week 2 | Week 3 | Week 4
Back at it again for the SECOND TO LAST WEEK of the One Room Challenge! This week I thought I could switch things up and instead of sharing the room progress and bore you to death, I could talk about all of the uncomfortable design decisions I've made for this space and why you should be making uncomfortable design decisions too.
Does my advising you to make uncomfortable decisions make you uncomfortable?
I mentioned in a January blog post that this year I want to focus on taking the less safe route when it came to designing our home, and that's exactly what my goal was for this bedroom. Some examples:
The color I chose to paint the entire room with (ceilings, walls, doors, and trim)…uncomfortable (at first).
The curtains I chose…uncomfortable (at first).
The chandelier I chose…uncomfortable (at first).
But once everything was painted and brought into the space – I felt everything but uncomfortable.
In fact, it was exhilarating to take a step back and admire the details I never imagined I would be using a few months ago but looked better than anything I ever envisioned.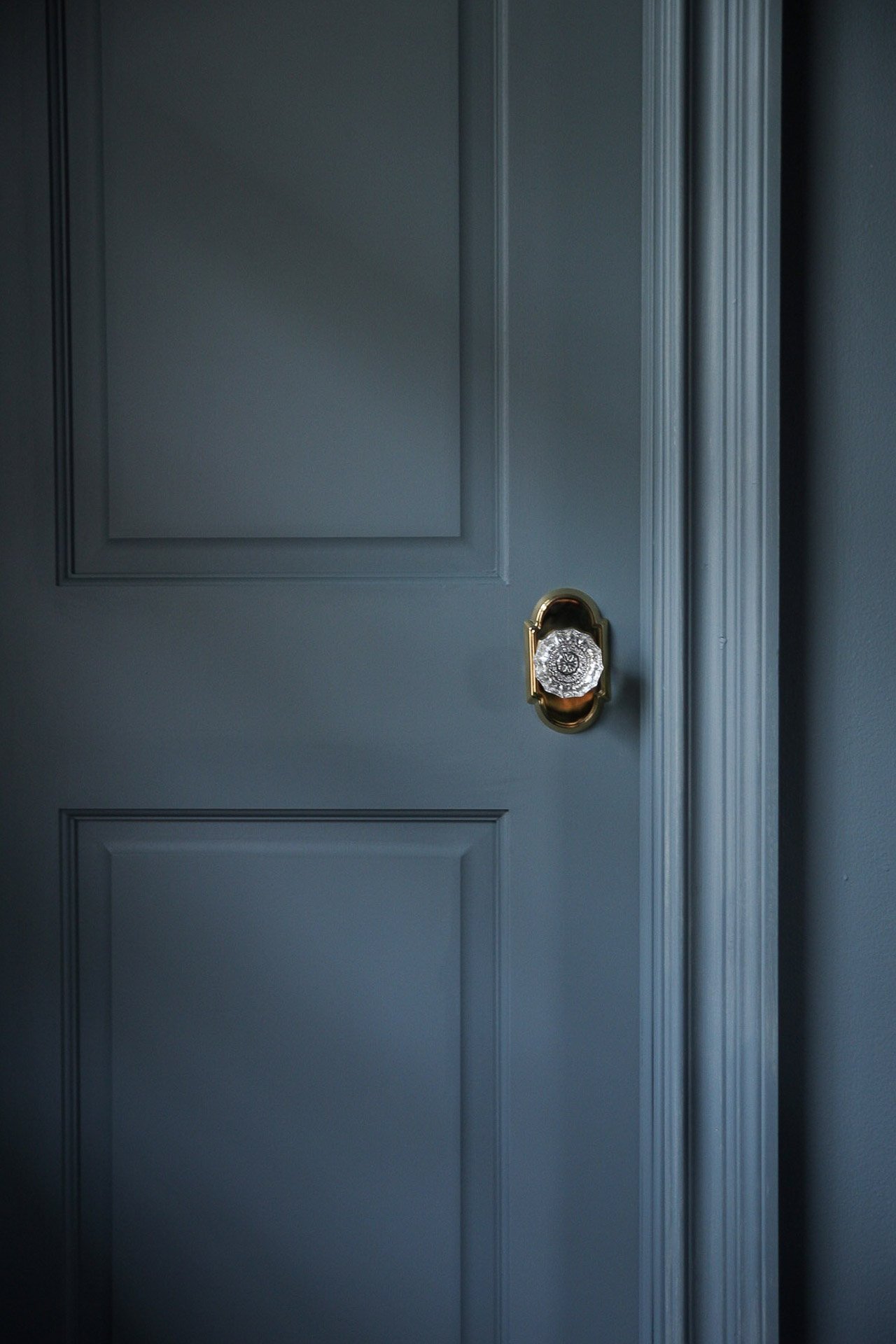 I anxiously hit "place order" on multiple items over the last few weeks where my gut was saying "just do it, you won't regret it," but my mind was saying "are you sure you want that color?"
And as everything started arriving and coming together, I truly couldn't be happier I made those risqué decisions.
Risky*…just wanted to sound fancy, Nancy.
To be clear, I classify an uncomfortable design decision as stepping outside of your own personal design comfort zone.
Whether it's choosing a color you've never considered before or ordering a pillow in a pattern you previously may have not gravitated towards, it's taking a risk on the details you feel could work well in the space while also matching your style.
If you've ever heard the phrase "you can't ever grow if you don't step outside of your comfort zone," this post is about my own personal experience with stepping outside of my design comfort zone and how you can do the same.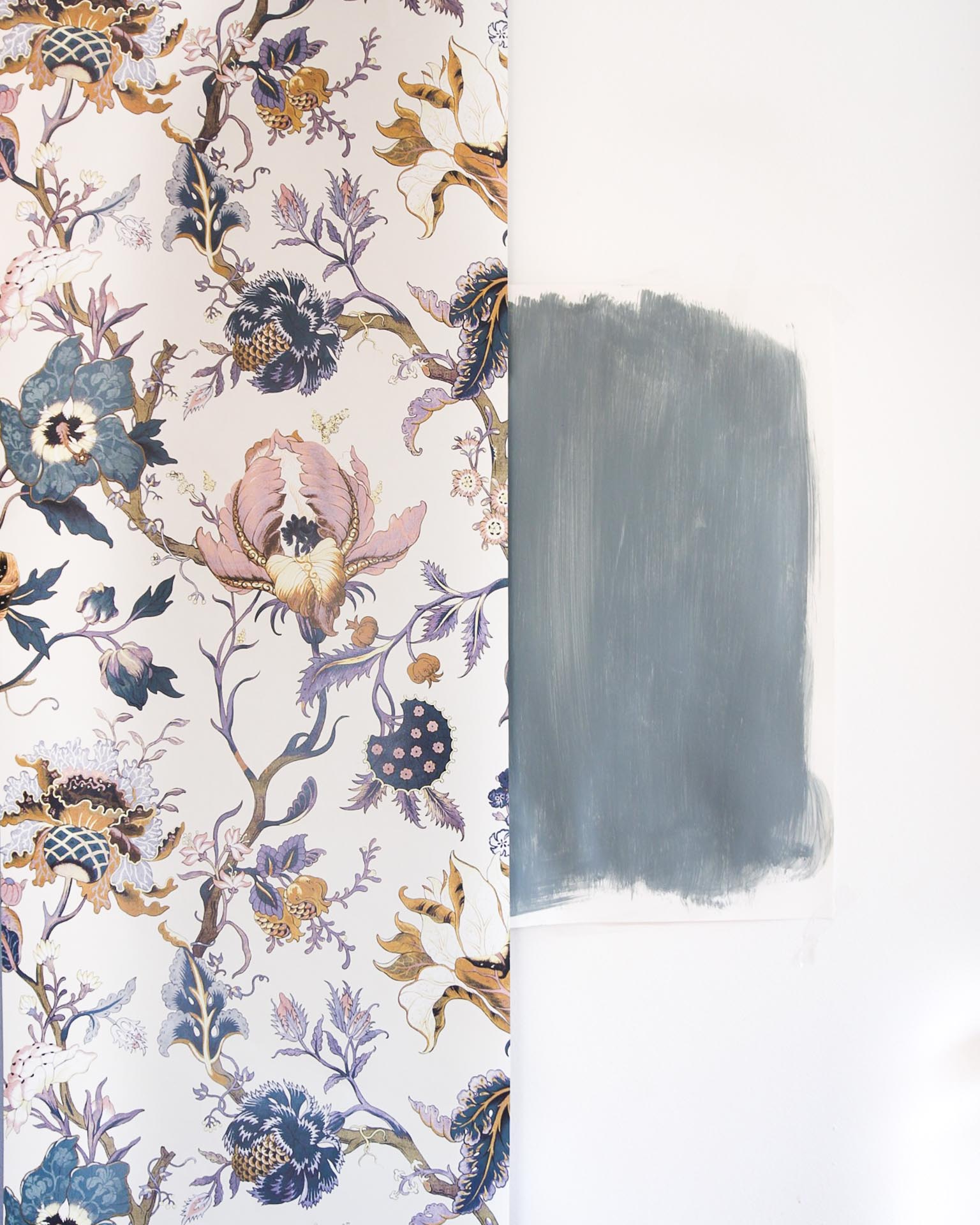 1 // Use colors, patterns, and textures you wouldn't typically use
I don't not like blue, but I've never really used it in our home because, well, I'm all about green.
I had an urge to paint the bedroom a blue-gray, but my psyche kept telling me to just go with the safer route and paint the bedroom gray. I felt pulled in two different directions – should I go with the safe route (gray) or do I want to step outside of my comfort zone and experiment with an unfamiliar color – blue?
I kept having to remind myself that I can easily change it if I don't like it (which I did -when I painted the entire bedroom 3 different colors in 1 week).
I ultimately ended up taking the plunge on Farrow and Ball De Nimes and could not be happier with how the room looks covered head-to-toe in a deep blue-gray. It reminds me of The Commander's office in The Handmaid's Tale, which definitely inspired the look of this bedroom.
Another example of opting for a color I wouldn't normally choose are the curtains. When browsing for curtains, I wanted to take the safe route and go with white. After all, most blue rooms I've seen have white curtains.
Then, I thought about Chartreuse. I don't hate Chartreuse, but it's such a unique color and I never knew where to incorporate it into our home.
After obsessing over West Elm's velvet luster curtains, I ordered four panels in Wasabi (Chartreuse) and I gasped when I hung the curtains in the space. They're different and definitely make a unique statement. Which…was my goal 😉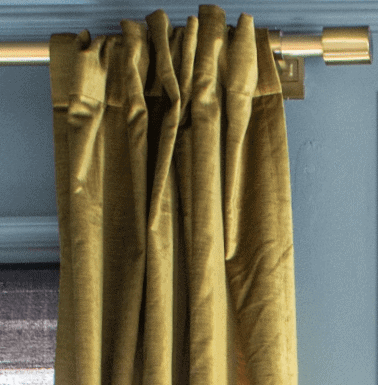 And yes, I'm sharing sneak peeks of these little details throughout the room. I can't share the full reveal just yet!
2 // You can return things you don't like
I mean, it sounds obvious, but if you want to try something that you're unsure about and it doesn't end up working….you can just……return it.
Mind-blowing.
Of course make sure to check return policies before you take the plunge, especially for orders placed online.
3 // Experiment with paint
I decided to paint our ceilings, doors, trim and walls the exact same color and my god, I cannot believe how much I love it.
Painting the ceiling the same blue as the walls made me nervous but here's some logic that would have been helpful in the midst of all the paint color stress –  it's paint.
Which means…you can just… paint over it. Again, mind-blowing.
I swear I've removed square footage from our house from all the layers of paint I've stacked on top of each other thus far.
This doesn't mean go paint your walls purple if you hate purple but…I challenge you to use a color that you haven't used before.
Also, painting the ceiling the same colors as the walls has made the room appear much larger than it actually is since it draws the eye up.
4 // Warm and cool tones can work well together
As the room is coming together, I noticed there's mix of warm and cool tones (like the warm chartreuse curtains against cool De Nimes).
I used a lot of browns in this space to ground the cool blue that's abundant throughout the space. Don't be afraid to mix warm and cool tones – they can be siblings that play nicely when they're in the right mood.
5 // Consider what's working…and what's not working
I wanted to remove the dust collector that hung from the ceiling (ahem, the fan) because no joke – we've used it no more than 3 times over the course of a year.
Angelo wanted to keep it, but I proposed we swap it out for a chandelier and substitute the fan with a Dyson fan/air purifier. And this decision is definitely not one that I regret…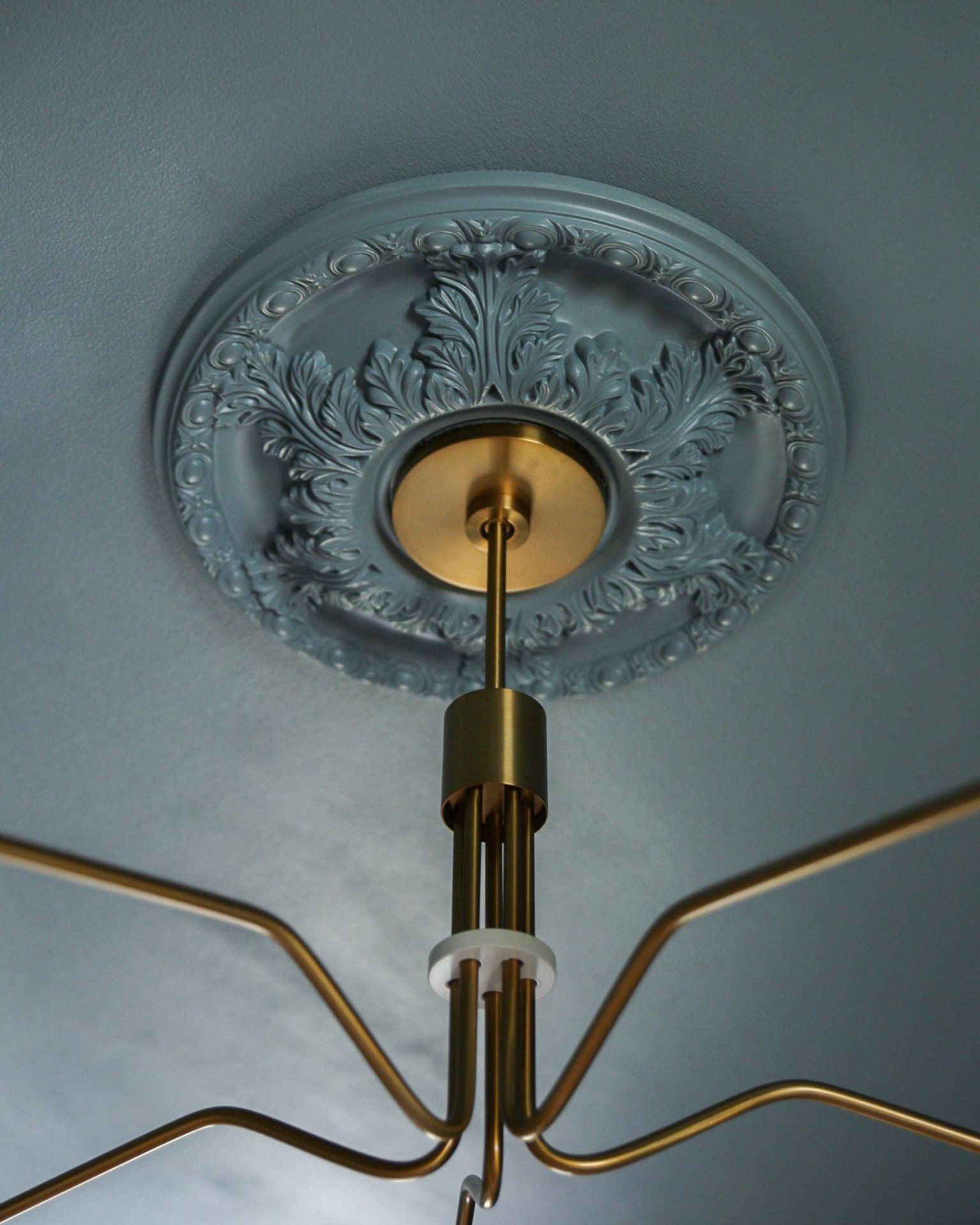 6 // Reconsider traditional design guidelines
There are design guidelines and recommendations, but it's fun to twist them around every so often.
For example, most bedrooms I've seen have table lamps on a nightstand. This is by no means a rule, but in our bedroom, I just couldn't picture table lamps next to the bed. So I opted for sconces and replaced the standard white shades with blue leopard shades and do not regret my decision. I mean…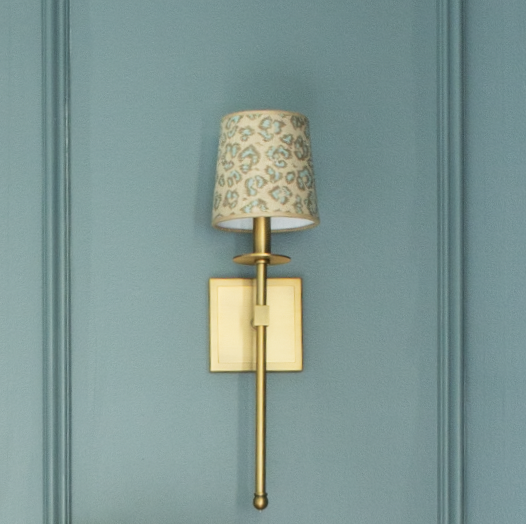 I challenge you to step outside of your design comfort zone. I promise you won't regret it (and if you do, don't lose that receipt). 
Next week is the bedroom REVEAL and I am squirming with impatience to share the final result.
Thank you to Linda from Calling it Home for organizing the One Room Challenge, and a huge HUGE thank you to the companies that are sponsoring items for the bedroom makeover: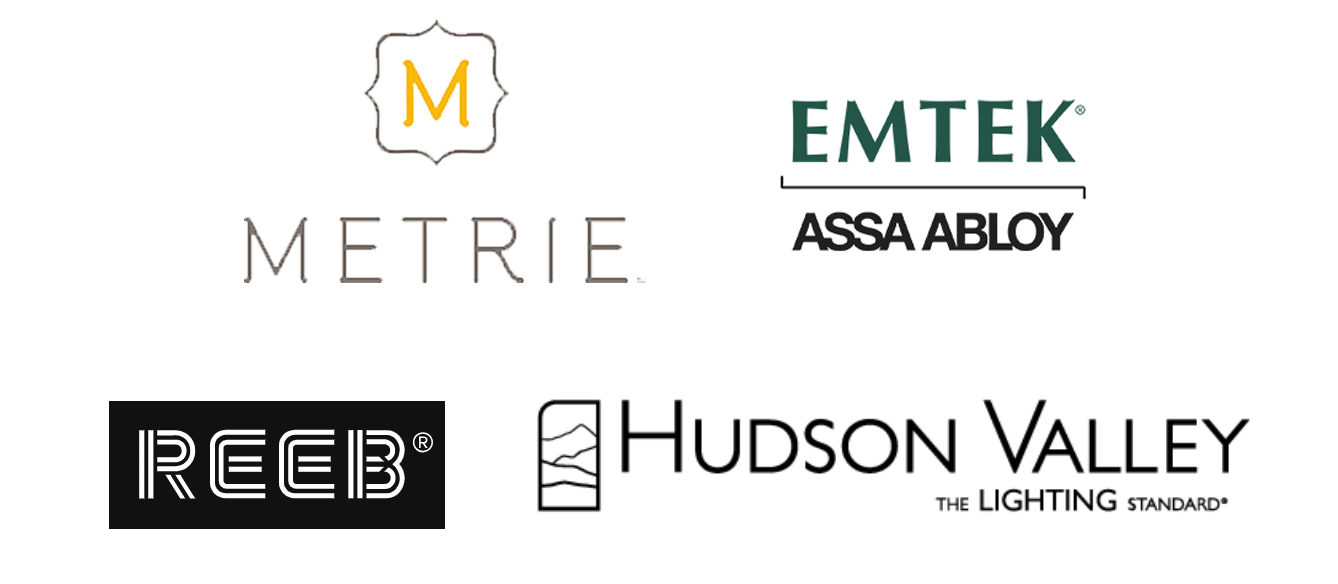 In the meantime, follow the chaos along on Instagram!