Hey! If you're new here, my husband and I purchased our first home (a generic, 1960's bi-level) about a year and a half ago in Northern NJ. Little by little, we're adding personality to our basic, builder-grade home, and for this fall's One Room Challenge™, we're tackling our very first demo/reno all on our own with our tiny master bathroom. For the next six weeks, I encourage you to sit back and follow along with a glass of (bo)vino while we slowly (but proudly) become slaves to the (mini) bathroom of our dreams. 
Here's the week one post to catch you up.
WEEK TWO
What we accomplished this week(end):
+ Removed rotted subfloor and replaced with new subfloor
+ Hung new drywall
+ Taped the seams and applied first & second coat of mud to drywall
+ First coat of primer applied to walls
+ Built shower curb
+ Primed subfloor for self-leveler
+ Poured self-leveler
With only being able to work on our bathroom for a few hours on Saturdays and Sundays, we haven't made as much progress as we'd like.
I won't sugarcoat it – remodeling ourselves sucks. A lot. But I keep trying to be positive and reflect on what we've accomplished so far.
At least we don't have to look at the gross, dated bathroom anymore.
*takes gulp of cab*
We've spent an immense amount of time trying to figure out how to fix the rotted subfloor around the toilet since we realized that the flange is welded to the pipe. We tried to remove it, then stopped, drove to Lowes and confided in a much-too-jolly plumbing professional.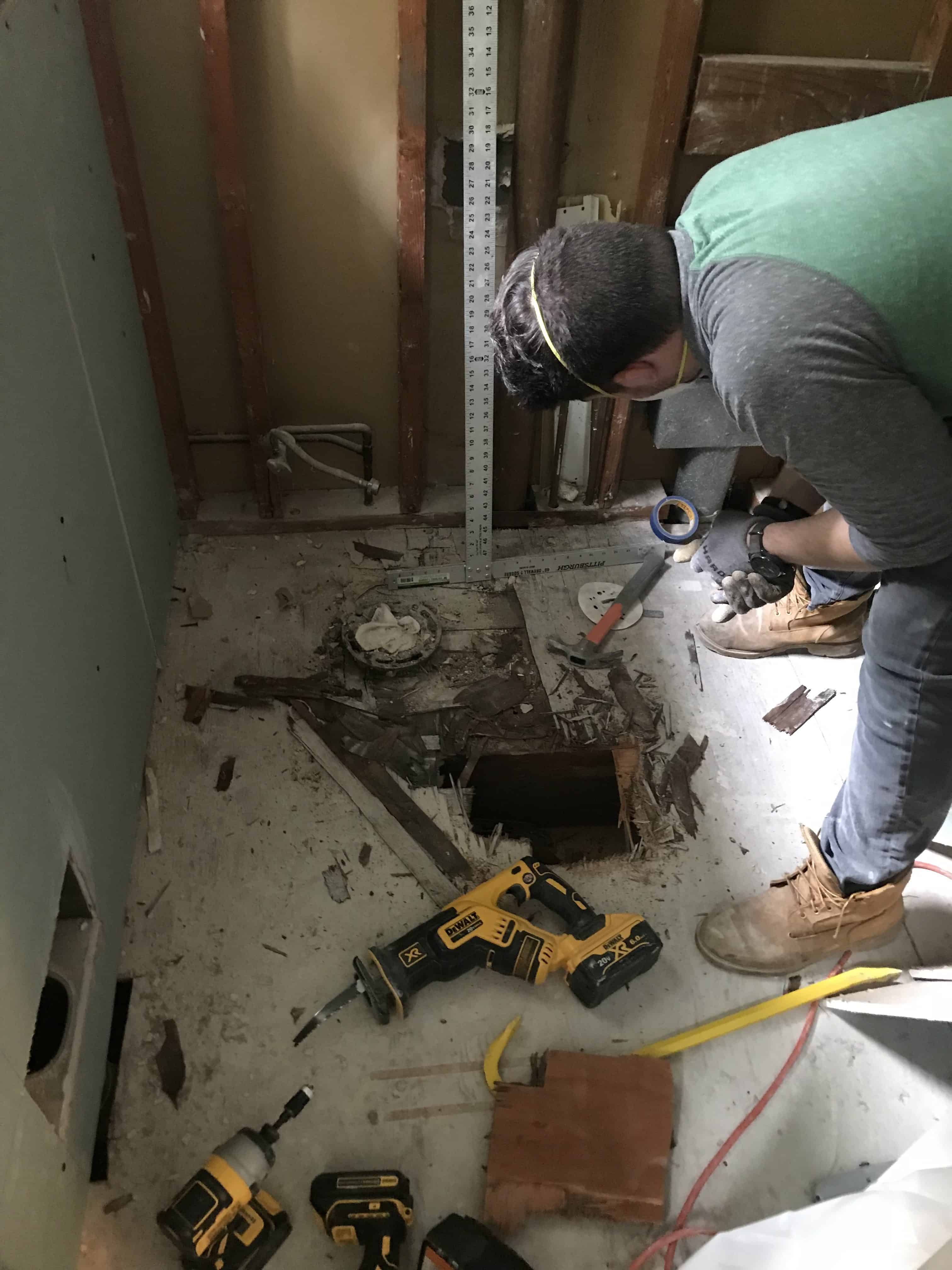 He casually told us that if we mess with that flange and somehow successfully remove it, it'll compromise the plumbing throughout the entire house. 
However, he did have a solution and told us that we could cut the subfloor holes larger and fill the gaping hole around the flange with steel wool and mortar.
I have the strangest feeling he just told us what we wanted to hear after seeing the petrified looks on our faces but, the show must go on.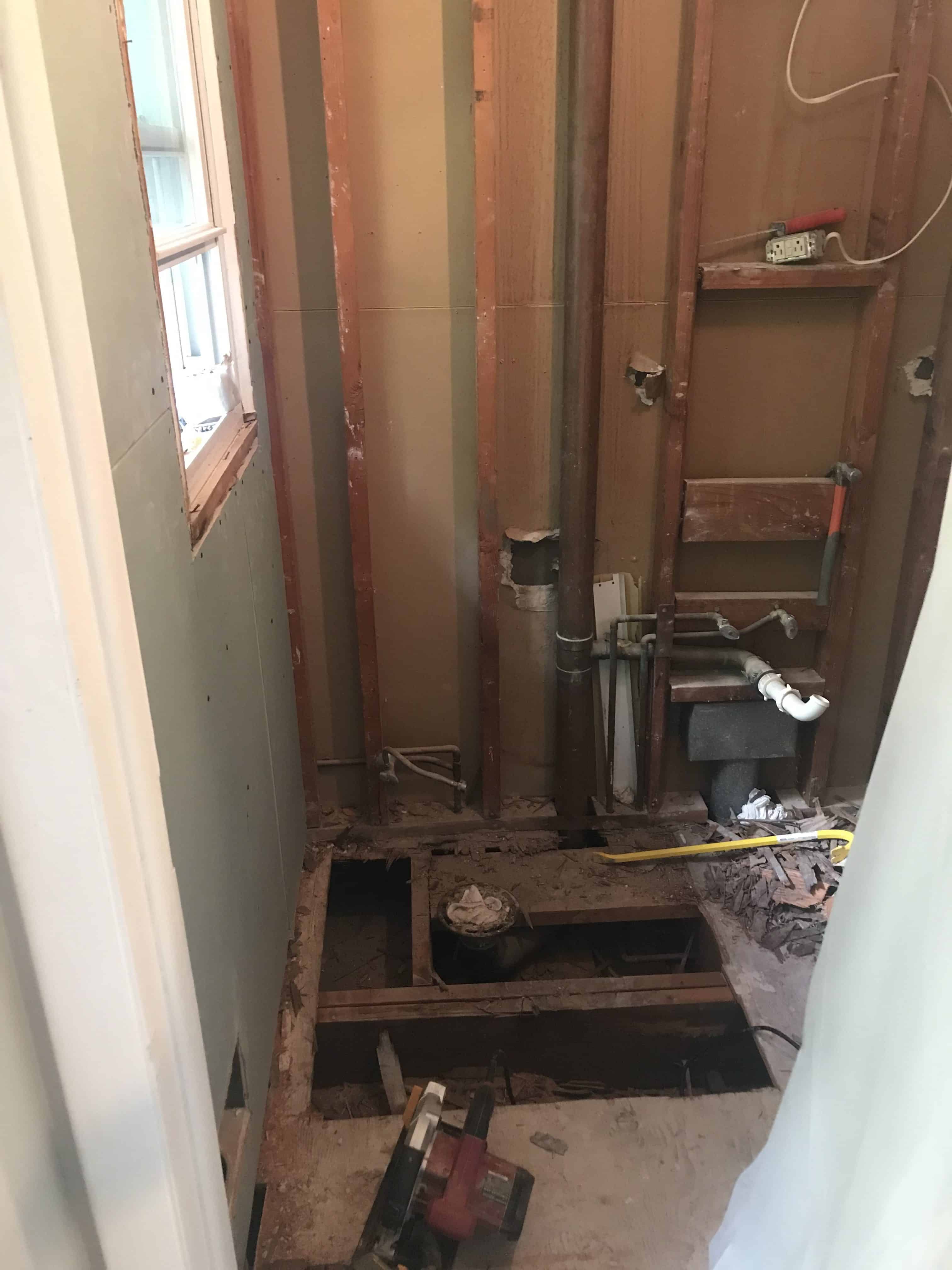 Alas, the new subfloor has been installed.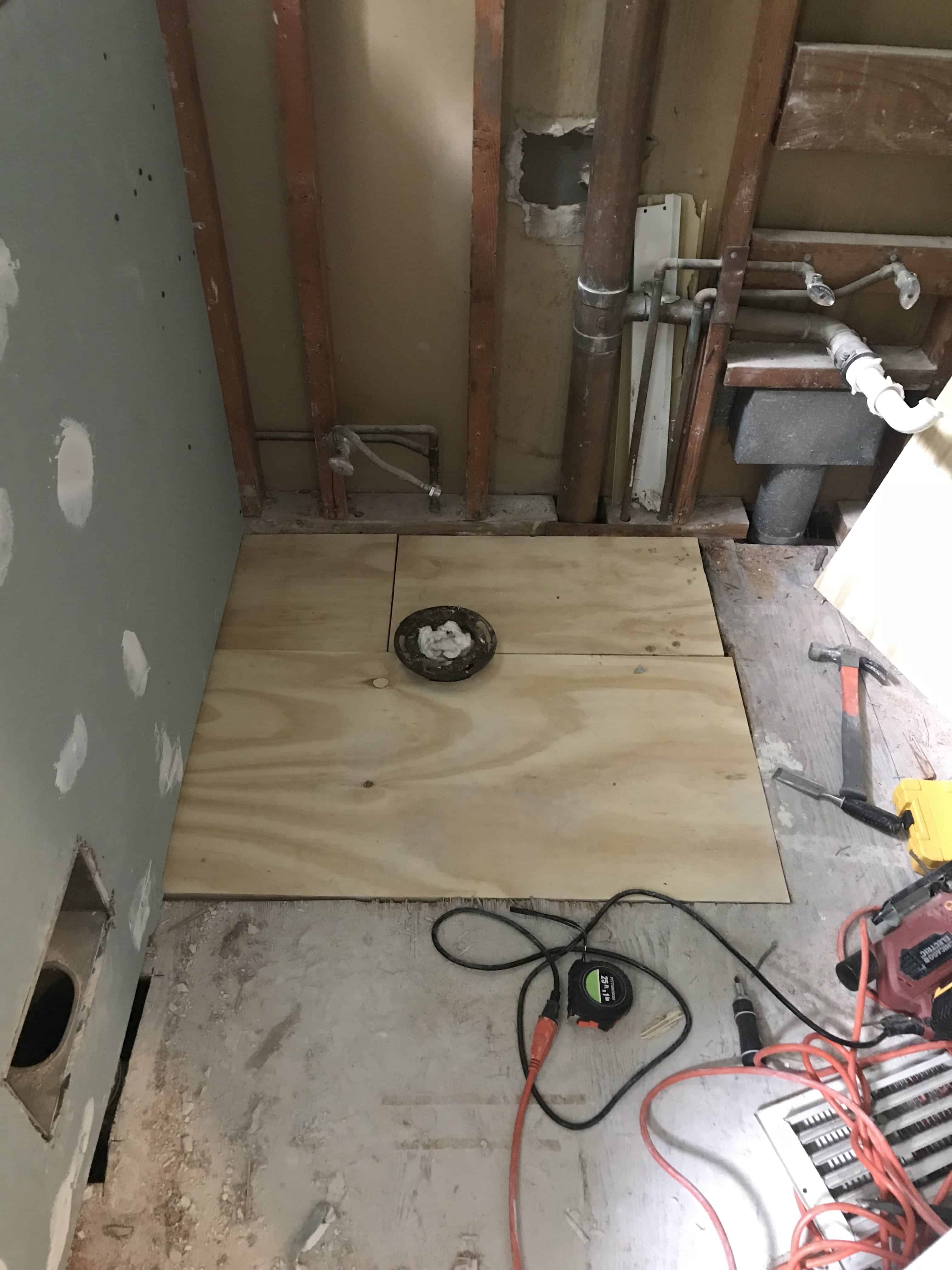 We then finished hanging the drywall and taped the seams/applied mud.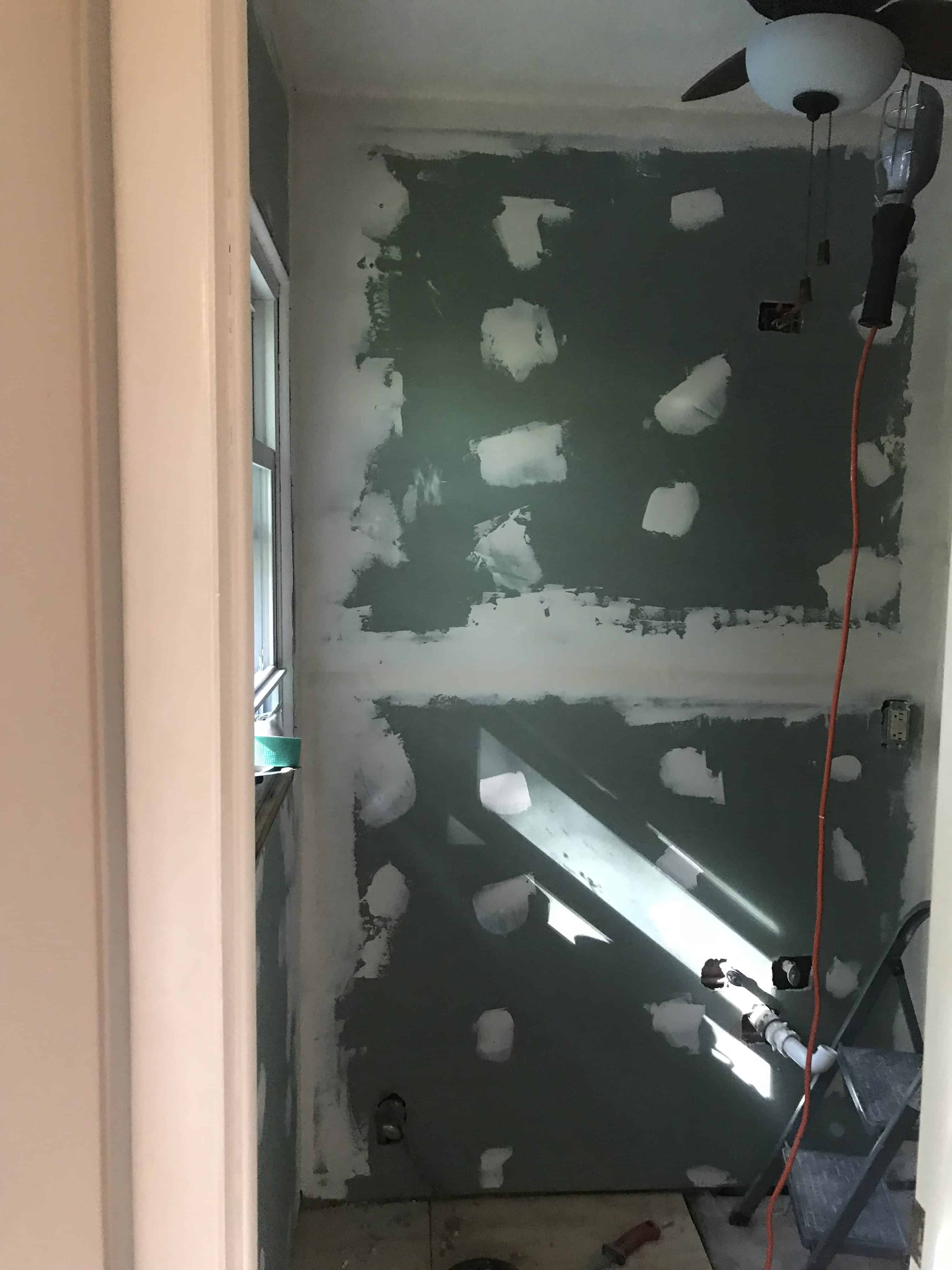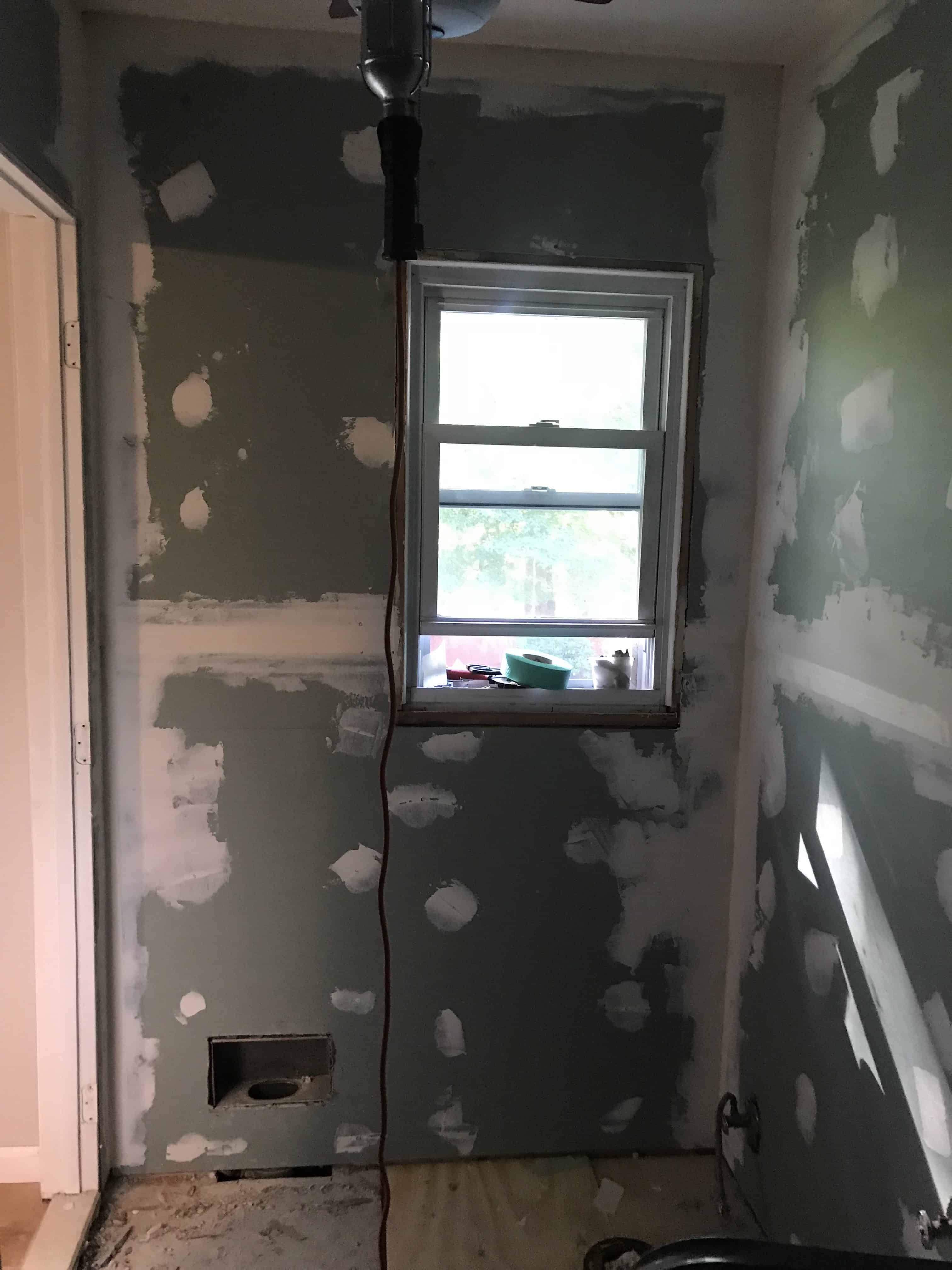 To expend my final surge of energy for the day, I started to prime the walls (after the second coat of drywall mud and sanding it all down).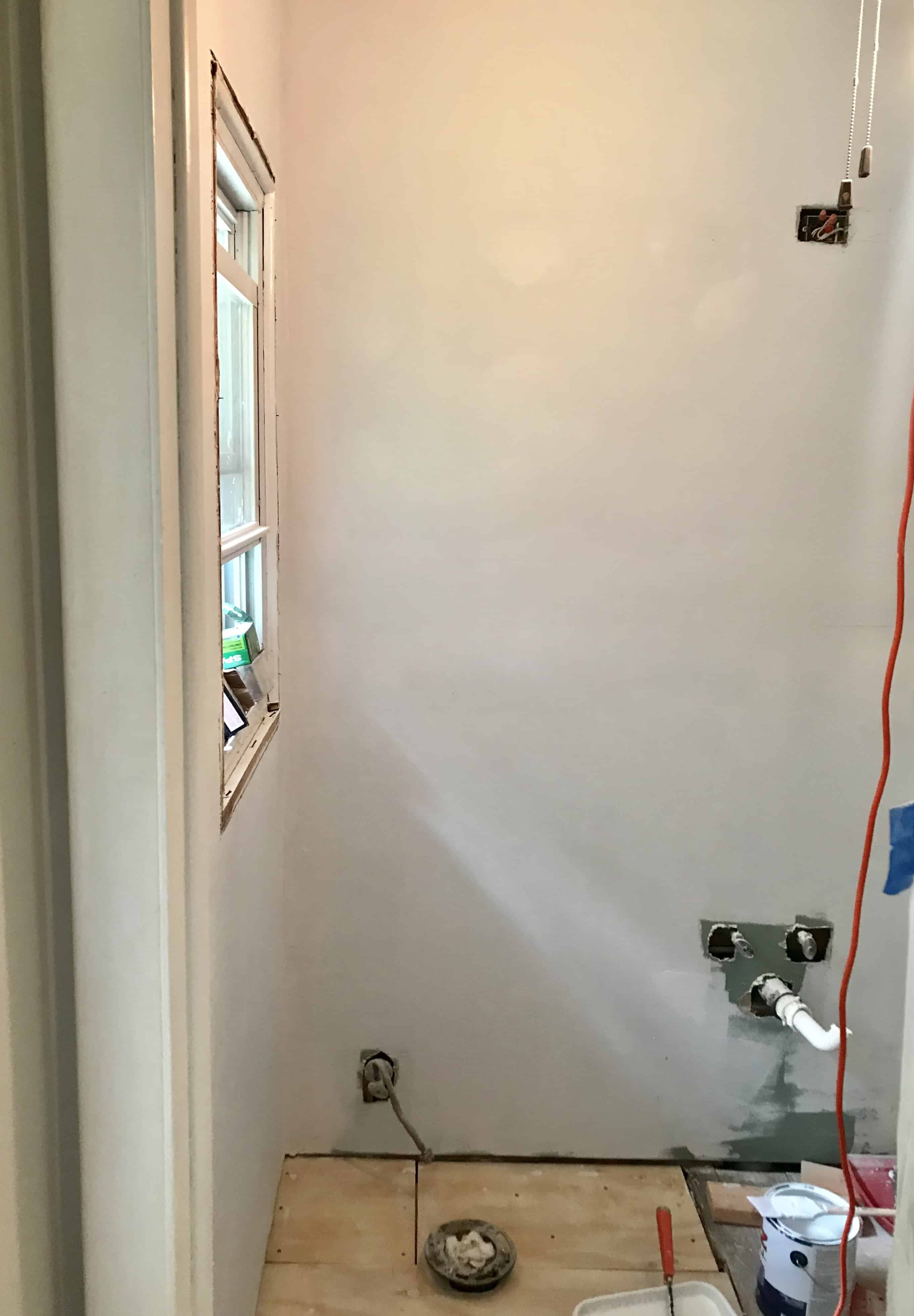 The wall priming may have been done premature, but whatever. I needed something nice to look at.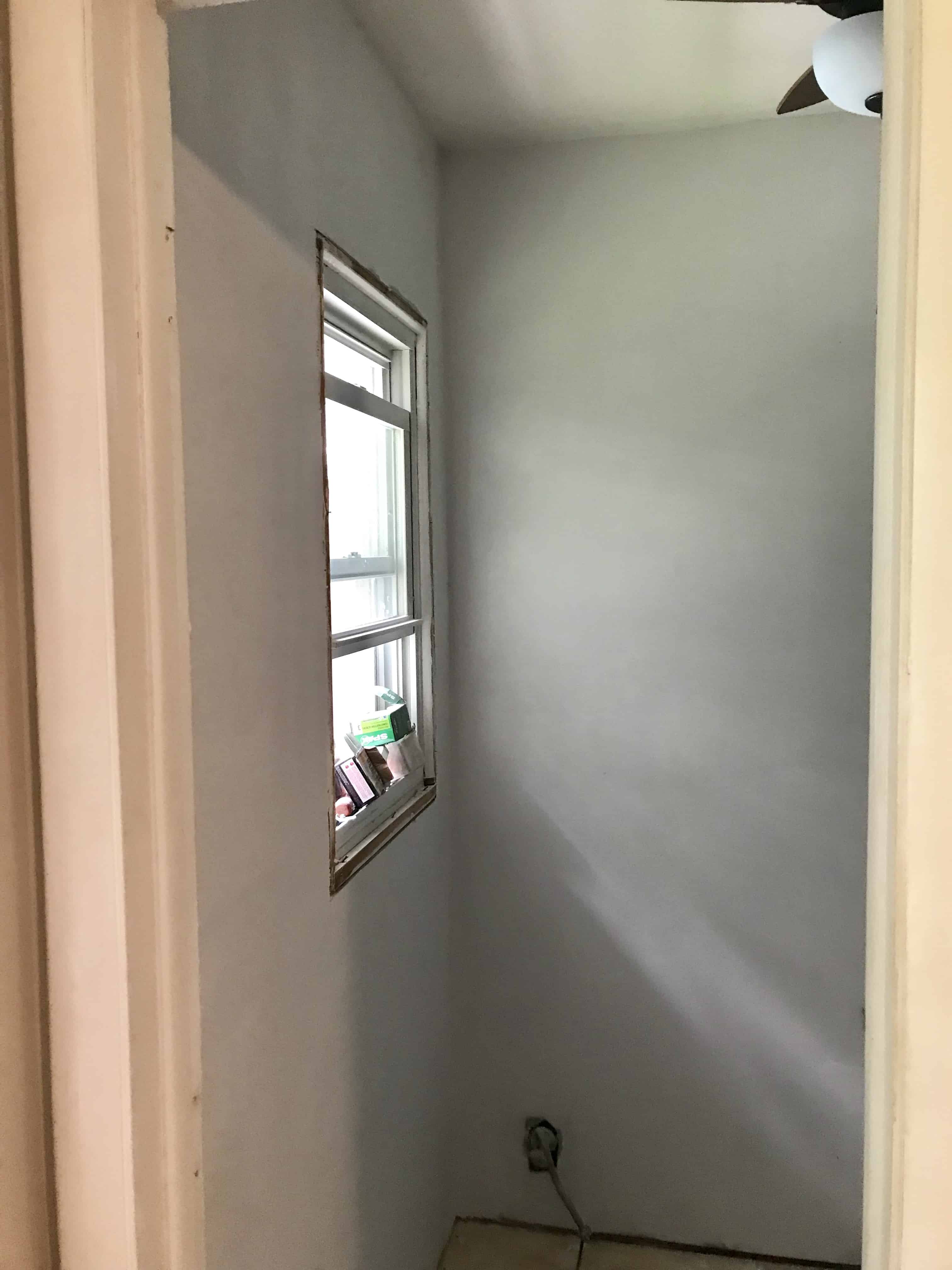 There's nothing like the feeling of drywall going up and primer being applied. It creates the illusion that we're almost done.
*nervous laughter ensues*
I initially thought I could get away with not leveling the floors. But I was only fooling myself after getting on my hands and knees and seeing this insane dip in the floor, so I decided to make my 7th trip of the weekend to Lowes and grab some self-leveler.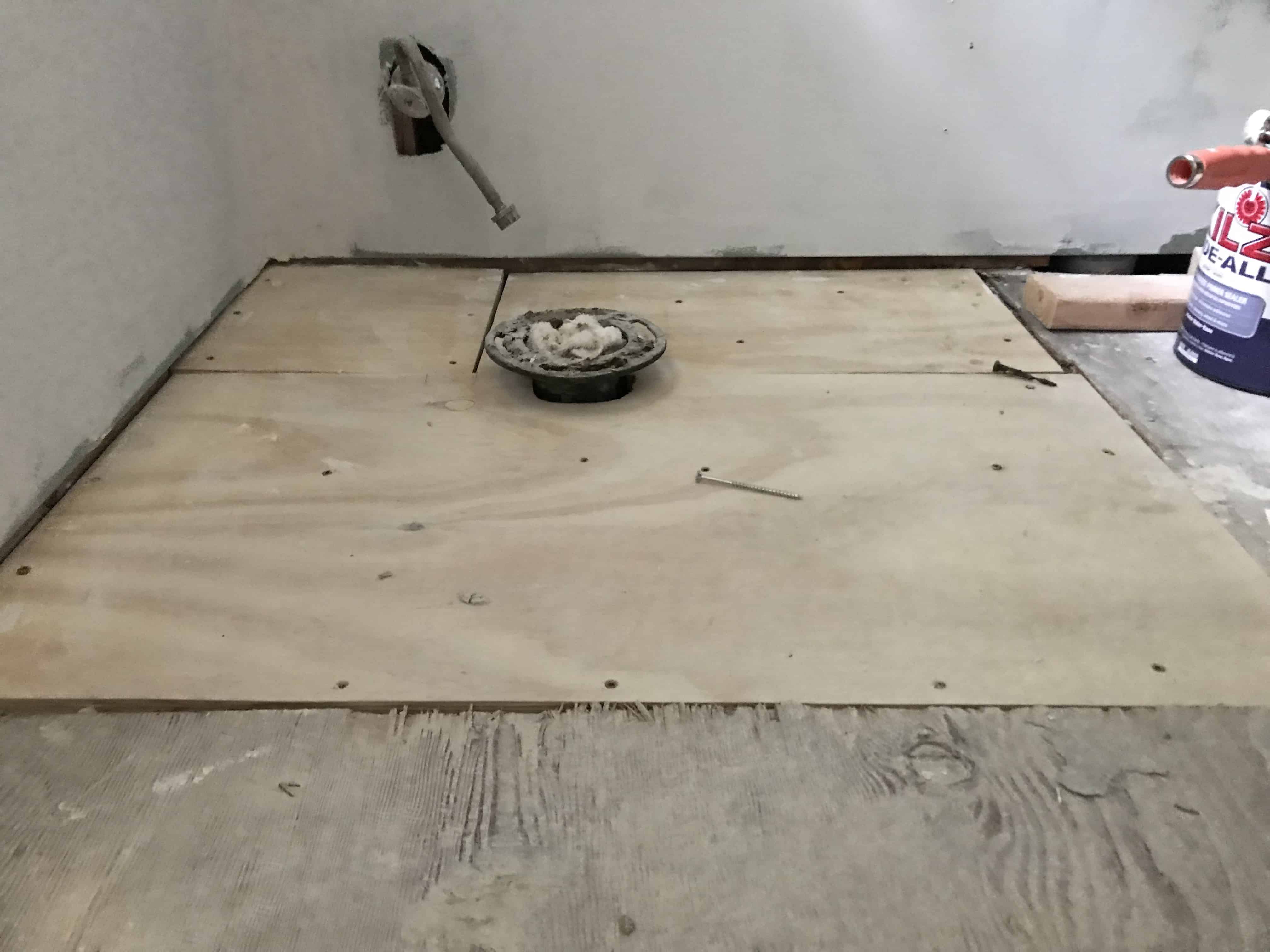 I had to use primer to ensure the self-leveler would stick to the floor.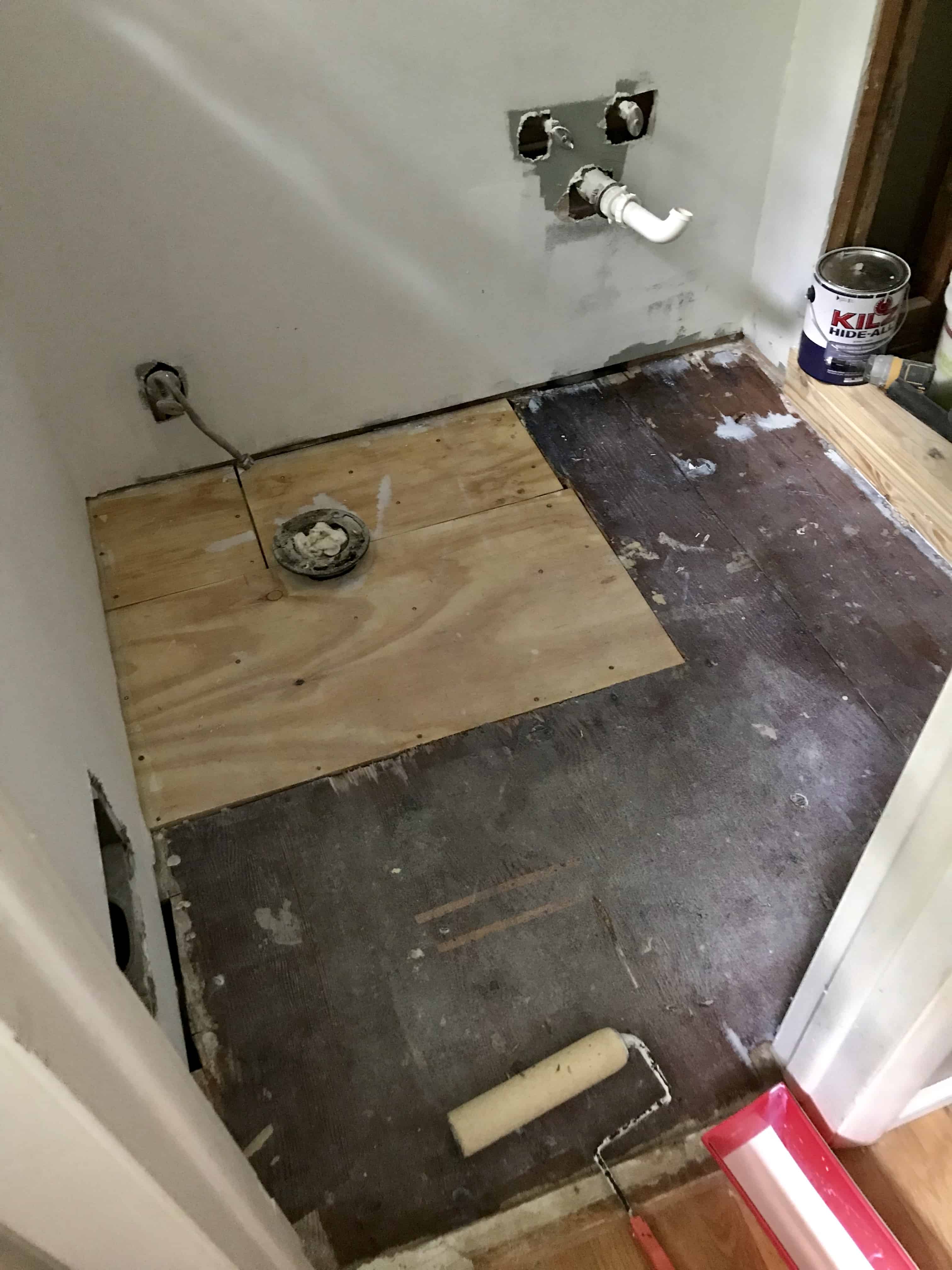 After it dried, it was time to lay the self-leveling liquid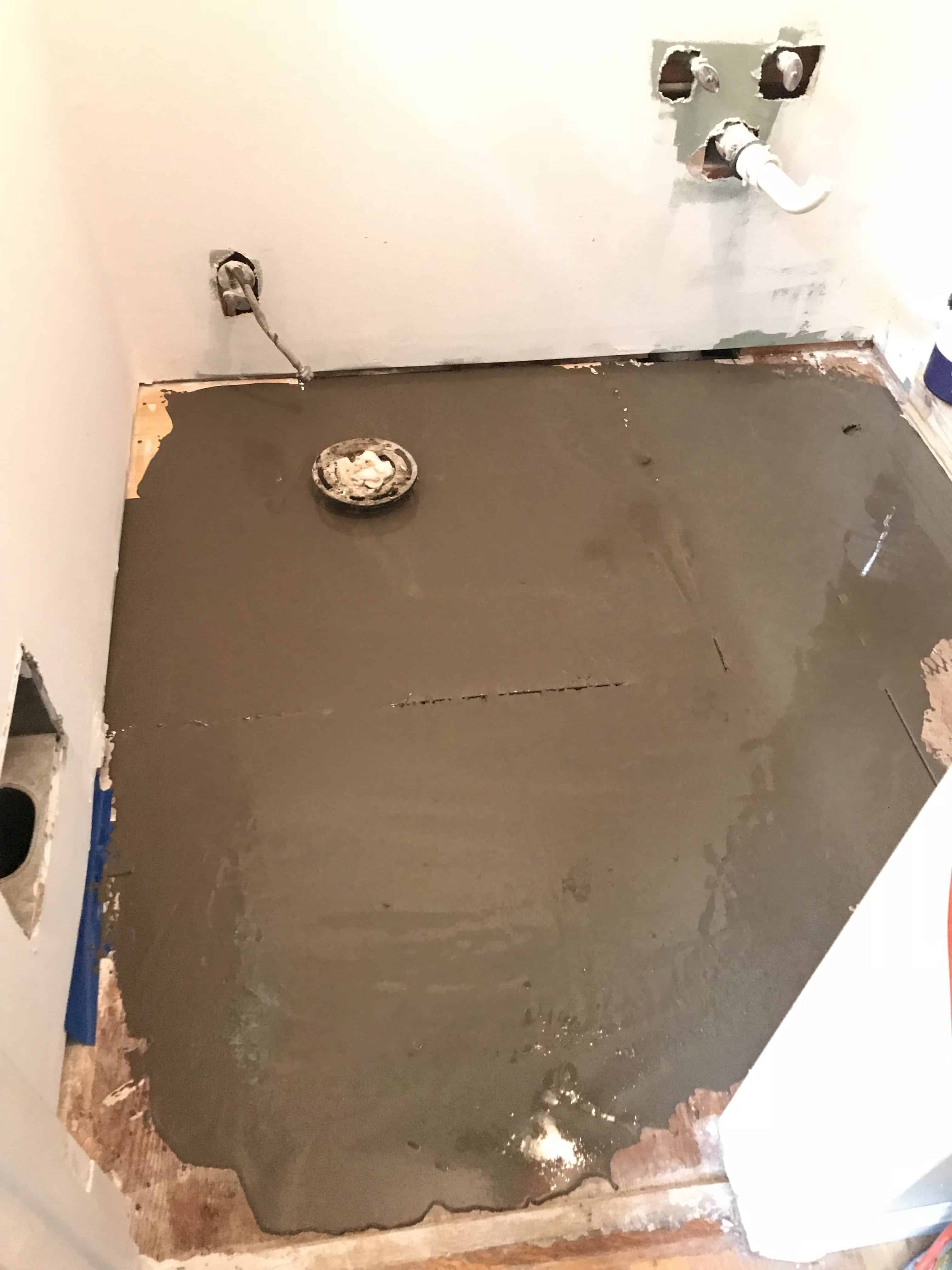 And that's everything we accomplished our second weekend!
On the agenda for next week:
+ Lay cement board on floors
+ Hang cement board on shower walls
+ Create a shower niche
Here's the latest 3D design for our bathroom…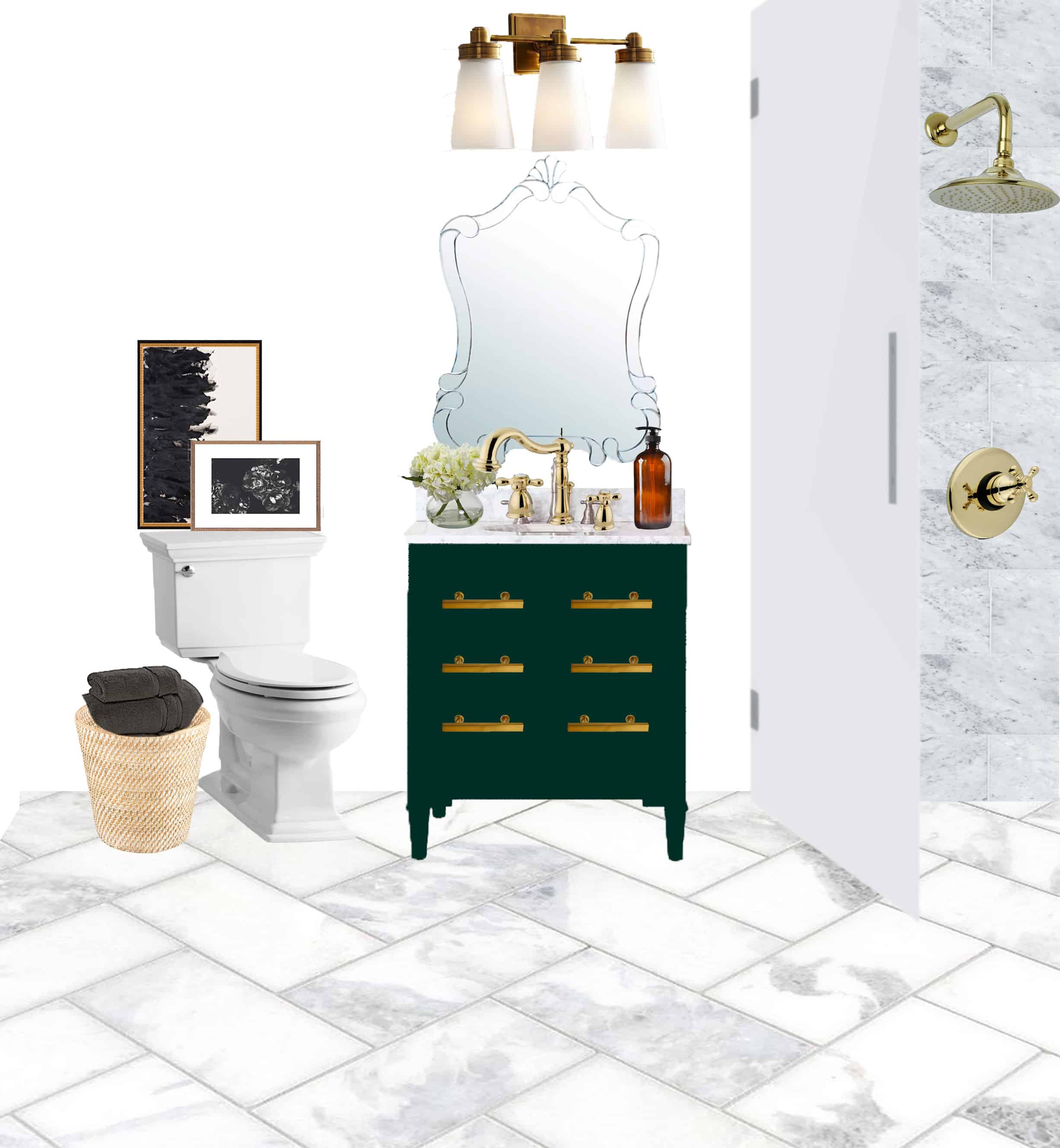 Disclaimer: This'll change another 1,424,380 times before this ORC is finished (especially because I can't decide on the shower OR floor marble).
Hope you enjoyed the mess we made this week!